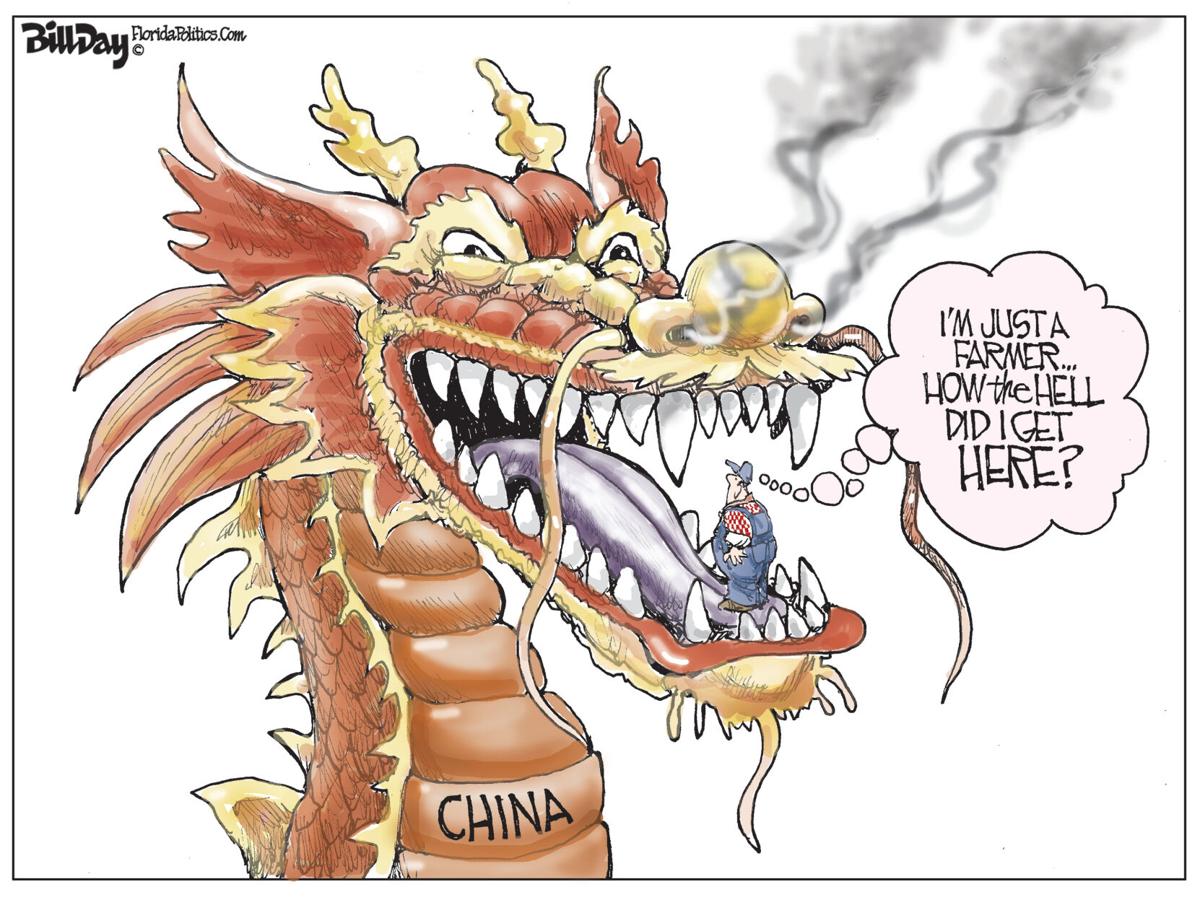 Agriculture, in Texas and across the nation, faces both difficulty and uncertainty. The numbers show a significant uptick in net farm income for 2020. That might ordinarily be cause for celebrating a signal of health in our struggling farm sector, but the math is as misleading as it could possibly be.
Income earned by farmers and ranchers for the sale of their products declined again, with livestock production suffering the largest drop. Overall, there was about a 1 percent decline, amounting to just over $3 billion. This situation would be devastating if not for a large amount of ad hoc payments paid directly to farmers and ranchers. Much of this came from programs designed to offset farm losses resulting from the Trump administration's tariff policies and the resulting trade war with China.
According to a report compiled by AgAmerica Lending, these payments jumped $23 billion last year, an increase of more than 107 percent. None of these payments made the farmers whole, but there's little question they helped many stay in business. Without those payments, farm income would look bleak indeed. The export-driven farm sector was in an exceptionally poor position to weather a trade war in 2017 and is in no better shape today.
Now, as a new year and a new presidential administration begin, what happens next? To understand that, perhaps a review of the last four years is helpful.
President Trump imposed tariffs on China to reverse some clearly bad behavior. China is among the worst of bad actors in international trade. The Chinese wrecked the world cotton market a few years ago by stockpiling, then dumping cotton on the market. They have manipulated currency exchanges and made out like robber barons in stealing American intellectual property.
Farmers and ranchers, stung by some of these practices, have been generally on board with punishing the Chinese. The Trump administration's weapon of choice: tariffs.
Did they work? Mostly no. At least, not yet. The tariffs may however serve notice to China that there will be no more business as usual. Even President Biden's chief of staff, Ron Klain, has hinted that the new administration might want a handy stick instead of a carrot in dealing with China. Klain suggested that Biden is not completely at odds with Trump's get-tough approach with China. That would not be too surprising since traditionally it has been Democrats, much more than Republicans, who have embraced tariffs.
Make no mistake, tariffs are bad policy almost every time. I agree with the vast majority of economists who say so.
Tariffs sometimes work when targeting specific actions for limited time frames. They can also cause a trade war that no nation can truly win.
Even a change in policy comes with many casualties. A tariff is a tax on an imported product. That means whoever buys the product pays the tax and passes along the cost to consumers. Tariffs increase costs and encourage retaliation.
China did not pay a nickel of the Trump tariffs. What's more, they retaliated by placing retaliatory tariffs on many agricultural products. Farmers are almost always among the first targets of a trade war. That kind of tariff is visible and generates a lot of pain and media attention.
The question now: Will the new president punish China in the same way and, if so, will he continue to support farmers in the same way?
There are other ways to deal with China. One solution is taking a case to the World Trade Organization. WTO provides a framework for trade disputes but this is more of a long-term solution. WTO is long overdue for institutional changes and stronger commitments from member nations. WTO needs more teeth.
Aside from China, tariffs targeting steel and aluminum have been extended to other countries, raising prices on almost everything purchased for farm use.
There is no question that political issues have divided rural and urban Americans. Rural Texas voted for President Trump by significant margins. The reasons lie partly in experience with regulatory overreach by previous Democratic administrations and a willingness by Trump to correct trade imbalances.
The tariff issue Trump leaves behind may have China's attention, but it has also been damaging. File it under unfinished business.
Texas farmers and ranchers face an uncertain future with traditional optimism. Former Agriculture Secretary Tom Vilsack awaits confirmation for a second term in that job. He has deep ties to the farm community and understands the difficulty U.S. agriculture faces now. He will certainly be an advocate for farm families in the new administration.
Trade is a complicated issue that defies easy solutions. Pure free trade is an elusive goal that may not be possible in the real world. Fair trade is both possible and desirable. It requires constant attention and a deft combination of both carrots and sticks.
Gene Hall retired in 2019 as longtime communications director for Texas Farm Bureau after a 42-year career. Previously he was farm director at radio station KTXO in Sherman and a news reporter and anchor for KFDM-TV in Beaumont. Raised on a farm in Newton County, he received his bachelor of science degree in agricultural journalism from Texas A&M University in 1976. This is his first column as a member of the Tribune-Herald Board of Contributors.