After the Second Continental Congress voted to accept the Declaration of Independence, it was decided this new nation needed a national seal. The assembly named a committee of three — Ben Franklin, John Adams and Thomas Jefferson — to come up with a design for the seal.
Not surprisingly, three men with firm ideas about the new nation designed three different seals. They took their design ideas to an artist who designed a fourth seal. This fourth seal was taken to Congress but it was voted down. Other seals were submitted. Finally, Congress settled on a Great Seal for the United States of America.
An interesting thing about these seals is that each one — those rejected as well as the one we now have — all had the motto "E Pluribus Unum" written on them. From the beginning, Franklin, Adams and Jefferson believed it was important to state that out of the many colonies came one nation — "out of many, one." That Latin motto has remained on the Great Seal to this day.
In 1956, at the height of the Cold War, the Republican Congress voted on an act that would make "In God We Trust" the official national motto. President Dwight Eisenhower signed the act and the official motto of the United States was changed.
I believe it's time we bring back the unofficial motto and make it the official motto. Making "In God We Trust" the motto was more of a political statement than a national conviction. While most Americans believe in a god, we may be surprised that we can't all agree on who or what God is or what God intends. There is a sizeable number who do not believe in a god at all.
With the Cold War largely over, it's time we put the official motto to rest. God should have never been hijacked and politicized in the first place and the motto is probably not up to constitutional muster.
While E Pluribus Unum was originally meant to indicate the unifying effect of the many states into one nation, the motto also applies to the many people who make up this nation we call home. From the families who can trace their roots back to the various early settlers of the East Coast colonies of England and the Netherlands, to those who can trace their family through the Spanish settlements and the French settlers, to the newest immigrants to our nation, we all bring our own unique takes and experiences and blend them into our diverse and capable society.
The idea of "out of many, one" addresses the many races, ethnic groups and religious (and non-religious) groups that make up the United States of America. The idea reminds us that we are all in this together, that we have volunteered to join in this great experiment of "testing whether that nation, or any nation so conceived and so dedicated, can long endure." President Abraham Lincoln affirmed this belief in 1863 when the outcome of the Civil War was still uncertain. Those words applied to his day; they apply to ours as well.
America has always struggled with accepting one another. We didn't appreciate the Irish immigrants, the eastern European immigrants, the Asian immigrants when they first came to our shores seeking a brighter future for themselves. But we began to learn from one another, seeing one another differently over time and finally accepting one another.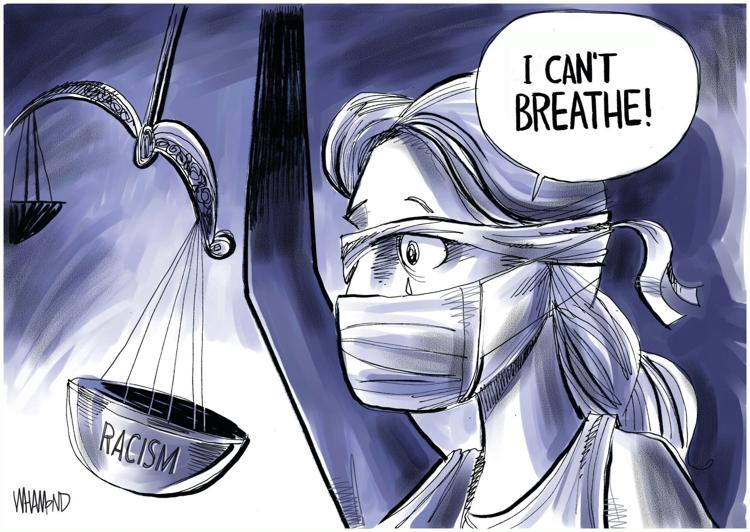 America struggled with racism long before there was a United States of America. It took a great war to end slavery in our nation, but it didn't end racism. There was a long struggle for equality after the Civil War, turmoil that witnessed the rise of the Ku Klux Klan and Jim Crow laws to suppress people of color. We thought progress was being made with passage of the civil rights legislation of the mid-1960s, largely through the sustained and focused courage of such individuals as John Lewis, eulogized and buried in the national spotlight only last week, and C.T. Vivian, who died the same day as Lewis but whose equally relevant departure transpired in the shadows. We were certain that racism was becoming our past when we elected our first non-white president in Barack Obama. Yet racism is a stubborn quality, ever waiting to be revived, ever sure to again divide.
Framers got it right
Our nation was rocked by demonstrations, assassinations and an unpopular war in 1968. It seemed at the time that our people were more deeply divided than at any time since the Civil War. Somehow, we managed to see our way through those dark days. We got through it because we talked, we listened, we realized that you can love America and still criticize it.
If we go back to the principle that out of many, one, we can begin to work to heal our land and break down the divisions that have shown themselves recently. Not everyone in our land trusts in God — again, some Americans do not even believe He exists. But everyone in the United States can work to become one nation, committed to the same liberties and securities that all of our citizens enjoy and celebrate. Let your trust in God lead you in a direction that leads to reconciliation and encouraging one another.
Years ago in elementary school, one of my teachers told us that our class was having a hard time writing "United States of America." Some in our class wrote "united" as "untied." Clearly, there's a wide difference between a united people and untied people. Regardless of how one feels about God, we can all work to become out of many, one.
Local attorney and Tribune-Herald sportswriter Glynn Beaty is longtime pastor of Mosheim Baptist Church outside Valley Mills. He is a graduate of Baylor Law School.
Catch the latest in Opinion
Get opinion pieces, letters and editorials sent directly to your inbox weekly!