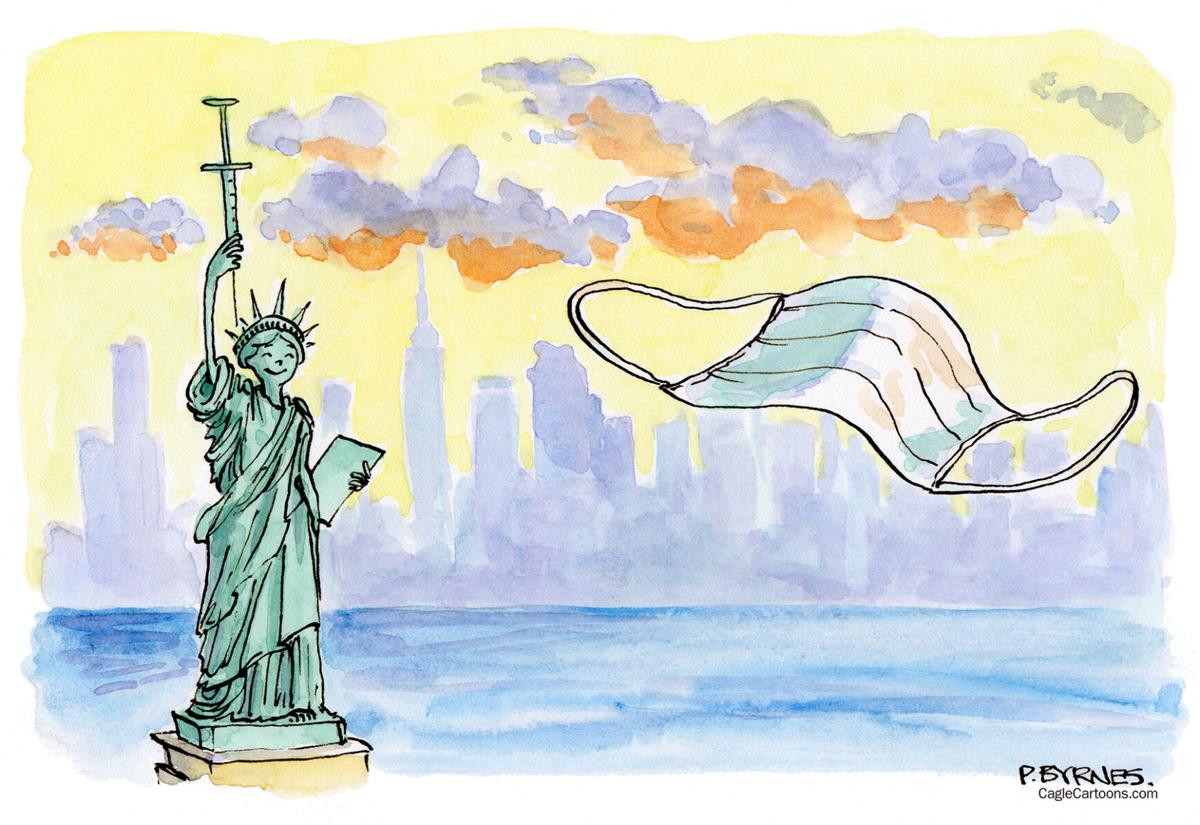 For the first time in 326 days, my synagogue opened for Friday night Sabbath services. From the time COVID-19 shutdowns began last year, our congregation had learned to employ Zoom and streaming services to conduct virtual services. But now, at last, we were entering the synagogue in person, albeit with masks and social distancing still in place.
As I sat, alone, opening my prayer book, I anxiously awaited the opening notes of a Sabbath prayer, sung to a tune thousands of years old. I wasn't prepared for the emotions that followed.
As our rabbi began chanting that venerable old melody, I looked around our 50-year-old synagogue to a congregation safely spread out among the chairs which had been vacant for over a year — chairs that once accommodated our fathers and grandfathers. The words "and we are still here" crossed my mind as tears formed in my eyes. I thought quickly of the history of the Jewish people in a vastly edited form — enslavement in Egypt, inquisition in Spain, pogroms in Russia, concentration camps and death in Germany, attacks in synagogues in the United States, COVID-19 across the entire world. And we are still here.
The same may be said for the entire human race. Through assassinations and ethnic cleansing, World Wars, regional conflicts, political conflict and upheaval, and two pandemics in the last hundred years, we are still here.
Sadly, we aren't all still here; millions around the world perished. But many survived. In this last go round, the intrinsic ability of the human race to not only survive but also to develop survival aids was so very evident. Initially, closing society down and imposing safety protocols of masks, social distancing and hand-washing not only limited the spread of a deadly virus but also dramatically limited the spread of the annual flu virus. Not everyone believed in the threat or the combative response but enough did to begin the retreat of the virus.
Schools closed. Online learning was expanded. Sports venues closed but competition carefully was initiated without spectators. Religious services were suspended but online outreach expanded. Family celebrations were cancelled but Zoom observances were scheduled. Grandparents holding their grandchildren became impossible but grandchildren saw their grandparents in storytelling and readings on FaceTime and Zoom.
Restaurants were closed but quickly pivoted to pickup and delivery, as did grocery stores. Business conferences and conventions were canceled, replaced by national and international virtual offerings. Domestic and international travel plummeted and political opponents came together to pass tremendous emergency safeguard legislation to secure a massive industry from disaster. And modern science developed in world-record time, within months of the initiation of the pandemic, effective and safe products for vaccination against a threatening virus.
And we are still here. In our appreciation of survival, we recognized and thanked a new group of heroes, from health and hospital workers to nursing home aides, grocery stockers, gas station attendants, mail carriers, educators and emergency technicians, police officers and firefighters. A new gratitude for all these human beings was an outgrowth of this stark challenge to mankind.
While the emergency is not yet over, we are, perhaps, on the road to brighter days ahead. And as we think about our new world order, the human race must never forget the challenge and the response. In the words of Laura Kelly Fanucci, who gracefully wrote in the early days of the pandemic:
A handshake with a stranger
Full shelves at the store
Conversation with neighbors
The school rush each morning
Harry Harelik, a native Wacoan, was a self-employed CPA and foundation executive director till recent retirement. He is a longtime supporter of local nonprofit organizations.