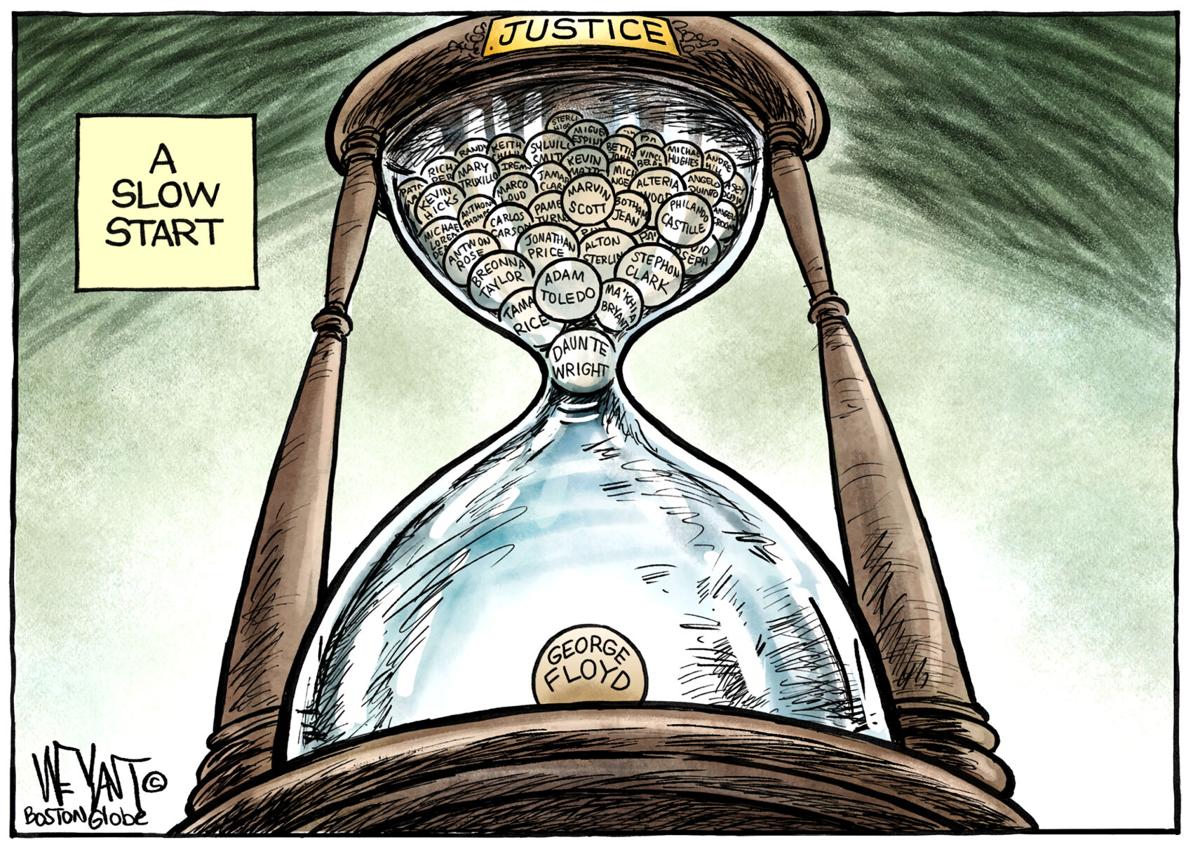 By its theme for Law Day 2021, "Advancing the Rule of Law Now," the American Bar Association seeks to remind us that the responsibility for the rule of law lies not only with judges, lawyers and public officials. "We the people" share the responsibility to promote the rule of law and pursue justice. And all citizens play a role in safeguarding the rights of our neighbors and fellow citizens.
On this day, let us recognize that the rule of law is the bedrock of American rights and liberties. It is our common language and it enables us to live together in peace and with dignity.
This shared responsibility has been on full display in the case of former Minneapolis police officer Derek Chauvin, on trial for the death of George Floyd.
On May 25, 2020, Floyd was stopped by police for suspicion of passing a $20 counterfeit bill at a nearby convenience store. Pulled from his car at gunpoint, Floyd was handcuffed and restrained until he was arrested and removed to be placed in the backseat of a squad car. As he complained of claustrophobia and breathing difficulties —"I can't breathe, officer"— police officers pulled him out of the police car and restrained him on the ground next to the vehicle for the next 9 minutes and 29 seconds.
Adopted by the Department of Homeland Security after 9/11, the reminder that "If you see something, say something," has served as a motto for various law enforcement agencies and cities. By being alert and reporting suspicious activities to appropriate authorities, we protect our families, neighbors, and communities.
As the events unfolded on the street outside the convenience store on May 25, bystanders, who were strangers to one another and to Floyd, gathered on the nearby curb to observe with shock and horror the manner of the officers' treatment of George Floyd. Defense counsel described the bystanders' sidewalk advocacy as threatening.
But the bystanders did not just watch or walk away. They recognized they had a duty: They saw something and they said something. Of all ages and races, they cried out to the police officers. Several called 911 to report the conduct of the police. And subsequently they gave statements to law enforcement authorities, both state and federal, and testified before grand juries and in court.
They saw something. They said something.
Described by the prosecutor in his closing statement as a "bouquet of humanity," the spectators witnessed Floyd calling for his mother and repeatedly crying that he could not breathe. As the officers pulled Floyd from the back seat of a squad car and restrained him on the cement in a prone position with his arms handcuffed behind him, Floyd struggled to breathe and pleaded with Chauvin, who he called "Mr. Officer."
His final words were a tearful plea: "Please, I can't breathe."
At trial, several of the bystanders testified. The first bystander to arrive on the scene was a 61-year-old Black man who sought to encourage Floyd and ease his trauma. He urged Floyd to cooperate with the officers: "You can't win." Struggling to breathe, Floyd responded that he was not trying to win and that he was scared. The witness became emotional as he described Floyd's cries for help and fear for his life.
One bystander, a 17-year-old high school senior, was accompanied by her 9-year-old cousin. She sent her cousin into the convenience store to avoid her witnessing Floyd's terror and seeing him begging for his life. She pulled out her phone to record Floyd's struggle and later posted the video — critical proof in the trial — on social media. When asked how viewing the "incident" changed her life, the teenager became tearful. She said that Floyd could easily have been her father, cousin or brother. With genuine emotion, she explained that "It's been nights I stayed up apologizing and apologizing to George Floyd for not doing more ... and not saving his life."
The young cousin, who had exited the store, testified that she observed a police officer with his knee on the man's neck and that he did not remove it even when the paramedics arrived. She testified that she felt sad.
The young store clerk, who had reported the counterfeit bill to his manager, recalled his grief and guilt at reporting Floyd. He testified that he thought Floyd possibly had not known the bill was counterfeit. He observed with shock and disbelief as the events unfolded outside the store. And he felt responsibility and guilt for all the events that unfolded when the police were called and Floyd struggled to survive. He regretted accepting the bill and reporting Floyd to his store manager who then summoned the police. After the trial, an alternate juror who did not participate in the jury deliberations lamented that she did not understand how "it got from a counterfeit 20 dollar bill to a death."
A 27-year-old Minneapolis firefighter wiped tears from her eyes as she recalled witnessing the arrest. She testified emotionally that she was alarmed by Floyd's deterioration and had urged police officers to take Floyd's pulse. As a firefighter with medical training, she identified herself and offered medical assistance. "It's what I would've done for anyone." She called 911 when the officers did not immediately seek assistance — making her the third bystander witness to call the police on the police.
A bystander with expertise in martial arts alerted the officers to the danger of their chokehold and restraint of Floyd. He pleaded for Floyd's life. One of the most vocal observers, he feared he was witnessing Floyd's last breath and a "murder." He called 911 to report the officers' conduct, but feared his call was too late.
Although Chauvin's defense counsel described the bystanders as a threatening mob and the martial arts witness as disruptive, the video captured by the 18-year old cousin showed otherwise. Each of them offered to help. All they could do was watch — and record. They shared their recordings and recollections with the jury.
These random members of the community all converged by fate to witness the events before them. They saw something. They said something.
The prosecutors urged the jury to believe their eyes as they watched the various videos. "Trust your eyes." And when the unanimous verdict of guilty on all counts was handed down by the jury, they, too, saw something and said something.