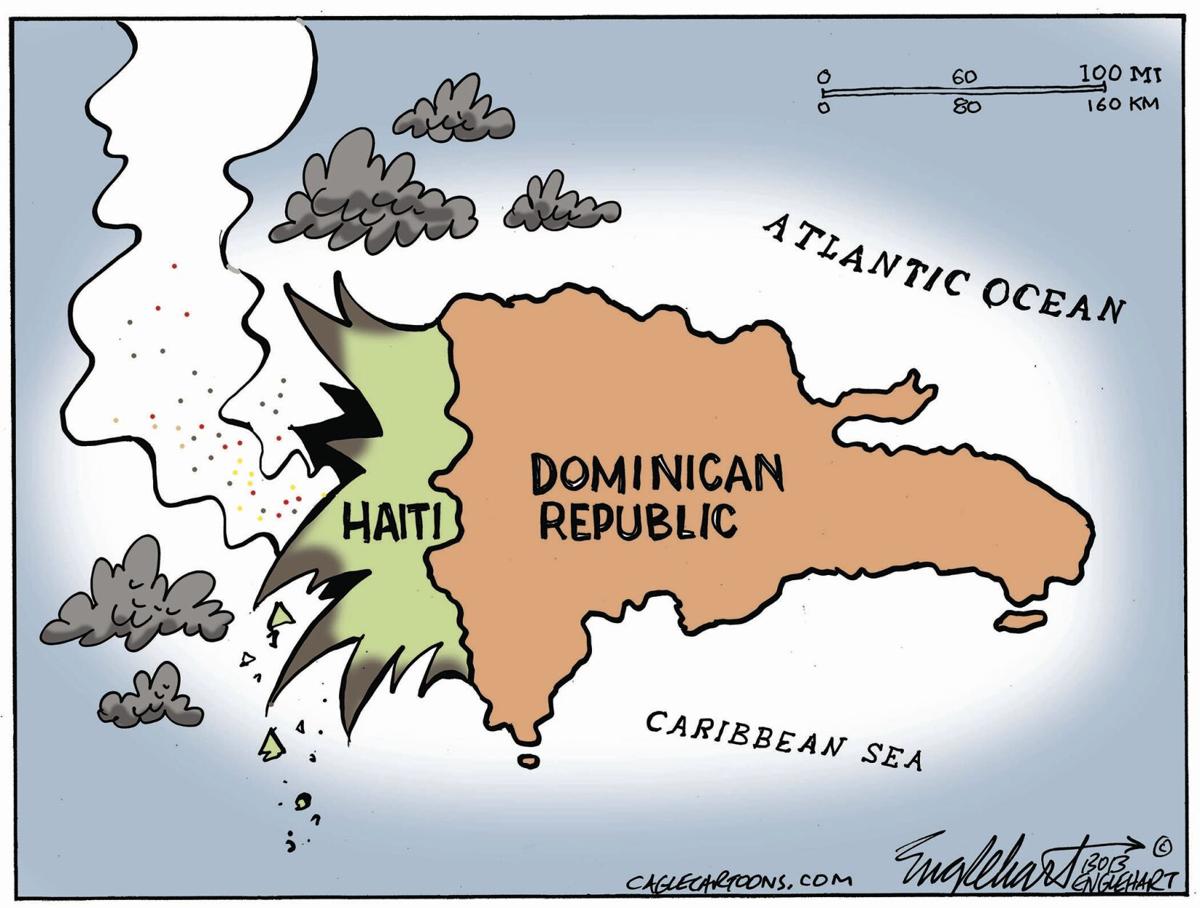 In the fall of 1984, Janet, our two small children and I boarded a plane for Haiti to work and train with a Christian hunger organization for five months. Words are inadequate to describe the immediate and overwhelming experiences, smells and noises of being in the Western hemisphere's poorest nation where average incomes were a dollar a day. Living on a demonstration farm in a village, without electricity, phones, hot water and local transportation, our own world was upended.
We saw desperately malnourished children along the dirt roads, young children carrying heavy buckets of water from a polluted creek, mothers selling pieces of fruit or vegetables and fathers beating their braying donkeys, bound for tiny pieces of farmland to harvest anything left from the droughts.
No one spoke of the government. All lived in justifiable fear of their tyrannical president, Jean-Claude Duvalier – nicknamed, affectionately or not, "Baby Doc," and himself son of late totalitarian leader François "Papa Doc" Duvalier. The president's secret police, called the Tonton Macoute, would arrest and imprison anyone allegedly speaking badly of Baby Doc.
Even the darkest of nights offered no relief from the scorching days, as the beating of voodoo drums reminded villagers of the evil spirits and curses that could crush the hope for change if not placated. Extreme poverty, fear and hopelessness reigned.
The Haitians employ several "proverbs" to describe their lives. One Creole proverb: "Lespwa Fe Viv," which translates to, "Hope makes one live." What our American eyes could not see in those early days, amidst the challenges and the suffering, were the glimpses of hope that somehow motivated some of the world's most under-resourced humans we have been privileged to now call our friends.
While many know only our work as Mission Waco, our full title is Mission Waco/Mission World. For more than 28 years our purpose, here and afar, is to empower the poor and the marginalized; engage middle-class folks to become compassionately involved with them; and deal with the systemic issues that keep others poor and powerless. To that end, our departure from the training in Haiti 37 years ago never really ended at all. In fact, it has increased a hundredfold in the same village where our hearts were broken and our eyes opened.
Today, we have empowered 350 extremely poor children to attend school in that village, thanks to the school sponsorships of hundreds of supporters in Waco and beyond who believe that every child should have the privilege of education. Today, there are hundreds of clean water wells that our team has dug, providing safe drinking water for the village. Even more families have received water purification buckets. Today, there are 450 women, including several poorer widows, who have completed our 10-week training which allows them to receive one of three micro-loans to start or expand their small businesses. And 100% of them have repaid those loans to allow them to receive additional training. Most of the women have increased their daily income to four dollars a day. And today, there are recently planted trees and nourishing goats and chickens purchased by our friends.
And after those three-plus decades of not quitting, Mission Waco/Mission World has employed a staff of 12 Haitians who oversee and train hundreds more villagers with special skills that increase income and opportunity. Hope abounds in this village.
The July 7 murder of 53-year-old Haitian President Jovenel Moïse in Port-au-Prince amid swirling allegations of corruption and promises of political reform and now conflict over succession is yet another blow to a country pockmarked by its tumultuous history. From its 1492 discovery by Christopher Columbus, then domination and enslavement by Spain, then France's exploitation of Haiti's rich resources, and finally a revolution against Napoleon that led to the country becoming the world's first black republic, most Americans know it only as the poor Caribbean country that most everyone has given up on. They see it as a failed state struggling with political chaos, a country where reportedly 30 percent of the population isn't always sure of its next meal, an island of voodoo and violence where one in two Haitians uses unsanitary water – an explanation for the high incidence of illness.
From its original beauty and considerable resources, there are now fewer signs of hope that Haiti may ever emerge to become a self-sustaining nation. Clearly, there are numerous reasons for us outsiders to give up on the people. We choose to stay and continue to help because "hope makes one live." And that's a sentiment that burns beyond Haiti. While there are numerous naysayers in our community and the world who have given up on the addicts, the homeless, the imprisoned, the unemployed and even those poor who live in low-cost motels in Waco, we choose to believe each one can rediscover hope from a loving God who does not give up on us.
With caring relationships, compassion and opportunity, people and even impoverished nations such as Haiti can change. True, the road ahead for Haiti will be hard, sometimes filled with more bumps and more suffering than most of us could bear. Yet the path exists and it beckons. To quote Romans 15:13, "May the God of hope fill you with all joy and peace as you trust in him."
Jimmy Dorrell is co-founder and president emeritus of Mission Waco/Mission World and, since 1992, pastor of Waco's famous Church Under the Bridge. His books include "Commonwealth: Transformation through Christian Community Development." He received the Baylor University Alumni Abner V. McCall Humanitarian Award and was given the Baylor Distinguished Alumni Award in 2017.