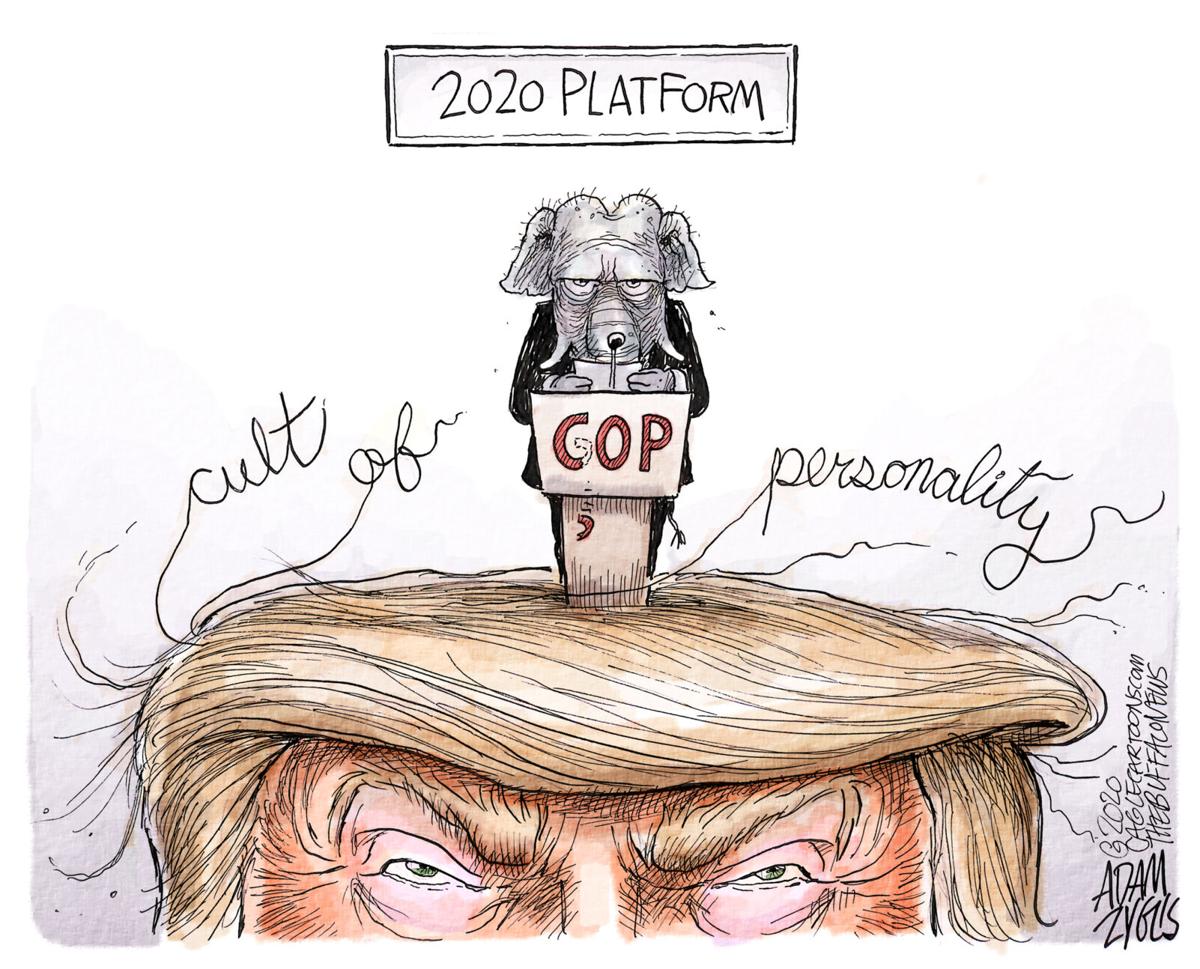 This is a letter that Mark Long, director of Middle East Studies and associate professor in the Honors College at Baylor University, sent to Sen. John Cornyn, Texas Republican, during the latter's re-election campaign.
It is quite possible that I was a Republican before you. Moreover, there is a substantial story behind my assertion that I'd like to share, with larger implications following for the upcoming national elections. My sincere hope now is that the dedicated staffer who reads this will forward my letter to you, with her strong encouragement that you read it through. Here's the story.
Conservative Republican principles came to me in my DNA. My great, great grandfather, James Long, moved to Panola County in East Texas sometime prior to the Civil War and became its sheriff. His son, Jeremiah Heath Long (for whom I am named), became county attorney, then county judge. His son, Homer Travis Long, followed suit, practicing law in Panola County until his death in 1970. And my father, Jerry Long, intended the same career . . . until his sophomore year at the University of Texas when the Japanese bombed Pearl Harbor. He entered service with the (then) Army Air Corps, flying combat missions as a P-51 pilot in the Fifteenth Air Force. After demob, he returned to Texas, finished a business degree, married and became a very successful business executive in Houston. I should add that we are direct lineal descendants of William the Conqueror and, in a fine irony, of Charles Martel. Perhaps that ensured that I, too, would enter the military, albeit as an intelligence analyst, with follow-on training as a Middle East area specialist. Thus, the historic date 732 A.D. has special resonance for me.
So why give this bit of ancestry? Because conservatism, distilled and pure, came in all its power to me. By the time I was a teenager I was celebrating the virtues of the free-enterprise system and sounding the alarm about corruption in labor unions. I was a gun owner before I was 12. I proudly saluted the women and men who wore our nation's uniform. I gloried in a strong America abroad. Indeed, I had become something of a fiscal hawk by the time I was 10, not knowing then how well that would serve our family personally in later years. I honored hard work and individual responsibility well before teen years. And then came college where I became even more conservative, wrote in my journal about the possibility of entering politics, and then actually engaged in a campaign. My senior year I was campus chairman for the reelection campaign of your predecessor's predecessor: John Tower. And now, much of that conservativism has passed forward. One daughter is a political lobbyist in Denver, Colorado. Our son entered the Air Force as a crew member aboard the JSTARS during Operation Iraqi Freedom. The youngest daughter is an attorney in Colorado Springs, Colorado. The lineage of conservatism runs deep in our family, even if you don't trace it back as far as Charles Martel.
But my ties to the party of conservatism, though not to the political ideology itself, began to change in 2002. A group of intelligence analysts contacted me about a potential conflict in Iraq. I could see only catastrophe ahead, and I opposed our going to war. I didn't offer opposition because I had grown soft on crime but because I was certain no weapons of mass destruction would be found in Iraq. And I was more certain that Iraq would become a largely failed state, offering a venue where al-Qaida could metastasize. More troubling, I saw my party abandoning norms-based internationalism, one that treasured multilateral alliances. A few years later I watched with increasing concern the rise of the Tea Party with the growing politics of vitriol and non-compromise. Worse, in my view, would ensue. And to truncate what further history I might give, I will simply observe that we now have an administration that has so distorted the traditional Republican values of conservatism that I find the party almost unrecognizable. The rise of QAnon candidates for national office within the Republican fold is but the latest sign of that diminution of traditional values, and of clear-headed, fact-based analysis.
Here's what I witness now: an accretion of power in the executive that the Constitution was explicitly designed to prevent, with Article I powers increasingly eviscerated or, sadly, abandoned. I have seen the Trump administration traduce senior intelligence officers I have known — men of extraordinary integrity and ability — simply because they have done their duty and upheld their oaths of office. That, not incidentally, is a traducement unfortunately extended to the intelligence community more broadly. I have watched with dismay as the administration has sacked inspectors general, thus to insulate itself from a rigorous and honest accountability. I have been disconcerted to see the Mueller Report mischaracterized, even as congressional subpoenas have been summarily dismissed. I have seen vacancies languish in essential departments (where only "acting" appointments have been made since April 2019) and critical reports (say, of the EPA) bowdlerized or shunted aside because the truths they tell are inconvenient, or worse. I have seen the Justice Department essentially subverted to become, in effect, the administration's personal counsel. The handling of the pandemic should leave anyone paying attention appalled and gasping (literally) because the 2019 Worldwide Threat Assessment, overseen by the administration's hand-picked director of national intelligence, explicitly warned of it. Moreover, Republicans once believed in science; conservatives still do, and they explicitly reject quackery as a viable disease treatment. And the transparent efforts to hamstring the USPS, thereby endangering our sacred national election, is simply a horror.
All while, our worst enemies mock us, something I see regularly as I engage, as a Middle East specialist, with jihadist messaging. To mention only one of many examples, both al-Qaida and ISIS used the occasion of President Trump's Bible walk to St. John's as a moment for special ridicule . . . and to conflate al-injeel (the Christian Gospel) with the use of tear gas and flash-bang grenades to clear peaceful protesters exercising their First Amendment rights. And as they mock, allies who stood shoulder to shoulder with us against the Soviet threat during the Cold War wonder what in the hell is wrong with us. That bedrock of international security is something that is sine qua non; there is no substitute. One should ask: In what real defense can we put our hope against a recrudescent Russian threat in maskirovka . . . or against dangers from China or jihadists or, say, pandemics and catastrophic climate change? Wars, plural, are at the gate, and the once Grand Old Party seems to have left the sentry post as well as its once glorious conservative principles.
But I know that you must see all this, Senator Cornyn. There must be disquiet in your late-in-the-evening deliberations when lights in the Hart Senate Office Building are turning off and you continue on at your desk, wrestling with the affairs of our great state and the affairs of State. Let me add to those deliberations. I'd like for you to think also of a beautiful and precocious 3-year-old, Miss Pippa, our granddaughter. In fact, I'd like for you to think of a host of 3-year-olds . . . and 7-year-olds and, indeed, children of any age here in America. The decisions you are deliberating right now, at whatever time of day or night, will determine the America they live in 20 years hence.
For my part, Senator Cornyn, I had to make a fundamental decision. With the changes in the party I once so energetically supported, I had to choose between remaining a Republican or a conservative. I chose the latter. I am not asking you to change your party affiliation, but I am challenging you to reinvigorate your support for Article I of the Constitution, a document I am confident you also hold dear, in the face of a clear and present danger to our republic of laws. Everything is at stake, and that includes the future of Miss Pippa and her young and trusting friends. For her, for them, for all of us Americans, do the right thing.
Mark Long, a former Air Force intelligence analyst who now specializes in contemporary Islamic fundamentalism and the Arab-Israeli conflict, is author of "Saddam's War of Words: Politics, Religion and the Iraqi Invasion of Kuwait."
Catch the latest in Opinion
Get opinion pieces, letters and editorials sent directly to your inbox weekly!