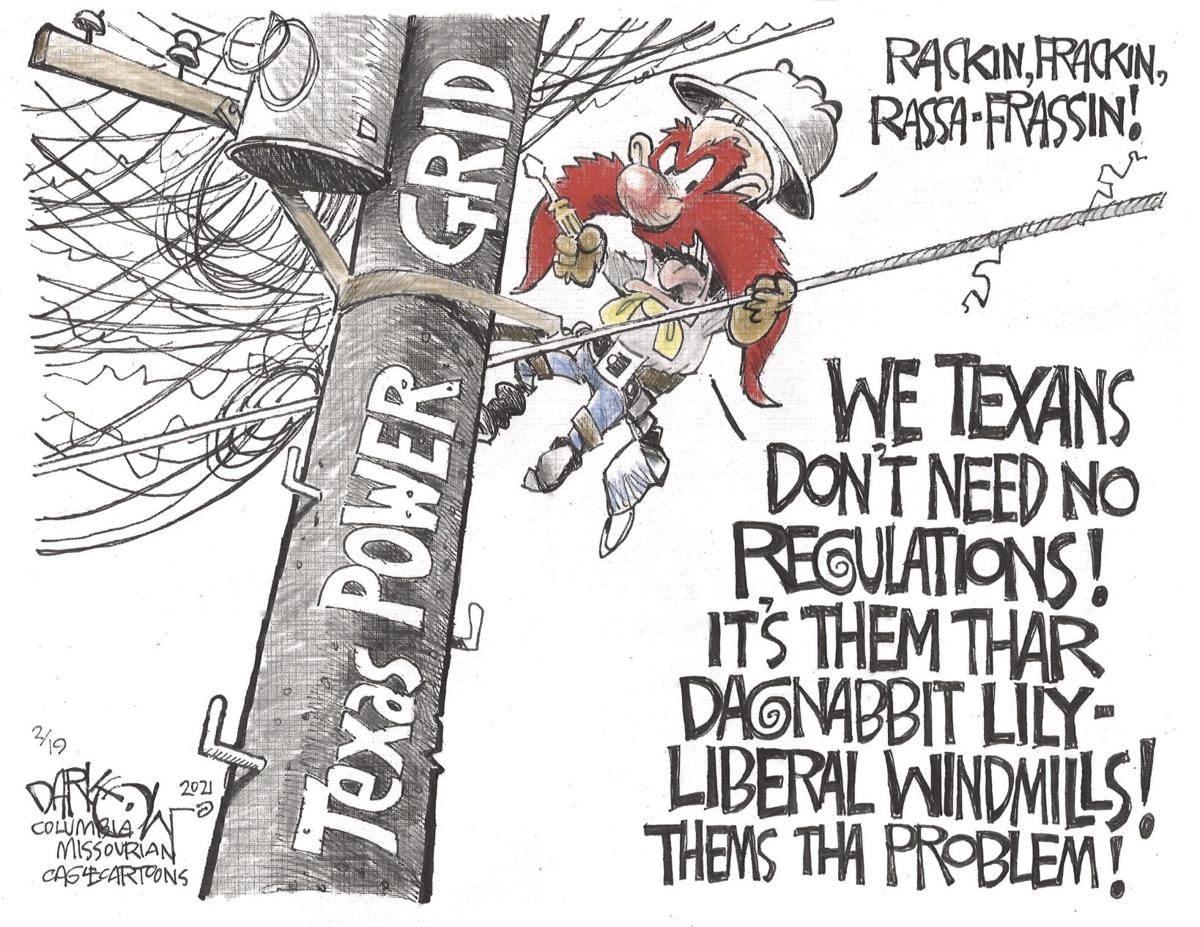 This time of year, I often have a familiar exchange with my friends in Waco. One of them will ask me what the temperature is here in Minnesota, and I'll take a break from scraping ice off my car to text them a picture of the frozen tundra. In response, of course, I get a "ha ha!" accompanied by a photo of people in T-shirts sitting by the grill.
Not last week, though. The jokes were off as Texas saw a generational cold front bring real tragedy. We probably do not yet know the full extent of the hardship, inconvenience, and even death that resulted.
There has been an initial wave of finger-pointing, of course, but real tragedy makes that unimportant in this moment. The truth is that electricity didn't fail because of Rep. Alexandria Ocasio-Cortez or because of Gov. Greg Abbott. The key decisions leading to this epic failure were made before either one of them were in office, and span issues larger than even Texas.
In truth, the problems Texas suffered are part of broad global trends that are bigger than any one politician or political party. The obvious one — which I am no expert on — involves climate change, of course. Unpredictable weather events, including blistering heat in Minnesota on occasion, and bitter cold in Texas, are undeniably a product of the changes in our environment. We have always had bad weather, but now we see more of it.
Not the cheapest
Beyond that, though, some have focused on a clear underlying problem: that the Texas power grid's independence from the rest of the nation meant that back-up power could not be brought in from other states to help alleviate the problem. In short, there are three power grids in the United States: one in the west, one in the east, and one for Texas. That separation offers something, of course: freedom from federal regulation of interstate commerce in electricity, which in turn allows power companies to produce power more cheaply because they have fewer mandates to spend money on.
But then things get tricky. The next point, one would think, might be that "and so Texans enjoy the cheapest electricity in the country!" Unfortunately, that just isn't true. Texas isn't even in the top ten among the states for cheap electricity (and barely cracks the top 20). With an average electrical rate of 11.44 cents per kilowatt hour, Texans pay rates much closer to those in Minnesota (12.55) than those in Oklahoma (8.88).
It would appear that all that independence and deregulation is helping the profits of energy companies, not the pocketbooks of Texans. The truth is that Texans are paying about the same as I do here in Minnesota, without the interconnection with other states and regulation that ensures things don't fall apart when things get weird. I understand the logic of risking occasional disaster for consistent savings, but that just is not what Texans are getting.
Against the tide
The idea that cutting off economic interdependence brings prosperity isn't limited to Texas, of course. The United Kingdom's choice to leave the European Union was driven by similar concerns — they wanted to be out from under the regulations imposed by the EU. It's too soon to evaluate the move, but so far it has been a bad divorce, with UK firms losing business as they are cut off from markets.
That trend towards creating smaller markets, though, isn't a sea change, it is a countercurrent. Broadly, the promotion of free trade by economic conservatives has included a push for interdependence between states and nations, which has burgeoned over the past half-century. Britain cutting itself off from a free trade zone was a blip. Perhaps the independent Texas electrical grid will be, too.
Fortunately, Texans tend to believe in interdependence in the most important way when things get bad: they help each other out. More than anything, what I heard from friends were stories of people shoveling out their neighbors, pulling cars out of ditches and taking in people who had lost electricity. There's no doubt that many lives were saved by the kindness of strangers.
Which raises the question: why should governments — and power grids — be any different?
Mark Osler is the Robert and Marion Short Professor of Law at the University of St. Thomas in Minneapolis. He taught at Baylor Law School from 2000 to 2010. His books include "Prosecuting Jesus," a memoir of performing the Trial of Jesus in 11 states.