Bill Whitaker's elegiac tribute to Rep. John Lewis last week was a true and convincing depiction of a civil rights hero. Lewis told hard truths, the ones that require sacrifice if taken seriously. We face some of those same hard truths now, and some new ones — including a pandemic that demands sacrifices we seemingly are not able to make. We are reopening schools and playing football because we cannot face the truth that the pandemic is still with us. We are acting on what we hope is true rather than what we know to be true.
Whitaker painted a portrait of John Lewis with his words; my dad literally painted his portrait. He told me the story recently as we sat in a little grove of trees near a stream in Northern Michigan.
John Lewis was a compelling character, the kind of person my father loves to paint. My dad once told me that he wants his paintings to be "truer than true" — that is, imbued with the spirit of a person beyond the mere contours of his or her face. Several times, he has painted the people who sit in the back row of church because they're the ones with the most on their minds.
John Lewis came to speak in Ann Arbor, so my dad went there. Lewis had gotten a poster my dad had made and asked my dad to sign it. Then he asked my dad to paint his portrait, and my father agreed, taking pictures to use as a study. My father found Lewis to be an unusual politician: one who took the spotlight reluctantly, and only because he found it to be necessary. The Georgia congressman was gracious and patient for the sitting, and my dad was ready to begin his work.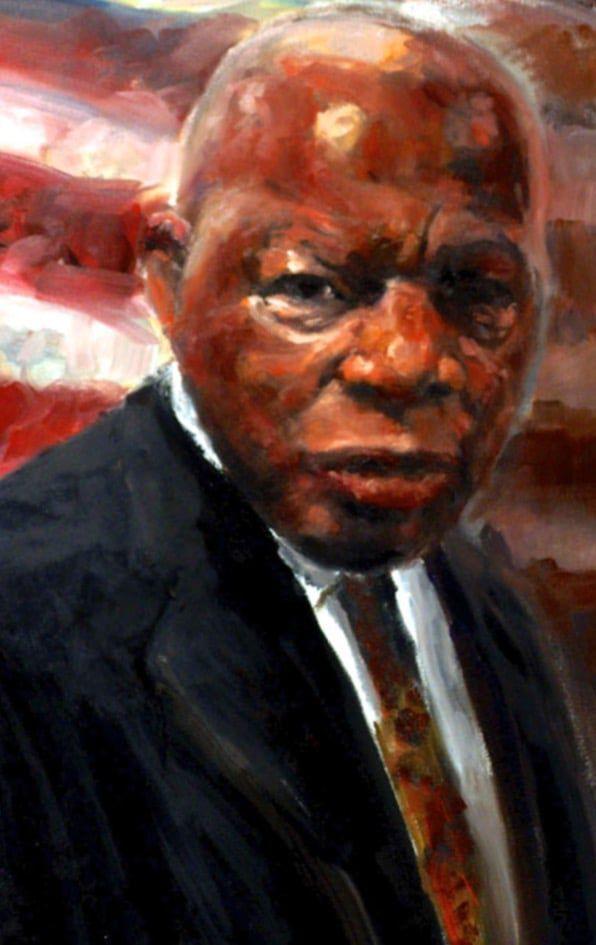 Framing it right
Well, not quite ready. He wanted it to be just right, truer than true. He had read that Lewis grew up in a small wooden house with large cracks that let the wind come through. So he packed up his car and set out from Detroit to Alabama to see it and get some old wood to paint on or use as the frame. The texture of that wood would create the contours of truth, and for my dad it was worth driving to Alabama to get it. Because that is what you do when you want to get things just right.
When he got to Troy, Alabama, near where the civil rights crusader was born to sharecroppers back in 1940, my dad asked around for information, but no one seemed to know who John Lewis was. Then, at a drugstore lunch counter, he found someone who knew not only who John Lewis was but where he was from. He directed him to a little town not too far away.
On the way to that town, he stopped for gas. Killing time, he asked the guy at the next pump if he knew where that little town might be. The other guy asked why my dad — obviously not from Alabama — wanted to go there, and my dad explained. The other man looked back and said, "That's not a wood house, it's a brick house." My dad, surprised, asked how he knew.
"Because I'm John Lewis' brother Sam," the man explained.
Sitting beneath the tall trees by the stream, I asked my dad: "So what did you do?"
"I went home," my dad said, shrugging. He had driven to Alabama to see a wood house that did not exist, at least not now. He had to acknowledge that truth and change his plan. He did, too: The painting ended up with a background that looks like a flag painted on broken concrete — imperfect, beloved and real.
It's a good thing to learn from two heroes at once.
It's not over
And now we face our own hard truths that don't fit what we hope for: The pandemic is not over. Nor is racism. If we are to truly face them, we may have to actually sacrifice. Ignoring the pandemic and assuming that things will be fine if we have school and football and everything else is not going to work. Nor is the conceit that racism has been conquered in the United States. Honestly seeing the world around us explodes both delusions.
John Lewis was a hero. But he was constantly humbled in pursuit of the truth: beaten, arrested, reviled, like so many of our other heroes. That humility is a key to how we might address both the virus and racism. Do we have the strength and humility to see what is true rather than what we wish to be true?
Mark Osler is the Robert and Marion Short Professor of Law at the University of St. Thomas in Minneapolis. He taught at Baylor Law School from 2000 to 2010. His books include "Prosecuting Jesus," a memoir of performing the Trial of Jesus in 11 states.