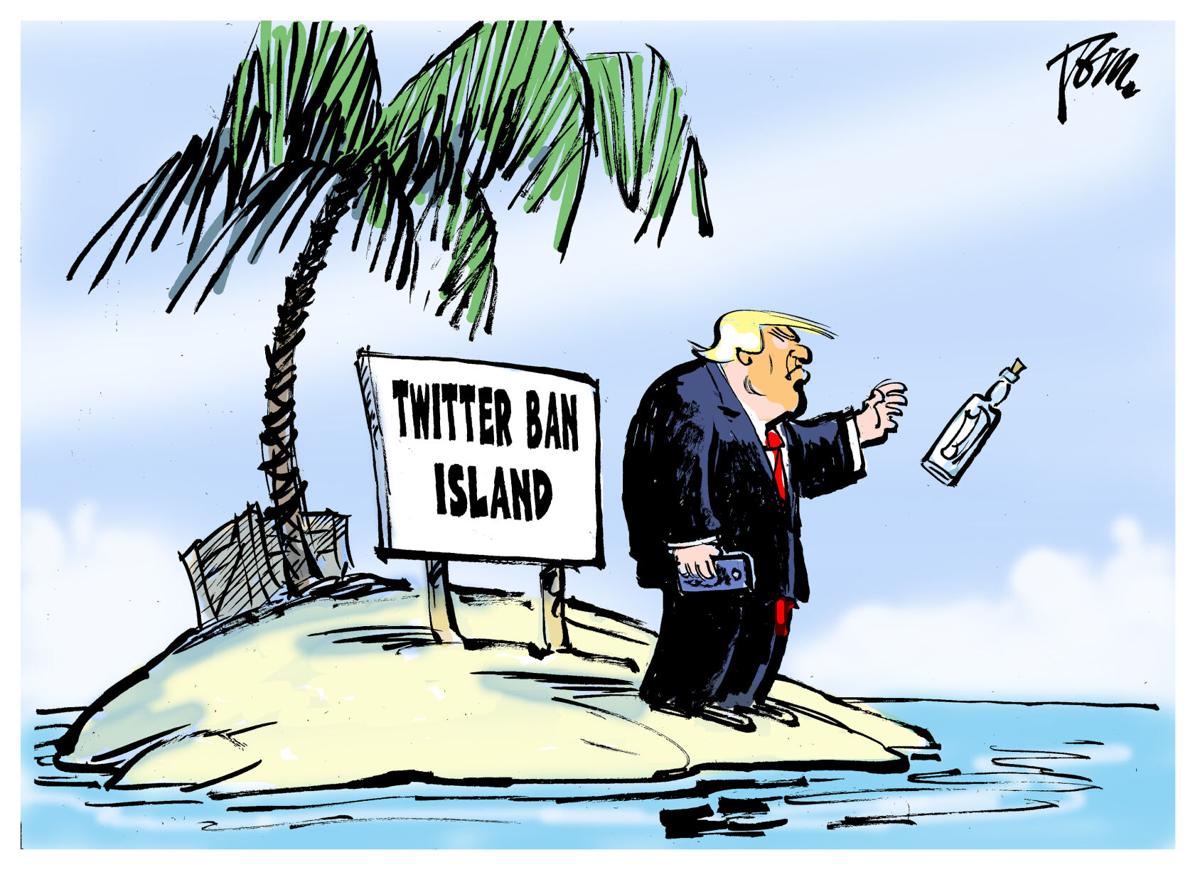 About a decade ago, before I became a member of the Board of Contributors at the Trib, I fired off a hot take op-ed on a divisive issue: same-sex marriage. Even though my defense of same-sex marriage (which was then illegal in most states) was cogent and relevant, this newspaper refused to publish it.
And you know what? That was their right. It was not a denial of my First Amendment rights. The First Amendment is pretty clear: "Congress shall make no law ... abridging the freedom of speech..." The Fourteenth Amendment later extended this to action by the states. Freedom of speech guarantees freedom from government restrictions. Private actors, like this newspaper and Twitter, are not affected.
That means that the actions taken by social media companies including Twitter, Facebook and Amazon in the wake of a violent insurrection at the nation's Capitol on Jan. 6 — booting the president from their platforms and pushing the alternative venue Parler off the internet — are not a violation of free speech, at least as we use that term in connection with the First Amendment. Neither was Simon & Schuster's choice to not publish a book by Sen. Josh Hawley of Missouri after he tried to delay the vote certifying the results of the 2020 presidential election. Oddly, Hawley — a graduate of Yale Law School and a former attorney general of Missouri — wrongly claimed a violation of his First Amendment rights in contesting the decision. My hunch is that he knew better, but was playing to an audience who did not know better. Misleading constituents about the contents of the Constitution is not a good choice.
I personally think that Twitter and Facebook were right to enforce their policies even against the president of the United States. Others disagree with the decisions of Twitter and the others of course, for a variety of reasons other than the First Amendment. One of the better arguments for keeping @RealDonaldTrump on Twitter is that Trump's appearances on Twitter created a remarkably transparent presidency. Much of the time, his Twitter feed told anyone who cared to check in exactly what he was watching on television, what he thought about it and who he was angry with on that day. It was a bizarre kind of reality show, where grudges were established, insults hurled, and promises made. It wasn't irrelevant though; the grudges and insults often signaled who was about to be fired, and the promises were sometimes kept (for good or bad).
In the end, the important legal issue raised by tech companies in the last week is one of antitrust, as many others have argued. As with other industries, we have let the biggest tech corporations get too big for the good of our nation. That power allows them not only to control markets, but speech.
Let's look at just three big companies involved in recent efforts to restrict President Trump's access to the public: Amazon, Facebook and Twitter. They present very different scenarios.
Amazon has become a behemoth, driving not only small businesses but large corporations from the marketplace. But while it grew, it also moved sideways into book publishing, manufacturing products, producing movies and television shows, and hosting cloud computing and storage. Most importantly, it has dominated the infrastructure of internet commerce and now other companies — who normally would be competitors — rely on Amazon to make their businesses run. In fact, it was this platform domination that allowed it to boot the conservative-leaning social media site Parler off of the internet. And yet, even as the European Union targets Amazon for antitrust violations, its anticompetitive growth here has been largely unchallenged.
Facebook has taken a different route — buying up competitors. Among many other acquisitions, Facebook paid $20 billion to buy two key competitors, Instagram and WhatsApp, giving it control of three of the leading social media outlets. That breadth is what allowed it to bar President Trump from multiple media outlets at once. Unlike Amazon's case, this traditional route to destroying competition has spurred serious government action. The Federal Trade Commission sued Facebook for antitrust violations in December — a promising development, but too late to affect the limitations on the president.
Twitter, meanwhile, has pretty much stuck to its lane. While it has grown because of the popularity of its core business, it did not move to dominate platforms like Amazon or gobble up competitors like Facebook. It is much less susceptible to charges of antitrust activities.
Put it all together, and consider how effective antitrust activities a few years ago would have affected the events of the last week. Yes, Twitter would still have banned President Trump. But other significant outlets would probably have remained more available to him, and to all of us.
Crisis often brings underlying problems to the surface. While the recent cries claiming violation of the right to free speech were ill-informed, the actions of Big Tech showed us exactly where lax enforcement of antitrust law can take us.
Mark Osler is the Robert and Marion Short Professor of Law at the University of St. Thomas in Minneapolis. He taught at Baylor Law School from 2000 to 2010.