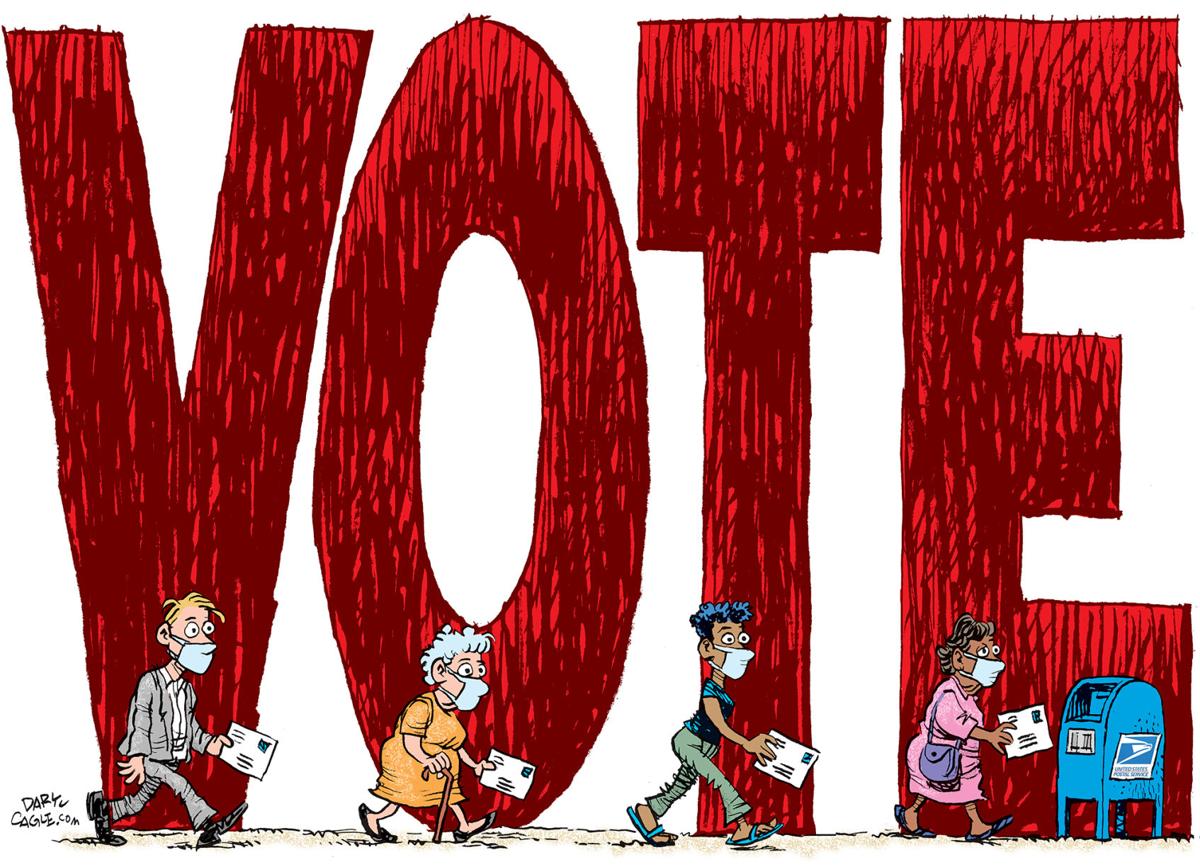 A few days ago I found two letters in our yard addressed to my neighbor. When I brought them to her, she told me that her kindergartener had probably dropped them while retrieving their mail and the wind blew them over. Years ago I occasionally found pieces of our mail scattered along the edge of the cornfield across the road.
Amid controversy over mail-in ballots and the reliability of the U.S. Postal Service, I have few complaints about local mail service, which has improved over the years. Only rarely does our mail delivery surprise us, such as an empty mailbox when mail is expected or a letter arriving addressed to someone else. But that seems to occur only when a substitute mail carrier takes over our mail route.
At the Hewitt post office there is no after-hours letter scale to weigh your envelopes or packages to determine postage costs if you intend to attach your own stamps. We use the Sanger Avenue location after normal hours which has a scale for weighing mail. It's available 24/7.
Shortly after getting out of the Army in 1969, I was hired to work the second shift at the sectional control facility post office in Richardson, Texas. This SCF served as a processing and distribution center for post offices in a designated geographic area as defined by the first three digits of the ZIP codes of those offices. Working second shift enabled me to attend college classes during the day. My postmaster was Mr. Smith, a rather handsome middle-aged, slightly built man. He set a good example for all of us, arriving early and working late, and he was well-respected. Always impeccably dressed in a suit, he would come out of his office and roll up his shirtsleeves if we mail clerks and mail handlers got behind in sorting envelopes and packages. Working alongside us, he helped to ensure we got all the mail sorting finished and mailbags filled and tied for loading onto mail trucks for on-time departures.
I enjoyed working there because the work was somewhat physical but clean, and I liked my co-workers. Two of my co-workers (an African American and a Native American — mostly Cherokee, he told us) and I occasionally gathered after work for a beer at a bar shortly before "last call." Or sometimes we'd go to a nearby teahouse (popular in those days) where we sat drinking various flavored teas and listened to Greenville Avenue teahouse poets read aloud their verses or watched one-act melodramas performed by amateur thespians. We booed the villains in those melodramas and threw popcorn at them while cheering for the heroes and heroines; management encouraged our raucous participation to make the teahouse experience more fun.
The federal government was making a push to hire more minorities at this time. My high school didn't integrate till my junior year, so most of the interaction I had with African Americans occurred in the Army. It was mostly African Americans who picked me up when I hitchhiked across town as a teen too young to drive or later when my car broke down; white Americans often passed me by. I mentioned to my African-American co-worker how in Vietnam I had stopped smoking and started exercising again to get in better shape. After the Viet Cong blew up our water tower, we had to hike over to the Marine base to take our showers.
I made friends with a black Marine over there who'd been a Golden Gloves boxer in Pittsburgh. At about 5'10" he was a couple of inches taller than me but at 135 pounds he weighed ten pounds less, a "lightweight," fast on his feet and a quick puncher. We exercised together and sparred, wearing gloves, of course. When he told me I could punch hard, I said something like, "OK, but you land two punches to my one!" He gave me some pointers and helped me improve my technique. I needed his help, too, because I got into three fights while in the Army.
My American Indian co-worker was from Muskogee, Oklahoma. The Merle Haggard song "Okie From Muskogee" was popular on the radio then. He told us the lyrics, "We don't smoke marijuana in Muskogee," were misleading because he knew a lot of people in Muskogee who smoked marijuana! I told him about the summer when I was 16 and drove up to Idabel, Oklahoma, to join up with a high school friend, also part-Cherokee, in a work crew to haul hay and do other farm work. This friend of mine attended my high school during the school year while living with his sister and brother-in-law, but he returned home to his parents in Idabel during the summers to work. I had to wrestle two of his Cherokee friends before they'd let me join their work crew.
I asked my post office co-worker if wrestling was a Cherokee Indian tradition. He chuckled and said something like, "Yes, we do wrestle some. They probably wanted to find out if you were strong enough to work with them." My high school friend's parents were poor and had no indoor bathtub or shower, so we bathed in the Little River after work. Sadly, years later my Cherokee friend's father drowned in that river while fishing.
Working at the post office afforded me the experience of working with minorities I came to respect because of their work ethic and devotion to duty, much like the minority soldiers I had served with — African Americans, Hispanics and a Native American I recall. One of our most admired helicopter pilots was black, a well-liked captain known for being friendly, not "uppity," toward enlisted men. His Huey gunship was shot down and his body and those of his copilot, crew chief and door gunner were never recovered, as far as I know.
Mr. Smith required us to check the outside mailboxes at more frequent intervals than normally scheduled. The letters would get jammed in the mail slot and we'd have to open the mailbox and reach inside to pull them down to the bottom or else haul the letters inside if the mailbox was almost full. There was an inexplicable mailbox design flaw: a metal lip stuck out on the inside of the box where the drop chute joined the body of the mailbox. This lip protruded enough that it stopped the mail from sliding smoothly down to the bottom. Instead the envelopes would catch on the metal lip and accumulate and eventually jam up the mail drop slot. Mr. Smith was cognizant of this problem, so he sent us outside to check the mailboxes to ensure the slot was clear and could accept letters securely.
One rainy night several years ago I drove over to the Hewitt post office to mail some Christmas cards. When I pulled up to the outdoor mailbox, I could see that the mailbox was full, that Christmas cards stuck out of the drop slot and were getting wet in the downpour. I tried to push the cards down into the box but was only partly successful because the mailbox was so full. I managed to reach down inside to see if there was that same old protruding metal lip on the inside below the slot that had been such a problem for us at the Richardson post office decades ago. No, the modern design allowed for a smooth drop to the bottom.
So there was the situation: the Hewitt outside mailbox was stuffed full with Christmas joy and seasonal tidings, letters were sticking out of the drop slot and some of the mail was getting wet! So that night I used the indoor mail drop instead to mail my cards. The next day I returned to the post office to inform them of what had happened.
In 2016 it was expected to rain again during the Christmas mail rush. So I called the Hewitt post office to speak to the new postmaster, a woman. I told her what had happened before and suggested she check on the outside mailbox frequently since it was the busy Christmas season. She told me she "was on it already" and would ensure that mailboxes would be emptied often. I have never noticed an overfilled mailbox since she took over. My brief conversation with her reminded me of Carly Fiorina during the 2016 Republican primary debates when Carly said, "Sometimes it just takes a woman to get the job done right!" (I had hoped if my candidate, Mike Huckabee, won the primary, that he would pledge to make Carly his vice presidential nominee, just as Sen. Ted Cruz pledged during the same campaign.)
This election may be very close. We intend to vote early in person at the Hewitt Public Library. We will take a video since we'll be accompanied by our young first-time voter. This brief video of our 2020 voting experience should be unusual and educational for our grandkids to watch someday since we'll be wearing masks, following physical distancing guidelines and using hand sanitizer, all in recognition of the ongoing pandemic.
My faith remains strong in our postal carriers and their work-a-day management, pivotally involved in the electoral process for seniors and the disabled taking advantage of mail-in ballots. One idea for raising U.S. Postal Service revenue to address its budget shortfall might be to develop a stamp with the magnified image of the deadly but pretty COVID-19 coronavirus. Sell it for a higher price to mark this historic pandemic. Years from now such a stamp could be a treasured item for stamp collectors.
Mike Miller is a retired teacher and Army veteran who served in Vietnam. He lives in Hewitt.
Mike Miller is a retired teacher and Army veteran who served in Vietnam. He lives in Hewitt.
Catch the latest in Opinion
Get opinion pieces, letters and editorials sent directly to your inbox weekly!