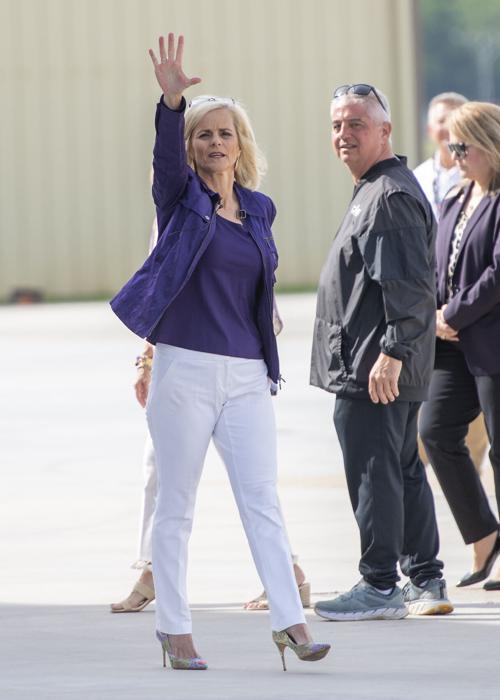 There are many things unique to my home state of Louisiana, especially in the southeastern "toe of the boot" where I grew up. Generally such traits are positive, centering on hard work rewarded, joie de vivre celebrated and — part and parcel to both — food. Others are not so positive, like Louisiana's continual triangulation with Mississippi and Arkansas in the race of lowest performers of essential civilized society markers. You fill in a blank: lowest income, least educated, highest teen pregnancy. Not quite forever, but sadly the list goes on.
Good or bad, it is in these piney woods, running from the Mississippi River at Baton Rouge east to the Pearl River and Mississippi state boundary at Slidell, where I grew up. As was the case with acclaimed basketball coach Kim Mulkey. Frankly, I'm surprised she's remained away from Louisiana as long as she has. But then who am I to say? I've essentially been absent from there since my 1968 freshman year at Baylor University.
Those eight parishes comprising the roots I share with Coach Mulkey are known as the Florida Parishes, having been once part of British, then Spanish, West Florida during the 19th century when the coastal panhandle ran from Pensacola to Baton Rouge. Mulkey, as most know, is from Tickfaw, near Hammond, in Tangipahoa Parish. I'm from Covington in adjacent St. Tammany Parish, the most easterly of the eight.
The colonial history isn't the only oddity of the region. It sits at a crossroads of historic and current-day Southern culture. Populated mostly by Anglos (with surnames like Talley and Mulkey) from other parts of the Southeast and even New England, and also by Native Americans, Blacks and Creoles, it is a gumbo. Typical traditions like SEC college sports and the best of "Southern Living" annual recipes blend with Afro-Caribbean cuisine and Mardi Gras from south of Lake Pontchartrain. A generous dash of Tony Chachere's Cajun seasoning is added from Acadiana.
In a 1980 "Esquire" magazine essay, Covington resident, National Book Award author and my parents' former neighbor Walker Percy pegged the region as having an "admirable tradition of orneriness and dissent" with an "abiding indifference to the currents of history." Its woods and swamps were a refuge for Loyalists who escaped New England during the American Revolution (which is why main thoroughfares in my hometown are named Boston, Vermont, New Hampshire and such). Meanwhile, a day's horse ride west, Mulkey's hometown of Hammond was founded by a Swede, Peter av Hammerdal (Anglicized as Hammond) who didn't care for the British at all since they imprisoned him during the Napoleonic Wars. He escaped to the New World and built a timber empire only to lose it in the Civil War.
Percy was right: ornery and contrary. Some didn't like the British, some hated the Spanish. They weren't sure about being a part of the new America, but were categorically suspicious of the supercilious French across the lake in New Orleans.
So if over the years you noticed Coach Mulkey turning up her twang during postgame pressers and becoming piquant at best, combative at worst, then cast it off to the scent of the pines and the artesian spring water of her youth. It's in her DNA.
Well before the Republic of Texas came into being, the Louisiana region was its own republic, if but for a few months. Locals staged a bloodless coup in 1810, driving the Spanish back to Pensacola from Baton Rouge and raising the flag of the Republic of West Florida, with a lone white star on a solid blue field, above the territorial capital. The icon is there today in historical signs along Interstate 12. Some historians assert, with plausibility, that this particular flag was carried across the Sabine River years later by Louisiana vigilantes including the likes of Jim Bowie in sympathy and support of the Texians in their fight for independence from Mexico. I was taught this in eighth grade Louisiana history (in the very school building, no less, where Lee Harvey Oswald attended grade school for a time) by Mr. LaCroix, who exuberantly demonstrated the Sabine crossing by running from one end of the classroom to another. Thusly, Texas' revered lone star originated from a bunch of scrappy, sometimes ne'er-do-well, backwater Louisiana contrarians.
That same star is prominent in the austere seal of Baylor University surrounded by the words "Republic of Texas" which we Baylor folk hold up also as part of our unique history. All other existing universities were chartered after statehood, you understand.
In my own esoteric thinking, it's ironic that along with 20 years' worth of Baylor paraphernalia Kim Mulkey is packing up now, she will return that bold star in various renditions to its origin: Baton Rouge.
Wacoans and Baylorites are sad, no doubt. But we all should be standing on the banks of the Brazos waving a fond farewell to Coach Mulkey with genuine gratitude and "Muchas gracias y vaya con Dios," knowing she's being heartily greeted on the other side with "Bienvenue en Louisiane" at the first Louisiana rest stop. Not only that, crawfish are in season!
Ted Talley is a retired consumer products salesman who writes occasional op-ed pieces in the Arkansas Democrat-Gazette. He is a 1972 Baylor University journalism graduate.