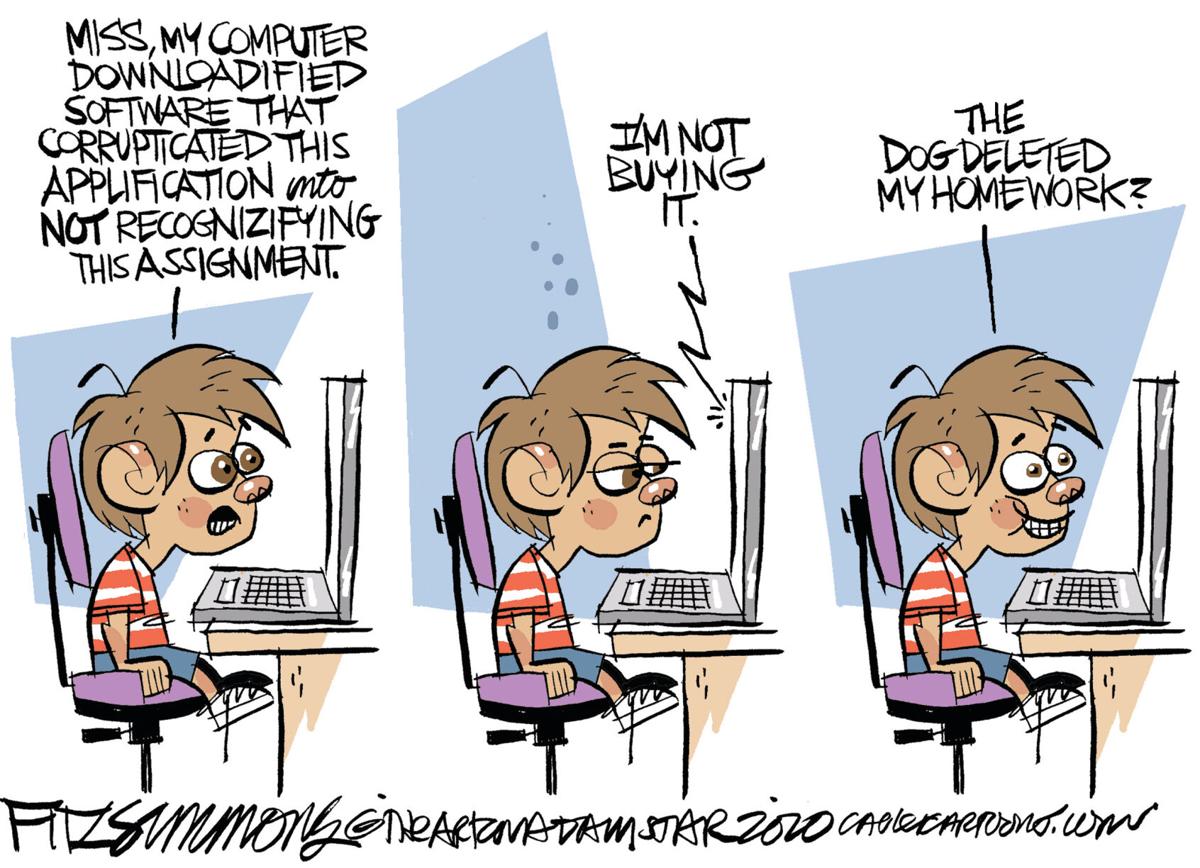 Well, ladies and gentlemen, here we are. Another school year is upon us. Several school districts began before Labor Day while the rest of us waited in the wings to begin the most unusual start of a school year ever, at least in our times. We began 2019-2020 in the normal way with high expectations and anticipation and ended it virtually with virtual celebrations and being alone together (and I'm really beginning to hate that catch phrase). Now we have started 2020-2021 virtually, alone together. Maybe we'll end the school year with hugs and handshakes. I hope so.
Most of the teachers learned new programs on how to take our classrooms and virtually put them in our students' homes. It isn't easy. I'm not looking for sympathy by any means. After all, that's my job and we always knew technology would be a part of our classroom setting one day. But I don't think any of us were prepared to be thrown into the pool like we were. I kind of think of it as a non-swimmer's being thrown into the middle of a huge swimming pool, then being told to figure it out, sink or swim. I mean, sure, teachers have been preparing for technological change, but some of us wanted to "try the waters" a little bit at a time. None of us thought we would be thrown in the middle of the pool and have our life preservers snatched away.
To be fair, I do want to make it abundantly clear: We're learning to swim. We just didn't expect to be on our own so quick without experimentation and practice. The novel coronavirus just told us to sink or swim and the districts are throwing out as many life preservers to us as they can, but eventually, to be successful, we're going to have to start using our best swim stroke.
With all this virtual teaching and learning, teachers are having to rethink favorite lessons. I have a favorite lesson for my students where I buy push-ups or some other exercise from them. This is a hands-on lesson introducing the economic concept of supply and demand. I'm not sure how that lesson will play out virtually, or if it even can be. Another favorite lesson is making paper airplanes in different ways to represent how our global economies work. How are we going to do that now? Or what about our trading-around-the-room exercise that represents global trade? I just don't know how I'm going to make any of this fun.
I guess I'm just disappointed. I know I can make adjustments to my teaching. I know I can do it. I'm just not wanting to give up important lessons bolstered through interaction, engagement and a little classroom enjoyment. I started teaching to be with young people. I need to see them face to face to have wonderful conversations and to reach out to pat a hand or give a quick shoulder hug to a frustrated young person. How can I do that virtually?
My biggest concern is that virtual learning will evolve into the new, post-pandemic norm. No, there's nothing wrong with it. I just miss those faces that greet me at the door with a sincere, "Mrs. Nors, where were you? I was afraid you weren't going to be here."
Virtual teaching isn't going to be the easiest route at first. It's going to take rethinking, practice and time on our parts. And so, students and parents, please be patient with us teachers, especially us older ones. We're learning a completely new game and have to come up with a completely new game plan. We will have to test what works and what doesn't. I know I'm going to fall flat on my face somewhere down the line, but then how many of us have been successful on the first try at anything?
To parents: I will do my best with your student if you will be patient with me. Please be patient with all of us. We will do the best we can as quick as we can because your babies are our babies when we have them and I can guarantee you that every staff and faculty member on the University High School campus wants these students to be just as successful as you want them to be. I can pretty much guarantee that every other campus and school district feels the same way.
So let's virtually join hands around our students and try not to let them slip through the cracks during our pandemic crisis and beyond. Let's virtually pick one another up as some of us stumble and fall. Let's virtually prepare our new generations to be resilient when other unimaginable crises arise. And let's all remember, we are part of history that time will judge. And we are alone in this together.
Teresa M. Nors teaches at University High School in Waco.
Catch the latest in Opinion
Get opinion pieces, letters and editorials sent directly to your inbox weekly!