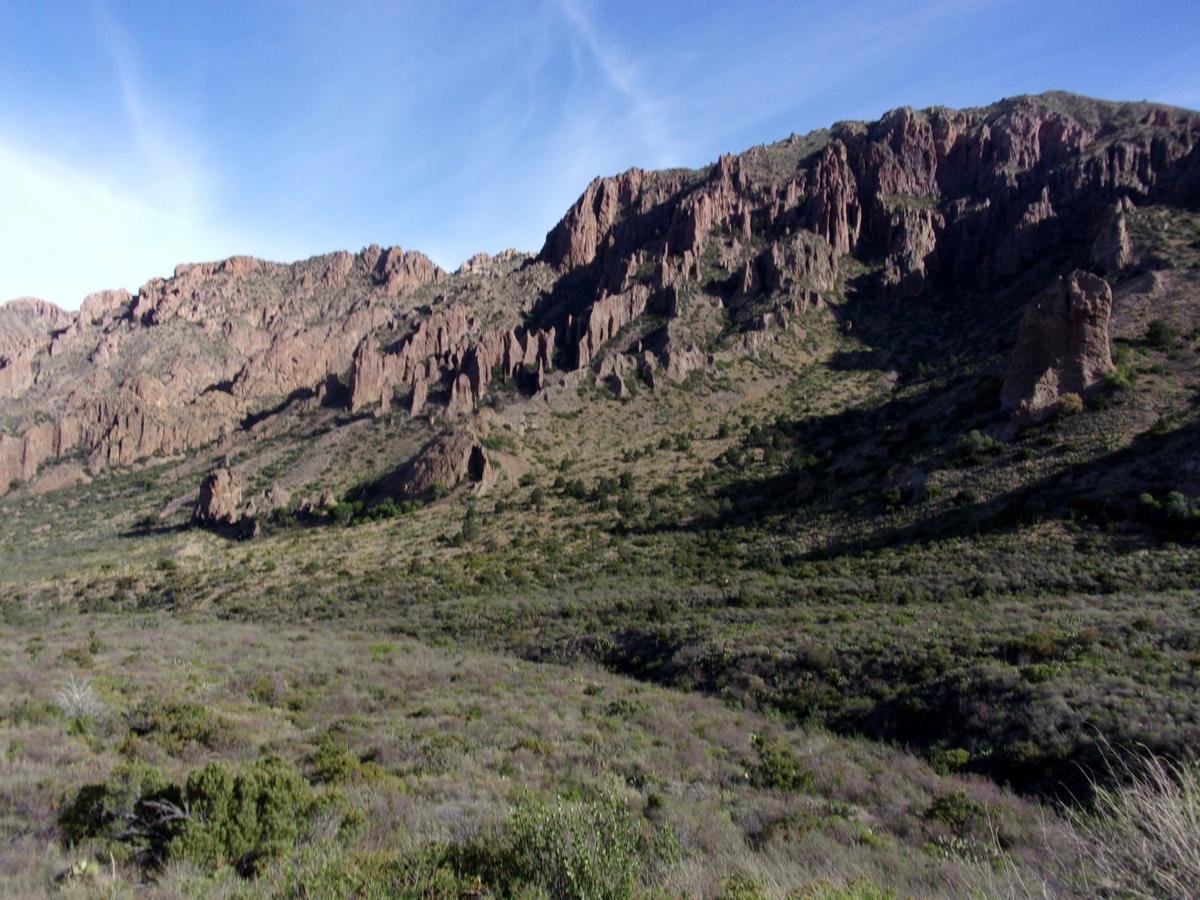 I have lived through the end of the communist scare, the upheaval provoked by the Vietnam War and civil rights struggles, the sobering global realities stemming from the deadly 9/11 terrorist attacks on our nation's political and economic centers. But none of this prepared me for the madness, hatred and hypocrisy that now mark our times and many of our neighbors.
Evidence of this dominates our politics and decaying society, particularly over immigration, a complicated issue that has long masked our worst impulses and certainly does so today: the caging in kennels of brown-skinned children parted from immigrant parents fleeing the violence and oppression of Central America to this supposed land of liberty and Christian values; the scrapping of checks and balances ordained by the Framers centuries ago, junked so that a president openly scornful of the Constitution can build a wall in stretches of borderland where Congress has expressly forbidden it; the contorting of asylum laws, scuttling any pretense the Republican Party still reveres the rule of law. The lawlessness of illegal immigrants is now matched by the lawlessness of our leaders.
So this latest outrage shouldn't surprise: A 53-year-old Jeff Davis county attorney and single mother of two teenage boys, driving home from Marfa (where she is also city attorney) to her Fort Davis home in far West Texas, sees a desperate youth flagging her down on desolate State Highway 17. She stops to render aid. She invites him, his brother and their deathly ill sister into her vehicle and out of the cold. She is phoning for help as a Presidio County sheriff's deputy, reportedly alerted about the trio by an earlier motorist, arrives. The deputy is soon followed by U.S. Border Patrol agents. They place the county attorney in custody for transporting illegal immigrants.
The county attorney is detained three hours, including 45 minutes in a holding cell. Her cellphone is seized, no doubt to determine if she's part of a human trafficking ring. The 18-year-old woman from El Salvador via Guatemala is hospitalized for hunger, dehydration, infected wounds incurred from cactus spines and risk of kidney failure. The immigrants say they have been in the desert for two days without food and water. The sheriff of Presidio County, with whom the Jeff Davis county attorney (and Marfa city attorney) has had other differences, is quoted by a TV station as saying she may have violated the law by aiding illegal immigrants. The sheriff of Jeff Davis County (where the county attorney lives) disputes this, insisting there's little doubt the young woman on the roadside would have died had the county attorney not stopped to help. He dismisses the notion the county attorney is anything but a Good Samaritan.
All this happened one chilly night in late February, but Jeff Davis County Attorney Teresa Todd's case remains in limbo. Persecution comes from a presidential administration that loudly claims to cherish the lives of the unborn but demonstrates little concern for the lives of innocent children seeking sanctuary from gang violence and destitution in Central America. White evangelicals who rally around this president with an almighty passion have been characteristically silent about this latest incident, even as others raise relevant questions: What would Jesus have done? Driven on? Called the authorities? Held the immigrants at bay with a firearm, as vigilantes in the Southwest have done with at least some tolerance by federal agents?
For Todd, who grew up in Hamilton County in the heart of Central Texas, the experience has been like living an episode of the "The Twilight Zone," she told The New York Times.
"It was absolutely surreal," she told me last week. "I thought like, 'What country am I in? This is just really weird.' And this is my neck of the woods, where I've been a public servant since 1994. What is happening here? I think part of it has to do with who got behind me [on the road — the Presidio County Sheriff's Office] and our past history. But I guess part of it has to do with the new political climate around demonizing migrants and most recently demonizing people who try to help, who try to be a Good Samaritan."
All this occurs as parts of the border in McAllen and El Paso roil in something of a crisis, though politicians who portray this as a criminal infestation deceive the public to a significant degree. Much of what the locals see is a humanitarian crisis involving desperate people from well below the border. Some immigrants have possibly been misled about the United States and its acceptance of strangers.
"I feel like what we're seeing in the present is different than what we've seen in the past," Todd told me. "Even when I was just a girl in Hamilton, there would be grown men [from Mexico] who would come through. Even when I moved to Big Bend, it would be grown men who were working in the United States and sending money back to their families in Mexico. Well, that's not what we're seeing now. We're seeing families, we're seeing kids on the side of the road with no one with them. I don't want to get involved in the political question of whether it's a crisis, but I certainly think what we're seeing is different than what we've seen in the past. It brings up a lot more issues with regard to humanitarian aid because we're seeing entire families, we're seeing unaccompanied children, and our system doesn't seem really outfitted for that. Clearly with the separation of families, kids living in tents, the face of this is different."
Todd says she's talking with Republican Congressman Will Hurd, who represents the Big Bend region, about possible federal legislation more closely mirroring the legal defenses offered by state law for aiding obviously imperiled people. And Republican Sen. John Cornyn, independent of Todd's incident, is working with Democratic Congressman Henry Cuellar of Laredo on the Humane Act. The senator tells me that it would require the Department of Homeland Security to keep immigrant families together during court proceedings; mandate additional standards of care for families held in DHS facilities; and allow unaccompanied children from non-contiguous countries (such as Honduras, Guatemala and El Salvador) to be voluntarily reunited with families in their home country. All these proposals are recommended by the bipartisan Homeland Security Advisory Council. Maybe such legislation will signal a change in tone from Washington that works its way into the hearts and minds of conflicted everyday Americans.
Only a few weeks ago, I was motoring alone not far from where Ms. Todd was taken into custody (though proximity is admittedly measured differently in this stretch of Texas). As required, I stopped at a Border Patrol checkpoint. I had concluded a day of hiking in Big Bend National Park, and no doubt I looked it, which is probably why agents waved me on after eyeing my car's interior. The 1,252-square-mile park offers a striking panorama of mountain, desert and river country, all deadly to those who venture forth without sufficient water. Hike this country in the park or beyond for just a few hours, even in spring, and you'll understand the folly of immigrants attempting a far longer journey on foot with only some food and a jug of water.
Yes, some armchair Trump supporters want Ms. Todd prosecuted and locked up. But they fail to appreciate a custom in this far country and much of misunderstood West Texas, where I lived for a quarter-century. Folks there may be conservative or liberal, but either way they have a healthy respect for the land and an environment that can easily claim you. An unwritten law holds that if someone is in trouble in these stretches of cacti, rattlesnakes and sun, you render aid. You don't check their ID. You don't ignore their suffering if they're Hispanic. You don't first gauge their politics. By God, you render aid. And if you can't do that, you're the one who needs saving.
"I don't really understand it," Todd said. "I can tell you that, as a county attorney, we find bodies in the desert. And normally they're from Central America. Our justice of the peace coordinates with the consulate whether it's Guatemala or El Salvador, wherever. There's a big issue about what to do and so, working in a system where we see this, I want it to happen less often. So to the extent we can help there be fewer dead bodies in a very rough, unforgiving country, it seems like that's what we ought to be doing."
"Here in Fort Davis, I don't think it's an issue," said Lonn Taylor, 79, a newspaper columnist who retired as a historian at the Smithsonian Institution's National Museum of American History in Washington, D.C., after 18 years. "Everyone is behind Teresa. I think everyone would do exactly what Teresa did. You know, we're decent, compassionate people. Most of all, people here believe in helping other people out. I've spoken to any number who say if they saw somebody on the roadside in the middle of the night who was obviously sick, they'd stop and pick them up and not ask any questions."
Taylor suspects many folks in the Midwest and Northeast don't understand the very hostility of this rugged, sun-baked land.
"We had some friends — intelligent people who worked in television in New York and Washington for years — and they came down to visit us. And we took them to Fort Leaton, about three miles down the river from Presidio. There are prickly pear all over the place and some of them had buds on them. They're called tunas, big purple buds. And before we could stop this woman, she had reached out and plucked a tuna. We spent the next hour pulling cactus spines out of her hands with tweezers. And she said, 'I never thought a plant would bite me.' And I said, 'Everything in the Big Bend will either bite you or scratch you. Keep your hands in your pockets.'"
Maybe federal prosecutors can make an example of Todd as they've sought to do to Good Samaritans everywhere from Brownsville to Tucson (including a group called No More Deaths) who render aid when immigrants are in trouble or stranded. Maybe, too, Todd should offer a defense based on religious liberty, all the rage among the far right. Of course, we might learn this supposedly Christian nation is worshiping two very different gods.
"The best advice I've had came from two of my best friends, probably within 12 hours of each other, when I was really struggling with all this," Todd told me. "I wasn't able to talk about this initially [on attorney's advice], there was a lot of false information about what had happened that had been put out, like the Channel 7 news interview with the Presidio County sheriff, and I wasn't able to defend myself and it was very frustrating. And my friends said, 'This is exactly the place you are supposed to be right now. You are the person who is supposed to be in this place. It's frustrating and it's difficult, but it's all going to turn out and it's exactly what needs to happen.' They meant in the sense that we have transformative events in our lives that propel us forward and bring attention to important issues, and that this was one of those times."
If so, the federal government may have sought to bully and browbeat the wrong Texan.
Catch the latest in Opinion
Get opinion pieces, letters and editorials sent directly to your inbox weekly!