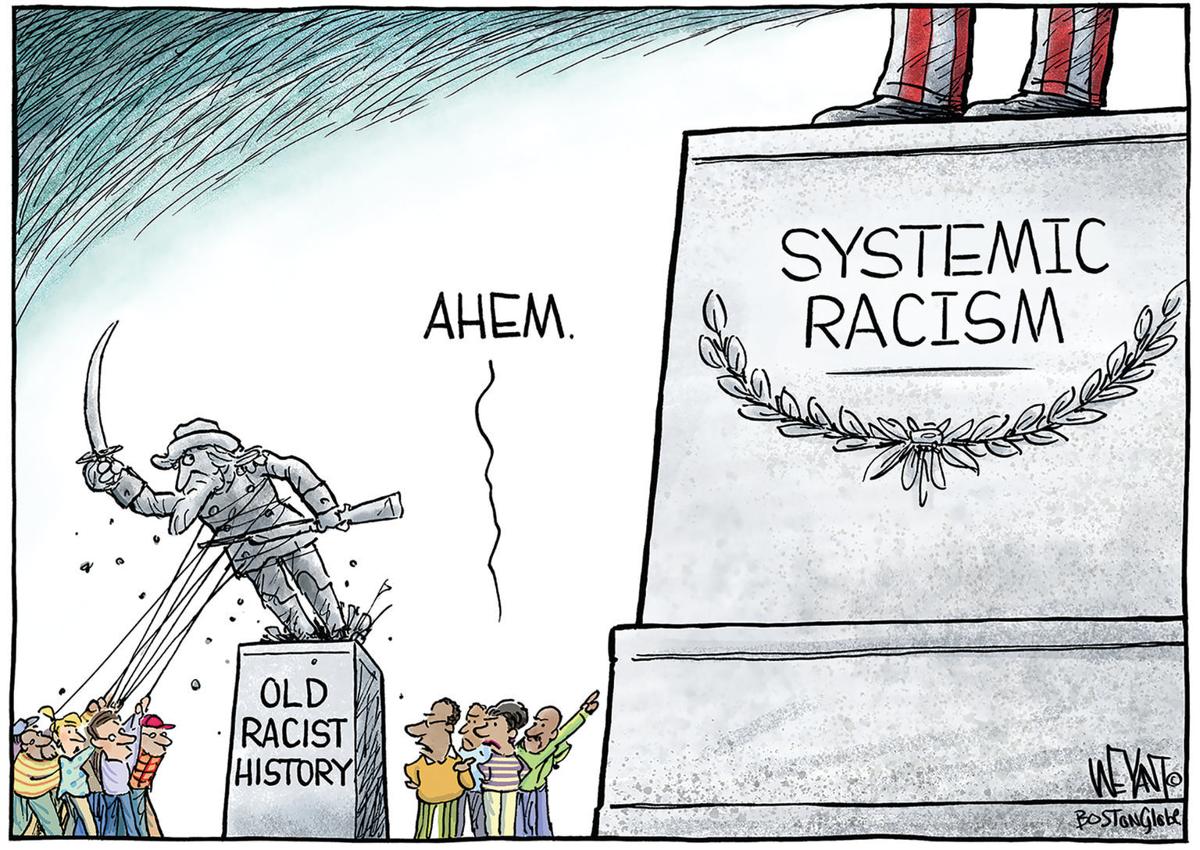 Last month, U.S. Sen. John Cornyn got stuck in one of those pitfalls that ensnare politicians who miss the dizzying capriciousness of our times. During a Q&A with some of us in the Texas press, the Republican senator was discussing possible reforms of law enforcement in the wake of the senseless killing of George Floyd by Minneapolis police officers on Memorial Day. The incident, involving a handcuffed black man and a brutish white police officer, now epitomizes racial injustice in America. Yet questions kept turning to the senator's position on a move by the Republican-led Senate Armed Services Committee to consider changing the names of military installations across the South named for Confederate figures.
This proposal includes Fort Hood, some 50 miles south of Waco and named for a Confederate warrior who epitomizes the Peter principle in warfare. Given the Republican Party's decades of pandering to a segment of society that cherishes heroes of the Confederacy, the 68-year-old white senator from Texas resorted to a regularly invoked argument in such discussions: "One of the most important things about our history is that we learn from it. You can't learn from our history if you try to erase it."
'Lost Cause' narrative
A day later, Cornyn had shifted his position upon learning what fellow Republicans on the Armed Services Committee were doing. Yet he stuck to the familiar notion that people learn history from decades-old monuments honoring the courage and chivalry of Confederate figures. Problem: Strictly speaking, these monuments aren't history; they're tributes reaffirming a 153-year-old "Lost Cause" narrative of Southern heroism pitted against alleged Northern aggression. The myth holds that the Southern cause in the Civil War was about tradition, states' rights and honor, that the institution of slavery figured into the mix only marginally.
Take Fort Hood, all 215,000 acres of it, named in 1942 for Confederate Gen. John Bell Hood: The Franklin D. Roosevelt administration, hardly right-wing apologists for the Confederacy, had to deal with land purchases involving hundreds of conflicted rural Central Texas property owners. Some families included eyewitnesses to if not participants in the Southern rebellion to maintain slavery in the Civil War. Amid awkward discussions over land and grazing rights, federal officials and community leaders seeking to establish a camp dedicated to destroying the German tanks rolling across Europe shrewdly deferred to local sensibilities on what then qualified as patriotism in Texas; they agreed to name the U.S. Army camp for the man who led Hood's Texas Brigade against the United States of America. Guest of honor during the September 1942 opening: 71-year-old John Bell Hood Jr., one of 10 siblings left orphaned when yellow fever claimed former Gen. Hood and his wife in 1879.
Two years later, with the camp up and running, nationally renowned athlete Jackie Robinson, 25, a black second lieutenant assigned to Camp Hood, got into a row when a bus driver ordered him to sit further back in the Army bus than Robinson chose to, ultimately resulting in an arrest (for insubordination, disturbing the peace, conduct unbecoming an officer, insulting a civilian woman, among other things) and a court-martial in which he was acquitted. (Irony: In 2016, Fort Hood officials dedicated the Jackie R. Robinson Softball Complex, complete with monument.) Consider, too, the runaway popularity in the early 1940s of the 1939 film "Gone With the Wind," a bloated epic of love, honor and dashing among Southerners that offered little perspective of their enslaved blacks. This glittering, Hollywoodized Lost Cause ornament adorns a narrative set spinning by, among others, the 1881 memoir "The Rise and Fall of the Confederate Government" by vanquished and very bitter Confederate president Jefferson Davis.
Pandering by FDR and his administration in naming the camp? You bet. Roosevelt had reason to pander if that was the price to rally an isolationist nation to defeat Axis powers that had recently bombed Pearl Harbor, ushering America into a world war in which much of the world was already under the jackboot of the Nazis and their Japanese allies.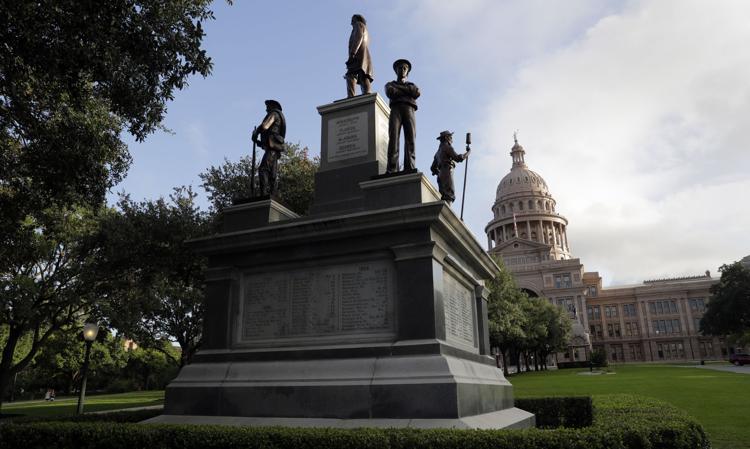 Back in the 1990s, whenever I visited the State Capitol and strolled past imposing monuments honoring Confederate greatness (including one championing General Hood), they struck me as harmless anomalies, not worth the time or trouble to remove. While our nation remained imperfect, significant strides in civil rights were being made under Democratic and Republican administrations at state and federal levels. Sometimes these efforts unfolded fitfully, but enough victories surfaced that one could almost ignore the incongruity of Confederate memorials dotting courthouse squares across Texas. All that changed when malevolent political forces began using these monuments as touchstones and rallying points for racism masquerading in the name of Southern heritage, states' rights and history.
Why not in Waco?
How did Waco miss out on seeing such heaven-storming memorials to Confederate glory? The horrific 1916 lynching of Jesse Washington in our town square may have precluded such tributes among civic leaders fearful of outward appearances in the aftermath. In an absolute perversion of justice, Washington, a 17-year-old African-American farmhand convicted of killing a 53-year-old white woman, was dragged from the courthouse, tortured and burned "at the stake" to the glee of thousands and with the obvious complicity of law enforcement who stood aside as Southern-styled vigilante justice played out. A remarkable NAACP investigation of the atrocity by intrepid civil rights activist Elisabeth Freeman published that summer indicated lynchings in Central Texas were "of political value to the county officials who are running for office." While some prominent Wacoans regretted the incident, they lacked the political courage to condemn it, branding it "a case of race and politics."
A few months after Washington's lynching, a statue memorializing the simple, idealistic, dutiful Confederate soldier was erected in neighboring Bell County, home of what a few decades later would become Camp Hood, later Fort Hood.
Yet if those championing the Lost Cause narrative mislead us about the history bound up in these tributes to the Confederacy, many of the protesters in an uproar over racial injustice in recent weeks have demonstrated stunning ignorance or indifference to our history. How else to explain the vandalism done to the World War II Memorial in Washington, D.C., which honors black and white veterans alike — Americans who whatever their own sins and prejudices gave their lives in fighting a formidable Nazi ideology rooted in racial, ethnic and religious hatred? Whoever tolerates the defacing of the WWII monument would do well to read "Doris Miller, Pearl Harbor and the Birth of the Civil Rights Movement," co-authored by Baylor University history scholar T. Michael Parrish. The book offers a Waco slant on a sharecropper's son who was black, decided to see the world through the Navy and through selfless heroism at Pearl Harbor set in motion vivid arguments for racial integration in military ranks and American society.
How else to explain the vandalism done to Boston's celebrated Robert Gould Shaw and Massachusetts 54th Regiment Memorial, erected at the end of the 19th century in defiance of the Jim Crow era then in ascendancy? This African-American regiment demonstrated the commitment and courage some historians say shifted President Lincoln's thinking about reasons for maintaining the Civil War. At the start, the cause was ensuring the union; by struggle's end, Lincoln had embraced the cause of abolishing slavery as well. The sacrifice of the 54th is detailed in the film "Glory." This magnificent memorial was the brainchild of African-American businessman Joshua Bowen Smith and white Republican Sen. Charles Sumner, who took his lumps in the cause of abolition in an 1856 Senate floor caning. A $3 million restoration project already underway for the sculpture will now also wipe clean graffiti such as "Black Lives Matter" and "Police are Pigs."
Looking the other way
The indiscriminate monument vandalism we see — committed by a few but tolerated or ignored by many, set amidst a backdrop of torched police cars, looted businesses and random physical violence — has helped undermine any movement devoted to eradicating systemic racism. What does it say of a movement defacing the statue of Thomas Jefferson, whose mad juggling of liberty and slavery came to define the word "hypocrisy," yet whose words and principles about liberty and equality have long imbued civil rights initiatives and legal filings? What does it say of a movement vandalizing statues of George Washington in Baltimore, Portland and New York City? Washington not only led the rebellion championing the American (and Jeffersonian) principle that "all men are created equal" at great personal cost but wrestled long and hard with the idea of manumission without ripping apart the young, unstable republic. He presided over the 1787 constitutional convention that provided subsequent generations with the principles, arguments and tools to pursue equality and secure civil rights.
And what does it say of a movement toppling a San Francisco statue of Ulysses S. Grant, who described the Southern cause of slavery as "one of the worst for which a people ever fought, and one for which there was the least excuse"? Grant came closer than any other 19th century president in battling post-war Jim Crow impulses in the South. No less than the Trump administration, in a rare moment of veracity, noted in its executive order protecting historical monuments from vandalism that Grant "led the Union Army to victory over the Confederacy in the Civil War, enforced Reconstruction, fought the Ku Klux Klan and advocated for the 15th Amendment, which guaranteed freed slaves the right to vote."
In failing to recognize the difference between memorials to those who fought to preserve slavery and those imperfect patriots who through word and deed nonetheless edged our nation closer and closer to racial equality and civil rights, protesters play neatly into the hands of their enemies, including President Trump, a fiery demagogue who during the racial unrest of 2017 accurately predicted radicalism on the left would one day soon topple not only monuments to Confederate figures but others: "So this week it's Robert E. Lee. I notice that Stonewall Jackson's coming down. I wonder: Is it George Washington next week, and is it Thomas Jefferson the week after? You know, you really do have to ask yourself — where does it stop?"
Granted, one might rationalize the summer wave of violence spinning off peaceful protests and targeting monuments as the unrestrained release of three and a half years of pent-up rage over a president who excused white supremacists rallying to safeguard Confederate statues; caged desperate immigrant women and children in kennels under squalid conditions; pressed to scrap a health-care law (even during a pandemic) that would hinder medical care for the poor, a significant percentage of whom are people of color; misleadingly mocked civil disobedience at professional football games as attacks on the flag and military; and has consistently demonstrated as much ignorance of or contempt for history and the law as the protesters he condemned at Mount Rushmore on the eve of the Fourth of July. As re-election chances dim, Trump seeks sanctuary and renewal in the shadows of Washington, Jefferson, Lincoln and Theodore Roosevelt, treacherously putting those figures in the crosshairs of the so-called "cancel culture" mob.
Sidetracked by symbolismNone of this absolves either side in the American arena of discourse. Nor does any of this dismiss the power of symbolism in statues and forts paying homage to Confederate heroes who, whatever else, broke their oaths and took up arms against their country for a horrid cause. Let's hope the fort names are changed in a bipartisan blow with little delay. Let's hope communities rather than mobs decide whether statues in town squares and city parks are out of step with the times. If the battle over racial injustice is further sidetracked into a tempest over monuments and some protesters continue the lawlessness others have employed on behalf of white supremacy, they risk arousing fierce resentment among those of us who revere Washington, Lincoln, Grant and even Jefferson. And thus the war against racial injustice will be lost before the next national crisis or scandal steals the momentum to tackle the complicated problems behind police brutality — a paucity of living wages, housing discrimination, glaring health-care disparities and increasingly desperate acts of voter suppression.
Initiating real dialogue about racial justice and equality in troubled 21st century America rather than blindly vandalizing monuments of past pretensions should be the first order of business. The past offers a prism of dreams, hopes and wrong turns; some of this involves statuary that distorts through sins of omission, begging our greater reflection. In Waco's historic Oakwood Cemetery, one notices how the towering (and private) 1898 Frank Teich statue of former Texas Gov. Richard Coke presses visitors to consider Coke for more than service as a Confederate infantry captain or headstrong governor dedicated to dismantling Reconstruction in Texas, disenfranchising blacks and Hispanics — scarcely noted if at all by his survivors for posterity. The pedestal proclaims: "Richard Coke. Characterized by a splendid manhood. The brave soldier. The able and impartial judge. The enlightened and patriotic governor. The distinguished senator in Congress for 18 years. Always true to the people. And faithful to every trust." At nearby Baylor University, the iconic 1939 Pompeo Coppini statue of founder R.E.B. Baylor commands affection and evokes the benevolence of enlightenment. Yet Judge Baylor's pedestal and campus biographies leapfrog around his slave-holding past, feverish xenophobia and unquestioned support of the Confederacy, even as the university more recently has celebrated the very diversity the judge long fought. He's about to face more scrutiny.
The Fourth of July weekend is past, but all Americans would do well to reflect as statues and Founders and history go through the grinding gears of a presidential campaign: The Declaration of Independence that proclaimed "all men are created equal" struck Western civilization like a Jovian thunderbolt, rattling musty Old World realms of kings, popes and noblemen. If Founders such as Washington, Jefferson, Adams, Madison, Jay, Hamilton and Franklin are guilty of anything, it's that their bold vision for America outstripped the human ability and political resolve to fully enact and implement in their own generation — something obvious in Alexis de Tocqueville's brilliant, eyewitness account "Democracy in America," which considers America in the early and rambunctious 1830s. History reveals that plenty of other countries sought to emulate those revolutionary and visionary ideals, only to collapse into chaos producing revived monarchies or dictatorships. And if Lincoln proclaimed and Grant set in motion a "new birth of freedom" emerging from the Civil War, remember that their vision encountered plenty of resistance along the way born of stubborn prejudices, right up to the present day.
Worthy of local recognition
A newsroom colleague jokingly suggested that I propose a statue of U.S. Grant be erected locally. Nice idea but out of step with the times and efforts to erect a long-discussed marker commemorating the 1916 lynching in Waco. Were I to erect a local monument, it would be to District Judge Nicholas W. Battle, a states' rights advocate who left the bench to fight for the Confederacy in 1862, and his former slave-turned-city leader, the enigmatic but fascinating Shedrick Willis. After the war Battle won appointment by Gov. Coke as district judge. Not only did Battle accept the war's outcome, he did more than many Northerners to fulfill Lincoln and Grant's broader vision, helping elevate his former slave to the Waco City Council; lambasting the sort of "mobocracy" that prevailed in Waco in 1916 (more than a decade after the judge's death); and championing the 13th, 14th and 15th Amendments, the greatest beyond the Bill of Rights — hardly popular in a bitter South.
"Willis experienced a breathtaking metamorphosis from private property to public servant," wrote Willis' great-great-great-grandson Wallace Jefferson, who became the first African American to sit on the Texas Supreme Court in 2001 and later became chief justice. "Battle fought for the right to own human beings but later upheld his oath to support the constitutional abrogation of slavery. These two men are bound together by a rule of law that has evolved, just as their lives did, toward justice. Their unlikely partnership shows that even the most profound differences can be overcome when inalienable rights, like liberty, combine with equality under law. Let us hope that our descendants, 140 years from now, will carry on that tradition."
That's a message well worth memorializing in America, possibly in stone or bronze but first and foremost in our hearts and minds.
Catch the latest in Opinion
Get opinion pieces, letters and editorials sent directly to your inbox weekly!