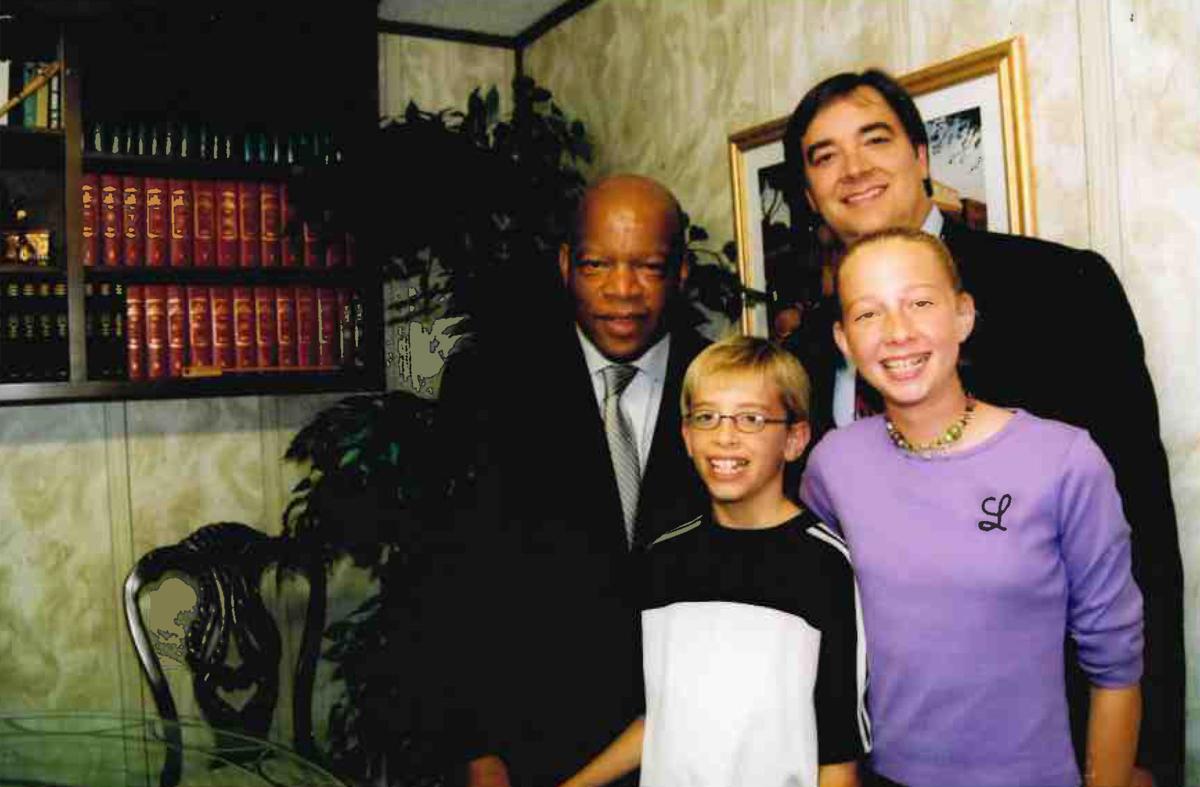 One autumn evening 16 years ago, I sat halfway back from the dais in a pew of Toliver Chapel Baptist Church with my two oldest children, then very young. I had arrived at that moment for several reasons, but the one that mattered most involved the young girl and boy beside me.
You see, I'd crossed the Brazos that evening into East Waco for them.
In the pulpit stood a man speaking in a low volume, a man who seemed slightly unsure of himself and his words, despite their clear and heavy meaning. He was a man who at first glance you might never guess had lived the life he'd lived. And I wanted to be in his presence. I knew the importance of being in his presence.
More importantly, I wanted my children — though I didn't really expect them to understand or even remember they'd been there — to be in the presence of civil rights icon John Lewis, a follower of Martin Luther King's nonviolent protests that reshaped our history and one of the few surviving speakers of MLK's iconic 1963 March on Washington. Granted, the evening at hand had political overtones — Lewis was speaking at a get-out-the-vote event with close friend and fellow congressman Chet Edwards just days before the 2004 general election. Yet Lewis' words carried us far beyond the occasion.
As the evening continued, his stature straightened, his tone heightened and his resolution and command of the moment could be felt in your bones. It was overwhelming. Lewis, a man whose life had already assured his place in the history books, did not speak as a towering figure of history but as a real-life man of flesh and blood, of the here and now, expressing the urgency of the moment and the challenge to become and be all that we claim America to be.
Words fail me in conveying who and how he was that night. His voice began to shake the chapel, as did his challenge that no matter who we were, it was within our ability and sacred obligation to seize the mantle of right, to summon the courage to fight for the principles that, in the end, we all presume to cherish. I recall looking down at the two young ones beside me, into their faces. I prayed they understood.
John Lewis lived a life that mattered, a life that changed lives. Most importantly, he left a legacy that obligates each and every one of us to do the same.
How can we look in the mirror at ourselves as daily we fail to confront the words of hatred now consuming our country, when for most of us they are but mere words we must confront? John Lewis confronted not just words but baseball bats and police batons — his skull was fractured by Alabama state troopers on the Edmund Pettus Bridge in Selma in 1965. Yet he continued to dust himself off, stand back up and speak truth to power, a power that at the time seemed all but impossible to bend or break.
People say we should make America great again. This presumes much, for history is whatever the author decides it to be. What John Lewis said in a predominantly African-American church in East Waco that night was not of his history but of the present and what we must do today. It is not enough that we may or may not have been great or will be great, it is upon the now that he spoke and upon the now that we must strive.
Even as he confronted the cancer that would soon claim his life, Lewis near the end of his days took heart in the outrage that sent many Americans into the streets this summer. "Today, young people are taking up the mantle in a movement that I know all too well," he said last month in pressing police reforms. "All over the world, communities are once again joining the call for racial equity and equality. While their feet march towards justice, their pain, their frustration and petitions cannot — must not — be ignored."
It is unfortunate but hard reality that the river that divides us remains so wide. But we do not deserve this land of ours if we cannot summon the courage to bridge our differences, a task John Lewis was dedicated to urging us to do.
My earth shook Friday night when I received a text from that little girl who sat beside me that evening in East Waco long ago. You see, she told me that John Lewis had left us. She remembered that night, unlike so many nights her father dragged her to in two decades of hardball politics and countless stump speeches. John Lewis' passing from our midst means something to her because she knows what his life meant to her, because she understands what it meant to us all.
And I know his life's work will be complete when we all understand.
Longtime attorney Jim Dunnam, a partner at Dunnam & Dunnam in Waco, spent 14 years as a Texas state representative, serving on the House Select Committee on Judicial Interpretation of the Law among other committees.
Catch the latest in Opinion
Get opinion pieces, letters and editorials sent directly to your inbox weekly!