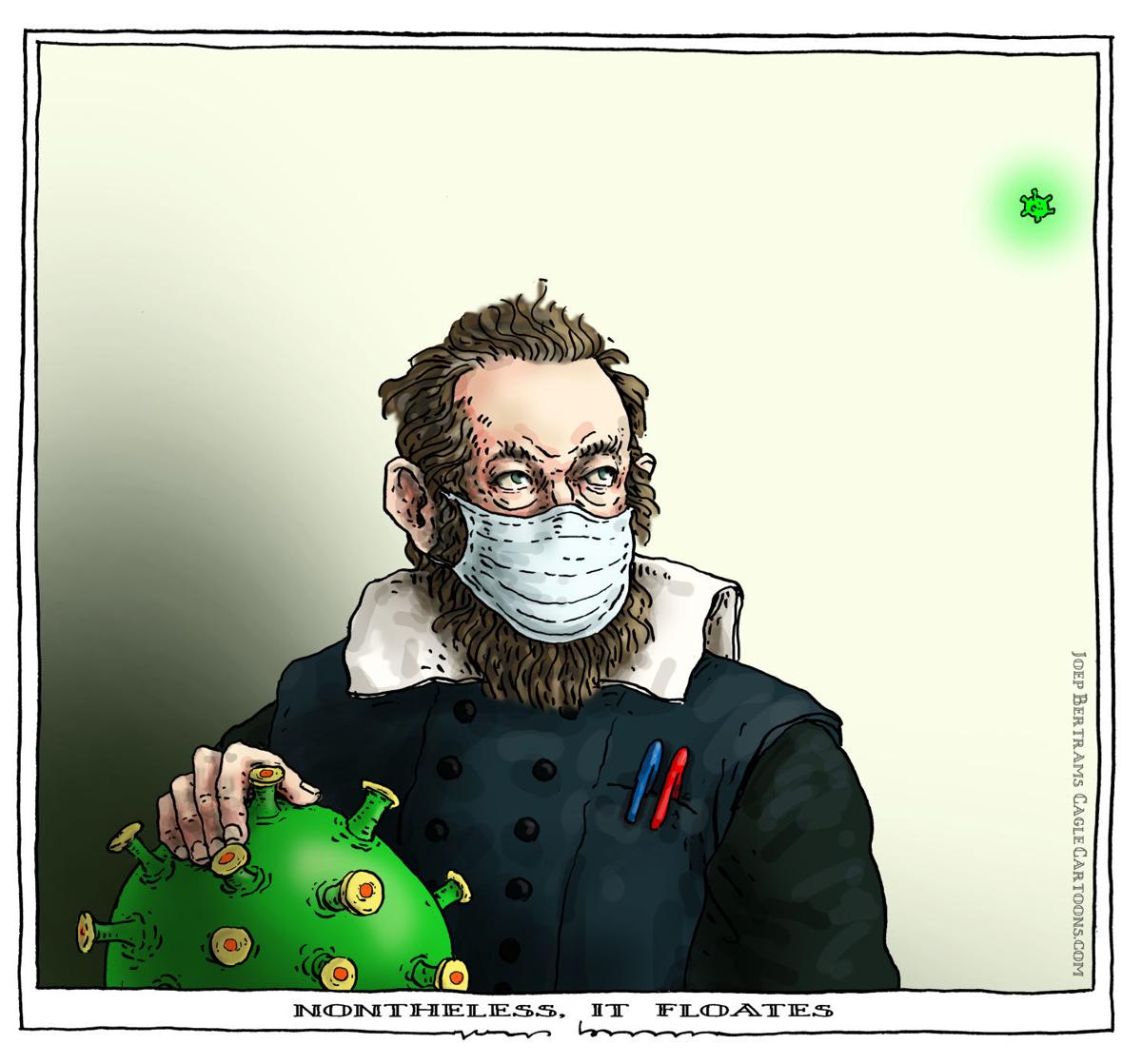 Anyone sheltering in place the past six months without benefit of daily newspaper, TV or physician could be forgiven for stepping into daylight and marveling as the president of the United States dismisses, contradicts and rebukes his own National Institute of Allergy and Infectious Diseases director as well as the U.S. Centers for Disease Control & Prevention about the hard science behind the pandemic infecting much of our nation. This spectacle has revealed to the world a nation divided and effectually rudderless. Yet science plows on, offering new revelations and directions on the SARS-CoV-2 virus manifesting itself as COVID-19.
Among the latest research and revelations, we should note:
How you get infected: Evidence is mounting that despite the World Health Organization's denial, the SARS-CoV-2 virus apparently may remain airborne and infect people, primarily people who are indoors and in closed spaces with poor ventilation. More than 200 scientists from more than 30 countries are urging WHO to switch from its insistence that handwashing is a key preventative when evidence that touching surfaces as a cause of COVID-19 is faltering. They urge WHO to instead acknowledge the airborne risks of infection. One reassuring fact: When you're in open air, even the slightest puff of breeze appears to disperse viruses below the level required for infecting.
Complicating this: "Part of the problem is that it is easy to find virus on surfaces, on hands, in large drops," says Donald Milton, a professor of environmental health at the University of Maryland. "It is very hard to find, much less culture, virus from the air. Because a person breathes 10,000 to 15,000 liters of air a day and it only takes one infectious dose (not a single virus but sufficient viruses to cause infection) in the volume of air, sampling 100 or even 1,000 liters of air and not finding virus is meaningless."
How the virus mutates: The SARS-CoV-2 virus that caused such mayhem in Wuhan in China did appear on our West Coast, specifically Washington State and Upper California. But the virus mutates (as RNA viruses typically do) and at least one mutation has become more infectious, perhaps causing a longer period of contagiousness before the onset of clinical symptoms. It now appears that this latter mutation came to us from Europe, appearing on the northeastern seaboard of the United States, primarily New York City. It is this latter mutation now causing such havoc throughout the South and West in our country.
How testing is going: Despite how the administration keeps reassuring us, problems fester in widespread testing for the virus. First, there must be much more testing for epidemiologists to better grasp the extent and spread of this disease. With the exception of state or county "pop-up" drive-through tests free to the public, the cost of testing varies widely with charges exceeding $1,000 by some companies. You best ask what the cost will be before being tested. And there appear to be major problems getting some test results back to people who have undergone testing. Some wait more than a week; some never receive their test results.
The validity of tests depends on their being administered correctly: The nasopharyngeal swab is still recommended as the most reliable, but videos of some testing sites show people opening their mouths wide, suggesting that oropharyngeal testing is being done; other videos show the swab barely entering the nose. Result: Tests appear only 80% sensitive for the virus, meaning that up to 20% of persons infected will test "negative" despite actually having the virus. With this incorrect result, they consequently may fail to follow prescribed recommendations: physical distancing, masks, avoiding indoor interaction.
How potential therapies are developing: While our country eagerly awaits development of a safe and effective vaccine, companies are working on developing drugs that interfere with the virus' ability to infect in the body. Regeneron, along with Gilead Sciences, Eli Lilly and AbbVie, are working on therapies that can be given to infected people not sick enough to require hospital admission or those admitted but not critically ill. Regeneron has started late-stage clinical trials to assess the effectiveness of its antibody cocktail, a combination of an antibody made by the company and a second antibody isolated from recovered COVID-19 patients that binds the antibodies to the coronavirus' spike protein, limiting the ability of the virus to invade cells.
Abnormal blood clotting has been a feature of serious COVID-19 from the onset in China. Autopsy studies in Ireland revealed diffuse "micro-clots" throughout the lungs and other organs in some of their patients who died with COVID-19. Large clots have been a feature in other patients, including deep-vein clots in legs and even "COVID-19 toes," representing lack of oxygen due to abnormal clotting. Physicians and researchers in New York began aggressively anticoagulating patients in their hospitals but with disappointing results.
Now newer autopsy results in New York and Europe are revealing that the clots are not the usual blood clots but rather small platelet-platelet or platelet-leukocyte clots — that is, other blood components not prevented by the usual anticoagulants. A study was recently published in the journal "Blood" showing that the SARS-CoV-2 virus enters platelets by a different mechanism than in other cells and causes the platelets to coagulate. The upshot of all this might be (this has not been validated in clinical trials) that we will be taking antiplatelet drugs for COVID-19; these would include aspirin but also other more powerful antiplatelet drugs such as clopidogrel (Plavix) or ticagrelor (Brillinta) or prasugrel (Effient).
And finally, there is some supportive evidence justifying zinc supplements for this viral infection, and vitamin D if you have been documented with low levels of vitamin D in your blood. Multiple randomized clinical trials, with a single exception, suggest hydroxychloroquine is not effective in preventing or treating COVID-19. This hasn't kept the Trump administration from betting on that solitary trial: White House trade adviser Peter Navarro is pressuring the Food and Drug Administration to reverse course and grant a second emergency authorization for hydroxychloroquine to treat COVID-19. Which I suppose boils down to whether you trust trade advisers and politicians, not doctors and medical researchers, to advise, treat and cure you.
Dr. Rodney Richie is a retired Waco lung and critical care physician, now splitting his time between hiking at his home in the Colorado mountains and treating patients at the VA Hospital in Cheyenne, Wyoming.
Catch the latest in Opinion
Get opinion pieces, letters and editorials sent directly to your inbox weekly!