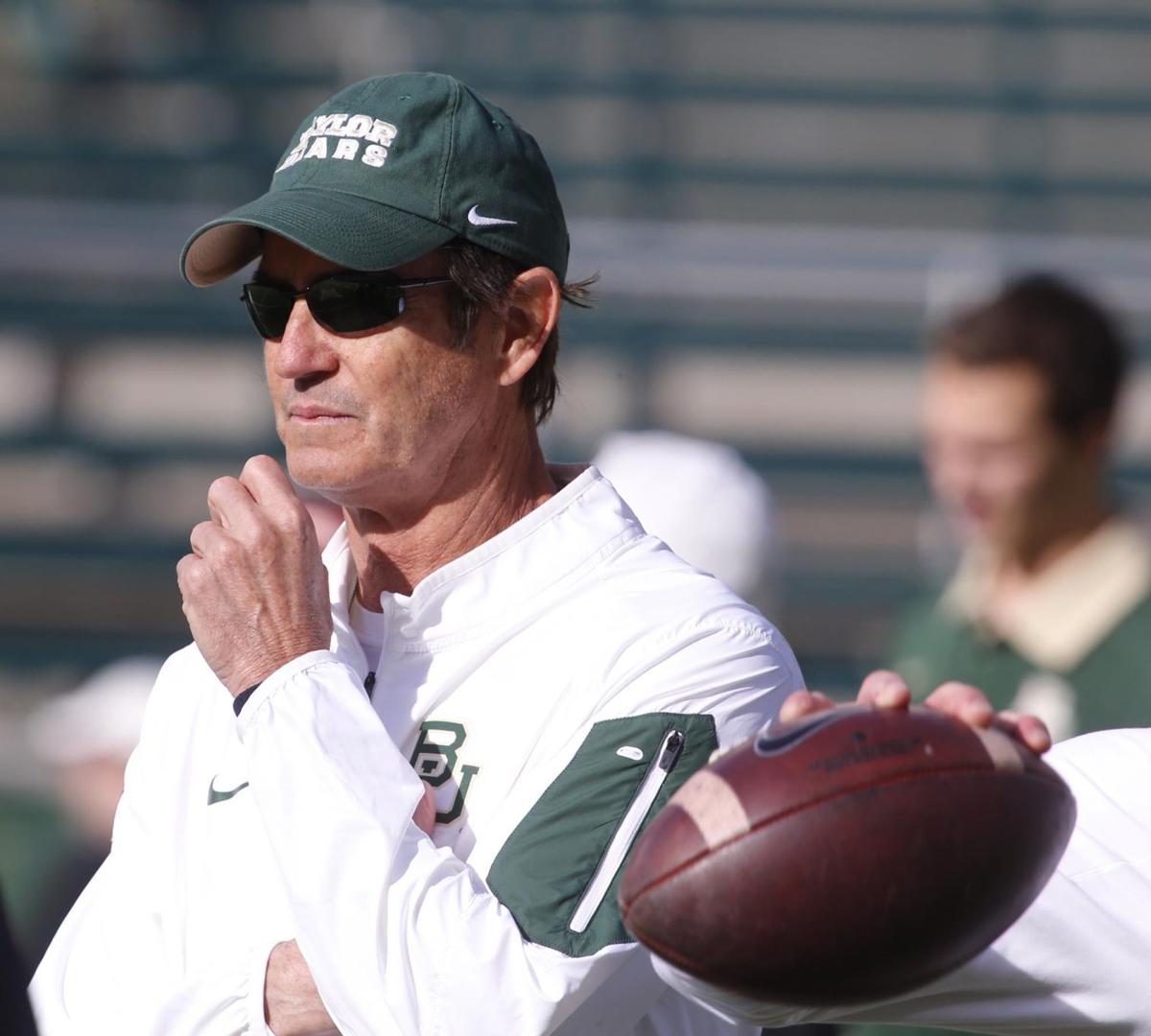 In a private letter written May 23, 2017, by general counsel Christopher Holmes, Baylor University quietly acknowledged it had fired its highly successful head football coach Art Briles a year earlier without justifiable cause. The context of the letter explains the university's obviously inconsistent actions in blaming Briles for misconduct, yet paying him a multi-million-dollar severance fee.
Briles, who transformed the school's football program from a Big 12 Conference "bottomfeeder" in 2008 to back-to-back conference champions in 2013 and 2014, not only lost his job at Baylor two years ago today but became a national pariah overnight. Despite his obvious skills at putting high numbers on the scoreboard and his lifelong reputation as a devout Christian and moral leader of his community, he was ostracized and condemned across this nation and in Canada.
As early as January 2001 Baylor University, along with all other educational institutions who received federal funding, was notified that the university was required under Title IX of the federal statutes to designate at least one employee to coordinate its efforts to comply with and carry out its Title IX responsibilities, and to notify all students and employees of the name, office address and telephone number of the employee or employees so designated.
Alas, Baylor's constantly changing 37-member governing board of regents did not fully comply with this requirement till it hired Patty Crawford in November 2014 as Title IX coordinator — an administrative delay of 166 months after being notified. Soon after Crawford's employment she reported to the regents that Baylor's problems with more than 400 sexual-harassment claims was not a football or athletic department illness but was a campus-wide problem throughout the student body generally. Though she left her position in late 2016, she still reports publicly that the overall sexual-harassment problem at Baylor did not stem from its football program but through a lack of recognition and redress by Baylor administration.
In 2015 the Baylor administration finally addressed the sexual-assault problem on its campus and employed the high-priced ($600 per hour) Philadelphia law firm Pepper Hamilton to conduct a detailed investigation. Upon its hiring, then-President Ken Starr gave the law firm specific instructions that a detailed written report showing factual findings would be required. Yet Pepper Hamilton's only written report, titled simply "RECOMMENDATIONS," came out in spring 2016 without mentioning any factual findings. Instead, it suggested 105 recommendations to the university's administrative efforts toward compliance with its legal obligations under Title IX of the federal statutory requirements.
Although the recommendations implied Baylor's compliance failures to be largely in the administrative category, the university acting through its board of regents chose to penalize Briles, Starr, Director of Athletics Ian McCaw and two athletics staff members. Briles and the two athletics staffers were terminated. If Baylor had "good cause" to fire Briles, it could do so with impunity and needed to pay him nothing; regardless Baylor paid him millions of dollars. Starr was reassigned and McCaw was placed on probation; they both resigned soon thereafter.
Strangely, none of the governing regents was so much as reprimanded, despite the numerous administrative and governance flaws implied in the Pepper Hamilton document. On several occasions since leaving Baylor, Starr has criticized Pepper Hamilton for not issuing a detailed report showing all pertinent underlying fact findings, as he had demanded. He has publicly and consistently declared there was no reason for Briles' firing because there was nothing in the Pepper Hamilton document indicating any wrongdoing on Briles' part.
Numerous lawsuits have been filed against the university by women claiming to be victims of sexual assaults at Baylor due to Baylor's failure to comply with the federal statutes. Only one such suit focused on Briles as a defendant, and that was dismissed without any evidence against him or any payment by him. Baylor University paid the claimant an undisclosed amount to settle the wrongdoing claims against the university.
Although the May 23, 2017, Baylor letter released by the Canadian Football League in late August unequivocally exonerates Briles, it has done little to rectify the stigma associated with his termination. ESPN publicized Briles' firing unceasingly during 2016, as did other news sources; however, there has been minimal coverage regarding Baylor's letter exonerating him.
In a most pertinent part, the letter says to (and for) Briles, "…you can be assured you may make certain statements without fear of contradiction from Baylor based on the information currently known to us. In particular, at this time we are unaware of any situation where you personally had contact with anyone who directly reported to you being the victim of sexual assault or that you directly discouraged the victim of an alleged sexual assault from reporting to law enforcement or Baylor University officials. Nor are we aware of any situation where you played a student athlete who had been found responsible for sexual assault."
Interestingly, the letter clearly explains why there have been no takers to a highly publicized $10,000 reward offered soon after Briles' firing for anyone who could show any personal wrongdoing on Briles' part. Not even a victim offered any evidence against him. The reward still stands available, with no claimants; ironically the reward is offered by a former chairman of the Baylor University Board of Regents who went off the board prior to the events giving rise to the investigation and the firing.
Briles, now 62, has repeatedly indicated his desire to coach football again but no school has extended an offer; maybe Baylor's formal acknowledgement comes too late and too quietly to erase the character assassination of one of the most innovative and effective football coaches to come along in decades. One wonders what coaching demands there might be for Art Briles if ESPN, the Wall Street Journal, the Dallas Morning News and others were to advise American football fans of Baylor's tardy, quiet exoneration, his honorable character record and some of the other unpublicized facts in his favor.
Baylor's administration deserved the media scrutiny and punishment, but Briles did not. One thing stands clear — Coach Art Briles was wrongfully fired by Baylor University, as evidenced by:
Baylor's significant payment to him — more than $15 million, according to federal tax forms filed by the school in March. If there were reason to fire him, no payment was necessary.
There were no facts of any Briles wrongdoing cited in the sole document written by Pepper Hamilton after its investigation.
Former President Starr's declaration there were no underlying facts reported of any Briles misconduct.
Dismissal, due to lack of evidence, of the one and only lawsuit against him.
Failure of victims or anyone else showing evidence against him to claim a $10,000 reward.
Baylor's letter exonerating him.
In fairness, ESPN, the Dallas Morning News, Wall Street Journal and hundreds of other news media were misled by the Baylor board's expensive public relations campaign whose strategy was to direct attention away from the board and its own institutional failings and to cast blame on Briles and the football program. The same media need to investigate the true facts as to Briles and publish them with the same vigor as before.
Bill Rogers, who grew up in Waco, is a 1957 Baylor University alumnus. He has spent his career in manufacturing sales and lives in Carrollton.
Catch the latest in Opinion
Get opinion pieces, letters and editorials sent directly to your inbox weekly!