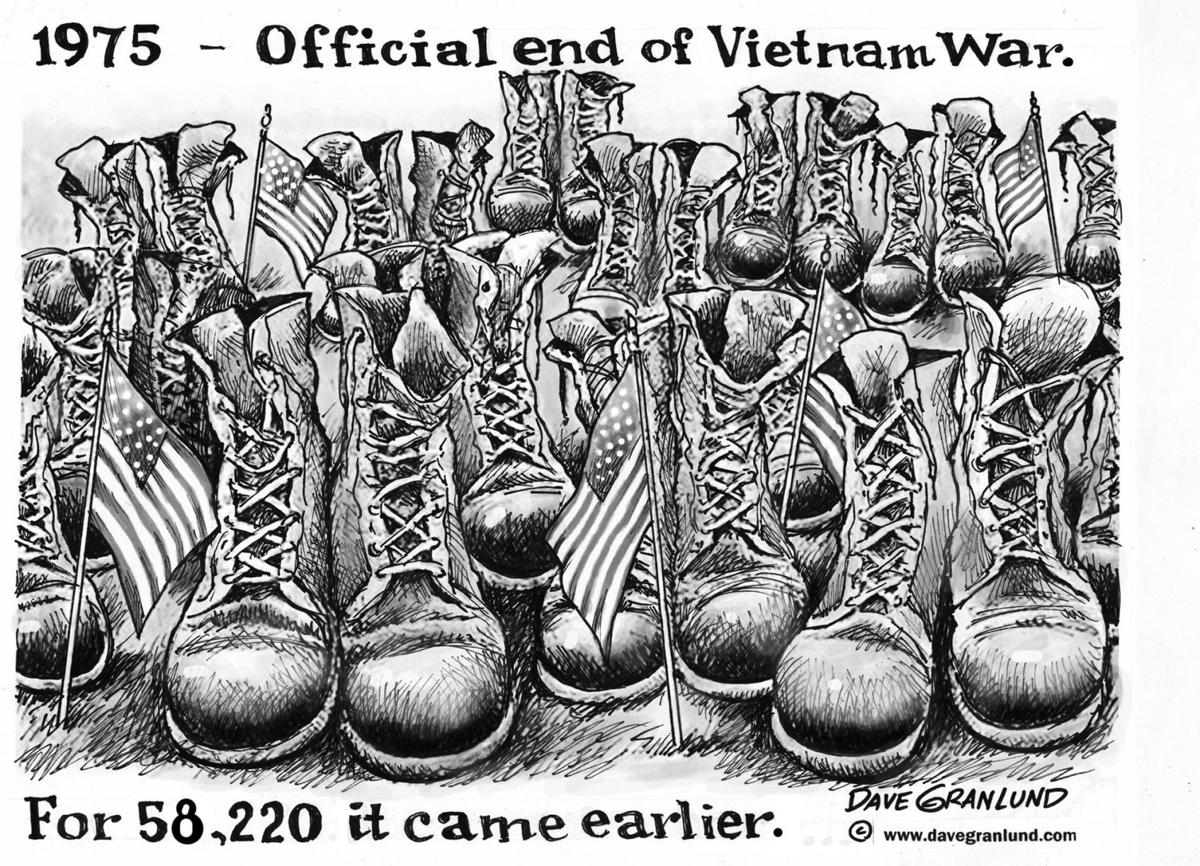 On occasion of Commemoration of the 50th Anniversary of the Vietnam War, the following reflects how fathers, mothers and wives struggled through unbelievable pain to accept their losses as casualty reports were relayed to the American home front. Consider Michael Lee Dewlen, Baylor University 1967 graduate from Amarillo. He was Vietnam War casualty number 29,458.
Alton L. Dewlen, Baylor '42, of Waco, died Aug. 17, 2011. He was an award-winning novelist, magazine writer and newspaperman. Dewlen stirred controversy with his much-reprinted column "Report to a Sleeping Son," which dealt with the 1968 Vietnam combat death of his decorated Marine officer son, Mike Dewlen, Baylor BS '67, and domestic turmoil over Vietnam War policy. Alton Dewlen was a major donor to Baylor and taught writing in short courses there and at other universities. He attended Baylor on a football scholarship but left school to become a radio-gunner in the Marines First Air Wing in the Pacific in World War II. The column regarding the death of his son, first published in the Jan. 12, 1969, Amarillo Sunday News-Globe, is condensed here for space.
On June 11, 1968, at the age of 24, 2nd Lt. Michael L. Dewlen, USMC, was killed in Vietnam. In the June previous he had graduated from Baylor, married pretty Lynn Nowlin of Vernon and donned the uniform of the Marine Corps. His father, the respected Amarillo author, reflects some of this thinking and raises some questions any parents of a young son in these days might ask.
This, my son, is how it was, and is:
It was Friday, 5:15 p.m., cloudy and still hot as I drove in from the barber's. I noticed that most of our neighbors were standing out in their yards, but I missed recognizing this as unusual. Pretty Mrs. Kelley, her children clinging tightly to her, raised her hand as I passed. I waved back, turned into the drive and continued on into the garage. I was standing over my workbench, debating which of the endless drudges of household upkeep deserved first claim on the remaining daylight, when someone called my name. In the doorway I saw a preacher I scarcely know, a man you never met, and I suppose I was annoyed.
He said, "Come here a minute, please." Then, more firmly: "I want you to come with me."
I took my time going out to meet him on the driveway. It was as I reached him that I saw your mother coming from the house. She had left the door ajar, as she never does, and was hurrying toward me. Nothing about her looked right. As I stood gaping at her, the minister began tugging on my arm. It seemed he was bent on dragging me ahead to some horror I still had the option to reject, and I resisted him. Then Jean took my hand. I felt her trembling. Every detail of her appeared fatally altered; there was the impression of calamitous change, final, entire. My impulse was to shout at her, to demand that she restore for me the smile she had worn when I left her an hour before. I cannot be sure, but I think that with first sight of her I must have known about you. Nevertheless, I asked, "What has happened?", and she answered, "Mike has been killed."
How can I tell you how much like death was life at that instant? I remember picturing you as clearly as ever I have seen you, in all the ways I've ever seen you — as a fat baby drooling on my shoulder, as a little leaguer straining to throw down to second base, as a rugged softie sobbing from the sight of a starved dog, as furious half-pint clansman wading in because your dad was in a fight and getting whipped, as the fiery captain of those good football teams, as the tall embarrassed boy trying to show grace while accepting those trophies and certificates. I saw you grown, a man blooming with pride in the Marine Corps uniform, so strong and tough and openly sentimental; and I thought, You, Mike, shot down in battle? — it was preposterous, a lie. That you could die at all was unthinkable; that you could have lain dead four days without our having known it or sensed it or dreamed it, was not possible. But there was Jean, wavering before me as the wreckage a woman is when she has lost her only child, and I could lay hold of nothing to fend off belief.
The agony was utter, crippling. I was unable to take your mother in my arms, or even to speak to her. I remember a moment in which I saw you without life, not teasing or laughing, but cold and still, and out of my guts sprang an awful rancor toward God. I wanted to summon Him down to be battered with this range and pain; I wanted to force Him to account for this disastrous mishandling of your trust and of our trust and prayers for your survival.
Free of the preacher and we went into the house. Lynn was waiting. A while earlier she had been talking about your first anniversary, just three days away. This sweet and lovely miniature had sent you a piece of your wedding cake, saved in the freezer as a surprise for the occasion, and she had been much concerned that the mails might mash it. Now she stood wide-eyed and lost at the center of the room. Beside her were the Marines — Maj. Dale Dorman, whom you once pointed out to me as the perfectly correct Marine, and M. Sgt. Del Taft, who helped out that day we arranged your transportation to Vietnam. They met me with quiet expressions of regret and the gentle warning we should not cling to hope. There was no mistake, they said. Your war was over.
Time passed before I could react enough to gather in our women, yours and mine. I held them like a pair of broken dolls. Poor gray Maggie fell into a quivering panic, dangerous for a dog of seventeen. It was as though she grasped she would be living out her days in a sad house, that she understood she would not again be smuggled into your bed.
How could she or I have outlived you when you were meant to inherit us?
Soon the telephone was ringing. People came flooding in. Dishes of food appeared on the cabinet, flowers popped up from the floor and it had begun, the terrible two weeks of wet pillows, of escapes to the closet for private grief, of alternating collapse and composure so critical it menaced even the will to accept the next breath, while we awaited the return of your body from Da Nang.
It is difficult to tell you about those weeks, or to as much as separate one day from the other. Your mother dwindled by fifteen pounds. I experienced sudden savage fantasies wherein the Communist who killed you materialized in opportune reach of my hands. Daytime, Lynn made herself the angel of our consolation; at night she lay crying in your bed.
Jean never slept. She would lie staring at the darkness, remembering the mother things, taking tearful inventory of the treasures she had been storing in her heart since the morning you were born. Sometimes, exhaustion stunned me into periods of stupored rest, and they were hateful. At each awakening the news struck me afresh, as if with every sunrise you died again, right before my eyes. Everything prompted us to recollection. Your dog scratching at the back door, your clothes hanging in the closet, your fishing and hunting gear piled about. In the kitchen door frame were the pencil marks recording the stages by which you grew. We heard you in our talk through the ridiculous nicknames and lighthearted phrases you invented and instilled so deeply in the family language that now, hard as we tried, we could not avoid them. Hundreds of people called to speak well of you. There were mountains of mail, including two fine letters from the President. And, because Lynn and your mother agreed I should, I got myself together amid all this and wrote your eulogy.
You had Marines like gleaming statues as an honor guard, Marines as pallbearers. There was a rifle volley, and taps, at the cemetery. You would have been pleased with the conduct of your women: your mother controlled, keeping her head high; Lynn wearing the dress you liked the best and looking indescribably beautiful with those mute tears streaking her cheeks as she accepted, in the place of a husband, a flag off your coffin.
Much later the details came to us. On June 9, they tell us, the battery was heliolifted south and east from Khe Sanh, out from under the daily shelling tormenting that rat-infested trash heap, and put down on a ridge squarely astride the Laotian border. With you went two battalions of sweeping infantry in an Operation named Robin South. The mission, they say, was to sever the infiltration routes feeding toward Quang Tri, and to mount an offensive relieving the pressure on Khe Sanh during its evacuation.
It was Indian country, a known NVA stronghold which had not been intruded on since the days of French control. Like the other "Chin-Strap Charlies" of C Battery, 1st Battalion, 12th Marines, you swelled with pride over having been chosen to make a fire base out of a spot so hot it was designated Landing Zone Torch. Indeed, the whole operation appears to have been the sort you had longed for. "I'm tired," you had written, "of granting Charlie the first lick. I'll be glad when we go on the offensive instead of merely counter-attacking and killing the stragglers while the main force gets away."
You learned immediately that you had been set down in the middle of a powerful enemy concentration. You were firing on NVA troops moving in plain sight over the surrounding hills. Your infantry protection was compelled to claim key terrain beyond the range of rapid support, and your six 105mm artillery howitzers and 75 Marines stood vulnerable and isolated in a sea of elephant grass. While the CO hustled at establishing a defense, you, as executive officer, commanded the firing. You worked the crews in shifts around the clock, expecting an attack while you exulted in the commendations pouring in on the effectiveness of your gunnery.
At 1:30 a.m. on the second day, the enemy assault began. With heavy mortar and automatic weapons fire came an infantry force of perhaps a battalion and a sapper platoon. They blew a .50 caliber machine gun sky high off your perimeter, penetrated the position and were creating havoc among the guns before anyone could assess what was happening. A few NVA reached the foxholes and jumped in. Hostile and friendly were suddenly intermingled, and confusion swept the ridge. The battery, your fellow officers say, appeared doomed.
You were napping in the exec's pit when it started. Armed only with the Gold Cup .45 I had given you at Christmas, you dashed downslope under fire, gathering men as you went. You mustered just four. With these you charged the breach in the perimeter, leaping directly into the enemy. You fought it out hand-to-hand in blind darkness through a desperate half-hour. They tell us you prevented capture of the guns, that you wrung organization out of chaos, got the battery to fighting. They say you changed the probable massacre into an astounding triumph.
It was a burst from a Russian AK-50 sub-machine gun, fired from a scant 15 feet away, that cut you down. Another of your party died with you, the rest fell wounded. But you had won. In the small arms fight you had killed 28 of the NVA. Thereafter, making use of the time you bought them, the men turned those 105s around and brought them into action, getting off 200 beehive rounds, which accounted for an additional 150 of the enemy.
You would like knowing the battery has received special commendation; that its men declare you saved their lives; that they requested and held a memorial service for you; that they nominated you for your citation and decoration. How splendid of you, my son, to have given yourself as you did; to have willed us this boundless piece of gallantry as your estate. Thinking on it helps ease the awareness of how those bullets blew apart the bright life-plan you had built and kept with Lynn; of how there died with you a thousand family dreams, among them our promise of grandchildren.
We taught you reverence for the flag, the law, the traditions and institutions. We imparted to you an unequivocal confidence in the system, trained you to the habit of everyday joy in your citizenship. We encouraged your development into an aggressive competitor for excellence in a free society. We saw to it you would regard the defense of your homeland and the support of its commitments as a privilege, and we approved of how your career intention always included a time for the military as a mandate of conscience, an essential of your self-respect. The way things came about, it is unlikely you would ever have been drafted. But there was never a doubt you would volunteer. Nor was there much doubt, in view of your automatic compulsion to make the first team, that you would serve as a Marine.
Lately your mother and I have awakened at night to wonder if every teaching you had did not somehow move you toward the cruel appointment you kept on that ugly Asian hill. We deliberately cultured in you the presently unfashionable belief that each person is responsible for himself, that a man is the fabricator of his own consequences. We told you failure is a personal affair, not to be laid off on poverty or wealth, associates or influences, or, worse yet, to be blamed on the remainder of mankind. You listened well. You accepted yourself as what you had to work with, granted yourself no excuse, disciplined your life into its appropriate seasons.
It was natural, then, that you should have considered Vietnam not debatable. That your country had pledged itself was sufficient. You reacted exactly as other young Americans preceding you by a quarter of a century had responded upon hearing of Pearl Harbor.
So, you were orthodox. In a sense, I suppose, you belonged to the prior generation. Many of your contemporaries must have thought you a hopeless non-swinger, a well-groomed heir to their arch-rival establishment, while we applauded you. But on that unendurable Friday, with the terrible cost of our handcrafted patriotism there before us in the cemetery, we had to ask ourselves whether we had meant what we preached; whether we would continue meaning it down through the bleak years to which your passing has condemned us. If granted a second chance, would we repeat the course? Or would we find ways to permit and justify, consent and retract, knowing that the resultant irresponsibility might, like a foul-smelling serum, save your life?
We are sorry that when you died, there existed behind you no national resolve to win. It shames us that while you expended your blood for sane America, only insane America was flourishing. We hate it that your sacrifice goes little noticed and unpraised by a liberal press choosing instead to sponsor the street radical and to euphemize treason as "the peace movement," mass criminality as "demonstration" and exhibitionistic anarchy as "protest" and "dissent." We apologize for abiding the kick-seeking "new left" with its spewing seditions, for tolerance of government that woos the insurrectionist and is only unnerved by any reminder of your kind; for the souring churches, the orgiastic disemboweling of the heritage, for the tribes of fools swarming your sweet land like ants in the sugar — yes, I beg your forgiveness for everything that enfeebled America during your brief days of manhood and your instant of dying.
There remains, then, just this. How, my son, do I say farewell?
The willow, the one you joked of as our "family tree" that gay day we made such ceremony of planting it, withered and dropped its leaves the week after you died, as if June were autumn. But the chrysanthemums sent us in memorial are doing well, out under the north eave where we put them, and it appears they are near to blooming again. We wear our gold stars for you, we have left your boots in the corner, we have hung your sword on the wall. We are keeping fresh the good memories, and more often now, as we speak of you, it is with joy. The three of us who loved you and buried you thank you forever.
America has had no better than you. And you were ours.
On behalf of the Waco Vietnam Veterans Memorial Board of Directors, members ask for consideration and support for a soon-to-be-announced fund-raising campaign. The first step is being developed. We envision a great community of supporters on the horizon to assist in achieving this special project. The 83 names enshrined in our memorial, your memorial, we trust deserve your support. To remember is to honor. — Robert Gamboa
Robert Gamboa is a Vietnam veteran and Waco Vietnam Veterans Memorial historian.
Catch the latest in Opinion
Get opinion pieces, letters and editorials sent directly to your inbox weekly!