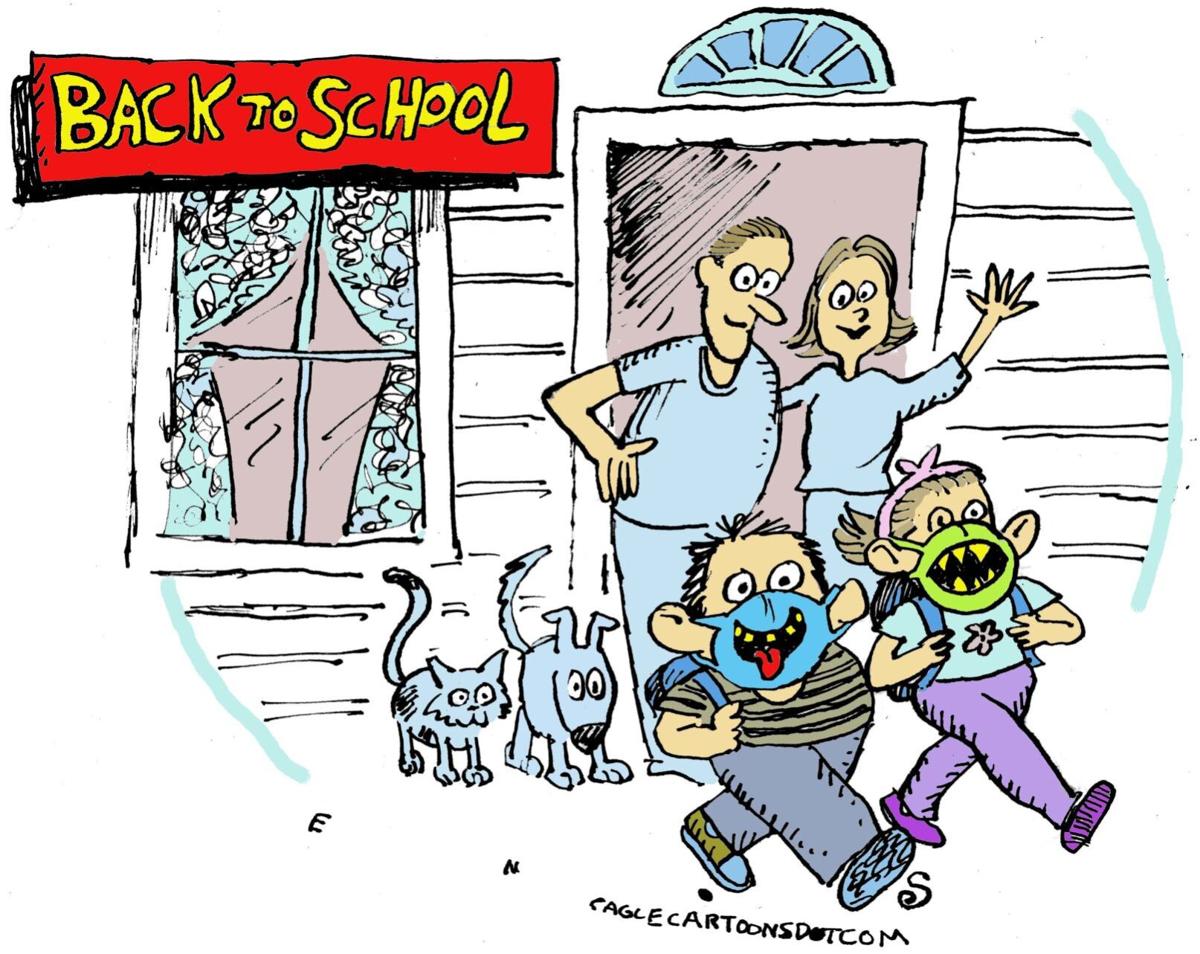 As an educator, I thought that keeping 850 middle school students calm as they huddled in hallways waiting for tornado sirens to stop was the most difficult thing that I would do. I remember their questions as I walked through the building. "Mrs. Kincannon, are we going to be OK?" I also remember the teachers trying to reassure their students while wondering the same thing.
Planning for the upcoming school year is harder. It might be the most difficult challenge that I have encountered in 31 years in public education.
During the storm, no one suggested that we ignore the warnings and continue on with school as normal. I may not have known exactly how long we would shelter in the hallway for, but I knew that the storm would pass that afternoon, and that when it did, relieved parents and grandparents would come to pick up their students.
Uncomfortable feeling
As the number of coronavirus cases in our community continues to rise, we don't know when the spread of the virus will slow again or if a vaccine will be available anytime soon. I hear the same questions, though, and I see teachers with the same worried look. Roughly two-thirds of our families and almost as many of our teachers say that they're uncomfortable with schools reopening for in-person instruction this fall.
This past week, I presented Waco Independent School District's plan for 2020-2021 to our school board. Families will have the option of choosing either 100% remote instruction or 100% in-person instruction for their students. Those who opt to learn on campus will see a number of new health measures implemented, and all students will benefit from enhanced instructional resources and supports regardless of how they're learning. Finally, this week our school board will consider whether to delay the start of school three weeks from Aug. 18 to Sept. 8.
Many of our families are worried about their children potentially being exposed to the virus if they return to classes on campus, and with good reason. For those families, full-time remote instruction might be the best option, and if they opt to start the year remotely and things change, they'll be able to transition to full-time in-person instruction at the end of each six-week grading period.
At the same time, many of our students do best in the classroom. When remote instruction concluded this past spring, more than 80% of our students were engaged with their learning and completing assignments. However, roughly 15% of our students didn't stay engaged with their coursework or couldn't be contacted at the end of the year. For their families, the ability to choose full-time in-person instruction is important.
As I write this, providing full-time in-person instruction for every family that wants it is also a state requirement. Absent a daily on-campus learning option, school districts will not receive funding from the state for remote instruction. Practically speaking, this mandate could also make it difficult to maintain distance between students in the classroom, because it prevents school districts from managing the number of students on a campus at any one time. Instead, that will depend on how many families choose in-person instruction for their students.
Regardless of how many students start the school year in-person, Waco ISD will exceed the public health guidelines released by the state earlier this month. Our campuses will conduct daily screenings for the symptoms of COVID-19 and temperature checks for both students and staff. Masks will be required for all students and staff when they are in shared spaces. Additional hand sanitizing stations are being added throughout buildings, and to help promote social distancing, some spaces are being reconfigured.
It will take time to match teacher schedules to the instructional options that our families select, to provide additional professional development for teachers and to finish implementing enhanced health and safety measures. With some time, we might also see the rapid spread of the virus in our community slow a bit.
Sept. 8 to June 10
That is why I have recommended to the school board that they delay the start of school till after Labor Day. Under the proposed calendar, which can be found at wacoisd.org/proposedcalendar, students would start school on Sept. 8 and end on June 10, 2021. Student and staff holidays would remain the same. The board will vote on this recommendation at their meeting on Thursday.
I know that our families, our employees and the community all have questions about what this coming school year will look like. We don't have answers to all of those questions. This plan outlines the big picture. In the weeks ahead, district administrators, campus leaders and classroom teachers will work to fill in the details.
From volunteers making masks to our food-service team serving hundreds of thousands of meals and from teachers shifting their plans overnight to neighbors checking on one another, over the past four months, I've seen our community come together to support one another in incredible ways. I don't know when this storm will pass, but I know that our kids are counting on us in this moment. I know that we can get through this together.
Dr. Susan Kincannon became superintendent of Waco Independent School District in September. She served as superintendent of Belton ISD for eight years.
Catch the latest in Opinion
Get opinion pieces, letters and editorials sent directly to your inbox weekly!