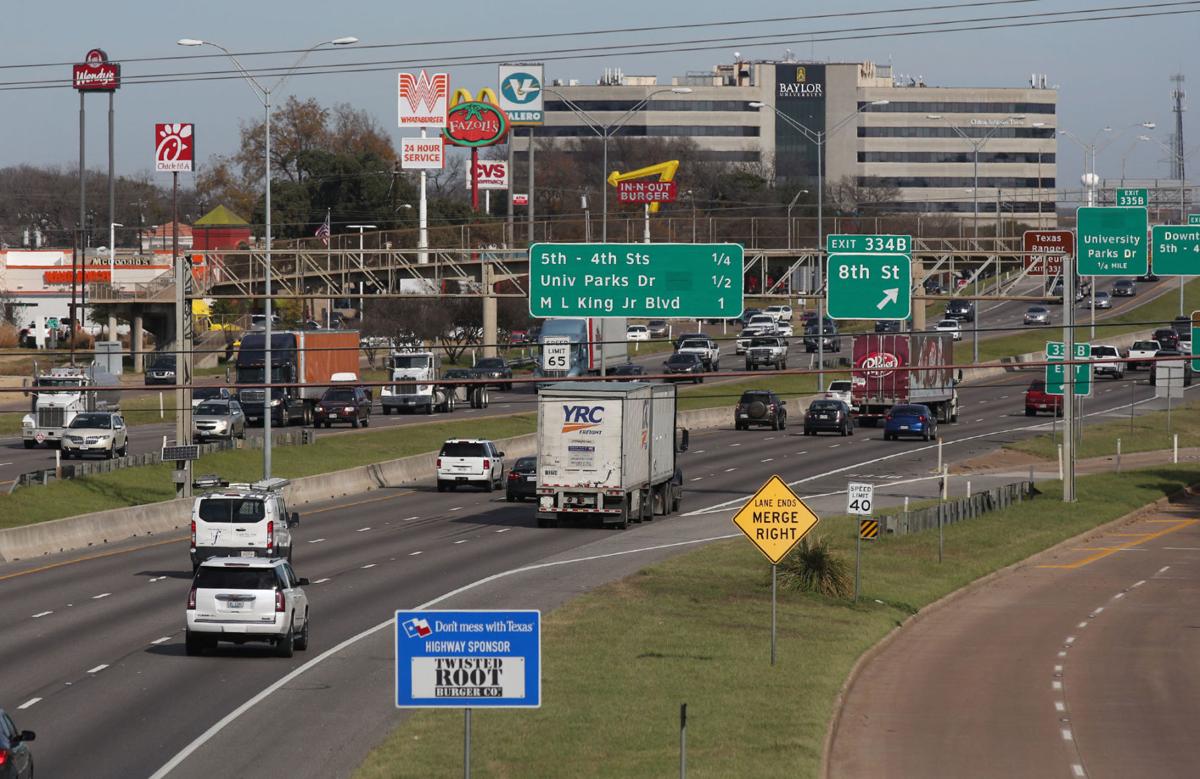 There aren't a lot of issues local leaders and the Texas Department of Transportation see eye to eye on these days, but they should agree that rebuilding 77 of 80 miles of Interstate 35, and leaving those final three miles of old road within the fastest-growing section of Waco, is not a good idea.
The 80-mile, $2.1 billion rebuild of Interstate 35 through the Waco District of the Texas Department of Transportation is down to its final two phases, both right here in Waco. Based on what we've learned so far, these last two phases may be the most difficult part of the entire project. They're certainly starting off that way.
There are 14 projects overall in this ambitious rebuild, four of which are in the immediate Waco area. The lighted frontage-road bridges over the Brazos River was one of those. Another, dubbed Project 4A, is winding down and includes a major upgrade of the on-ramp from Martin Luther King Jr. Boulevard near McLane Stadium. That leaves Project 4B and Project 4C remaining before the entire I-35 project is done. TxDOT is about to spend $341 million on Project 4B, which begins at North Loop 340 in Bellmead and extends south to what is now the 11th Street overpass in Waco. That project includes new mainline bridges over the Brazos River. Project 4C, estimated to cost $200 million, picks up at 11th Street and extends south to South Loop 340 near Central Texas Marketplace.
TxDOT and the Waco Metropolitan Planning Organization, the locally based umbrella group that directs and sets priorities for transportation projects in McLennan County, are at odds over funding 4B, specifically as it relates to the need for a $20 million drainage project in downtown Waco made necessary by raising the interstate roadbed five feet. The MPO thinks that because TxDOT raised the roadbed, it should also fund the drainage project. TxDOT considers the drainage costs to be the city of Waco's problem. The two are at loggerheads over it.
Also, 4B came in over budget and TxDOT wants another $8 million in funding from the MPO to help make up the difference. The MPO has already committed $80 million of its state funding allocation to 4B. The original cost estimate was $300 million.
It certainly looks like 4C may sit on the back burner for quite some time, well beyond the four-year time frame to build 4B through Bellmead and downtown Waco. If there's a plan to fund the $200 million 4C project, nobody's saying what it might be. TxDOT asked the MPO for $60 million, but the drainage ditch issue makes such an allocation unlikely. Plus, there are a number of local high-priority projects on the MPO's to-do list.
So 77 miles are getting rebuilt, three miles are not.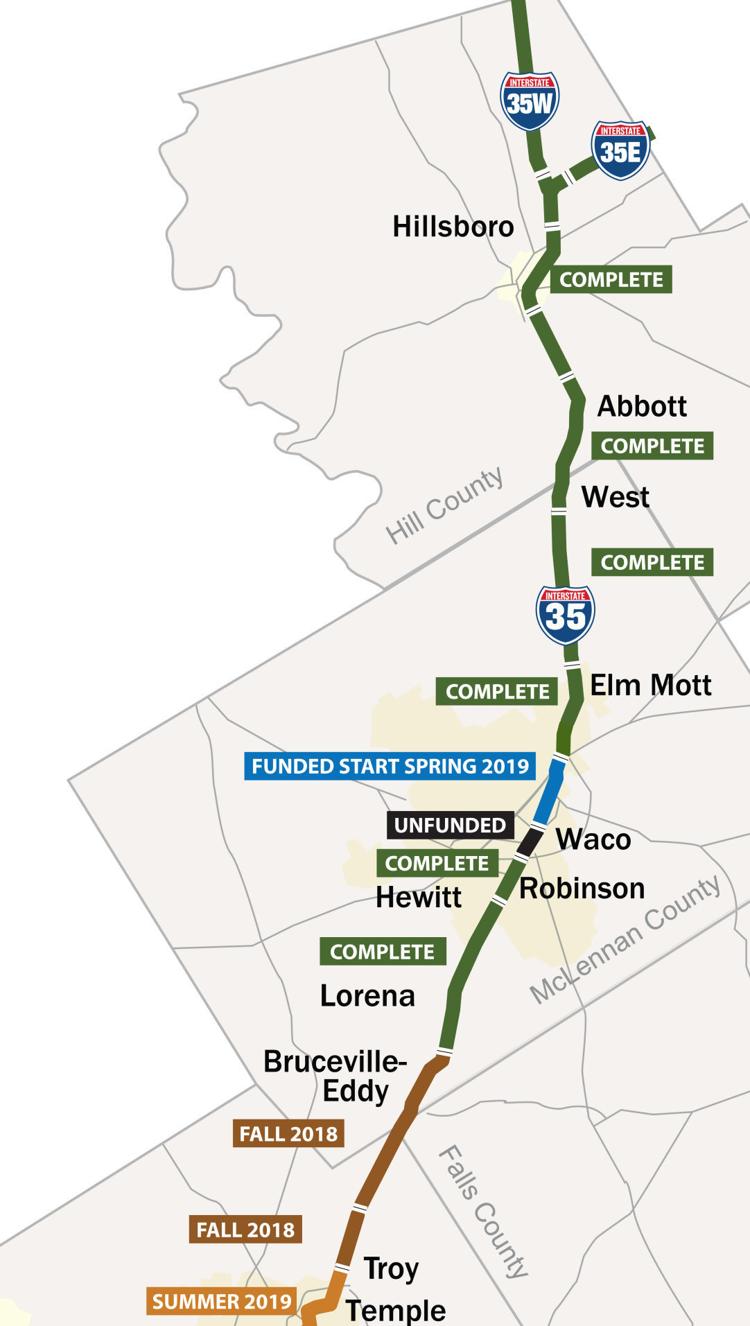 Those three miles envelop the 17-18th Street corridor, the Valley Mills Drive flyover intersection and New Road. Travelers will hardly notice when new highway turns into old highway for three miles in Waco, right?
There are major differences between the new I-35 and existing I-35. Exit ramps are configured differently. Frontage roads are more important than driving lanes in urban areas. New engineering specifications all along I-35 call for fewer, longer off-ramps as far removed from intersections as possible. Texas turnarounds are vital to moving traffic from access points to intersecting streets.
In this new alignment, both southbound downtown exits begin on the north side of the Brazos River (University Parks and Martin Luther King Jr. Boulevard); the next available exit into downtown Waco is 17th Street. There's no exit ramp for the Fourth-Fifth Street corridor. This has many business owners along I-35 in Waco worried about visibility, marketing and changing traffic patterns.
Putting aside the inherent problems of melding old and new engineering specs under Waco traffic volumes, keeping three miles in the current alignment presents other problems for local residents. The intersection of New Road and I-35 is already overwhelmed by traffic, given that it handles almost all northbound traffic on I-35 coming out of the Central Texas Marketplace. And the northbound flyover lane from Highway 6 to I-35 doesn't catch Bagby traffic but rather funnels it to busy New Road.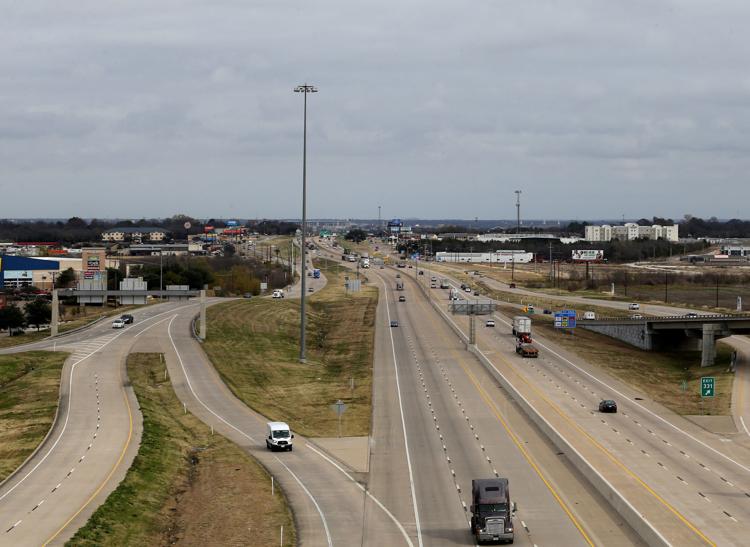 The entire stretch of I-35 from South Loop 340 to Valley Mills holds the most promise for future development, the kind that would pay direct sales-tax benefits to the city of Waco. New interchanges at New Road and Valley Mills are needed now, not later.
MPO board members have been quoted in this newspaper saying I-35 is a state and federal project and should be funded as such. Technically, they're right. Yet access points and alignment changes impact how a city interacts with an interstate highway dramatically. In many respects, I-35's rebuild is two projects benefitting local commuters and interstate travelers in different ways.
TxDOT plans to get rolling on Project 4B within the next couple of months, whether the MPO ponies up the extra $8 million or not. If the MPO commits part of the $60 million it originally considered for the final 4C project to 4B, or to pay for the drainage project downtown, it will leave the final stage of construction in serious peril.
Perhaps local lawmakers can exercise some sway in Austin to find additional road dollars. If ever there was a need, this is it. Phase 4C needs to be funded, and construction ready to go before 4B is done in four years' time. And the clock is ticking.
Steve Boggs is Trib editor.
Catch the latest in Opinion
Get opinion pieces, letters and editorials sent directly to your inbox weekly!