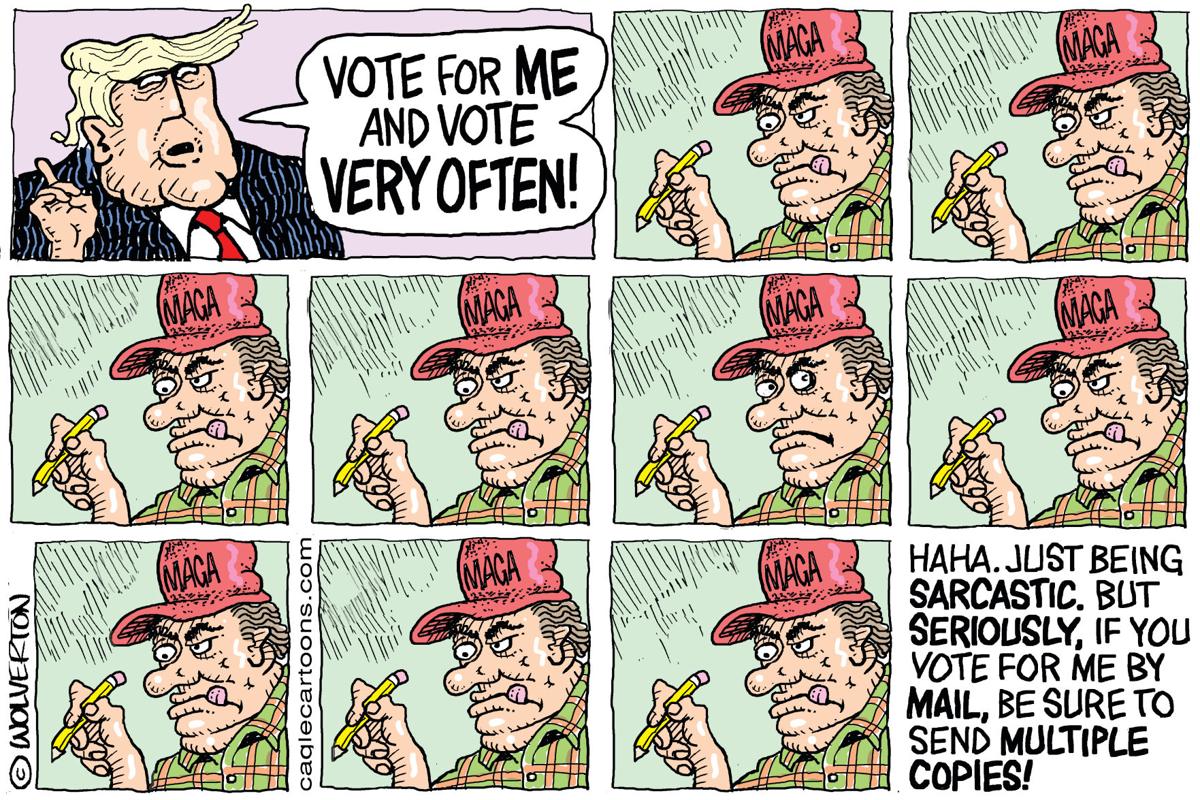 We're confident most local Trump supporters won't take the bait, run out this fall and vote for Trump once by mail, then again in person, notwithstanding the president's advice to supporters in North Carolina and Pennsylvania last week. While most folks we know who support Trump's re-election are content to overlook his constitutional transgressions and astounding legal arguments elevating him above the federal and state laws the rest of us must honor, they like most Biden supporters respect the rule of law. Then again, one wonders about zealots emboldened by the president's fiery talk to do everything from refusing in the name of liberty to wear facial coverings in a pandemic costing lives to taking up arms and heading for demonstrations.
One must lament not only the level to which this presidential campaign has sunk but the degree to which other partisan public servants fail in their oaths to the Constitution when a president arguing against mail-in ballots becomes so frantic and so twisted in his unfounded rationale as to finally suggest his supporters vote by mail and, just to be sure their votes are counted, vote again in person. When Attorney General William Barr was subsequently asked about this prescription for anarchy, he cravenly followed the pattern of so many spineless latter-day Republicans: He dodged the question rather than risk correcting the president and irking Trump disciples. At one point, Barr said he wasn't sure all states forbade voting twice in the same election. Can you imagine a state in America that informs residents: "Hey, folks, here you can vote twice in the same election — three times if you're feeling frisky!"
Just what our unappreciated election judges and poll workers need while contemplating holding elections in a pandemic with six more days of early voting added: another confounding wrinkle.
Allow us to help: In case the 1965 Voting Rights Act's prohibition on "voting more than once" isn't clear, state law drives home the point: Anyone in Texas who "knowingly votes or attempts to vote more than once in an election" commits a felony. To quote Karen Hobert Flynn, president of Common Cause: "The Department of Justice needs to make absolutely clear to the public that what the president is encouraging his supporters to do is to commit a felony punishable by jail time. This cannot be the cable news fumbling of Attorney General William Barr trying to not offend the president by excusing his urging of Americans to commit crimes. States have laws and processes in place to ensure every eligible voter can cast only one ballot."
This newspaper has spent an inordinate amount of time this year explaining election laws and voting protocols to understandably confused readers, even before the pandemic hit. It remains only for us to beg fellow citizens to study the issues with a mind to what outcomes they'd like to see; consider the state of the union under the incumbent; then vote in person if registered to do so or by mail if legal, permissible and preferential.
Catch the latest in Opinion
Get opinion pieces, letters and editorials sent directly to your inbox weekly!