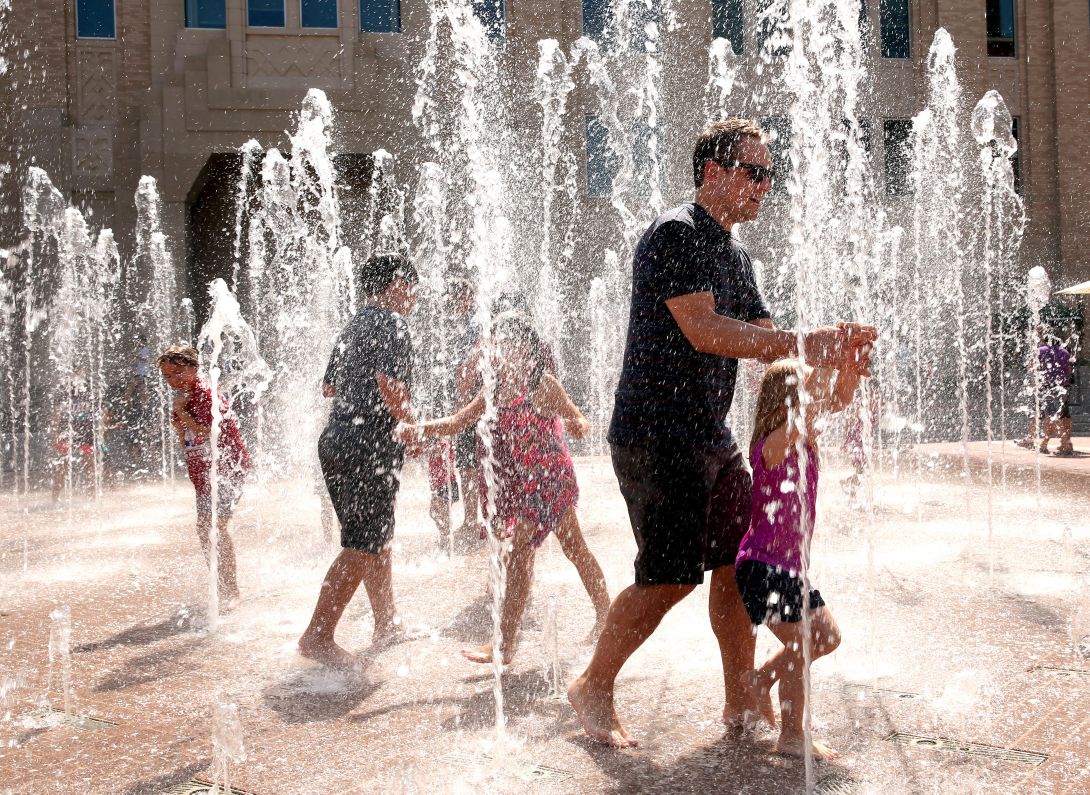 At first we thought the fiery rhetoric over same-sex marriage, Confederate battle flags, Planned Parenthood, Donald Trump and Megyn Kelly was to blame for the growing heat we've been feeling lately. But meteorologists serve up an even more uncomfortable truth: Central Texas is in the full grip of summer, reminding us droughtlike conditions are more the norm for our state than the exception.
For those who employ their God-given brains to think beyond bombast denying the ways of science and nature, the heat wave reminds us that if we bury our heads in the sun-baked earth and overlook temperatures predicted to range from 100 to 105 degrees all this week, we one day risk the prosperity and happiness of our children, just as we do if we ignore the raging national debt and runaway spending. The real marvel is that Americans fail to see any of the dangerous parallels.
To the credit of many of our neighbors, we've heard no rancor about a call in the 2015-16 city budget for a $71.5 million bond issue to upgrade water and sewer infrastructure all over Waco. Maybe that's because many of us remember our forefathers' focus on local water needs to the extent we not only have Lake Waco today but facilities to treat enough water for a growing population and industrial base.
Nor do many of us have sympathy for neighbors who water lawns to such excess that water winds up running down the street, around the corner and on down the next street. More and more of us are getting the message that God or simple physics — take your pick — isn't creating any more water. It's a finite source. And we best use wisely what we do have. (By the way, the best time to water your lawn, experts say, is between 6 and 10 a.m.)
Veteran Trib staff writer J.B. Smith tells us that, starting in January, the typical combined sewer and water bill for those of us using 8,000 gallons of water a month might increase by $4.66 a month, rising from $62.77 to $67.43. That bill could eventually increase to $92.35 by 2025 as part of a proposed 10-year plan for $245 million in utility improvements. None of us likes the idea of greater costs, but even fewer of us want to think of running short of water.
More problematic: the reckless talk of those who cherry-pick a few stats out of thin air to refute the widespread consensus on human-caused global warming endorsed by 97 percent of today's scientists, backed by the American Chemical Society, American Medical Association, American Meteorological Society, U.S. National Academy of Sciences and a bunch of other groups whose members know a lot more about science than most of us armchair witch doctors.
Are the Environmental Protection Agency's newly announced greenhouse gas rules the answer? Scientists and economists can disagree, as conservative economics writer Robert J. Samuelson makes clear today. But if there's anything positive about the new rules, it's that they offer states a seat at the table in effecting regional solutions. And that's a spirited discussion well worth having.