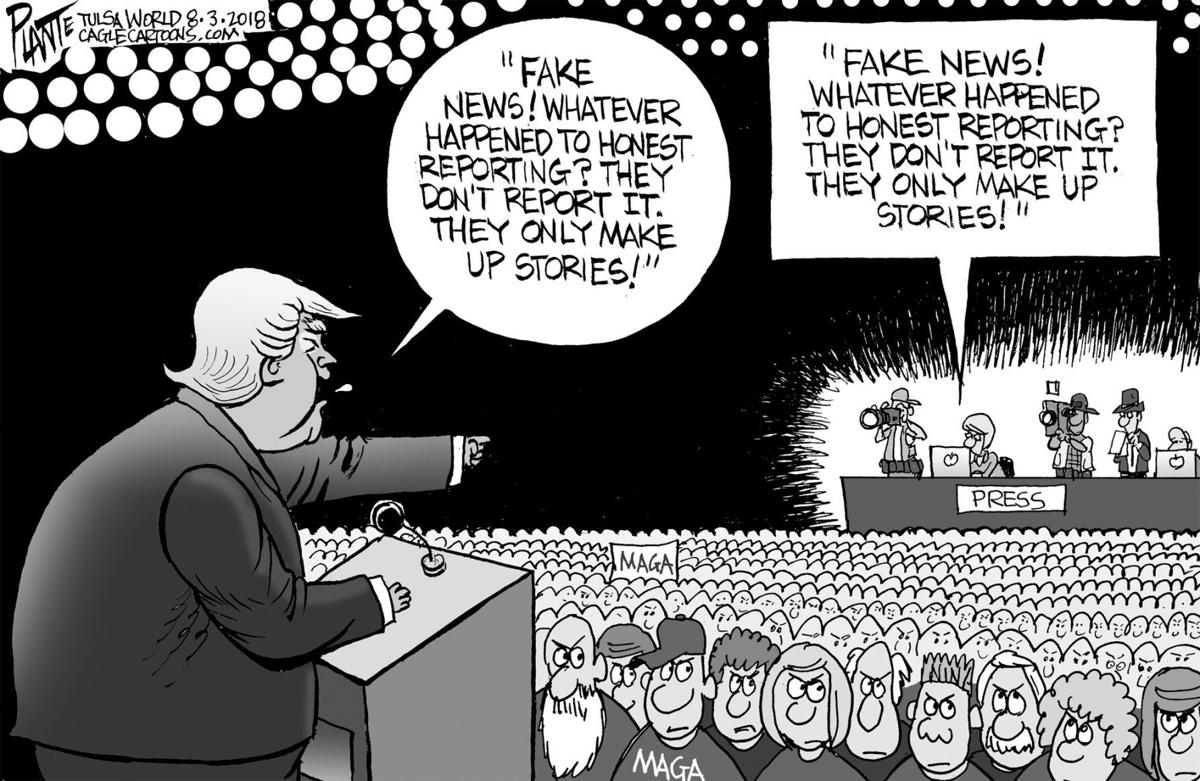 If you doubt President Trump's success at inciting and deploying disciples to do battle for him in his war on "the enemy of the people," take your typically underpaid, overworked hometown newspaper journalist to lunch some day. Prepare to be astounded at not only his or her workload but quiet, sure dedication to profession, community and truth. These qualities, when employed with a zeal for accuracy and balance, are what so intimidate anyone maligning the press and questioning the First Amendment.
A few weeks ago, a Waco Tribune-Herald employee wearing a shirt with the newspaper's name on it was patronizing a local business when an individual with whom he was unacquainted walked up to him, forcefully poked his forefinger in the employee's chest and seethed aloud: "Fake news!" Yes, another foot soldier in the president's army of the willing, the hateful and the uninformed.
So what was fake about stories in the Trib, say, yesterday? How about Trib staff writer Phillip Ericksen's Page One story, "Lake Shore Drive up for $3.7 million fix," complete with a listing of time and place if you want to attend the Waco City Council meeting and use your First Amendment right to sound off? How about Cassie L. Smith's story on the Bellmead City Council's controversial approval of bonds to buy new fire trucks — a story you could get live by following Smith's tweets from the meeting?
Does veteran staffer Mike Copeland's story about plans for a family fun center in downtown Waco qualify as "fake news" worthy of contempt? Is Copeland a "libtard" for reporting it? Is the story about Texas ranchers trimming herds as the drought intensifies fake news? And should we not include the very public feud between Trump and Omarosa Manigault Newman when the president himself has demanded the attention and amplified the fallout, tweet after public tweet?
Today the Boston Globe and other newspapers are publishing editorials in defense of the First Amendment amidst attacks by the president. We obviously join in championing work-a-day D.C. newspaper brethren covering a controversial and wildly unorthodox administration that often seems at war with itself more than the press. Yet we remind readers to differentiate between how, say, some 24/7 cable news outlets such as CNN and Fox cover the news — with a predominance of opinion and spin — and how reality-based news media all across America cover everyday news.
Yes, limited space in daily newspapers is turned over to opinions offered through syndicated and locally written columns, letters to the editor and editorials with which you may well disagree. You are, of course, also free to skip them. But unlike the very first newspapers of our republic — political organs with an incidental mix of news — today's papers are primarily news offered straight and unvarnished, as first drafts of history generally are.
You may not like what we and our brethren in cities beyond Washington and New York report. We don't relish writing about sexual abuse scandals, landfill battles, corrupt public officials and fights over buying city fire trucks. But providing hard news with relevant detail and critical context through our questions and research is what most news media do without fanfare. Without them, Americans are left to government-run media and social-media rumor mills and, not coincidentally, sure and certain ruin of their increasingly battered republic.