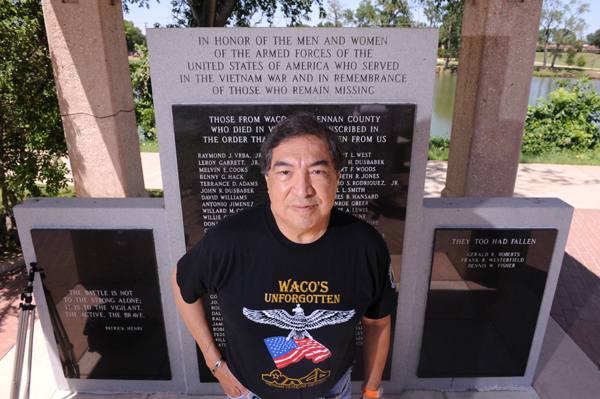 Local history will note many civic contributions led or supported by amiable, straight-shooting Manuel Sustaita during his busy 76 years. Chief among them: his dogged, uphill effort with other veterans to erect the inviting riverside Vietnam Veterans Memorial honoring those from McLennan County who perished fighting in an unpopular faraway war. And then there's his belief that those who return from serving in harm's way should speak out to ensure future generations of military personnel aren't misused or forgotten in questionable pursuits at home or abroad.
For Manny, a lapsed Republican-turned-Democrat, this meant calling out politicians whenever the occasion required.
At a time of crisis in America when some seek to dispatch U.S. troops to quell U.S. citizens demonstrating in the streets over racial injustice, Trib readers will notice the void in local public discourse left by Sustaita's death last week. Whether one agreed with this Waco businessman and Marine veteran, his sentiments were frank and imbued by an unshakable faith in American ideals. Some of that vigilance may well stem from this South Waco lad's harrowing days of reconnaissance in Vietnam, ever on the lookout for trouble.
Last year, for instance, Manny was troubled by an administration that seems to make a lot of allowances for Russian intrigue and aggression, conjuring up his pivotal Marine service from March 1962 to August 1966. To quote his Trib column: "Two conflicts in my lifetime, the Cuban Missile Crisis and the Vietnam War, were caused by or prolonged by the Russians. Their quest to bury us still exists. Look at their actions. Yet some among us now carelessly rationalize away any concern about their increasing meddling, manipulations and machinations. Some people spend a lifetime wondering if they made a difference in the world. Marines don't have that problem."
Nor did he hesitate to call out fellow citizens who fell short in their dwindling duties of citizenship. In a 2012 column, he lamented twin wars of only passing concern to many Americans: "The cost of our current war on terrorism is mind-boggling. Unlike most other wars in our past, this one was put on our nation's credit card. What's more, the American people never took real ownership of this war, thereby creating a lack of resolve or even understanding about its evolving purpose. Too many Americans — Central Texans among them — believe waving the United States flag or praying is all that needs to be done. The sad reality is that the young people we have sent off to Afghanistan and Iraq will end up paying for this war in untold, often agonizing ways."
Some residents will note that Manny's causes and political stances as a veteran didn't conveniently complement those of many of his friends, neighbors and fellow veterans. Fair enough. More than most, Manny Sustaita paid for the right of being outspoken and understood that veterans issues can impact economic and racial issues to the benefit of all. And his arguments and principles are worthwhile precisely because they boldly challenge and critique the customary thinking about America in our parts and beyond.