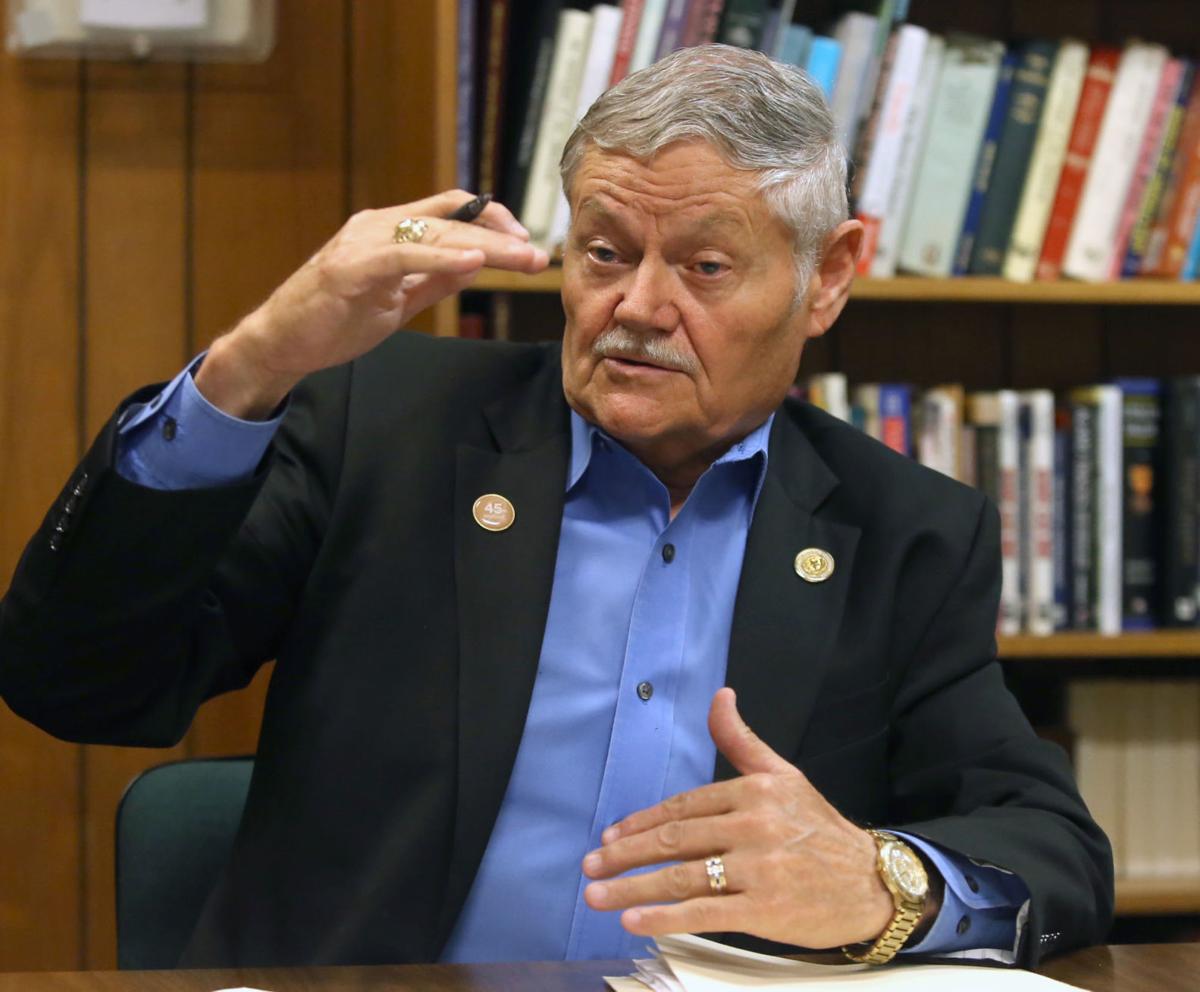 Charles "Doc" Anderson, 73, a longtime veterinarian, seeks re-election to the Texas House of Representatives for District 56, which encompasses much of North Waco, West Waco, Woodway, Hewitt, McGregor, Robinson, Crawford, Lorena and Moody. A Republican, he has represented the district since 2004.
Q Your opponent suggests in your 14 years in the Texas Legislature you've accomplished very little of significance for the district or the state. I imagine you disagree.
A I think the coal plant battle was very significant [in 2006-07, involving TXU Corp.'s short-circuited plan to build coal-fired power plants across the state, including some near Waco]. I was the only one in the House or Senate willing to stand up to TXU. That involved 18 plants with nine ringing Waco within 50 miles. These 18 pulverized-coal plants were just too many, too much of that technology [for the area].
My inspiration was I was taking my niece around barrel-racing and, well, seeing all these kids and no one had any idea what was literally on the horizon. We would have been a non-attainment zone [for air quality] immediately, just like that, and that would have impacted businesses. But more important than that was what might happen to these kids.
Q You mean the kids' health?
A Yeah, the kids' health and the environment. You know, it's a beautiful country here with kids riding and doing their thing and I thought, "I just can't let that happen here on my watch."
What other things have you done for the district and state that you regard as significant?
A My support of education. It might not necessarily have been successful, but support of education where we had that teacher empowerment bill to put teachers back in control of the classroom [involving campus discipline policies]. If they weren't getting support from administration, they could form their own committee by secret ballot of teachers. They asked me to run that [bill through] three different times, three different sessions, because there again the Texas Association of School Boards said, "You can't give the teachers that much authority." Flat-out told me that. And I said, "No, no, we need that."
A Trying to get appraisal boards elected. [Chuckles] Couldn't get that even out of committee. But someone tries every session. And the governor's talking about doing that, going into the next session, which will be great. But electing appraisal boards, I couldn't do that, so I said, "OK, then let's make sure the chief appraiser is elected. Somebody has to be responsive to the people." No, couldn't do that either. So, "OK, how about the appeals board is elected?" But, no, couldn't get that anywhere.
Q Legislative leadership might think that's a good thing. As local appraisals are allowed to go up, as determined partially by state officials, the state has been able to cut its share of school funding.
A I would argue that's probably not the logic there but the end result. The state is at 37 percent [in its share of public school funding]. In my opinion, we need to be in the mid-40s at least.
Q This newspaper was disappointed when the state abandoned plans to renovate and transform vacant Hillcrest Baptist Medical Center in North Waco into a state-run, low-risk mental-health facility, a proposal that could have eased the statewide mental-health crisis and added 1,000 new jobs to our area. What happened? We keep hearing state officials whine about the need for mental-health services and the shortage of mental-health beds .
A Tremendous opportunity there and it was very disappointing to me when the state of Texas could not be flexible enough to take advantage of that opportunity. It would be under a million dollars for [purchase of the building]. We could do incrementally up to 336 beds. I talked to everybody in the House. The House was on board, everybody from [Public Health Committee Chairman] Four Price to—
Q I talked with Chairman Price last year. He was all for it.
A Yeah, everybody in the House was for it. The first fly in the ointment was Sen. Charles Schwertner who said, "Doc, you know, you've got to be careful. If they threaten us in a residential area, if they come up with forensic beds [involving patients in the criminal justice system, as opposed to non-criminal patients], you know, that could be a problem for you." I said, "Charles, there's nothing anywhere mentioned, in any plan — phase one, two or three — about forensic beds, nothing. That's a straw dog —"
Q But one senator's objection shouldn't derail this thing.
A Well, that was the first flag that things weren't going well. What happened, we went from $700 million, which was originally what we were talking about for mental-health projects statewide, down to $300 million. That was a big hit. So we were told, "Well, you know what, we really don't think we need to be buying older buildings and retrofitting them. We need to be building newer buildings." And Houston wanted a new mental-health hospital there. Dallas wanted a new mental hospital there. And Rusk [State Hospital] wanted to retrofit [its facility], which they did get some money for that. So [the state response was] "We need this $300 million and we need to split it or come back, but not retrofitting an old building [in Waco]." And I said, "Well, I think you're very short-sighted because about 40 counties are affected here and you've got I-35, the growth issue and all that. I mean, we need this here." And they said, "Well we're not concerned about it." I briefed the governor's staff a month ago, again, because I'm not giving up on that.
I said, "Look we need to be able to provide a service for this terribly needed issue and there needs to be something for Central Texas. If they build one in Houston and one in Dallas, it's not going to help here. They'll fill up with local folks there. It's not going to help here." There's a spinoff to this, with County Judge Scott Felton, MHMR, Rapoport Foundation, the sheriff, myself, [Mayor] Kyle Deaver — we met a couple of weeks ago and we're fixing to go out to Lubbock to look at a smaller [mental-health setup]. So rather than let this die on the vine here, we can look at a smaller facility, like 30 to 40 beds.
Q Did we just get outmaneuvered by the big cities?
A Didn't get outmaneuvered. It was a dollar thing, so it ended up from $700 million to $300 million.
Q The state just spent $3.6 million shoring up foundation piers supporting the State Highway 6 twin bridges over Lake Waco. Now state engineers are talking about the possible need to overhaul or replace it. To complicate matters, highway officials are fighting our efforts to see engineering reports to determine what the problems are, if any. And they're suggesting the cost to overhaul just one of the twin bridges at $17 million, which sounds way off. What's going on here?
A I'll have to refer you to the — I'm not advised, specifically, up to date with that. I got to refer you to the [Metropolitan Planning Organization, which oversees funding and prioritizing of regional transportation projects], but it's—
Q Our reporter says the MPO didn't seem to know about it either.
A I was not aware of that, but I'll visit with [MPO executive director] Chris Evilia and see what's going on because we're actually, I'm going to sit down with the chairman of the [Texas Transportation Commission] as soon as we can get together on 4C out on I-35.
A They've broken that [improvement and widening] project, I-35, loop to loop, except it's not really loop to loop now.
They're working on that bridge up there now [Phase 4A, covering improvements from Martin Luther King Jr. Boulevard to Business 77]. That'll be finished. Then you got what they call 4B [North Loop 340 in Bellmead to South 12th Street in Waco, set to begin construction next spring], then they got 4C [South 12th Street to State Highway 6/South Loop 340]. So there's this part they're working on now, then there's 4B, then 4C.
Q And 4C is not funded yet.
A Correct. Now the MPO's put in about $60 million [from funds designated for local projects].
But what's super important about this, for a number of reasons, is we need to do this [the two phases between North Loop 340 and South Loop 340] at the same time rather than separately, one after another. If we do it like this with 4B now and then we've got 4C [under construction later], you're looking at eight, nine years of death and destruction, really, on I-35. Plus look at the impact to business. There's actually a term [coined amid I-35 interstate improvements south of Waco] — "Saladoed," for businesses being shut down. We're growing here, everything that's going on now in the community and Baylor and football games and, you know, we got to get this to where we're doing [phases] at the same time. We have to get that funding gap, so I'm going to talk to Texas Transportation Commission Chairman [J. Bruce] Bugg.
Q Given Waco doesn't have a lot of pull with the governor and legislature, is that likely?
A You say we don't have a lot of pull, yet we got this $1.2 billion [for I-35 construction] from Salado to Hillsboro [not counting Waco], out of $2 billion available from the state. So Waco had pull.
Q Polls suggest immigration remains a key issue for many Texans. Do we still need to spend millions per biennium in state money to put Department of Public Safety troopers and Texas National Guard on the Texas-Mexico border, given the president has resources for this? Is this state money that could be saved or is this still a problem?
A In my opinion, that's still a serious problem. My No. 1 responsibility is to protect not only my district but the citizens of Texas. Then, finance everything else. Drugs? Huge problem. I'm honored to be the chair of the Rural Caucus and opiate abuse around the state is huge. I mean, there again, a lot of misery and human suffering caused from the trafficking. You see what's happening here locally, with the human trafficking and sex trafficking. Home invasions, all the things I mentioned, like those folks that are in the jail now for all these things, rape, assault, stabbings, home invasions, and people don't think like home invasions: If this is your home that is invaded, that destroys your little kingdom there, you know, and the wife has a problem with that, and the kids have a problem with the worry and fear. Those are things because those, not all the people, but they're the ones that come across here, rape, rob and pillage, go back and rape, rob and pillage over there, come back.
Q Litigation continues over the sanctuary cities law. One thing that provokes people is this idea police officers can press people for citizenship or legal papers. There's concern this will lead to racial profiling. Is this law acceptable to you?
A On the surface, absolutely. Any law can be abused by law enforcement or, rather, folks, so I mean there's always those negative things. But in general, my No. 1 goal is to protect the citizens of Texas. And it's not just against Hispanics — like I say, the trafficking here was all Oriental.
Q The concern is about the due process of the person who is pulled over because he or she looks "Mexican." Some of your fellow legislators from the border region who are Hispanic say they're regularly hassled.
A I think there needs to be correction in the courts for sure if somebody is abused that way, absolutely. They have to have the full-throated support of the courts, and that would eventually, like say any time you have any kind of law, you have this period where it takes a while, and that's where the courts come in and say, "OK, if you have two or three or four cases, whatever it is, then you have to change that."
Q I see the law making it difficult or perilous for police chiefs to say to rank and file, "You need to think twice about just pulling over anybody who's Hispanic." But you're happy with the law as it is?