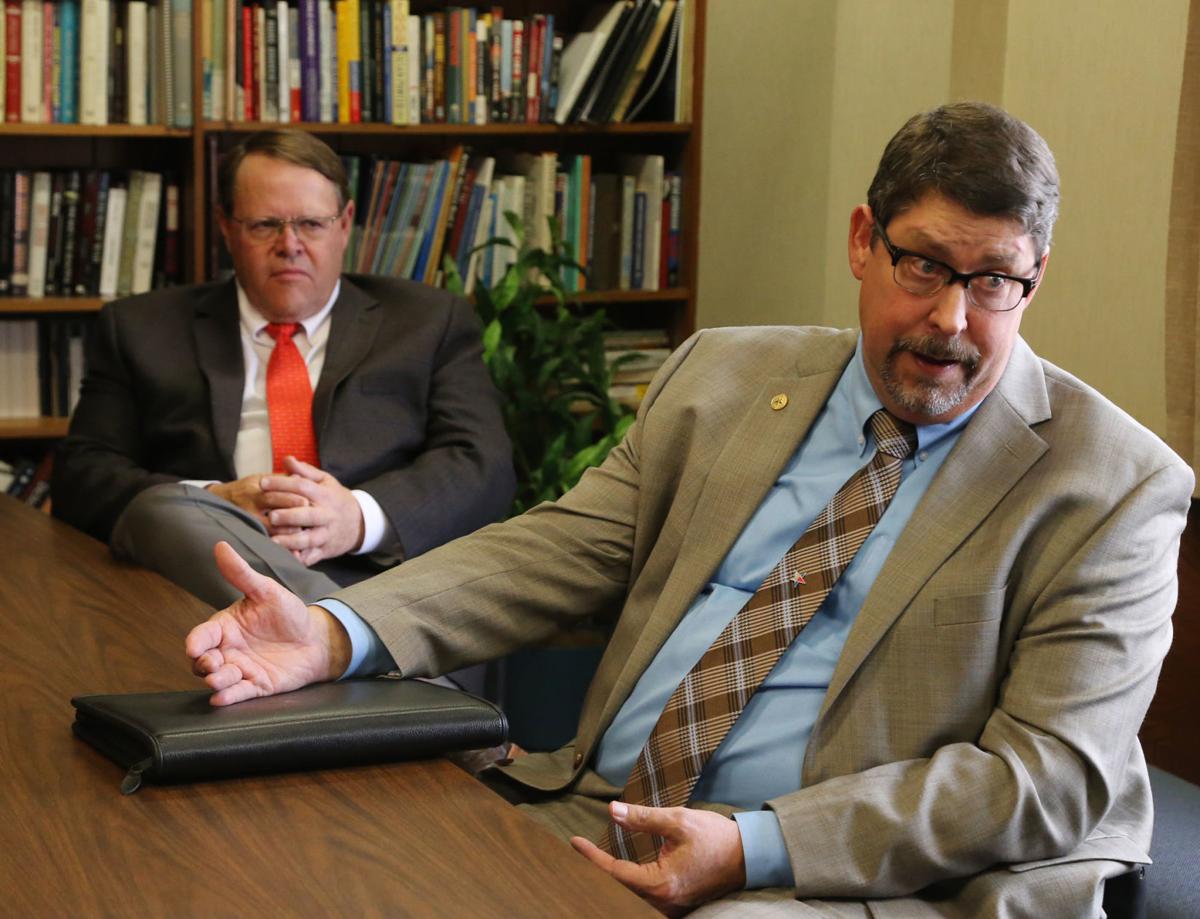 Republican state Sen. Lois Kolkhorst's latest legislation pressing protections for Texas property owners facing the spectre of eminent domain as pursued by private, for-profit entities has already sparked pushback from the powerful oil and gas lobby and its allies. This legislation would provide for public meetings to better ensure property owners understand the process and can get questions answered; lay down minimum protections required in contracts; and hold private companies accountable if they offer property owners less compensation than owed. During Texas Senate testimony last week, some landowners said they have spent more than $100,000 in legal fees fighting condemnations.
Pipeline companies, conservative think tanks and entities with eminent domain authority say the bills (including one filed in the House) would impose unnecessary regulation and delays and hamper economic growth. The Waco-based Texas Farm Bureau vigorously argues otherwise. Meeting with the Trib editorial board to speak for the bill on Feb. 27 was Texas Farm Bureau President Russell Boening, who grows feed grains, cotton, watermelons and wheat; operates a 450-cow dairy with his brother and father; and oversees a cattle operation in South Texas. Others attending: Scott Frazier, Texas Farm Bureau board secretary-treasurer and a South Texas farmer and rancher; Si Cook, executive director and chief operating officer; Regan Beck, director of government affairs; and Gene Hall, TFB director of communications. Interviewing this quintet: Trib editor Steve Boggs, publisher (and rancher) Jim Wilson and opinion editor Bill Whitaker.
Bill Whitaker    What would these eminent domain bills in the Texas Legislature do?
Russell Boening     These will make the process of eminent domain involving private companies more fair. We understand eminent domain. This is not about being against eminent domain. It's about making the process of eminent domain more fair.
Whitaker    It looks like a whole new protocol with more transparency built into the process through such things as public meetings. What is the status quo?
Boening     When it comes to private companies, whether they're laying a pipeline, whether they're putting down a transmission line, they don't have to have a public hearing. We all know that with public entities — cities, counties, whatever — there's always an opportunity for a public hearing. But if they're considering putting in a pipeline [on your property], that's not required for private companies.
Whitaker    Is a public meeting a necessity? A lot of these things get down to negotiations between a landowner and whatever company is trying to use eminent domain to secure a right through his or her land. Why add protocols for a public hearing when a lot of this involves private landowners and private companies?
Boening     That's a good point. If they come to my place and I want to make a deal strictly with them and not have any type of public discourse, we can do that. We're not taking that away from any property owner. At the same time, sometimes you can find out more information through a public meeting. There will be things discussed and laid out that are harder to find out as an individual landowner. We want to see minimum requirements they should lay out in these public meetings: What is the scope of the project? How big a transmission line is it? How big a pipeline? How many pipelines? Is it one pipeline now? Do they have the right to lay another in later?
Whitaker    Has this been a big problem? I know Texas is becoming more urbanized with more people moving here daily.
Boening     We hear a substantial amount of stories from our members. And we are working with other landowner groups whether cattle raisers or wildlife associations. They've heard the same thing. The problems are out there. Now, does that mean every transaction has a problem? Of course not. There are some good players out there. But we are hearing about more and more problems. You mentioned Texas growing. Whether it's population, energy production in the Permian Basin, I think problems are growing because there's been more requirements or more needs to exercise eminent domain. So, yes, it's becoming a bigger problem.
Whitaker    What do the complaints you hear involve?
Boening     Number one, knowing what's going to happen. Like I said a minute ago, what is the scope of the project? How big? How many pipelines? And some of it is the initial offer. The initial offer that the landman drives up with sometimes is what we call a low-ball offer. It's not a fair-market value. This person drives up to a landowner and, of course, they're very courteous, very cordial. They come up and they have a contract for an easement in one hand and a checkbook in the other hand. They basically say, "We need to do this and this. If you sign this easement, here's what we'll pay you."
Jim Wilson     Sometimes they come up — and this comes from a guy who's sued two pipeline companies — and they'll say, "Oh, by the way, we already have eminent domain through here. " And people don't know what to say. And [the landman] says, "We're going to offer you $5 a foot." Well, if they tell my wife that, they don't know who they're dealing with. She smiles and nods and we go to town [in terms of negotiations]. Here's a story that really angers me. We had five oak trees that lined the edge of this property in Parker County that were planted by Charlie Goodnight in 1877 and [the company wanting easement] cut every one of them down. We had everything all lined up as to where they were going to go and then they moved over to the right about 80 yards and cut through our stock tank and through Charlie's trees.
Boening     This bill would require that when they notify you by mail or when they come in with that initial offer, they would also tell you, "Oh, by the way, today is March 1. On March the 21st there'll be an opportunity to have a public meeting at the county courthouse."
Gene Hall     Some of the pipeline companies, based on what our members have told us, could use nothing so much as a course in good consumer relationships. Intimidation, according to what we've been told, can be a factor. The guy comes out, as Russell said, with a contract and a checkbook, and says, "You might as well take this, we're going to take it anyway or we're going to sue you." And sometimes the prospect of facing a deep-pocket adversary like that in court can be very intimidating.
Steve Boggs     So any potential litigation would be put off until after the public meeting?
Regan Beck     You want to require the public hearing before. I guess our thought is knowledge is power. If you have a number of property owners together that could talk about it, that's powerful. That helps them to where they can understand the scope of it and they're not out there alone.
Whitaker    Do you find a lot of property owners ignorant about their property rights?
Boening     Gene mentioned a key word: intimidation. You feel intimidated. You know you're going up against an oil and gas pipeline company. That's not to say property owners don't have resources, but you don't have the resources that multi-billion-dollar corporations have.
Si Cook     One of the main issues here is that you have a landowner who's going to deal with this once, maybe twice, in their lifetime against an entity that deals with it every day, all year, for years. So you have vast experience in resources [behind pipeline and transmission line corporations] against somebody who really has no knowledge. And the more knowledge landowners can gain, the better off they're going to be.
Whitaker    What's the biggest deficit of knowledge among your many members, certainly intelligent people who nonetheless may not be familiar with state law and property rights?
Cook     They don't know what's going to happen. They don't know the process. They don't know how to deal with the oil company. Those who have the resources probably will retain an attorney. Those who don't think that they can afford to do that and fight the entity say, "Well, I'm just going to have to give up." And here's another very important point. This is a business transaction, but it's a business transaction only one side can walk away from. Landowners can't simply walk away from this negotiation under eminent domain. You can't say, "Nope, I'm not interested, don't come back, we're not going to do this deal." Landowners do not have that option.
Boening     And if these pipeline and transmission line corporations have the power of eminent domain and they want to come across my property, they will. You're forced into that business transaction.
Wilson     And the sad part is, with my first neighbor, they go out and offer him three bucks and he goes, "Well, OK, yeah," because they're coming anyway. And then they get to us and we say, "OK, we'll do it for $50." And then the next landowner maybe can't hire an attorney and doesn't know what I'm being paid. The ranges of what they pay people is extremely unfair and the way that they do that is they try to keep you in the dark. They know this stuff.
Boggs     If, say, a pipeline was seeking a right of way across a number of parcels at the same time, would the public hearing have all of those landowners at the same hearing?
Boening     They would all be invited. I believe it would all be done by county.
Whitaker    I'm looking at a provision here regarding use and repair of any gates and fences. Why is that such a sticking point?
Boening     Sometimes they don't put it in the contract. I mean, if you've had dealings with that, you'll understand you need to make sure it's all in the contract. I saw a contract — it wasn't on my land but it was with someone I knew — and he says, "Do you think I ought to take this to an attorney?" And I said yes — I didn't even need to look at it. You always take it to an attorney. But what they talked about in that first initial contract was an easement with pipelines. With pipelines. And I said, "Joe, how many lines are they going to put in?" And he said, "Oh they're just going to lay one." I said, "Did you read this? The contract says pipelines." Long story short, when the landman came back by, my friend said, "Hey, what does this mean about pipelines? You told me that they're laying one." And the guy says, "Well, they're laying one right now, but maybe in two or three years they might need to come through again." And my friend says, "Well, do they pay me damages again?" And I don't know. Not necessarily, because they already said they could lay pipelines.
Beck     But you asked about the gates. I'd say that's one of the biggest aggravations for a rancher. Gates are left open, fences are down, cows get out and if you don't have it in the contract, you have no recourse.
Whitaker    Given that much of this involves the oil and gas industry and so much of our state budget is dependent on revenue from that industry, I can imagine oilfield companies will get preferential treatment from the Texas Legislature.
Boening     We've gotten pushback already on just the public meeting part of it, saying it's going to delay a project and it's going to cost money. My first comment was, "Are you serious?" So they're telling me they wake up on Monday morning and say, "Oh, I think we need to lay a pipeline from Odessa to Victoria and here's where we're going to go and we're going to start next Monday." Do they really think we believe that's what's going to happen? That's one of the biggest arguments — that it's going to delay matters. No, it's not going to delay. These projects are planned. You can plan a public hearing in that planning process.
Scott Frazier     I'm not sure it wouldn't speed it up, quite honestly. If you took 10 landowners and we all heard the same story at the same time to where we could understand why you're here, where you're going, why you need to do that, I think you could actually speed it up.
Whitaker    Let's talk about high-speed rail and last month's court ruling setting back Texas Central Railway plans to survey through Leon County.
Boening     As an organization, we have a policy against the bullet train. I guess from our perspective, anything that would keep the bullet train from happening—
Whitaker    But why, given that Texas does have a lot of transportation needs? And transportation is an important issue for agriculture as well.
Boening     Our property owners are just worried about how they're being affected. They're worried about an elevated, high-speed train going through their property. They're worried about what it does for the remainder of the property. They're worried about aesthetics. They're worried about a lot of things.
Frazier     What if I ran a high-speed rail through your house? And now two of the bedrooms of your home are over here and your kitchen is over here. It creates a lot of issues. You know, can we work around it? Probably. Maybe.
Cook     And here's how they're going to figure the costs. They figure the cost of your house is worth $150 a square foot. They're going to pay you for just that square footage that goes through the middle of your house, according to what your house is appraised for. They're not going to figure what it does to the rest of your house. And you can't walk away from that transaction.
Hall     You heard a lot of these arguments when the Trans-Texas Corridor was proposed.
Boggs     Well, that begs a question: If you guys have a history of being fundamentally opposed to high-speed rail for that reason, are you not also fundamentally opposed to eminent domain?
Cook    There's a lot that's happened in our state in the last 20 years. First of all you have the shale oil boom. We've had tremendous development in the oil industry, which brings a need for pipelines. We've also had a tremendous influx in population. All of that creates the need for pipelines and high lines and roads and that type of thing. So we have a booming population, a booming economy. We're not trying to slow down the economic development of Texas. We're just trying to make it fair for the landowners. If you own property in Texas, your chance of being affected by property-taking increases daily. We need this infrastructure. But the need has never been more critical to treat landowners fairly. We can't have all this oil infrastructure and growth and the economy falling on the backs of Texas landowners.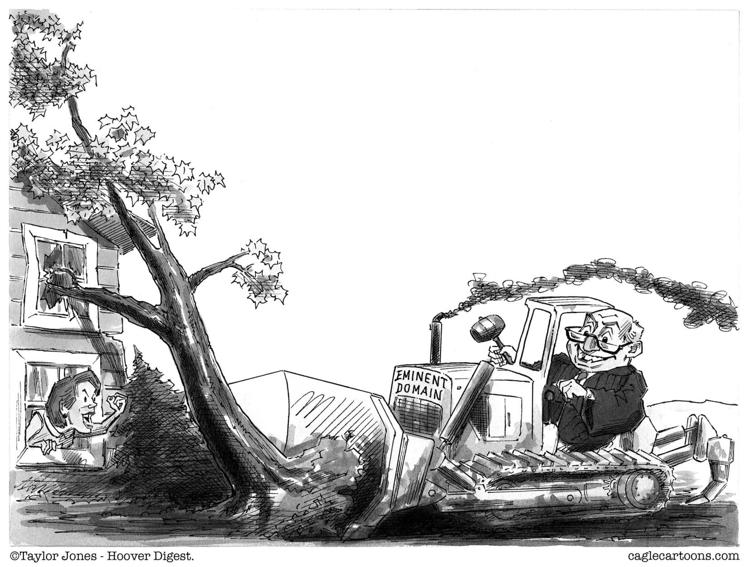 Whitaker    Republican Congressman Will Hurd says 1,000 farmers and ranchers in South Texas — your neck of the woods, President Boening and Secretary Frazier — could be impacted by President Trump's border wall. Things didn't work out so well for landowners impacted by the Secure Fence Act of 2006. A lot of people got screwed. I know this is a federal issue, not a state issue, but this looms as a big issue involving eminent domain and property-taking in Texas.
Boening     We're concerned about the eminent domain ramifications. Our policy is we are in favor of border security. We're in favor of a physical barrier where practical. We're in favor of other types of security, such as virtual fencing and whatever, where practical. And so we're taking the stance that we're supporting border security and at the same time we're very cognizant of the fact that we have property owners down there who could be affected by eminent domain.
Frazier     What I've heard from most of the landowners down there I've visited with or had contact with, most of them weren't outright opposed to the idea of the wall but they want some input on where they were running it. They were worried that they had, say, maybe irrigation equipment pumping out of the river there and then the wall would supposedly come by here but the field is over here. And they didn't have it worked out — "How am I getting my pipeline through here? Is there a way for me to do that?"
I don't know if you're aware of it but the border is the center of the river. And in some places the wall is very near the border, just a few feet from the river. But other places it might be half a mile or further from the river. So it's a significant issue there. There's been some ideas about, depending on how they built it, that there could also be some flooding issues.
So at least among those I've talked with, they weren't necessarily anti-security, anti-wall, but they want to know how it's coming through there exactly. The attitude is: "Work with me as a landowner to get my pipelines through there, to get my equipment back and forth." And there's a few people where even their home is on the other side of that wall. And they're worried about, "How are we going to get the school bus here to take my kids to school in the mornings? And what happens if we have a fire in my house and it's on the wrong side of the wall?" A lot of those details haven't been flushed out.
Whitaker    Is there anything the Texas Farm Bureau can do to stand up for these property owners? Or is this something you're going to leave to somebody else?
Cook     We're going to concentrate on our state eminent domain laws right now. That's a federal issue [the wall]. We're for proper immigration, following the laws and we're for those landowners being treated fairly. Our concentration right now is getting the laws fixed in the state of Texas.
Hall     When the federal government or pipeline companies or McLennan County or anybody else decides to take property, they can do that and it's exactly like our state issue. We're not going to be able to stop that once the wall is authorized. But there is an American Farm Bureau and they're going to be focused very intensely on that issue, I suspect. Russell's on that board. I suspect we'll be working with them to address these eminent domain issues and we'll do so seriously.
Whitaker    We hear a lot about the trade war impacting farmers and ranchers in pretty hurtful ways. No doubt we have some trade problems we need to resolve. Does the Texas Farm Bureau membership feel this fight has been worth it?
Boening     You know, and this might be going out on a limb a little bit, but I think in general our members feel it's been worth it, yes. But we need to see the end of the runway. We need all this resolved. We need to move forward. We need China as a trading partner, you know? We haven't even mentioned the tariffs. We're talking about retaliatory tariffs that China put on for our tariffs on steel and aluminum. I mean, those tariffs are going to affect everything that we buy.
Frazier     Approximately half of everything we grow in Texas is exported. Mexico, China and Canada are our three biggest trading partners. So over half of what we're growing in this state goes [to export]. In some commodities — pork and poultry, for instance — it's more than that. And the vast majority of our pork and poultry goes to Mexico. So it's a big deal for us. Take grain sorghum. First part of last year before the tariffs were announced on grain sorghum by the Chinese, there were — I forget the exact number — something like 400,000 metric tons of it. Twenty-some odd shiploads went out of the Port of Corpus Christi the first three months of that year. After that, the next three months from April more or less through August, there was two shiploads. All this is hitting home.
Whitaker    We went through severe drought last summer, getting rain when we didn't need it. Is anybody at the Texas Farm Bureau concerned about climate change? It sure seems like an awful lot of scientists say it exists. Yet I sometimes sense the farming community sees this as a false issue. Where does the Texas Farm Bureau stand, given that taxpayers sometimes have to subsidize failures to deal with what seems an increasingly harsh climate?
Boening     Well, we don't have policy on climate change.
Whitaker    Well, that's a nice way to handle it. (Laughter in the room.) Yet surely this is something you guys discuss when we have a summer like we had last summer. Or maybe you don't.
Hall     We've had worse summers — 2011 was much worse.
I think all farmers are concerned about the climate. And it certainly makes no sense to recklessly discharge carbon into the atmosphere or anything like that. We're affected by the droughts. I think one concern we have is not so much whether climate change should be addressed but how you go about it. There have been efforts in the past to get at this that were, quite frankly, punitive to agriculture. It's really hard to grow a crop without starting up a tractor and driving across a field. So we're going to have to see how they want to go about addressing it.
Boening     I think, you know, when you look at the science — and I trust science — if we can prove that the temperature in the ocean has gone up by a degree and a half or whatever over the past how many years, if we can prove, which we can, that the average temperature has moved so much in the past hundred years... There's no doubt the climate is changing. OK? I don't mind addressing that or acknowledging that. But like Gene said, we're not real sure what all is causing it. And then, as we move through that, how do we address it when we believe we know some of the things that are causing it?
Whitaker    What is the defining moment you and Gene are talking about? It seems we're all waiting for somebody to come down from on high and proclaim, "It's greenhouse gases!" Well, most of the scientific community figured this out 20 years ago. Yet we have Americans who deny this, probably because it means then we don't have to do anything about it. On the other hand, our military takes it very seriously. They're looking at places they're probably going to have to go in the next 50 years [because of political and societal instability] when it's not hospitable enough to grow crops and tend cattle anymore.
Frazier     We in agriculture, and in most industries, are continuously changing. There's been huge strides in the ability to convert feed into meat, you know — poultry, swine, cattle, whatever. I mean, huge strides over the last 50, 100 years. So maybe we need less corn to feed them, maybe we don't have to have as many acres of land. We've changed our farming practices over the years. We're not necessarily saying, "I'm changing my farming practices to cut greenhouse gases." I'm changing my farming practices to make more money, actually. And it has returns to the environment. If you're using cover crops, for instance, then theoretically—
Whitaker    What kind of crops?
Frazier     Cover crops we call it — grass, oats, wheat, something you're not going to continue to harvest but it holds the land together, works on some of the microbes in the soil and all the biology that goes into that. It also allegedly cools the surface a bit because you have this green growing crop there instead of just bare sun hitting bare dirt. Little things like that. We don't make as many passes over a field as we used to. With the help of some chemical aids, maybe we don't need quite so many passes. We're changing every day, practically. We're doing work with genes. GMO is a dirty word to some — genetically modified organisms — but we're changing the plants so they can grow with less water. I mean, we're learning how to do things differently all the time.
Interview condensed and edited by Bill Whitaker.