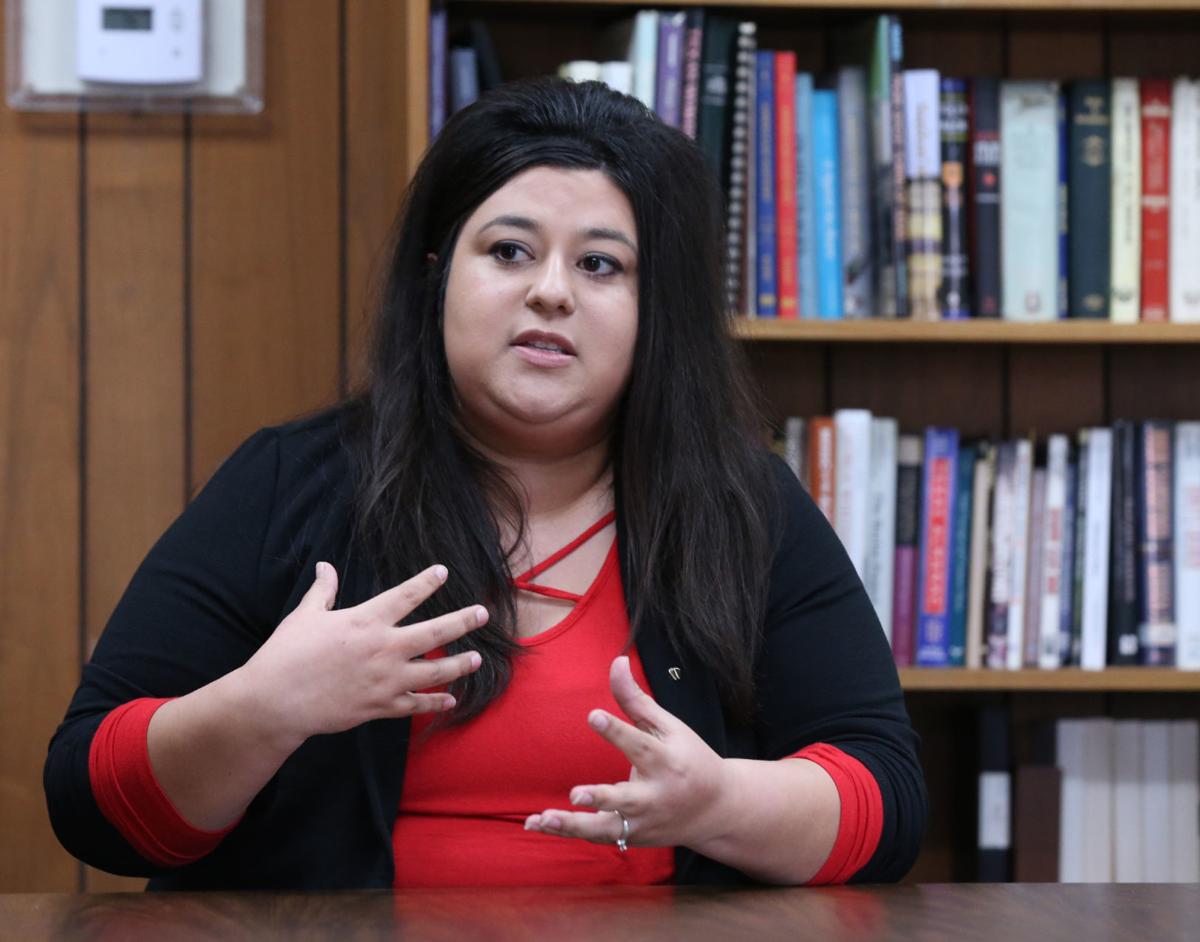 Kristen Alamo Rowin, 28, a Waco real estate broker and mother of three who lives in nearby Lorena, seeks to be the Republican nominee in the November general election to succeed Bill Flores in representing Congressional District 17. She informs crowds right off that "Alamo" is her real name. She touts her strong support for the Second Amendment; supports a border wall as well as better foreign relations to help discourage immigration problems; supports use of cannabis for medical purposes only; vows to fight regulations and high taxes; and pledges to stand for the sanctity of opposite-sex marriage. Her quoting of a NASA website to support her belief that climate-change rhetoric is so much "hysteria" is a delightful example of cherry-picking if one reads the rest of what NASA has to say on the subject. While this amiable candidate doesn't tout the idea of theocracy in America, our editorial board interview finds that she represents a fundamentally religious passion squarely behind the wheel of Republican politics in 21st-century America.
Q    Why are you running?
A    So, some people get a little confused by the answer if they don't have a faith like mine. God has called me to run. This was not on my radar at all. I have no desire to be a politician. I've signed the Congressional Term Limits Pledge. But that is what started this. My husband came to me and said, "Hey, I think you should run." And we'd always talked about public service and we really try to serve wherever we are, whether that be in our church or our business. So for me, after he came to me, encouraged me to run, I really entered into prayer and searching for the answers and just felt that heavy conviction to do so. I know that I've definitely been enriched by the process. It's helped me grow spiritually as well. Meeting people, having to rely a lot on God because I am a small guy in this fight — this is a David and Goliath [scenario] for me because I don't have that experience in the way that, well: What am I supposed to do or what am I not supposed to do? So I'm approaching this as a business owner and as someone with common sense.
A    I think Goliath would be the establishment, to be honest with you. Whether we acknowledge it or not, on both sides you've got establishment. And I don't care if there's a D or R behind your name, if you have forgotten that you were supposed to serve the people, then I have a problem with you.
Q    Do you have a favorite American hero? If so, who and why?
A    Honestly, I'm going to go with President Trump, and I'll tell you why. I believe that he has lifted a veil over what has become of Washington, the beast. Because, as I just mentioned earlier, whether there's a D or R behind your name, it doesn't matter. Because we have now been shown, again, the veil lifted, that these are two different wings of the same bird. And so for me, the deep state and all of these things that we hear about, rooting that out — I think what he has done has been so pivotal. And 2020 is going to be so pivotal. Honestly, I was one of those people that thought Hillary was going to win. And I thought that would be just the end because I think that we see it with the radicalization, the socialism and all of that that's still being pushed. Imagine if she would have won. Even our trade, all of these things that could have really hurt us and been the end of America: We are so unique and blessed to be here. We are the last refuge. If we lose here, there's nowhere else to go on this earth. So, I really think for those reasons, and I think history will be written, we're living in times that I think we will look back on and what we hear the media say a lot of times will not be how history is remembered. We're going to actually have the facts rather than emotion on that.
Q    What do you tell your friends who are not so convinced as you are, who are convinced that Trump is the end of times for this nation, that he's busting so many constitutional norms, that he is the menace? What do you tell to your friends and maybe your neighbors?
A    So here's the thing about me, this is what's going to set me apart in a lot of ways as well: I'm not going to assume what they mean by that. So if they come to me and they say, "He's the menace, he's the problem," I'm going to then follow that up with why. What is your perspective? Because if we're not talking about the same thing, if we're not talking on the same level, then we can't have progress and answers. So I would need some more feedback from them to know what you mean by that. What specific areas? That's how we change minds — actually taking the time to listen and working through those problems together.
Q    We've all been bitching about Washington for most of our lives. What did Trump do that changed it?
A    Again, I think the polarization, it still exists, but I think that the Republican establishment, these guys are the ones that really don't care about the people. They're up there and I don't think that we were readily able or willing to call them out. I didn't hear Republicans griping about Republicans. I heard it as more of a left and right thing. And for me, to kind of bring it full circle, I look back at just a few years ago, we had Romney and Obama. Those were our two choices. And I don't ever think that we will have a Romney be the majority for Republicans again. That's what I mean by, as I look back, I'm like, "I can't even believe that these were our two choices." That is what I mean by lifting the veil. It's really rooting out evil in all forms. Whether we think that it's for us or against us, I think it's emboldened us. I griped about Washington, but now I'm realizing the problems are coming from both sides.
Q    What do you mean when you say evil? You mean the Democrats are evil?
A    I mean ideals that go against the fabric of the foundation of this nation — communism, socialism, all of these radical ideologies. I do believe that evil exists. Because I believe that evil exists, then I have to believe that evil motives exist. And so where does that come from? The Bible talks about the love of money being the root of all evil, and that would be the definition of what's going on in Washington. The love of money. We have government getting involved with businesses and lobbying, they're being best friends and it's hurting people. So whenever I say evil, that is specifically these ideologies and just downright bad, evil actions to benefit the people at the top. The establishment. Again, using that word, establishment.
Q    What book are you reading?
A    Well, the Bible. As I mentioned, faith is a big part of my life. I go to church on Sundays and Wednesdays. And I tell you what, as you go through the seasons of life, that book, it's the living word, it reveals different things to you at different times. I want to make just a brief comment on a lot of people, and you might get into this, because I am the youngest one running on any side, Democrat, Republican, Libertarian. I am the youngest one. I am 28 years old. And believe it or not, some of the Republicans are really using that against me in an ugly way. When I was in Wheelock, we had a state representative get up and give a speech after the debate and have the audacity to say, "Well, we have some yearlings in this race. We have some old re-shoed horses and we have some thoroughbreds."
Had it been in a different setting where he wasn't in front of the crowd, I really just ... That got me. And one of the things from 1 Timothy 4 says, "Let no one look down on you for your youth, but be an example." So, that is near and dear to me right now, and it has been in my life because I've owned a business since the time I was 25. I was married and started a family and owned a home at the age of 21, so I've always done things that people don't expect.
Q    Research indicates lawmakers who have previously served on a city council, a school board, a planning and zoning commission, a philanthropic board, generally have better results when they go to the Legislature or Congress. Do you have any experience like that that would help you work with others?
A    As I mentioned, my life experience and business experience. Trump is a businessman. He's a real estate businessman. So I look at what he's done, because the economy is one of our biggest issues. If we get everything else legislatively right but we don't have a good economy, then we're not a nation. I mean, if we go under, we will not have a country. So I think economy is one of those issues that — I know how to employ people. I know how to invest in people, training, and just all of the different aspects. So for me in the campaign, in my business, while I have an objective, so in my business to be a real estate broker — guess what, who developed the website? I did. Who had the responsibility to go form the LLC, to buy the insurance, to manage this, to manage that? I wear so many hats. So, I would say I would like to see the research done on business people and small-business people, because balancing budgets, doing all of these things that are so important, we should be holding our government accountable to that. We, as normal citizens in America, we are held to that standard every day.
Q    Of course, business is not the same. Government isn't supposed to make a profit.
Q    It's supposed to deal with services that a lot of times don't yield anything except, say, public welfare, or Social Security, or our defense, which is extremely costly.
A    Sure. So to speak to that, wherever I am, I try to hear God's voice in leading me to where I should serve. So in my business, for just a small example, I was on Waco Drive and I had my husband construct a blessing box. That got so much traffic. I have been involved—
Q    What's a blessing box?
A    A blessing box is just a box that contains nonperishable items, food, things like that, and anyone walking by can just open it up and grab it and go. We actually saw quite a bit of traffic — obviously Waco Drive. So finding ways to serve, give back [is important]. Because the Democrats, they really focus on social issues a lot and they kind of have categorized us as not caring: We [supposedly] don't care about the poor, we don't care about the downtrodden and these types of things. But I would submit to them that we are also service-minded, but the way that we approach it would be different.
Q    What are people telling you on the campaign trail?
A    I have people come up to me with tears in their eyes when I speak about my personal life experience. Up until three years ago that we opened our own business, we were living paycheck to paycheck. We currently don't have insurance. Because guess what? Three years ago we became self-employed. My husband did fully. I have always been self-employed. But they come to me with tears in their eyes because they have a renewed hope to know that someone just like them is willing to go and fight on their behalf. Issues of health care, economy, that's what people care about. All of this other stuff that we get into and we fight over — what people care about is putting food on the table for their children and providing. And so the economy, health care, issues like that are what I hear most about.
Q    I can't imagine a more terrifying situation than not having health care and having three boys. How in the world are you guys getting by?
A    We actually come out better than if we were to have insurance and I'll tell you why. Our insurance premiums were going up, and under Obamacare, under that whole situation that came up under Obama, we were seeing like 30% increases year over year in our premiums. The cost became so astronomical that we looked at this and we said, "OK, if we are paying $900 a month for premiums, why could we not take that same $900 and put it into savings for health-care-related costs? So that's what essentially a health-care savings account is. We were really coming out on top. Our doctor's visits are $60. If we have to have blood work done, our specific doctor is negotiated. Here's the thing that people that are making money and benefiting, they don't want you to work directly with your doctor. Guess who wins when you work directly with your doctor? You and your doctor.
Q    Your website biography tells about your immigration roots. Tell us a little about your father's trek from Peru to Texas. First of all, why did he leave Peru?
A    My dad is one of four brothers. His oldest brother came on a scholarship because he was like a math genius in Peru. He came on a scholarship to go to preaching school in Abilene. And so, it was my dad's brother that first came here. And really, the reason they came was for opportunity. I have been to Peru as recent as 2012 and it is still way behind. We think ice is no big deal. We have ice every time we get a drink. That is a luxury there. Air conditioning is a luxury in some parts. Whenever I went to visit my family, that was one of the things I got to experience. Mattresses. It was a piece of plywood wrapped in fabric. That was their mattress. So they came for economic reasons. I love telling this story because my dad came not knowing the language, with a few hundred dollars in his pocket. He did not have a college education or anything like that. He came and he worked. He worked hard and did what he had to do. No excuses. His youngest brother is actually a professor in Houston and he told me over the holidays, because I was talking about this, because I know this story comes up a lot, I wanted more details. I said, "As far as education goes, why did you go to SFA and not to a different college?" SFA is Stephen F. Austin down in Nacogdoches. That's where I'm from, Lufkin. He said, "Well, I couldn't afford it. But you know what I did? I looked up the books that they were using at Harvard, and I read those books." So, the story of my dad and his brothers is really the American Dream, because he started working at Pilgrim's Pride. And now today, my father works for fun. He's a homebuilder. He has everything he could ever need. Just busting through barriers and not taking no for an answer, just hard work. And so, I'm proud that's where I come from, because it made me who I am.
Q    Well, it sounds like there's some great values there. Which leads us to your thinking on the need a border wall. What else does your idea of immigration reform entail?
A    My father came obviously legally, and I discuss the process with him. It took years. It took years for him to receive citizenship, as well. And so, as far as immigration reform, the first, irregardless of anything, I'm a business person, so I look at the behavior that we want. What do we do? We incentivize. And so if we have policies that are incentivizing further illegal immigration, we have to do away with those. For example, amnesty. That word gets thrown around a lot. And to me, what amnesty means is that anyone that shows up, they're just automatically given some sort of citizenship or rights.
Q    So you would not include these people seeking asylum from violence and all kinds of poverty in Central America. You're talking about how your family came here for opportunities. What is to keep you from being hypocritical about other people fleeing violence and poverty and lack of opportunity in Central America?
A    Well, I think that even recently, specifically in Peru, which is where he's from, the people have been rising up and demanding better representation and fighting against their government. And here's my take on that: You need to embolden yourself to fix your house. OK, so fix your country. [Los Israelitas, described by The Guardian as "a religious sect whose members dress in flowing biblical robes," saw their political party become an unexpected winner in recent parliamentary elections. Peru is presently mired in questions of constitutionality and corruption.] And I am in favor if—
Q    But your dad didn't. He came here instead.
Q    Explain the consistency in thought. You're proud of your father because he and your uncle seized opportunities and came to this country. Why are we being so derogatory or dismissive — let's put it that way, dismissive is politer — about other people seeking to seize that opportunity and come here seeking asylum?
A    So I almost see this as two different things. I see asylum as something different. Seizing opportunity that they did but they did it the correct way. They went through all the appropriate channels. So if someone is seeking asylum and they go the appropriate way, then I have no problem with that. But where—
Q    A question of clarification. You said your dad came here, went through legal channels, but it took years to become a citizen.
Q    Was he in this country that whole time?
Q    OK. So he was here before he became a citizen?
Q    Was he a guest worker program, a green-card type thing?
A    I'm not 100% sure on that. If he was a... I don't know. I really don't.
Q    Well, how did he stay legally?
A    I'm not 100% sure. I'd have to ask him, but what I do know is they... It could have been maybe like a student visa because they were all young when they came over. And I know that they were going to school and things like that. But I don't recall all the ins and outs. But again, if people were coming the right way, they should obey whatever laws are on the books at that time. That's how I feel. Whatever laws are on the books. And I'm not being discriminate towards anyone. If they come through the proper ways of whatever laws we have at that time, I have no problem with that.
Q    Do you think DACA was overreach?
A    By overreach, you mean?
Q    President Obama used an executive order to create DACA. You know what DACA is don't you?
A    Mm-hmm (affirmative).
Q    It's a temporary measure. Is that executive overreach?
A    Mm-hmm [affirmative]. That's a tough question. Is it overreach? Possibly. But I am in favor of the idea of DACA. To kind of expound upon that, children, because we're specifically talking about DACA, these are children that were brought over and they did not commit a crime. They had no way of knowing or consenting, they were children. So they're here. They benefit from our education system. They're brought up in this culture. As far as they know they're American. They're brought up here. So for me, allowing them a pathway to citizenship is a no-brainer. I think that there should be, and again, the DACA outlines, they can't have criminal [background]. There's specifications, qualifications in that. So do I agree with DACA? Should the president take actions when Congress won't? Like I say, it's tough to say. Could it be? Possibly. It just depends what it is. In this specific situation, I agree with the premise of DACA because something has to be done. Something has to be done.
Q    Let me ask you another question. We have pastors here who have raised concerns about the tent cities where asylum seekers are being placed. These are people seeking asylum in the United States from Central America. These pastors say these people in the tent cities in Mexico [just over the borderline] are being picked off by drug cartels, human traffickers. Children just disappear. This is another executive action, but this time by Mr. Trump. Do you support that?
A    Mexico is like the Wild West right now. They are not standing up for their people. They're being overrun by cartels and — guess what? They directly border us. So I think that this is a concern we should have because it's creating problems for us. So I believe that, going back to the fact that we have to be compassionate and humanitarian as well as logical and knowing that because it's on our border, it affects us, so I do support solutions to that.
Q    Well, the administration has come up with a solution to that. Asylum-seekers apply here and then we send them back and they stay in tent cities in Mexico. We're the ones sending them over to Mexico. In other words, if you support that, that's fine. I just want to know. It's a tough question.
A    Yes. And I haven't been asked that question — supporting tent cities in Mexico.
Q    "Remain in Mexico" is the name of the policy.
A    So let me put it to you this way. Are we sending Mexican immigrants back to Mexico? Are we sending Guatemalan immigrants back to Guatemala?
Q    What we're doing is when they come through Mexico and they go into the United States, on the borderland we have an agreement with Mexico where ... you remember this, don't you? What happens is people who are trying to seek asylum here are now required, under the Trump administration, to remain in these tent cities in Mexico till their cases can be processed by the U.S. immigration system. [January marked the one-year anniversary of this Trump administration program that has thus far sent more than 60,000 migrants back across the border since it was first implemented. Democratic Congressman Joaquin Castro charges that consequently these people are "vulnerable to kidnapping, assault, rape, extortion and murder. They cannot access legal counsel, and then do not receive due process at the immigration tent courts across the border."]
A    Yeah. I don't know all the ins and outs of that. I think I would have more questions to give a solid answer as far as... so we're saying that because they're coming through Mexico, they're being sent back there indiscriminately regardless of their country of origin?
Q    To just wait until their immigration case or their asylum case can be heard by a U.S. court.
A    Yeah. And we're saying specifically asylum seekers?
Q    OK. We're going to move on because it's obvious you don't know the answer. This is a major immigration policy question, but let's move on to something else if you don't know what we're talking about. Have your experiences as a real estate broker shaped your views in terms of politics? I mean the things you talk to people about, why they're coming to Texas and what they expect of Texas and what they expect of society. Has your job influenced your policy or is that strictly independent of it?
A    So two things on that. The first is I hear people moving from California, from up North. Texas is seen as God's country. It's just seen as such a patriotic place, a great place, really just the epitome of America. And so I am seeing people escape. They're trying to escape these [other] places. I really don't recall someone that is just coming here and maybe isn't a conservative and is not trying to escape some of these mandates and policies and high taxes and things that you see like in California.
Q    OK. You mention your dedication to the U.S. Constitution on your website. What's your favorite amendment or passage in the Constitution?
A    I would say probably the First Amendment would be my favorite.
A    Because we're free. We're supposed to be free. We're born free. And I think that this really divides the wheat from the chaff in respect to freedom of speech, period. That means that you have the responsibility and the rights of that. And so it's very simple to me. There's no infringement upon that. There's just all speech. It may not be profitable or wise, but it's freedom.
Q    You tout your strong support of the Second Amendment. What do you think of suggestions about closing off most background-check loopholes, especially in gun transfers between strangers as Lt. Gov. Dan Patrick now advises?
A    This issue is pretty simple for me. I believe that it says, "Shall not be infringed." And we try to do this in little ways , closing loopholes, things like that. What you're talking about is you're talking about me not being able to sell a gun to him that I just met. So whenever we're speaking about—
Q    Because you don't know anything about him.
A    Right, right. But the laws should not be hurting good people. So he's a good person.
Q    How do you know he's a good person?
A    Well, here's the thing, I don't, but you don't either. You don't know that he's a bad person, so we shouldn't be—
Q    So why do we have a background check?
Q    To make sure he hasn't violated our laws since we are supposed to be a nation of laws.
A    Sure. I just, again, going back to the infringement, he should be able to purchase a firearm, period.
Q    Even though you don't know whether he's been violated the law several times?
A    Again, to me it's straightforward and simple. A lawmaker doesn't know whether he's a bad person or a good person. So I think that making a law that hurts good people is not the answer. So I don't feel like the burden of proof to exercise our rights is to prove if we're good or bad.
Q    But the U.S. Supreme Court has ruled that states and the federal government can impose certain restrictions. This is part of the famous Heller decision, written by Justice Antonin Scalia by the way. Are you suggesting that decision is wrong?
A    I think that there are decisions that can be made by judges that are wrong and we all have our different opinions. Where I stand on it again is that it "shall not be infringed." I think that when we make laws, they should not... We make laws for bad people, but if they hurt good people, then I have a problem with that. Because the Second Amendment — again, it's so simple, "shall not be infringed." To me that [a background check] is an infringement. If I want to buy a gun from someone, I'm a law-abiding citizen, I should be able to do that and it should not be infringed in that way. I don't think the government has a right to keep tabs on law-abiding citizens guns. That's a scary precedent to me. That's overreach.
Q    OK. You support medical cannabis. Why so when law enforcement insists that it is a gateway drug to more dangerous and illicit drugs? Do you disagree with law enforcement?
A    I think probably what law enforcement is speaking to is the people that are wanting to use it recreationally. [I'm talking about] people that are veterans or people with seizure disorders or neurological disorders, they are not using it for recreation and there are strenuous requirements and hoops that they have to jump through to be able to use medical cannabis. I think there are safeguards in there that protect the general public against a further drug crisis or epidemic. And it is a natural plant. It's a God-given plant. And I think that for medical purposes, people should have... There's no research on that by the way. There's been very little research and some of it's coming out of Israel, but I'm talking about us here. Why are we not researching that? If it could be helpful to people, because some [research] that has come out says that it can—
Q    Let me ask you this. Why are we penalizing opioids, rules and restrictions which hurt the innocent as well as those abusing the drug? We're restricting opioids now, but that hurts the people — the veterans you talk about, other people suffering genuine chronic pain — why is that policy correct? Yet we want to make an exception for cannabis.
A    So I think that cannabis can be the answer to the opioid epidemic from a pain management perspective. So I think that they are two different things.
Q    How are they different?
A    Well, one's natural and one is man-made. By the way, cannabis is so misunderstood. There are over 150 cannabinoids and we have a cannabinoid system in every part of our body, by the way. I don't know if you know that.
A    Yeah. So I encourage you to look that up because I am, as I say, as conservative as they come. And for me, this was an issue that I really had to research because I automatically think like, "Oh, marijuana. Oh goodness, that's bad." I just shut off. But let me tell you where my views came from. [Texas Gov. Greg] Abbott clarified legislation this year, over the summer, regarding CBD. [Abbott signed a law last summer clearing up which CBD products are legal in Texas. The law also allows local farmers to grow hemp as a crop.]
Q    You stress your support for traditional marriage between a man and a woman on your website. Yet the Supreme Court has decided that this right is also available for same-sex marriages. Do you advise justices of the peace to resist the high court's ruling?
A    I would. And here's why. Our rights are not given from our government. They're given from God.
Q    But the high court has determined that this is a basic fundamental right available to opposite-sex couples as well as same-sex couples. That is the law of the land when the high court does that. Why would you suggest violating that?
A    Well, obviously, for religious reasons, but the premise or thought for me is, again, if our rights come from God, then God defines our rights. So for me, in the Bible it defines what marriage is. From the beginning of creation of Earth, it was always between a man and a woman.
Q    But why would that affect a state office? A secular government is not supposed to be religious. It's supposed to be a secular office.
A    Sure. Well, I'm for changing because up until recent times, there weren't those—
Q    You're for changing what?
A    Changing the law. Changing the law. Going back to what we were. We didn't have the protection or laws regarding same-sex marriage. I think that we could change that back. That way we're not resisting. I'm advocating for changing that. I'm realistic in the way that I think there's become a lot of acceptance. I may not be able to get very far in that, but that's my personal conviction. We just heard someone in Waco that had that conviction as well, the controversy on that. [Note: McLennan County Justice of the Peace Dianne Hensley is suing the Texas agency that investigates judicial misconduct after it issued her a public warning last year for refusing marry same-sex couples while continuing to marry heterosexual couples. Hensley, backed by the First Liberty Institute, filed a class-action petition in Waco's 170th State District Court Tuesday, claiming the disciplinary action against her by the State Commission on Judicial Conduct violates her rights under the Texas Religious Freedom Restoration Act.]
Q    If we are to pick and choose what decisions by the Supreme Court we will honor, have we not decided to become lawless when it suits our religious beliefs?
A    Should law supersede my religious beliefs? I think that's a deep debate that we could have. I see both sides. But should people be able to stand up against laws that go against their religious beliefs? I think that they should be allowed to, that they should definitely do that. Again, I'm for changing the law. Like you say, if we're going to abide by the law, well, we can always change laws. So again, I'm realistic in that I don't know how far I could get with that.
Q    On your website, you suggest that climate change is caused by small variations in Earth's orbit around the sun. Does this mean you do not see climate change as at least partially caused by humans?
A    That quote you read from my website is taken directly from NASA's website. I have researched climate change on their website and looked at the different things that they had to say. They admit that climate change over the age of the earth has been cyclical, always has. In plain English, they say that. Do I believe that humans have some effect? Sure, sure. Do I believe that it is a catastrophic problem? No, I don't. Do I believe that through personal responsibility we can be doing things at a personal level to help our [carbon] footprint? Yes. Do I think that the government should legislate that? No.
Q    Explain why rolling back vehicle tailpipe emissions to battle climate change and simple exhaust in our air is a good thing for our health.
A    I have not looked into that particular rolling back. I think we get silly on some of the things that we try to do from a legislative perspective. Governance—
Q    This was executive action.
Q    By the Trump administration.
A    Well, like I say, I am a supporter of his, but we will not agree on everything. I think that some of the things that he does maybe compromise, appeasing somewhat or sometimes it gets tied in with other things. For me personally, it's not an issue or something I'd support because again, climate change is more of a personal responsibility issue.
Q    Well, let me ask you this: Should oil and gas wells be allowed unfettered release of methane gas? That's another rollback regulation.
A    Because it is a natural resource. I'm sure you're tired of hearing about religion and Christianity, but I believe that God made concessions for these things and they're just natural resources. So I don't feel like they're making the impact. If we're seeing climate change, we have to look at other factors than humans.
Q    Do you believe that God is going to take care of that element?
A    Mm-hmm (affirmative). And I believe that he will. He destroyed the earth one time via flood. And as we read in scripture, he'll destroy it again and it'll be the end of Earth as we know it. So I don't believe that we're going to destroy the earth. I believe that when God is ready to, he will.
Q    So we shouldn't really do anything about climate change?
A    As I mentioned, personal responsibility. I believe that there are things that we can all do better on all fronts.
A    Trying to reduce the use of plastic, trying to reduce water-bottle usage. Instead of going to one, try to buy the metal, reusable containers. There's just certain things like that. Recycling, different things at a personal level we could do.
Q    A lot of your thoughts seem to be tempered by your devotion to God and scripture. You've suggested that religion trumps law. We talked about a couple of cases. Should we be a theocracy instead of a democracy?
Q    Why not? Everything you seem to be saying suggests that the Bible should triumph over the laws of man. If you believe the Bible trumps the law of man, that's a theocracy.
A    All that I'm saying is or suggesting is we can have laws that line up with the Bible.
Q    But people want certain laws based on other values. We're not all Christians. We have Muslims in this country. We have Jewish people in this country. We have atheists in this country. We have all kinds of people. I'm sure you've seen that the polls suggest the Christian influence is in decline. We can discuss that another time, but why should the Bible trump all other religions?
A    I'll give you an example of something. You're mentioning multiple religions. In the Muslim faith, they do not condone homosexuality, so it's not just a Christian issue. I believe that any religion is united on a lot of these big topics like gay marriage or homosexuality, things like that. I don't think that it's just a Christian issue. I think that we can all unite on that and agree.
Q    Why do you think Christianity is in decline?
A    Because we have an adulterated version of Christianity in America. And what I mean by that is if you open the Bible and you read it for yourself, a lot of the problems of today are revealed. Some, for example, [involve] government responsibility, personal responsibility and church work responsibility. We've gotten those all jumbled. Personal responsibility means what I should take care of on my own. If I'm unable to, that's where the church steps in. Where's the church? Where's the church in the United States when we have these issues? So I think that we have allowed ourselves as the church to really shirk some responsibilities that we should be spearheading. Why do I think there's a decline? Because a lot of times we're not applying all of the principles. We're holding to some of them and we're not applying all of them.
Q    What would you make of the looming United Methodist Church split? I mean, obviously these are all people who profess Christianity.
Q    Yet they obviously disagree on this same-sex marriage thing. And I think it's [gay] clergy as well. I really haven't looked into it much. You probably know it better, but they obviously have such a disagreement over how the Bible is applied that they're willing to split the United Methodist Church.
Q    Doesn't that suggest there's a danger in simply applying Christian principles as you see it to a situation?
A    Again, going back to the adulterated version, I think the reason that we have that is because people don't open up the Bibles and have it for themselves. They listen to man on the word of God instead of going directly to [the source]. If you go direct to it, read it for yourself, it plainly states that, again, homosexuality is not acceptable. And I love all people. It's not about the person, it's about that. If you were cheating on your wife, I would not be OK with that. If you were a drunkard just on the outs with the family and now, because of your alcoholism, you're losing your home, I have a problem with that. I think it's just getting back to the basics of true Christianity and upholding those principles. If people would look for themselves, I think we would be in unison on that.
Q    Do you believe President Trump is divinely ordained or anointed in a way that his predecessor was not?
A    In a way that his predecessor was not? Another tough question because I believe that nothing we can do will supersede God's will. The fact that President Obama held office, that was in God's plan, whether it was a good or bad thing. There's speculation on that. I look at what happened to our country during that time. It was not a good time.
A    Well, the economy, our insurance premiums.
Q    The economy cratered in 2008 if I recall right. I was here. That was before Obama took office.
A    Well, and things like Obamacare. And whenever I say economy, I also speak of the rising increase of things like insurance for us, for just regular everyday citizens. For me that's kind of how I classify that.
Q    My insurance premium here is continuing to climb. Should I blame President Trump for that?
A    Good question. I could give you a long answer. But I think that overall, I'll just take it from a macro perspective. Overall, the economy as a whole is doing better now in the way that there's consumer confidence and investor confidence and the employment rate going up and things like that. I think it's looking at it macro. There's a lot of factors that go into play.
Q    So do you believe Trump is divinely ordained in a way that perhaps other presidents are not? If so, why or why not?
A    I'll say possibly. It's not for me to say, it's for God to say, so I can't—
Q    But you're in tune with the Bible a lot and you pray a lot. If God told you to run in this race, you must have some relationship with him. What does he say about this president?
A    We had conversations earlier about my thoughts on the country, [how it] would be the end as we know it if Hillary would have won. I think that Trump was necessary. I think that he is ordained. Do I think Obama was ordained? Yes. But maybe in a different way.
Q    What's the biggest revelation you've had on the campaign trail? I know we have a very short period of time till early voting begins. It's just incredibly short, but have you had an epiphany of sorts about what campaigns and running for office is like?
A    I'll talk on a personal level, more of a campaign level. I was truly shocked and validated in finding out how many people are just like me, that maybe have lost hope or regained hope for some of the things Trump has done. The biggest thing to working Americans is feeding their kids, putting food on the table, having a roof over their head. And so, getting to look in their eyes, hug them, [seeing] tears in their eyes and relating on a human level has been so invigorating to me. It's showed me the need for restored humanity in our political conversations, including across the aisle.
Q    Well, according to the Brookings Institution and Congressional Budget Office, the middle class in America is set to do little better over the half decade leading up to 2021, even though the top 1% are showing more robust gains. Congressional Budget Office projections indicate a few years of slightly faster growth will not be enough to close the gap between how the rich increase their earnings and people in the middle class do. What can the government do, if anything?
A    I say this — that a rising tide lifts all ships. By fostering economic growth — and look at what Trump has done with China and just today it's going to help farmers, it's going to help consumers. Me, being a limited-government person from a micro level, should the government be involved in this way? There's probably not much that I would say. From a macro level, though, making balanced trade deals and things like that, and just continuing that economic growth, does lift us all.
Interview conducted by Trib editor Steve Boggs and opinion editor Bill Whitaker. It has been condensed for space and edited for clarity.
Catch the latest in Opinion
Get opinion pieces, letters and editorials sent directly to your inbox weekly!