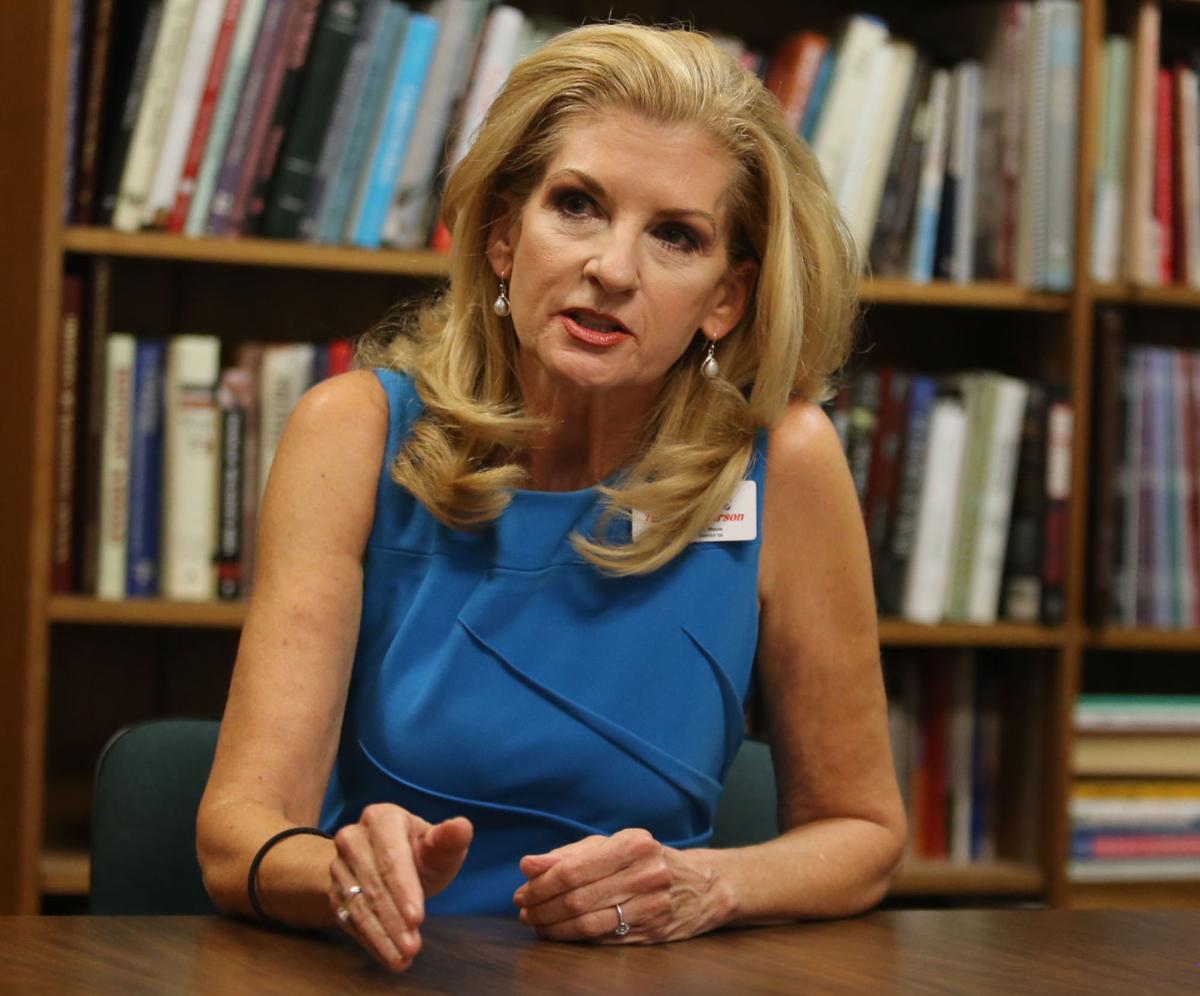 Katherine Turner-Pearson, 60, an archaeologist lately involved in the La Pila excavation project in Waco's long-vanished "Calle Dos" neighborhood, seeks election to the Texas House of Representatives for District 56, which encompasses much of North Waco, West Waco, Woodway, Hewitt, McGregor, Robinson, Crawford, Lorena and Moody. Running as a Democrat, she has sat on the McLennan County Tax Appraisal Review Board and the Waco-based Community Race Relations Coalition Board.
Q    What prompts you to seek a seat in the Texas Legislature?
A    It's a natural progression, don't you think? You know, archeologist to that. [Laughter.] I just got fed up, absolutely fed up, with everything that was going on. And I got to the point of where somebody had to do something. I know that sounds like a cliché, but that really was it. I was just fed up that nothing was getting done in a lot of places in politics but especially with our Texas Legislature. And I've always worked with our community. I've volunteered a lot. So I thought, "OK, what can I do that would help matters?"
Q    But what issue was the tipping point?
A    This last legislative session, there were so many things I disagreed with. I felt like we in McLennan County were not getting represented correctly. The school funding problem was a big part of that. And then legislators went ahead and pursued vouchers. They were also taking away more and more women's rights and their freedoms. And what they were doing to our teachers in retirement was a travesty. I see McLennan County growing and booming and changing and progressing in ways I find exciting. But we were still doing things in the Legislature as if it were operating in the 1950s. We need to progress with our county. And I just got fed up. Enough was enough.
Q    So how does your training and occupation bolster your possible abilities in the Legislature? Your opponent was a longtime Republican Party activist. And of course he's used his veterinarian skills to help on state issues involving animal husbandry.
A    My professional background as an archeologist? Let's first realize that I had a career before I became an archeologist. Complete transparency: I did work in broadcasting. And I have a degree in journalism. I think those skills are important because, at a young age, I learned to look at both sides of an issue. Then later I went back to school and became an archeologist.
One thing you're going to find in me are critical thinking skills. I'm highly educated, probably too educated for my own good sometimes. That comes with the territory of being an archeologist. I have two bachelor's degrees, then an advanced degree from Texas A&M. So anything to do with science, I understand. I teach biological anthropology as an adjunct professor. I was doing that with Central Texas College in Killeen. I was teaching at the women's prison for them.
A    It's been difficult for them to get good professors who will go into the prison. So I did that to help them out. I enjoy teaching. I've also taught a couple of classes at Baylor, mainly archeology.
Q    I get the impression from your Facebook page you've been going to a lot of events and banging on a lot of doors. What issues are you hearing on the campaign trail?
A    School funding, school funding, school funding, property taxes, property taxes, school funding, property taxes.
And every now and then you get a surprise. There are a few people who have a single issue that wasn't on my radar. I find that fascinating. And I can go back and learn more about it. I'm big on research. Kind of comes with being an archeologist. But it's really been school funding and property taxes.
Q    That surprises me because school funding is complicated, whether you're talking about school finance formulas or what figures into the actual cost of public education or whether the state is letting local taxpayers now pay most of school expense. Is it the connection to property taxes, which have risen as the state lets rising property values carry more of the load?
A    I think it is. People are very aware of some of the troubles our schools are in. I think they're realizing, too, that because of this political climate and some of the news coverage, property taxes are involved. When I do get people talking about property taxes, they say, "My taxes went up 22 percent this year," or whatever. And I can feel their pain because mine went up 22 percent this year!
Q     By whatever measure you choose, the state share of public school funding is definitely ebbing by the year, leaving local taxpayers more and more of the burden of financing public schools. Governor Abbott proposes tax relief by placing a 2.5 percent cap on the amount that property-tax revenue can rise for cities, counties and school districts based on existing property. Mike Collier, candidate for lieutenant governor, proposes reform of a loophole that allows power plants and large commercial entities to more readily battle local appraisal districts.
A    There's merit to a little bit of this one and a little bit of that one. I don't think either has the perfect solution, which may not be very popular for me to say, but I think it's the truth. The biggest problem we have with property taxes is that the school funding is pushing them up. I see a lot of ways we can make some changes in the property taxes.
When you defund your school, it doesn't get cheaper to run that school. Look at McLennan County. Property valuations are going up. We should have enough money coming in you would think schools would be able to begin lowering the tax rate because those same homes are going up in value every year. That should be enough to compensate for the rising cost of the school, maybe even allow for lowering the tax rate. But it's not because every time our property [valuations] go up, state officials defund at the state level how much they're going to cover schools. So it never balances out. And when state legislators start putting in the budget there will be an increase [in property valuations statewide to balance the state budget] by 7 percent this year, maybe the same next year, that puts pressure on county appraisal districts, because the state also comes in and does audits. So they're putting pressure on your county appraisal district and the appraisal district gets the bad rap a lot of the time. They're not these evil people who sit around trying to separate us from our money. They're just trying to do their job as laid out by the state.
Q    And so when the guy who owns a home or business gets his property tax bill, he not only goes through the roof but immediately blames the appraisal district or the school board, given school taxes dominate your property tax bill.
A    It's very complicated, so the average person who's busy trying to raise their family, get to work on time and keep their life together, they don't have time to sit down and figure out how all of this works. They just know they got their tax appraisal notice, it's up and they're angry.
A    We need to re-fund our schools from the state level. We could do that if we would quit wasting money at the state level. We waste a lot of money. If we paid attention to where our money was going in the Legislature, we would have enough money to fund our schools properly. And we need to stop passing along unfunded mandates to the schools. You can't cut the budget for schools, then give 'em hundreds of thousands of dollars in unfunded mandates.
Q    This question seems like a local question, but it's also a state question. Transformation Waco is still in the earliest stages of this unprecedented in-district charter school partnership involving five academically struggling public school campuses, but a lot of the setup is hitched to state laws passed to reform failing schools. What do you make of Transformation Waco's system since it's governed by two key state laws [House Bill 1842 and Senate Bill 1882]?
A    Well, I think a lot of people don't understand the difference between a charter school and a private school. A charter school is a public school. Regarding Transformation Waco,
the jury is still out , but we clearly had to do something to be able to have our children succeed in the school district in Waco. So I think they did what needed to be done and already, from talking with [Waco Independent School District Superintendent Marcus] Nelson, we seem to be seeing the result that we're hoping for. Now, we're just going to have to wait and see if it goes all the way. I will say I'm against vouchers and I'm against [public monies] going to private schools. You want to send your child to private school, that's fine. A lot of my friends have their children in private schools and that's fine. But we shouldn't be taking money from our public schools for it.
Q    The scourge of sexual assaults at Baylor University and apparent indifference by at least some administrators in addressing these problems caught the attention of the Legislature in 2017. Lawmakers did a number of things, including ensuring schools weren't penalizing student victims for such infractions as drinking when reporting rapes and establishing online protocols for students reporting sexual offenses. Sen. Kirk Watson, a Baylor alumnus, pressed hard but without success to require something called "affirmative consent" between college students before engaging in sex. Good idea or unworkable?
A    I kind of thought we always were supposed to have that. Just saying.
I wish I had this little button I could push and say, "OK, that's the answer." I really commend Baylor for trying to address it now. I think Linda Livingstone [as new Baylor president] is doing a good job of trying to make sure we can address it at Baylor and I'm very hopeful that will happen. You know, I've been to Baylor twice: Once when I was very young, once when I was an adult. I went back and nothing had really changed in the environment between that time, which is pretty bad, from the 1970s into the '90s.
But look at what's going on nationally in the news right now with the #MeToo movement, what's going on with the federal government, with the Supreme Court nomination. It's obvious this is a problem not just at a college level. It's everywhere and there needs to be this understanding that no is no and that women are not just sex toys. I mean, I hate to say it that way. Until that gets through to those of us our age, older people who are supposed to be wiser and know better, how are we ever to get it through to our college students?
Q    Does the state have a role in this?
A    I really think the colleges have the biggest role in this problem. I don't know if we can legislate it from the state. All we can do is come up with checks and balances. We can maybe make sure every college has places where it's safe to go, where there are no reprisals if they were drinking and partying and breaking the rules, where they're safe to go to report things. But I don't know if that's going to be enough to stop it. That's reporting it after the fact. There might be some things we can do with the state colleges. I don't know if we can put this on private colleges, but maybe we can go in and, you know, make every single student take classes like we've had to do on every job I've ever had, classes on sexual harassment, and try to get that through: what is appropriate, what isn't appropriate. It's just a very difficult problem and I don't know if we can legislate our way out of that one.
Q    Let's say you're a school teacher and you have to give your opponent, Doc Anderson, a grade on his legislative performance. What letter grade would you give him?
He hasn't done much. He has been there for almost one and a half decades. He should have gotten a lot more done. I mean, I don't think he's really gotten much accomplished. The bottom line is I'm going down there to get some things done for my community and to represent McLennan County. I'm not going to waste my time down there. I'm not going there for fun and games.
Q    What's the first bill you'll file?
To be honest, I don't know. I don't know the first bill I would want to file.
Our schools are my top priority. If I had to put any one thing on there, that's it — funding for the schools. Also, school safety. I've been talking with parents, students and teachers about school safety. We've had some really frank and interesting conversations on it.
Interview conducted by Tommy Witherspoon and Bill Whitaker. Condensed for length and edited for clarity.
Catch the latest in Opinion
Get opinion pieces, letters and editorials sent directly to your inbox weekly!