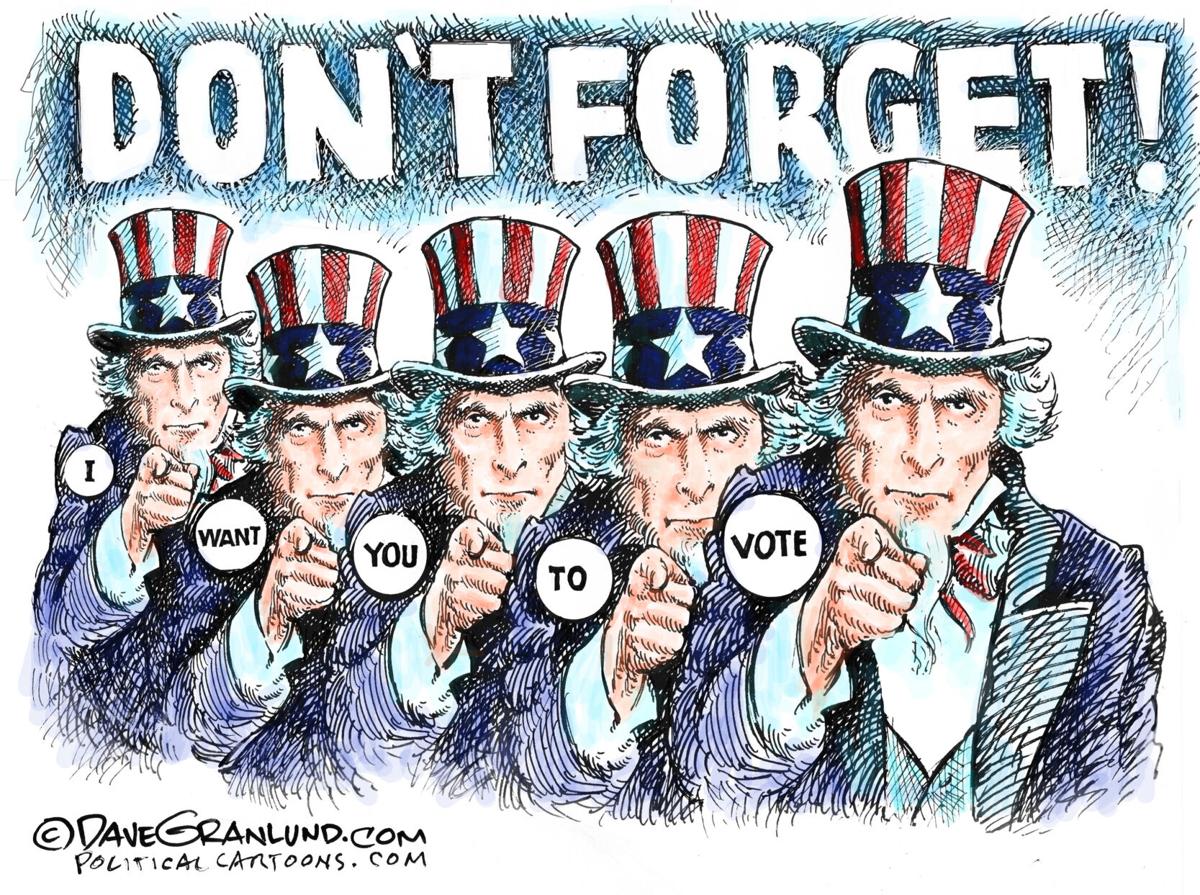 Voting a pleasure
We were pleasantly surprised with our voting experience a week ago Tuesday. We have voted early at the First Assembly of God church on Bosque Boulevard the past 10 or 15 years. We never had to wait more than just a few minutes to get in to vote. Yet this season we drove by several times for a week and there was always a long line stretching along the back of the main church building.
One afternoon we drove by and the line looked shorter, so we parked. By the time we had walked around the church the line was much longer than we thought. We decided that since we were there we might as well stay. We were in line only a couple of minutes when we saw a man slowly walking along the line. It looked like he was wanting to find a place where he could cut in the line and not have to go to the end of the line. As he got close to us, he stopped. He asked if we could stand in line for 30 minutes. Being a man, I was not about to admit that it would be hard for me but my wife stated she would have trouble.
Then I noticed he had a name tag that said he was an "election worker." He motioned for us to follow him and helped us to step down onto the parking lot. I felt sort of bad walking past all those ahead of us, but we got to the building door and he had the line move over so we could pass. He led us up to the corner of the table where the worker took our ID and voter registration certificates. Other workers directed us to booths and made sure we knew how to use the voting machines.
After I finished, I was sitting close to the machine and had to push my chair back so I would have room to stand up. I must have appeared to be struggling because another worker came up and offered her arm to help me stand up. We are 93 and 83 years old and were very pleased with the voting experience.
A big thank-you to all the dedicated volunteer workers who labor long hours during each election.
Jack & Nancy Munson, Waco
Voting a hassle
Let me share with you my early voting experience. Ended up going downtown after visiting one of the other sites where the line was so long around the building it was ridiculous. Going downtown I thought would mean a bigger building with more machines equaling a shorter line and faster turnaround.
Wrong on all accounts. While the line looked short, it in fact still took 45 minutes to get inside. The room where the machines are is super small with only 12 machines. When I got in, I counted only six being used. Then I found out why. The process to check in [voters] did not have enough people to keep them filled. Plenty of people to tell you to keep your distance, don't touch that pen, you can come in now, thanks for voting. But not enough to process people more efficiently and use the available machines.
We all knew that early voting was going to see record numbers of people. Did we not stress-test the process beforehand to know better? Why are we not prepared with more machines, more voting sites, bigger spaces and more people? I saw several people turn around and leave or just drive away.
Another thought came to mind while waiting: We can have this many people in a group standing together but we can't open restaurants, bars and other businesses fully.
EDITOR'S NOTE: Early voting in McLennan County continues 7 a.m. to 7 p.m. today through Friday at the McLennan County Elections Administration Office, 214 N. Fourth St.; Waco Multi-Purpose Community Center, 1020 Elm Ave.; First Assembly of God, 6701 Bosque Boulevard; Hewitt City Hall/Public Library, 200 Patriot Court; and Robinson Community Center, 106 W. Lyndale Ave. Election Day is Tuesday.
Tongue in cheek
For any undecided voters out there, here are some excellent reasons to vote a straight GOP ticket this election year:
1. You realize that having health insurance is really boring — so much more exciting to navigate the waters of bankruptcy!
2. Injecting bleach into your veins sounds perfectly normal and logical.
3. Perennial liars are some of the people you most admire.
4. "Scientists" is actually a code word for "communists"....
5. You have developed a radical distaste for socialism in all its forms. Of course, that means you can't call the police or firemen, use buses or libraries, and (the worst) you reject that hotbed of socialism called Social Security! That's right, let's organize a mass burning of those checks to show the feds you mean business!
6. You're ready to play GOP Action Patriot! Let's have some real fun by plotting to kidnap a few Democratic governors, put them on trial and then execute them live on YouTube! Now that's a truly patriotic response to people you disagree with!
Vote straight Democratic, throw the GOP swamp bums and enablers out!
To our health
For decades politicians have been promising to make health care "more affordable" and Joe Biden is making the same promise. But if you listen carefully, Joe never says health care is going to be "cheaper," just "more affordable."
Just to pull some numbers out of thin air, let's say the average cost of an MRI is $1,200 and the average cost of an appendectomy is $20,000. What can Joe Biden, or any other politician, do to bring those prices down? That is what we're talking about, right? If something is more affordable today than it was last year, then the price should be lower today than it was last year. Can Joe somehow convince doctors and hospitals to take less money for their services? Short of wage and price controls, there's little the government can do.
Of course, if the people paying for a product or service have more money to spend, then it could be said those things are more affordable even though the price has not changed. And that's where Joe is headed. He knows he can't do anything about the price of an X-ray, so he's going to make health care "more affordable" by using either tax dollars or borrowed money to subsidize medical insurance premiums. The cost of medical services will still rise and insurance premiums will rise along with them because insurance companies will need more money to meet those rising prices. The government will need more and more money to continue subsidizing insurance premiums and that will mean higher taxes or higher deficits. It will be a vicious, never-ending cycle.
However Joe does it, we will be paying for all of it and "affordable health care" will just be an illusion.
Vote against Trump
As told in the classic stories of Marlowe and Goethe, the successful but unhappy Faust agreed to a pact with the devil. In exchange for his soul, Faust would be granted temporary but unlimited access to all human pleasures.
The parallels between the Faustian tale and Donald Trump's rise from a shady, unpopular businessman to leader of the free world are clear. But there's one difference: The devil also gave Faust unlimited knowledge, something that Trump, self-proclaimed "stable genius," would never need. Somehow, he fooled his way to the top with his bombastic, ugly and hateful rhetoric using all the words in his dime-sized dictionary. In Trump, abundantly possessive of all seven sins, the devil picked the perfect sucker.
The devil has now come a-callin'. And just look at the destruction left behind: the devil's delight, a trifecta of turbulence. Indeed, a 1918-style pandemic, a 1929-esque depression and racial strife this summer reminiscent of 1968. And the worry now, with his militant followers and threats, is whether Trump gives us the Grand Slam with an 1865-like civil war. But upon further thought, I realize that we are already in the midst of a kind of civil war: Trump's unmaskers versus the rest — the majority — of the country. And, to date, there are more than 226,000 deaths.
Lance Littlejohn, McGregor
Vote for Trump
I don't care whether Miami Herald columnist Leonard Pitts Jr. ("Trump apologists deserve very little of our sympathy," Trib, Oct. 23) remembers or forgets my support of Donald Trump. Likewise, I could not care less about his forgiveness.
Donald Trump is a pro-life president and that is sufficient for me. All of the issues Pitts has with him pale in comparison to that. Save the condescension and veiled threats for someone else.
Vote Biden-Harris
The Yale University climate opinion poll of 2020 reports that 58% of McLennan County residents are "worried about global warming." A peer-reviewed study from June 2020 indicates that those residents should definitely vote for the Biden-Harris ticket. Environmental Science and Policy found that under a second Trump term, withdrawal from the Paris Agreement would have such a powerful global impact that the probability of the world's temperature increase staying below 2 degree C would be less than 0.1%. Alternatively, under a Biden administration, the United States would remain in the Paris Agreement, vastly improving the probability of attaining the 2-degree Paris goal and preserving a livable climate for ourselves and for our children.
Vote Trump-Pence
If you're considering voting for former vice president Biden, you might consider this statement from American Military News in which Russian President Putin recently compared the Democratic Party's platform with communism and said the shared values could form the "ideological basis" for developing ties between Russia and the United States if Joe Biden becomes president.
Vote for Palmer
This is my first-ever letter to the editor endorsing a candidate. I write to recommend Kelly Palmer for Waco City Council District 4 — the seat that I filled for six terms. Here's what I know about Kelly based on long conversations wherein, as is my custom, I asked a lot of questions.
Kelly Palmer has the formal education, intense work ethic, sense of righteous indignation at injustice and gut-level grasp of what local government means to peoples' lives that are rare in a candidate and absolutely necessary in an effective representative.
Kelly Palmer knows the district and gets her facts straight before she speaks. For example, she knew that women have represented District 4 for 26 of the last 36 years, and that during that time the only representative to live "south of Waco Drive" was elected just five years ago. The young man picked by the Waco City Council in May to represent District 4 didn't know that, yet felt confident providing alternative facts to the public via the Trib. Yes, I'm looking at you, Darius Ewing.
Kelly Palmer does her own homework: She won't be dependent on city management or business colleagues or the squeakiest wheels in determining what issues are important and what course of action should be taken.
Kelly Palmer is a smart, gutsy woman who cares about honesty, integrity and equity as much as you and I do and who knows that for Waco to be successful, investment in our people must take priority over all else. Especially when times are hard.
I've lived in the same house in the heart of District 4 for 35 years; 29 years ago I was the city employee tasked with creating the neighborhood development program and (with three other crazy little women) helping folks set up neighborhood associations. I hold our neighborhoods and our neighbors very dear, and, like you, I want the strongest representation we can get. For that, vote Kelly Palmer Waco City Council District 4.
Vote Meek et al
Vote Dillon Meek for Waco mayor, Andrea Barefield for Waco City Council District 1, Darius Ewing for Waco City Council District 4 and Josh Borderud for Waco City Council District 3.
Each of these individuals is uniquely qualified for their role, but what is most compelling is their collective experience as a team working together for the good of Waco. The past few years have seen one of the most effective city councils in the history of Waco in large part because of Meek and Barefield. This has come at a time of tremendous growth and change. I've been particularly impressed with their commitment to wise economic development that has provided well-paying jobs for thousands of Wacoans. Waco's future is very bright, but there will be challenges that will require a cohesive city council to provide effective solutions.
Ewing has only recently been appointed to the council, but he's proven that he represents District 4 well while still being a part of this effective team. He's expressed his commitment to growing the economy of District 4 and all of Waco. In the same vein, vote also for newcomer Josh Borderud to Waco City Council District 3. Borderud is committed to economic development and being a strong voice for the citizens in District 3.
These candidates (plus sitting council members Jim Holmes and Hector Sabido) with Dillon Meek as mayor are the right team to lead Waco through the exciting years ahead of us.
Vote for Morrow
Just imagine how pleased I am to have Amazon bring us a huge new influx of heavy trucks. It's outrageous for Waco homeowners to subsidize any outside corporation to move here, pushing us toward the sad fate of Houston, Dallas and other large, trouble-laden cities. Mayoral candidate David Morrow is opposed to these giveaways. Vote for him as a start toward keeping excessive growth in check.
Vote Fortenberry
I write in support of the candidacy of Steve Fortenberry for the Hewitt City Council. I have been aware of Steve's service to the city for some time as I am a longtime resident of Hewitt. I really came to appreciate Steve's many good qualities, however, when I ran unsuccessfully for the council during the last election cycle. Steve has served on the council since 2016 and has been a stabilizing force on the council for his entire tenure. He is a calming influence on the council. He supports the city's employees and tries to ensure they receive adequate benefits and a safe work environment. He is a conservative businessman and is prudent with city expenditures. He runs a family business, Fortenberry Insurance Agency, which has had its offices in Hewitt since 2006.
I know Steve to be a competent businessman, a fair person who listens to all sides of a debate and most of all a compassionate individual always willing to help out the citizens of Hewitt in any way he can. I am happy to recommend Steve without reservation.
Michael E. Field, retired administrative law judge, Hewitt
Vote for Meek
I am the owner of 25th Street Furniture Store in Waco. I'm also an active board member of the Waco Transit System as well as the Cen-Tex Hispanic Chamber of Commerce. I write to show my support for Dillon Meek for Waco mayor. As a local business owner, I know Dillon supports and encourages small local businesses and local economic development.
I've been in business on 25th Street for more than seven years and Mr. Meek is the only elected official or City Council member who has come to our business and shown interest. I have found him to be a caring, intelligent man and willing to listen to all perspectives on any issue. He has walked up and down the 25th Street corridor and introduced himself to each business owner. He has asked each business owner what he can do as a city council representative to help our businesses and our community.
I know that if he is elected to be the next Waco mayor, he will work to make 25th Street a vibrant, commercial district that will be beautiful, safe, clean and walkable.
Daysi Barrera, owner, 25th Street Furniture Store
Vote for Jim Smith
While I do not live in Precinct 1 and cannot vote for Jim Smith, candidate for McLennan County commissioner, allow me to offer my support for his candidacy. Jim and I are lifelong friends, meeting when we were in high school in the mid-1960s. Jim graduated from Richfield High School and I graduated from Waco High School. After graduating from high school, we were classmates at Hill College, forming a bond spanning some 55-plus years.
To my friends and relatives who live in South Waco, Beverly Hills, Robinson, Lorena, Bruceville-Eddy or Moody, I heartily recommend Jim for Precinct 1 commissioner. He has dedicated most of his life to public service. For 34 years he served Robinson Independent School District as a teacher, coach, high school principal and superintendent. For 38 years, he served McLennan County as a reserve deputy sheriff. He was elected to four terms on the Robinson City Council. Jim is fair, honest and a fiscally responsible individual who will take care of your tax dollars and respond to your precinct needs.
Gilbert Montemayor, educator, Waco
Vote the pair
As a mom raising two girls in the Waco community, it is so important to me that there are more women in city leadership for them to look up to. For too long, men of a certain pedigree or professional background have held all the decision-making power in our city and it's time to welcome more women to the table. The groundswell of support for candidates Kelly Palmer (District IV) and Hope Balfa Mustakim (Waco ISD Board of Trustees) is exciting. I encourage all Wacoans to learn more about the women running for local office and vote in a way that moves our community forward.
Catch the latest in Opinion
Get opinion pieces, letters and editorials sent directly to your inbox weekly!