Please, spare our lives!
Susan Peterson contributed a powerful letter a week or so ago complaining about Waco's requirement for masking in public. She spoke of the requirement as infringing on her right not to wear a mask and compared the masking situation with Nazi Germany and rounding up the Jews.
That seems an extreme comparison to me, but I don't want to argue. Ms. Peterson, I instead want to plead with you. I'm 79 and I have almost no immune system owing to various meds. I also have a wife whom I love; she has Alzheimer's and depends on me to pay for the institution and additional care she must now have. Please, Ms. Peterson — grant me the great favor of wearing a mask, so that I don't catch the plague, die and leave my wife alone. I also cherish our freedoms, but as I look at those about me who do not wear masks in public-encounter situations, I recall the comment often attributed to Justice Oliver Wendell Holmes: "My freedom to swing my fist ends just before my neighbor's nose begins."
Tom Hanks, Emeritus Professor of English, Baylor University
During World War II, people were told to use blackout curtains to help defend the populace against a possible outside attack. Today we have a small group of people who say that being forced to wear a mask to protect the populace from an outside threat is an attack on some nebulous freedom they infer is protected by the U.S. Constitution.
As nearly every medical professional on Earth recommends wearing a mask and practicing social distancing, it should be clear that false bravado and ignorance are not considered defense against the novel coronavirus. Please, for the sake of humanity, wear the mask.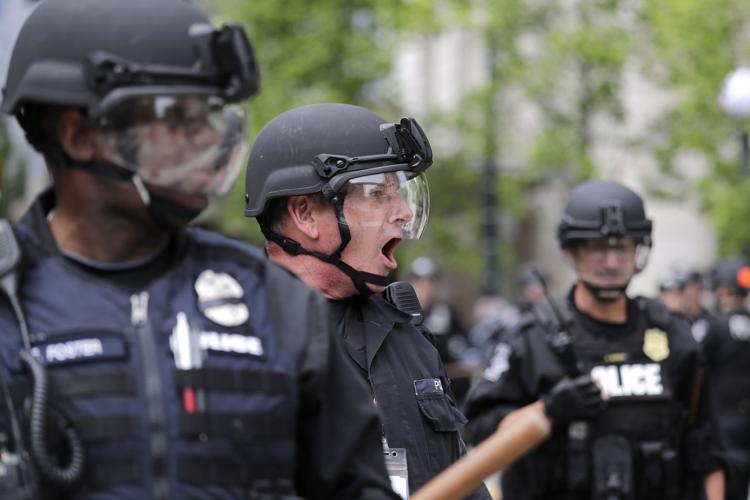 Target police unions
Following the unjust killing of George Floyd, 94 percent of Americans believe policing needs to change in our country. Yet evidence suggests it's the police unions, and their collective bargaining agreements (CBAs), that help keep bad cops on the beat.
Many CBAs include lengthy appeals processes. That means a number of officers who are fired for misconduct actually end up getting rehired. One study even found that 88 percent of police union contracts "contained at least one provision that could thwart legitimate discipline."
Consider the cop whose misconduct records were found out after it was too late. When Minneapolis Police Officer Derek Chauvin kneeled on George Floyd's neck, he had more than a dozen misconduct complaints against him. Officer Daniel Pantaleo, who was involved in the killing of Eric Garner in New York City, had seven complaints against him. A list of similar cases can be seen at PoliceUnionFacts.com.
A first step toward much-needed reform would be passing the JUSTICE Act. This bill, currently before Congress, would shed a spotlight on bad police behavior. Most cops are good, but police unions shouldn't make it so difficult to hold the bad ones accountable.
Charlyce Bozzello, Center for Union Facts, Washington, D.C.
Catch the latest in Opinion
Get opinion pieces, letters and editorials sent directly to your inbox weekly!