Women's college basketball in Texas is in the throes of a transition game.
Whether that transition will ultimately end in a made basket remains a mystery.
For the first time in its 47-year history, the Associated Press Top 25 women's poll arrived on Monday without a team from a Texas university dotting the rankings. Yes, for nearly a half-century this hoops-shaped oil well brought forth bubbly profits from the Texas soil. Now, suddenly and seemingly without warning, the well has run dry.
You only thought football ruled this state. King Football? Bah. All hail the Queen. For Queen Basketball — much like another Texas-bred Queen B, Beyonce — carried an aura of invincibility. She got stuff done.
Put it this way: Since 1986, only one college football team in the Lone Star State has claimed a national championship, the 2005 Texas Longhorns. In that same time frame, four different schools in Texas have combined for six NCAA titles in women's basketball — Texas (1), Texas Tech (1), Baylor (3) and Texas A&M (1). And that doesn't even take into account the level of excellence wrought by programs like Wayland Baptist and Stephen F. Austin.
OK, so football still rules the roost in terms of attention, attendance and profit. Those are not small things. But neither is the fact that women's basketball reigns in results.
Coaching icons like Harley Redin, Marsha Sharp and Jody Conradt blazed the trail. In the 21st century, legends such as Baylor's Kim Mulkey and Texas A&M's Gary Blair followed that path to incredible, unforeseen riches. For a time after the Tennessee-UConn rivalry disappeared from view after they stopped playing each other, the A&M-Baylor feud might have been the most intense in all of women's college basketball.
Unquestionably, Mulkey deserves high praise for making Baylor a landmark destination in the sport. Her BU teams won 86 percent of their games and captured national championships in 2005, 2012 and 2019. Her sustained run of success will be hard to ever replicate, within the borders of Texas or anywhere else. After all, she is one of just four coaches in women's college basketball history to pocket three or more NCAA titles, along with Connecticut's Geno Auriemma, Tennessee's Pat Summitt and Stanford's Tara VanDerveer. (She hasn't forgotten how to coach, or win, at LSU either, considering the Tigers are up to 20-0 on the season.)
But keep an eye on that outlet pass, because the transition game is upon us. Sharp and Conradt are long gone. Blair coached his final game at A&M last season before shuffling off to a well-deserved retirement. Mulkey packed up two seasons ago for her childhood home of Louisiana and the challenge of reviving that LSU program.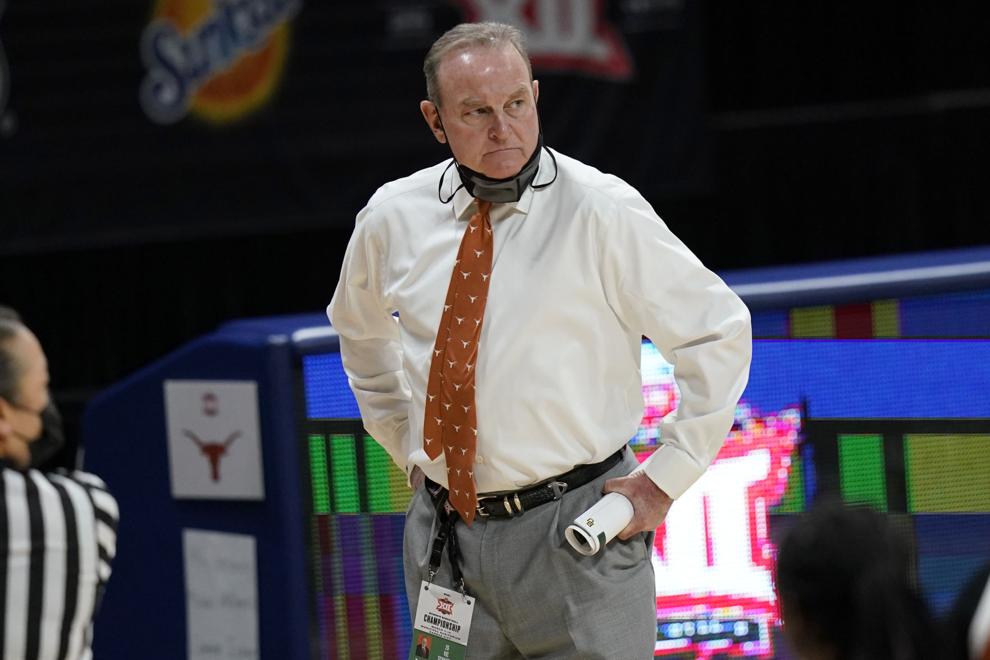 Stepping into their place are new coaches with wide-eyed dreams and more subdued degrees of NCAA success thus far. They include Baylor's Nicki Collen, Texas's Vic Schaefer, the Aggies' Joni Taylor and Texas Tech's Kristi Gerlich. Then there are those in-state programs still playing catch-up, like TCU, led by Raegan Pebley, and soon-to-be Big 12 import Houston, headed up by Ronald Hughey.
Can any of this group develop their programs into tomorrow's powerhouses and thrust their names into the conversation with the likes of Blair and Conradt and Mulkey? Maybe. We'll see. But icons are not easily made.
Basketball's tectonic plates are shifting. Would this landscape upheaval have happened even if Mulkey and Blair were still in place at their old schools? Tough to say. Certainly when you build a program to a certain point, the success perpetuates onto itself. That's not to suggest the hard work that led to the program's rise can be ignored. But to an extent, Baylor was able to score wins in recruiting simply because it was Baylor, and Mulkey was Mulkey.
To be fair to the current crop of Lone Star State coaches, though, the oligarchy is no more. Parity in the women's game has grown immensely over the past couple of seasons. There are still bluebloods, don't get me wrong. UConn, South Carolina and Stanford haven't gone anywhere. But Geno and Dawn and Tara aren't stockpiling the best 30 recruits in the country anymore and leaving everyone else to fight over the crumbs.
The talent is more evenly distributed, and the gap has narrowed between the bluebloods and everyone else. Consider the Big 12, where four Texas-based programs reside. For more than a decade, Baylor reigned as the fixture, the immovable object at the top. The Bears have won the last dozen Big 12 titles, including in last year's debut season by Collen. But the league is far more jumbled now, with no clear, prohibitive favorite. And, honestly, that's probably better for the sport as a whole.
More so than in any time in history, the women's game mirrors its brother in the men's game, where upsets unfold on a near-daily basis and March is marked by legitimate madness.
Can women's basketball in Texas regain its heat within this more competitive climate? Well, it's probably not as dire as all that. No, there are no Texas teams ranked this week. But Schaefer's mercurial Longhorns were No. 25 as recently as a week ago, and have made a pair of trips to the NCAA tournament's Elite Eight in his two seasons in Austin. Collen, again, already has one Big 12 title to her credit, and this year's team — for all its ups and downs — owns more wins over Top 25 opponents than anyone else in the Big 12. It's not incapable of beating good teams. It's just inconsistent.
Here's the thing about a time of transition. It eventually leads to an end result. The future of women's college basketball in Texas may be hazy, but we at least know there is one.
So, is it a hesitation dribble or something more, say, a wayward bounce into a full-blown turnover?
Your guess is as good as mine.