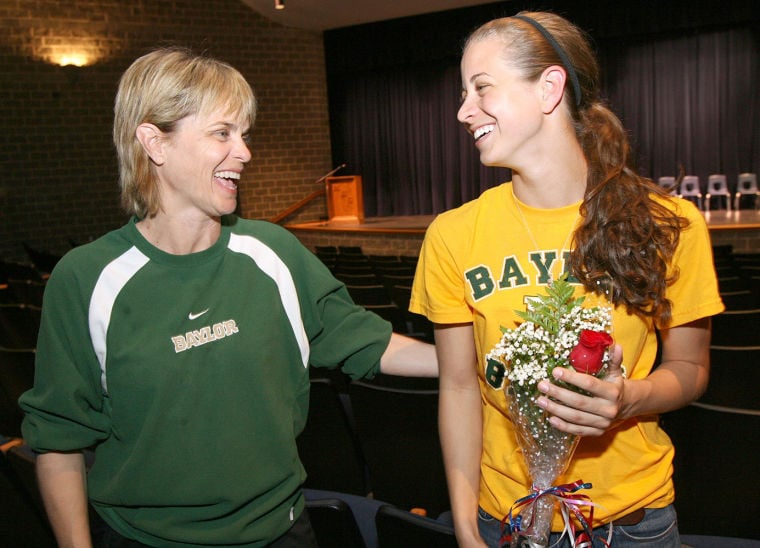 Baylor coach Kim Mulkey never wanted her daughter to regret her college decision.
She encouraged Makenzie Robertson to look around at other basketball programs out of Midway High School. Compare and contrast and really think it through. This is your life, your college experience.
But each time, Robertson's answer came back the same.
"I told my mom I wanted to play for her and that I didn't want to waste anybody else's time," Robertson said. "Watching my mom coach, I knew how hard she worked and pushed the players, and I knew I wanted to be in that position."
This is the first year Mulkey has coached her daughter, and they've both enjoyed the experience.
Mulkey is as tough and demanding on Robertson as she is on all her players. That's just the way Robertson wants it.
"My mom treats me the same as everybody else," Robertson said. "I pretty much knew what to expect from her as a coach from being around her my entire life and coming to practices and being around the team. She's been able to split her time as mom and coach where they don't overlap too much."
Cutting down nets
The Lady Bears are No. 3 in the nation with visions of winning a national championship. If the Lady Bears win it all, it wouldn't be the first time Mulkey and Robertson cut down the nets together in Indianapolis.
Mulkey brought both Makenzie and son Kramer up the ladder to help cut down the nets after the Lady Bears won the 2005 national title.
One of the biggest reasons Robertson chose Baylor was to have more opportunities for those kinds of experiences. The Lady Bears have already cut down nets after winning the Big 12 regular-season and tournament titles, and Robertson and Mulkey hope they're just getting started.
"I wanted Makenzie to visit other schools because I wanted her to have something to compare it to," Mulkey said. "But she said, 'This is where I want to be, and no matter what my role is, there's no substitute for cutting down the nets. Will I have those opportunities to cut down nets at other schools?' I shut my mouth and thought, 'You raised your kid right.' "
Midway shooting ace
Robertson enjoyed a tremendous career at Midway, helping the Pantherettes compile a 128-19 record in four seasons, including a run to the 2009 Class 4A state championship. As a senior guard last season, Robertson averaged 16.2 points and five rebounds while shooting 41.6 percent from 3-point range.
Surrounded by superb talent on a deep Lady Bears' squad, Robertson has played in 25 games and averaged 7.3 minutes and 3.2 points per game. But she's shown flashes of potential, burying 20 of 52 3-pointers while exhibiting unusual court awareness for a freshman.
Mulkey believes Robertson will be a solid contributor to the program as her career unfolds.
"Like a lot of freshmen, she's caught up in a numbers game," Mulkey said. "But she's going to be a factor in this program. She can flat out shoot, and she's been guarded by all of them out there. She's extremely intelligent and is one of the few who can see the floor and deliver passes in the right place at the right time. That's just instinct for the game."
Playing against veteran guards like Jordan Madden and Melissa Jones in practice, the 5-10 Robertson has spent this year adjusting to the intensity of the college game. She's worked hard on improving her defense and wants to get stronger to match up against the kind of athleticism she faces in practice every day.
"I never really was one of the short ones, but now everyone is so much bigger, faster and stronger," Robertson said. "It's almost impossible not to improve with the players on our team guarding you. I definitely need to improve defensively. I have to get stronger and move my feet and make sure I can keep up."
Successful on, off court
Robertson's teammates like being around her, and can see where she gets her competitive edge.
"Makenzie gives her full effort in everything she does, and that's a reflection of Coach Mulkey," Jones said. "She doesn't want to lose. She's so young and we've only gotten a glimpse of what she can do. She's a good 3-point shooter with great passing ability, and she has the potential to be a very good player."
Mulkey isn't worried about her daughter's drive to succeed. She's always been a high achiever whether it's on the court or in the classroom. Robertson ranked eighth in her graduating class at Midway, and is a pre-business major at Baylor.
While Mulkey wears her emotions on her sleeve, Robertson is more low-key, but that shouldn't be mistaken for a lack of drive or competitiveness.
"No one is like my mom," Robertson said. "But parts of my personality reflect hers. I'm not as vocal or loud as my mom, but I think I have the competitiveness and drive like she has. I just show it in different ways."
Mulkey has never had to push Robertson to excel. Robertson has always been self-motivated, and Mulkey sometimes worries that she puts too much pressure on herself.
"She's too hard on herself — she wants to make 100s on every test and A's in every class," Mulkey said. "She stresses way too much for somebody her age, but it's something you're born with and it's not something you can cut off."
Life around hoops
Robertson grew up around her mom's basketball teams and remembers running out of the locker room before games with the Louisiana Tech players. Mulkey was an assistant coach at Louisiana Tech for 15 years before taking the Baylor job in 2000.
"Whenever I could start running, I began going out with the Louisiana Tech players for warm-ups," Robertson said. "I even did that during my mom's first couple of years here."
Though Robertson always enjoyed being around her mom's basketball teams, Mulkey has always tried not to bring the game home. After seeing how intense Mulkey was on the sidelines during basketball games, Robertson's friends saw a different side at home.
"My friends love her," Robertson said. "Some of them might have been intimidated at first, but she always jokes around with them. She's a comedian. She always tried to leave basketball at practice. We still talk about it some, but everything doesn't revolve around it."
Since Robertson lives in a dorm on Baylor's campus, she doesn't see her mom as much off the court as she did in high school. No matter what happens in their basketball lives, Mulkey always wants to be a caring mother to her daughter.
"I always tell Makenzie that I'm going to be her mom no matter how mad you get at me," Mulkey said. "I always tell her not to allow my job to affect our relationship as a mother and daughter, and it doesn't."
When Robertson completes the basketball season, she plans to join the Baylor softball team. She was the Tribune-Herald 's Super Centex Athlete of the Year in 2010 after starring for the Midway softball and basketball teams.
Like everybody else on the Baylor women's basketball team, she has unfinished business. She wants to end the season cutting down the nets in Indianapolis with her mom like she did as a 13-year-old kid six years ago.
"It's a blessing to play under my mom on such a good team," Robertson said. "It's more than I could have asked for."
Be the first to know
Get local news delivered to your inbox!