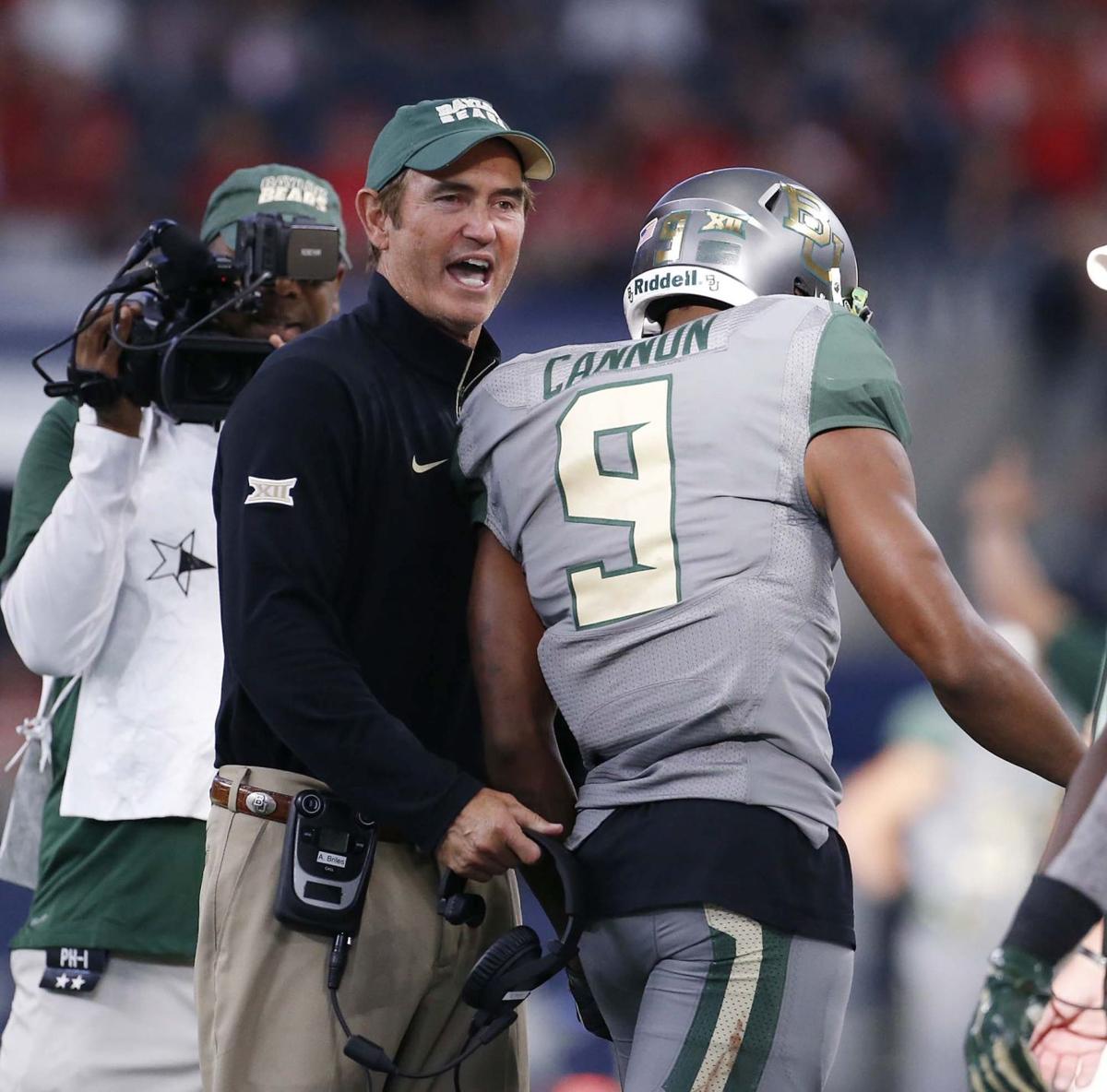 Clemson is ranked No. 1 followed by LSU, Ohio State, Alabama, Notre Dame, Baylor, Michigan State and TCU. The top four teams will make the College Football Playoff.
With a 7-0 record, Baylor is No. 2 in both the Associated Press and coaches polls. But College Football Playoff selection committee chairman Jeff Long said strength of schedule was a big factor in the first CFP standings.
The Bears' strength of schedule is currently 109th in the country, but they'll play the meat of their schedule in November. After facing Kansas State in Manhattan on Thursday night, the Bears will play three consecutive top 25 teams in No. 15 Oklahoma, No. 14 Oklahoma State and No. 8 TCU.
"Baylor has an explosive offense, but strength of schedule left us uncertain of their true strength," Long said. "Like last year, we take strength of schedule seriously and we know big games are ahead."
Baylor will face its final five games without starting quarterback Seth Russell who went down with a broken neck in a 45-27 win over Iowa State on Oct. 24.
But Long said Russell's season-ending injury wasn't a factor in the current standings. Russell will be replaced by freshman Jarrett Stidham.
"We've evaluated Baylor now on what they've done so far with the starting quarterback," Long said. "Now we'll have a chance to evaluate Baylor with its replacement quarterback like we did with Ohio State last year."
Ohio State won the national championship with Cardale Jones at quarterback after he replaced injured J.T. Barrett before the Big Ten championship game against Wisconsin.
Long said Clemson is No. 1 because it is unbeaten against a quality schedule. He said the CFP selection committee spent a great deal of time deciding whether one-loss teams should be placed ahead of unbeaten teams.
No. 4 Alabama has a 7-1 record with a loss to Mississippi. No. 5 Notre Dame is also 7-1 with a 24-22 loss to Clemson on its resume. The next four teams — Baylor, Michigan State, TCU and Iowa — are all unbeaten along with several other teams lower in the Top 25.
"Winning games is the first thing we look at, but we always go deep when we look at strength of schedule," Long said. "We discussed if a one-loss team should be ranked ahead of an unbeaten team. We were strong one through four, but five through seven we certainly discussed longer."
During his Monday press conference, Baylor coach Art Briles indicated he won't pay a lot of attention to the CFP standings until the final one is released Dec. 6.