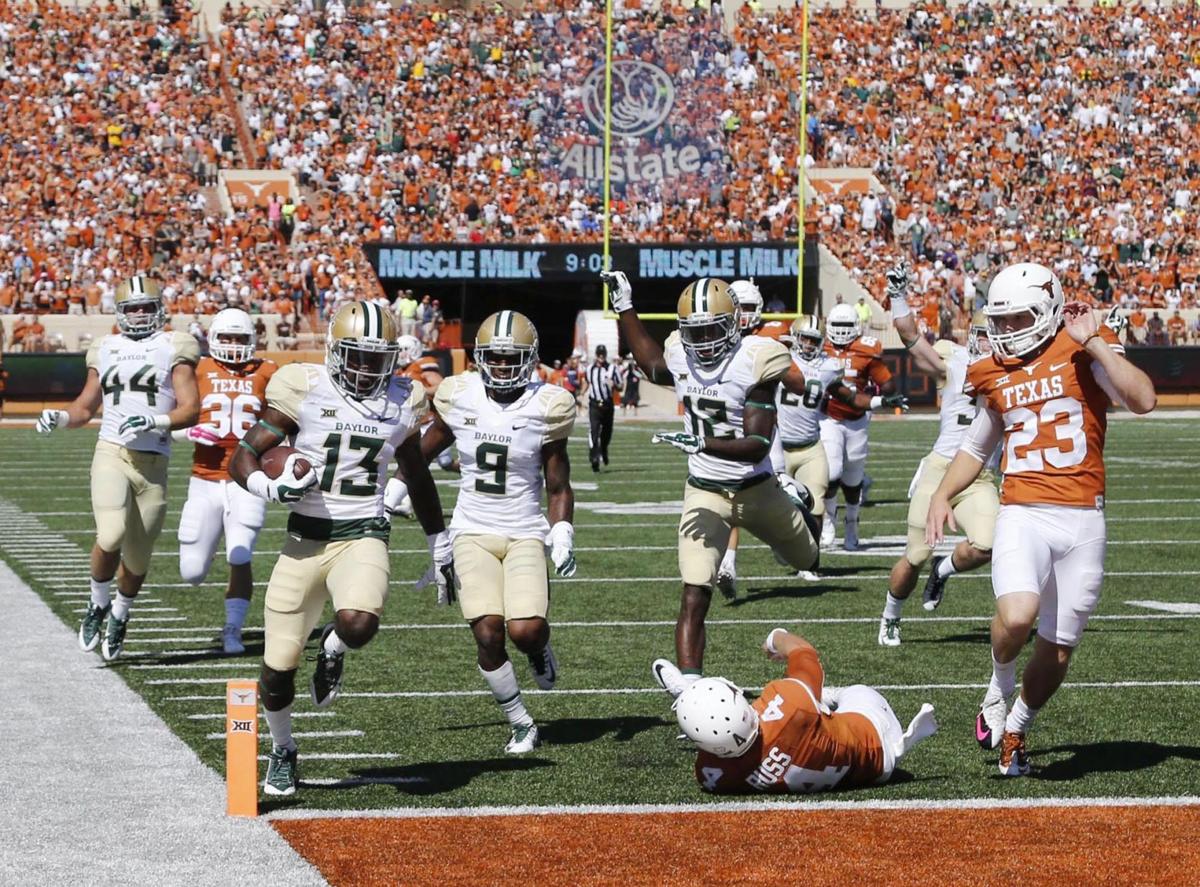 ---
Art Briles was barely a year old when Baylor made its only Sugar Bowl appearance in a 13-7 win over Tennessee on Jan. 1, 1957.
The No. 12 Bears' head coach would love to make a return trip on New Year's Day.
If the Bears finish off the regular season with a win over Texas on Saturday at McLane Stadium, they would likely be headed for the prestigious New Year's Day bowl at the Superdome.
With Big 12 champion Oklahoma expected to make the College Football Playoff, the Big 12's second-place team would qualify for the Sugar Bowl. With a win over the Longhorns, Baylor would finish in a second-place tie with TCU and Oklahoma State.
Under the Big 12 tie-breaking procedure, TCU would be eliminated because it has the worst point differential between the three schools in games against each other. Baylor would qualify for the Sugar Bowl on the basis of its 45-35 win over Oklahoma State.
Nobody would have to drag Briles to New Orleans to play an SEC team.
"I'd be running as fast as I could to get it," Briles said. "I'm not saying how fast that's going to be. But it's worth chasing. We've got a job to do Saturday. And then, that (the Sugar Bowl) could be a great accomplishment for our football team. If you're not going to finish first, then finish second, which shows a lot of consistency over the years."
Baylor's dream of winning its third straight Big 12 title died with its 28-21 double-overtime loss to TCU on Friday in Fort Worth. But the Bears (9-2, 6-2) can still finish with double-digit wins for the third straight year, which would extend their school record.
Playing in one of the top six bowls in the country would be a major accomplishment and a great way for seniors like All-America offensive tackle Spencer Drango to end their careers.
"That's a huge bowl," Drango said. "I don't think we're going to get to one of our goals, to be in the playoffs, but a New Year's Six bowl is still really, really good. I'm looking forward to that. But we do have to take care of business first. Texas, they're a good team and they're getting better as the season progresses."
While Baylor will reach its fifth straight bowl game, Texas (4-7, 3-5) actually has a shot to reach a bowl despite its losing record. Since there won't be enough six-win teams to fill 80 bowl slots, at least two teams with five wins will qualify.
Briles believes the Longhorns are a formidable team despite a losing record. Second-year coach Charlie Strong said junior Tyrone Swoopes will start at quarterback over freshman Jerrod Heard who is being evaulated this week after suffering a concussion in Thursday's 48-45 loss to Texas Tech.
"Those two guys bring a couple different things to the table, but athleticism is high on the list with both of them," Briles said. "Play-making ability is high on the list, and experience in Swoopes' case."
With Heard going out with a first-half concussion, Swoopes finished nine of 18 for 52 yards while rushing for 98 yards and two touchdowns against the Red Raiders. But the star of the night for Texas was freshman Chris Warren who rushed for a Longhorns freshman record of 276 yards and four touchdowns.
Baylor will try to rebound from its worst offensive performance of the season. Playing in a torrential downpour in Fort Worth, the Bears finished with just 335 yards total offense while committing five turnovers including four fumbles.
Making his first college start, sophomore quarterback Chris Johnson hit seven of 24 for 62 yards and an interception. His only touchdown pass was a 4-yarder to Devin Chafin in the first overtime.
Johnson made no excuses for his poor performance even though it came in horrible conditions.
"Through the game I was definitely upset with myself," Johnson said. "There were a lot of things I could have done differently and done better to help us win that game. Going back and watching the game you kind of see things that you don't really realize on the field, and it gives you a different perspective."
The Baylor players and coaches have showed their support of Johnson, who was the third-string quarterback before injuries to Seth Russell and Jarrett Stidham.
"I fully expect a lot of growth from him, kind of like your first game to your second game," Briles said. "When you're starting the season the most improvement comes from game one to game two. In our minds, this is his game two. We're excited about his journey. We have a lot of faith and belief in Chris. He's earned it. We're excited about where he can take us Saturday and where we can help him get to."
Briles hopes to get defensive tackle Beau Blackshear back from a knee injury and safety Orion Stewart back from a hamstring injury. Briles will monitor running back Shock Linwood, who has been battling leg injuries, throughout this week.
"Shock was not as good as we thought he would be (against TCU)," Briles said. "He didn't practice until last Wednesday, and he tried to go, but he just wasn't himself. So we'll see how he progresses through the week."
BEAR FACTS — Baylor offensive coordinator Kendal Briles is among five finalists for the Broyles Award as the nation's top assistant. The other finalists for the award are Oklahoma offensive coordinator Lincoln Riley, Alabama defensive coordinator Kirby Smart, Clemson defensive coordinator Brent Venables and North Carolina defensive coordinator Gene Chizik. ... Baylor receiver Corey Coleman and Linwood are among 16 finalists for the Earl Campbell Tyler Rose Award as the state's top offensive college player.