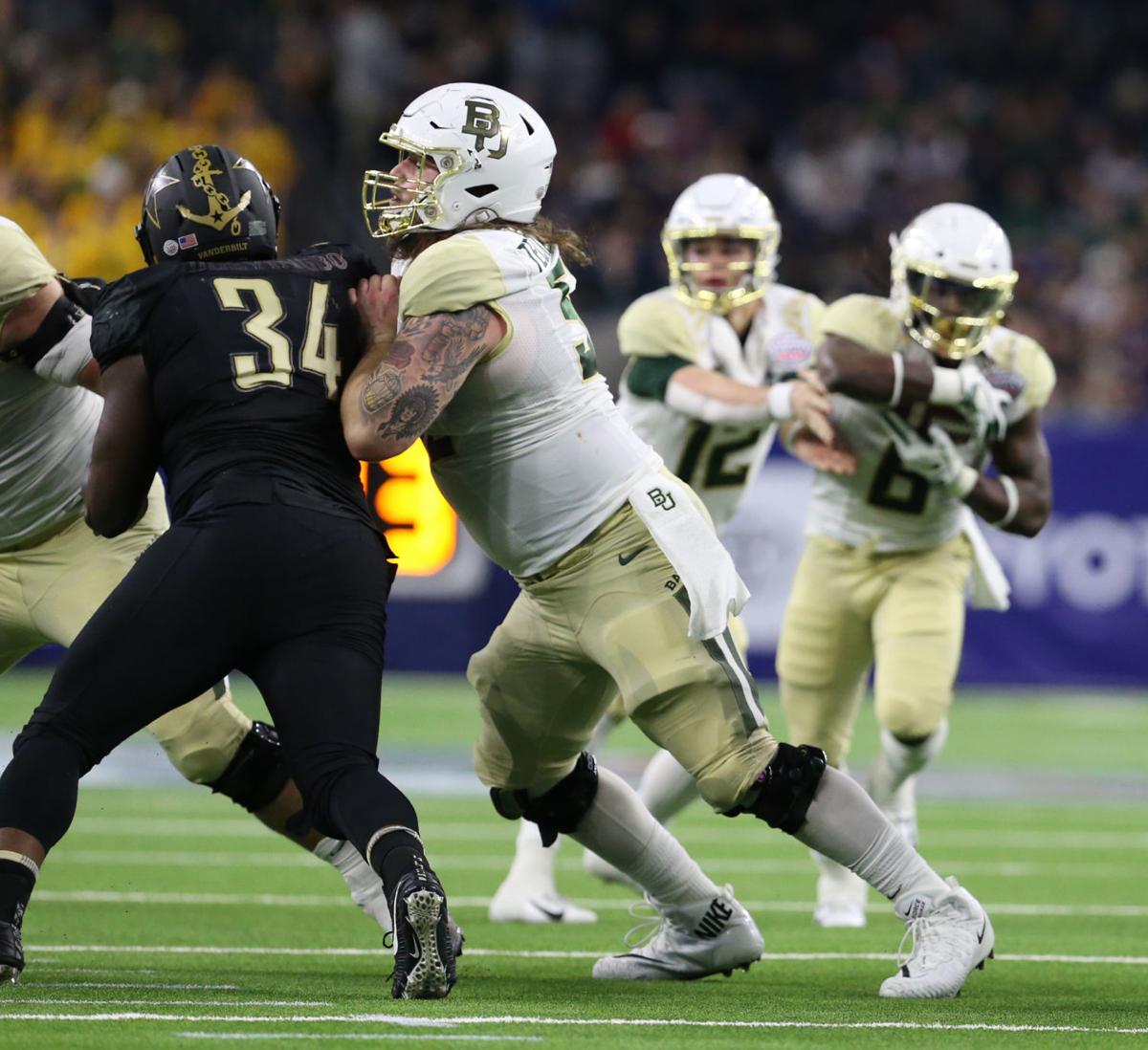 When Shawn Bell studies his offensive line, he sees at least 10 players who could contribute when Baylor opens the season against SFA on Aug. 31.
It's a much different sight than 2017 in head coach Matt Rhule's debut season when the Bears were lucky to scrape together five healthy offensive linemen.
"Coming in we knew we had some depth," Bell said. "The best thing that's come out of it so far is the younger guys providing that depth. There's a couple of surprises that going in we knew had potential. A guy like Prince Pines has really stepped up his game and has been a force that can go in and play for us. So every rep those guys get, they're getting better, and that's just elevating our room."
The Bears hope greater offensive line depth will translate into better protection for quarterback Charlie Brewer after giving up a Big 12-high 39 sacks last season.
Though the Bears ran the ball well much of the time, they would like to boost last year's 169 yards rushing per game to 200 this fall.
With more experience, depth and strength gained in the weight room during the offseason, the Bears believe both goals are attainable.
"It's not a secret, we know we've got to protect the quarterback, and that's where all our emphasis has been in the O-line," Bell said. "We also have to run the football. You look at the games last year where we were able to successfully run the football and control the line of scrimmage we win."
With seniors Blake Blackmar and Patrick Lawrence gone from last year's team, senior Sam Tecklenburg has emerged as the undisputed leader of the offensive line. After starting at center for the last two years, he'll likely start at right guard.
"He's a guy who does everything right and he's a guy everybody looks at," Bell said. "He told me 'Coach, I always lead by example.' We learned this summer through our leadership training there's no such thing. You got to lead and lead all the time. We really challenged him with that. His voice has really spoken up, and when the best player in the room is working the hardest and doing extra, then it's going to elevate everybody else."
Tecklenburg's transition to right guard will allow senior Jake Fruhmorgen to play center. The highly-touted transfer from Clemson struggled with injuries last year, but Bell expects him to play a major role at a key spot on the offensive line.
"He's got the talent, he's got the work ethic, he's got the strength," Bell said. "He just got hurt. Now he's at full speed and full strength and we're expecting big things from him in his senior year. The thing every program prepares you for is to be the best your senior year. He's heading in that direction."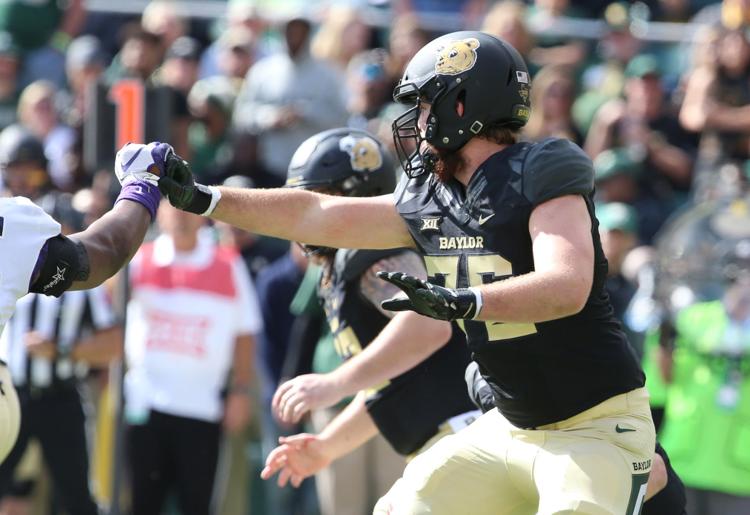 Another key will be the continued development of left tackle Connor Galvin, who started six games as a true freshman last season. Now standing 6-7 and 295 pounds, Galvin is looking to be more physical as he enters his sophomore year.
"It's a challenge," Galvin said. "Charley's a right-handed quarterback and I'm on the left side. It's just a fun challenge knowing I have to protect him to keep him safe."
Baylor's third returning offensive line starter from last season is senior right tackle Johncarlo Valentin, who made a successful transition from ASA College in Brooklyn, N.Y. Junior left guard Xavier Newman also has some experience as he's started 11 games in his first two seasons.
Throughout spring drills and preseason practice, Baylor has rotated its offensive linemen to give them experience playing different positions. But as the season opener approaches, Bell is looking to solidify positions.
"Guys kind of know where they are," Bell said. "There's still position flexibility with Teck and a guy like Casey Phillips, who is a very talented young man. Even Johncarlo can play right and left as well. Whatever provides us the best five is what we're going to do. But we're definitely more set in the direction we're headed."
The 6-4, 339-pound Pines, a redshirt freshman from Baton Rouge, La., has made the biggest jump during the preseason with his play at guard. But sophomore guards Khalil Keith and Jason Moore have also shown they can be counted on for playing time.
"Prince Pines in the summer was working as the four left guard, and now he's working with the twos and getting reps with the ones," Bell said. "Khalil Keith keeps getting better every day. Jason Moore is a tremendous worker and has really matured. He wants to play. He doesn't care which position, he wants to be out there."
Phillips and Snow College transfer Blake Bedier will give the Bears depth at tackle. Galvin has noticed how the offensive line has formed more chemistry throughout camp, but it's still a work in progress.
"We're still rotating a lot of people, trying to see who's going to play and who's not," Galvin said. "Everybody has come a long way so far, but we've still got a long way to go. We're slowly starting to jell. We're all slowly starting figure it out, the feel of getting back to football. You have to play fast."
As the Bears have gained experience and gotten stronger in the weight room, Bell has seen how their confidence has grown.
"When these guys leave the field, they're going to go lift and be stronger and that brings confidence," Bell said. "As you look in the mirror, your body's changing, and when you put hands on people you're able to stop them, and that builds confidence. They're in their third year in the system obviously. The confidence with knowing what you're doing is going to make you play faster."
BEAR FACTS — Baylor strengthened its offensive line of the future by getting a verbal commitment late Thursday night from Mose Jeffery, a 6-4, 330-pound three-star recruit from Kilgore College. The Bears now have 14 verbal commitments in the 2020 class. Jeffery is the second offensive lineman in the class as he joins Gavin Byers of Colleyville Heritage High School.
Be the first to know
Get local news delivered to your inbox!