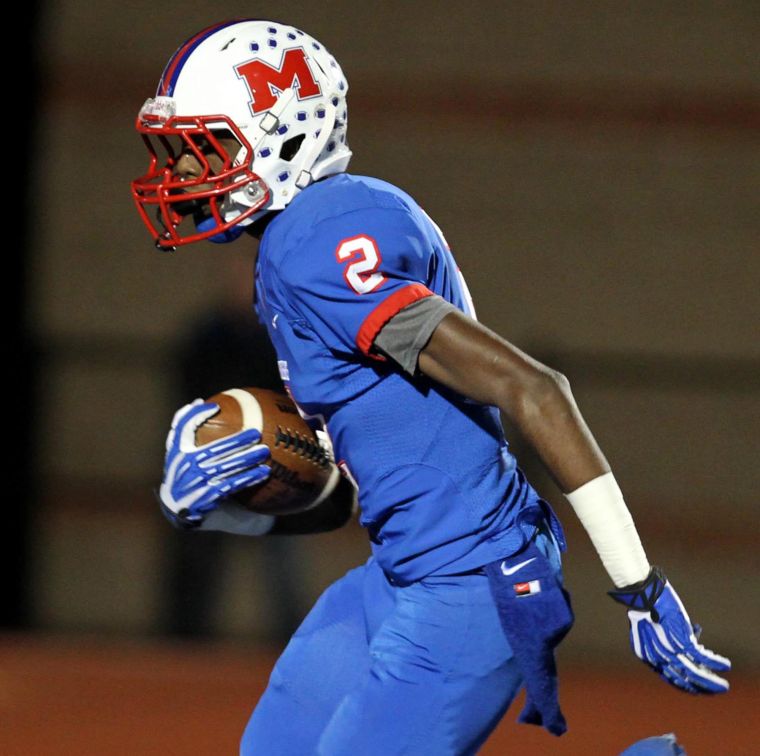 Midway's Devontre Stricklin has seen how receivers excel in Baylor's offense, and he plans to join the club.
The talented junior receiver made a verbal commitment to Baylor on Friday, more than a year before the 2015 NCAA national signing day. Stricklin has been following Baylor for years and is eager to play for Art Briles and his coaching staff.
"It's close to home and I'm cool with all the coaches," Stricklin said. "I like the way they spread the ball around to all their receivers. They showed a lot of interest in me. I'm proud of them for winning the Big 12 championship, and they deserved it."
The 6-3, 175-pound Stricklin caught 45 passes for 1,023 yards and 14 touchdowns as a junior last fall.
"He's got great hands, a good knack for the football and he's very explosive going up and outjumping defensive backs," said Midway receivers coach Justin Dozier. "He's got an edge at 6-3, and has a high vertical jump. He's very smooth when he's running, and he runs a whole lot faster than you'd think."
Dozier said Stricklin was called up to the Midway varsity midway through his sophomore season in 2012. He made 10 catches for 175 yards and two touchdowns and showed a knack for making the big play.
"We played Abilene in the playoffs and he made a catch to keep the drive alive, and we beat them," Dozier said. "He was thrown into the fire early. But he still has a lot of room to grow. He's not very big as far as his body structure."
Stricklin will be the latest in a long line of Midway stars to play for Briles. Among the other scholarship players have been safety Ahmad Dixon, receiver Levi Norwood, defensive lineman Beau Blackshear and safety Orion Stewart.
Midway senior defensive end Jamie Jacobs is planning to sign with Baylor on the Feb. 5 national signing day.
"It's kind of like we've got a pipeline going," Midway coach Terry Gambill said. "I think kids like what's happening there when you watch them play. They also see the new stadium going up. What an amazing job Coach Briles and his staff have done, and that's very appealing to kids."
Be the first to know
Get local news delivered to your inbox!