---
ORLANDO, Fla. — Witnessing his talent, savvy and remarkable strength, college recruiters beat down a path to Andrew Billings' door.
That door was wide open for Billings to leave Waco. West Coast, East Coast, options were wide open for this uniquely skilled lineman.
But when he looked at everything he wanted in his college football career, Baylor had the football program, the academics and the coaches and teammates he wanted to be around.
"I wanted to get out of Waco and saw all these other schools," Billings said. "But I saw Coach Kaz (Kazadi) and how he was in the weight room. It was a big selling point. This was the best school and I had to go there. It was a long decision, but not a hard decision."
Billings' decision has paid off as the defensive tackle made first-team All-American this season following a regular season in which he was a beast up front by making 15 tackles for loss and 5½ sacks despite constant double teams.
Now Billings will have to decide whether Tuesday's Russell Athletic Bowl against No. 10 North Carolina will be his final college game. But he's indicated that he won't forgo his senior year unless he's projected to be one of the top picks in the NFL draft.
"I want to be a high first-round pick," Billings said. "I've talked to people here and there to get information (on the draft) but mostly it's going to be me, my coaches and my family who make that decision. I still have the fire to come back and take them to the next level. "
Though Billings is a certified star, he's never forgotten where he came from.
Whenever Waco High coach Marty Herbst needs him to talk to students at the school, he doesn't have to twist Billings' arm to get him to come back.
"Andrew was an exceptional high school student-athlete," Herbst said. "We never had to worry about his grades or his behavior in the classroom. He continues to assist us today on various campuses in the Waco ISD. I'm hoping after his playing days are over we can keep him in town."
Billings enjoys talking to younger students about staying focused on goals and having a plan to get to where they want to go. The unassuming Billings can talk to them in a low-key way that makes them feel comfortable to be around him.
"They usually ask me about Baylor and the process of coming to college," Billings said. "I like to watch them and see what they're doing. Watching them is like seeing me when I was there. We just sit there and have good talks."
Those students know Billings enjoyed a legendary career at Waco High, and it wasn't just on the football field.
As a senior in 2013, Billings broke a 22-year-old state power lifting record by amassing 2,010 pounds, including 805 in the squat, 500 in the bench press and 705 in the dead lift.
While power lifting flew under the radar compared to football, it was a highly competitive sport.
"It's almost like a little community," Billings said. "You know each other's goals. There's a website with everybody on there, so you can study that all day. It's an individual sport but you get to work on stuff with your coaches and see your progress. I enjoyed that."
But football was Billings' ticket to college. The biggest question for recruiters was whether he'd be better suited for the offensive or defensive line.
Most recruiters saw him as an offensive lineman since he had started on that side of the ball since his sophomore year at Waco High. Billings also played a great deal at defensive end as a senior.
Though Herbst knew defensive tackle was his more natural spot on defense, he didn't want to risk injury.
"We knew other teams would try to cut Andrew every time," Herbst said. "He had brutal strength on both sides of the line. Two offensive players couldn't block him when he was on defense. He always wanted to do what was best for the team, which says a lot about his character and why he's a successful player."
While his strength was there for everyone to see, Billings' speed surprised most people. His father, Anthony Billings, saw that speed when he was just a kid.
"He was running at a track meet and won a 60-yard race when he was 8 or 9," Anthony Billings said. "We didn't know he could run. He won regional and went to the Games of Texas. Running a 100 would have been a lot, but he blew the field away in the 60."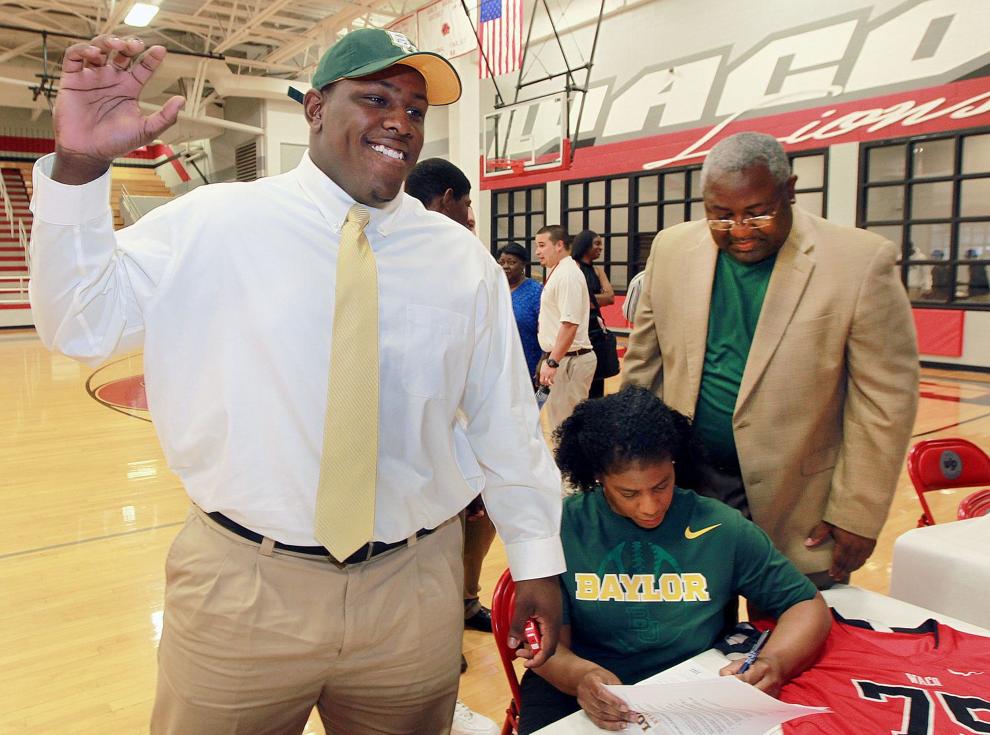 Billings made it clear to recruiters that he wanted to play defensive line in college, and he narrowed his choices to Baylor, TCU and Texas. When he announced Baylor as his choice the day before national signing day in 2013, cheers erupted across the Baylor football offices.
Billings was Baylor's biggest local signee since Midway safety Ahmad Dixon in 2010.
"Andrew was a top 10 D-tackle in America," Baylor coach Art Briles said. "Getting those guys solidifies the fact that it's OK to stay at home and play, especially when Baylor is good overall athletically, academically and location-wise. Andrew is a great football player and a great kid, too."
While most recruits need to redshirt a year to raise their strength to the college level, Billings was the strongest player on the team when he stepped on Baylor's campus. Stepping into Kazadi's strength program only enhanced the muscle that he brought to Baylor.
The Bears needed depth in the defensive line and Billings provided that as a true freshman by making 29 tackles, including 3½ for loss for the 2013 Big 12 championship team. Though Billings had the strength to match up with any offensive lineman, he was just beginning to develop his technique as a defensive tackle.
"I felt good about playing, but when I got on the field I was a little worried," Billings said. "I knew I was strong, but once you get out there you can still get moved by one person. There's so many other factors other than strength."
With a year of college football under his belt, Billings excelled as a sophomore as he moved into the starting lineup full time and recorded 11½ tackles for loss and two sacks.
Billings made all-Big 12 as the Bears repeated as Big 12 champions last season, but his numbers didn't reflect everything he meant to the team. He often draws double teams that frees other players to make tackles.
"Bill is going to get that guard and center because they're going to try to double-team him," Baylor defensive end Jamal Palmer said. "It helps us a lot for sure. He's very powerful and strong. He'd lift the whole weight room if he could. When he steps on the field, he's going to bring that strength because he takes it serious in the weight room."
Billings' most memorable play as a sophomore wasn't in the trenches. During a midseason game against Kansas, he chased down running back Corey Avery 25 yards downfield.
"I think I surprise people with my speed," Billings said. "They know I'm strong, but they think I'm just muscle. Speed is one of my pluses."
Though he struggled with a midseason ankle injury this season, Billings only missed the Iowa State game. While defensive end Shawn Oakman got more attention coming into the season, the 6-2, 310-pound Billings emerged as No. 18 Baylor's best and most consistent defensive player.
"He's relentless," Baylor defensive coordinator Phil Bennett said. "He doesn't think there's a play he can't make. He plays hard and plays the game the way it's supposed to be played. He has a very high motor and finishes plays."
While the NFL is Billings' dream, he wants to finish his Baylor degree. His father is a Paul Quinn graduate who has a master's degree from Prairie View A&M. His mother, Sylvia, is a Mary Hardin-Baylor graduate, so education was always stressed at home.
Like Andrew's college decision, he won't rush into his NFL decision.
"We'll do the same thing and sit down and talk and take our time," Anthony Billings said. "We want to make sure we do it right. We'll do it very thoroughly and systematically. We don't like to have conversations we can't finish."
Whether or not the Russell Athletic Bowl is Billings' last game for the Bears, it will be special to him because it will be his final game with his fellow starting defensive linemen. Ends Palmer and Oakman and tackle Beau Blackshear are all seniors.
"It's going to be interesting and pretty emotional," Billings said.
One of the reasons Billings decided to play defensive line in college was to hear his name called at stadiums across the country. With the way he's disrupted offenses throughout his career, "Billings makes the tackle" has become a constant refrain.