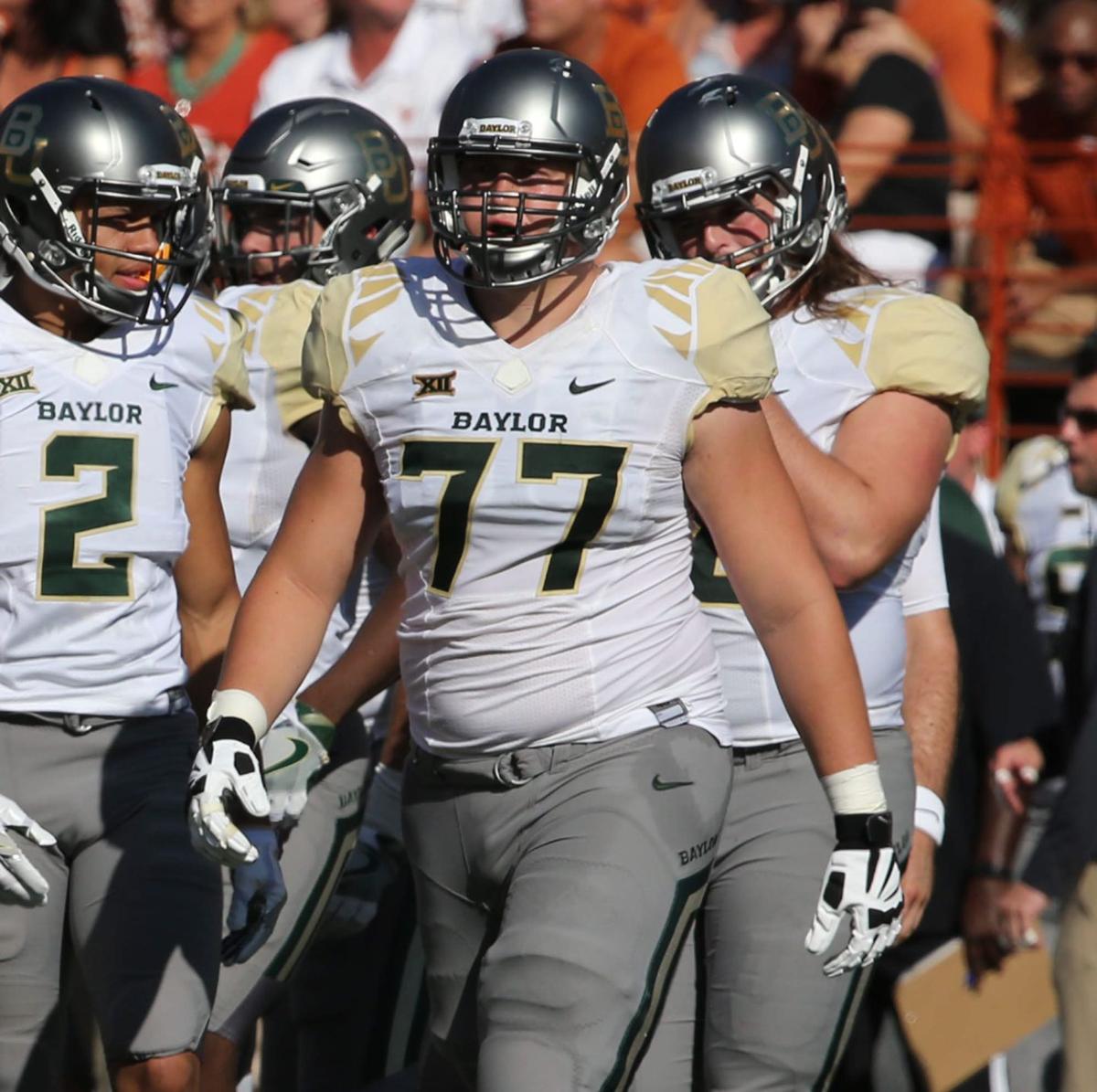 Most offensive linemen exist in the shadows. Often times, they prefer it that way.
Patrick Lawrence fits that mold, as Baylor's third-year sophomore lineman from Waxahachie revels in doing his job and doesn't seem to worry about grabbing headlines. He has performed that job well, too. In his first season as Baylor's starting right tackle, Lawrence has graded out at 88 percent for the season with more than 20 knockdown blocks for the nation's fourth-ranked rushing offense.
But what if he was in the spotlight? How would he handle it, say, on America's premier variety show? We discussed those topics and more.
If you were to go on America's Got Talent, what would your big talent be? What can you do that maybe not everyone knows about?
(Laughing) America's Got Talent. I play the guitar. By myself, I've never played in front of a bunch of people. But I play the guitar every now and then.
What kind of songs do you play?
Mostly country. Just keep it simple. I'm a beginner. Other than that, I don't know what. I feel like this is going to come back to bite me.
What is your guilty-pleasure comfort food that is not on the diet plan?
Sometimes they'll have some fried chicken in the BANC, sometimes they'll even have crab. I know that's over the top. It's healthy, too, but they treat us right. They feed us well.
What is something you could eat a ton of, if you were able to?
If I were able to, the cookies at the BANC. They've got good cookies.
Chocolate chip. I'm a chocolate chip guy. Most big guys are.
Growing up, were you always one of the biggest kids?
I was always one of the tallest. When I started getting recruited by Baylor, I was only 230 pounds. I played tight end in high school, moved to tackle my junior year. After that, I took off.
Did you play much basketball?
No, I actually swam and played baseball in high school. Growing up, I played everything but basketball. I wrestled, played baseball, swam. Year-round sports, pretty much.
You versus Michael Phelps …
Oh, yeah. Not even close.
What was your best stroke?
I swam the breast a lot, freestyle too. I actually won district in both of those.
Do you still get out and do much swimming for fun or exercise?
I would like to do a lot more than I get to. We actually went to the pool as a team, which game was that? After the Rice game. Just as a recovery thing, the day after. I had fun. It was fun to get in the pool, be able to loosen up a little.
I joked about Michael Phelps, but any of your offensive linemen teammates, you could beat them, right?
Oh, I've got them smoked.