Sorry, traditionalists, Baylor isn't about to become the "Scamper Squad." Don't expect Art Briles to scrap his touchdown-churning spread offense in favor of the veer, just because Seth Russell can run out of trouble.
However, Russell's capacity to scoot downfield when necessary brings another dimension to the Baylor offense that has been lacking since at least the 2012 season.
Bryce Petty shined in a lot of areas, but running wasn't his forte. Though Petty finished with 21 career rushing touchdowns, most were of the one- or two-yard plunge variety down by the goal line. His high rushing output for a season was 209 yards in 2013.
In four games as Baylor's new starting QB, Russell already has stockpiled 172 rushing yards and three TDs, and is averaging a sturdy 7.3 yards per carry.
Is this guy the second coming of Robert Griffin III? Maybe RG4?
"A lot of runs (Griffin) did were ad-libbing," Briles said. "Plays would break down and he'd take off and make runs. We'd diagram a few, but we knew he was an X-factor. Seth has that ability. He's got the X-factor ability."
Still, Briles almost can't help but wince when Russell scurries out of the pocket and takes off downfield. Ideally, he'd rather leave the ball-carrying to Baylor's robust stable of running backs or perhaps do-it-all receiver Corey Coleman.
Last week against Texas Tech, Russell carried 12 times for 81 yards and two TDs. That's about twice as many carries as Briles would like to see.
"Really, one (is too many)," Briles said. "You really don't want to run that guy a whole bunch. We're not really a quarterback-running offense. We can be, but we don't really want to be. We know we have to be in some situations, might be this Saturday. We certainly have the threat there if we need to do it."
Just the threat alone puts pressure on defenses. With Russell revealing that he has some home run pop, it forces opposing teams to respect that part of Baylor's attack.
"It just opens up another threat, adds to the arsenal," said Russell, who ran for 471 yards and seven TDs his senior year at Garland. "If they're going to drop eight and rush three, I have to be able to run the ball. Get five or six (yards) and get down without taking unnecessary hits."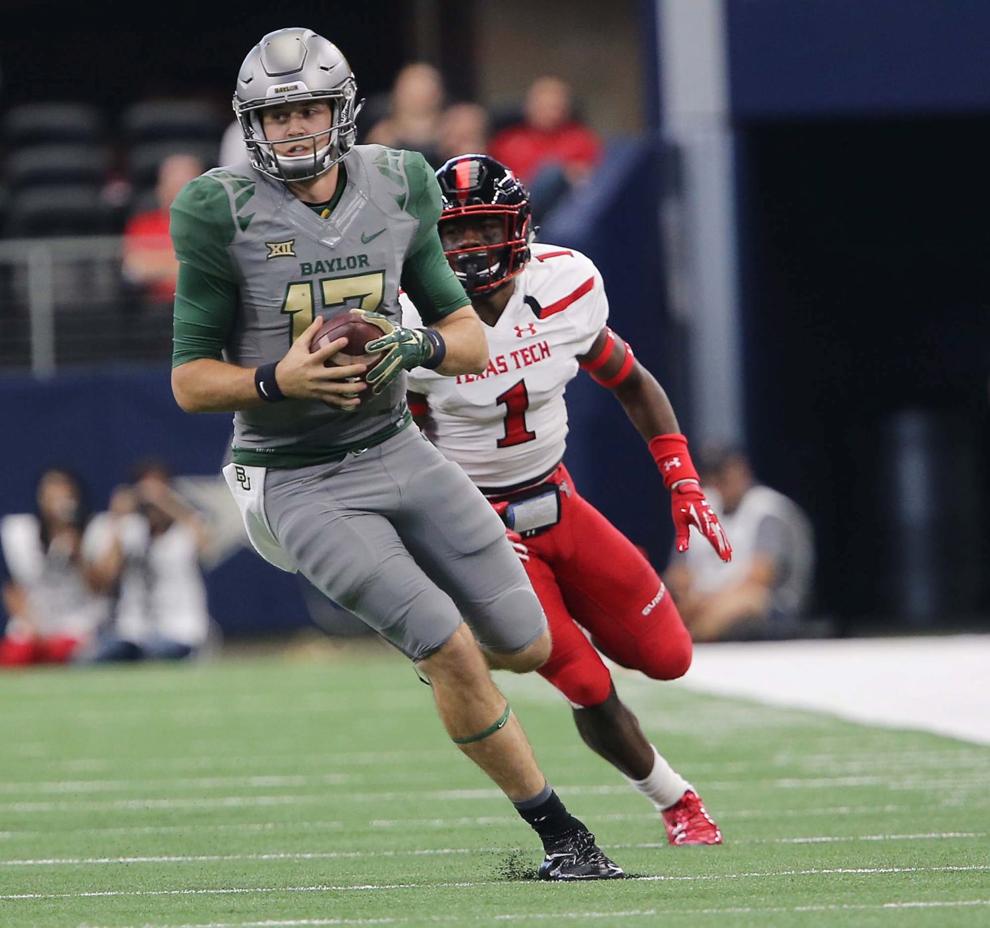 If Russell consistently burns teams with his feet, it puts them in a quandary. Do they use a linebacker or safety as a spy on Russell, thus potentially opening up more one-on-one matchups for Baylor's brilliant receivers? Or do they hang back in coverage, freeing up more space for Russell to roam?
It's a pick-your-poison scenario, to be sure.
"If they do (use a spy), then that just opens up another window to throw the ball," Russell said. "I feel like they're going to keep changing things up on us. If they do use a spy, they do a spy. That's fine. We'll just sit back there and I guess I'll look pretty and throw the ball."
Talk about looking pretty — Russell nearly crafted one of the most beautiful TD runs of his life when he zipped 65 yards for an apparent score in the season opener against SMU. But the score was wiped away and the run was relegated to a "mere" 38-yard jaunt due to an illegal blocking flag on receiver Ish Zamora.
"It's just one of those deals that happens," Russell said. "I had receivers blocking downfield, and that's what we coach them to do. He just happened to get his hands out a little too wide. But I'm thankful he was blocking, because that guy could have easily made a tackle at the 20-yard line."
If all goes to plan, Russell won't run a dozen times in a game again this year. His preference and certainly the Baylor coaches' preference is to let the backs handle the heavy lifting in the running game. It limits Russell's exposure to hits.
Yet should the need arise for the QB to run, the Bears say they'll be ready. They rest easy in the confidence that Russell can beat teams with either air strikes or ground assaults.