Kim Mulkey was sitting at an AAU basketball game this summer when Charli Turner Thorne approached her. Turner Thorne, fresh off leading Arizona State to a 20-win season and a trip to the second round of the NCAA Tournament, had a proposition for the Baylor head coach about a potential match-up between their two teams for the upcoming season.
"She explained to me it was on a reservation at Fort Defiance," Mulkey said. "Well, I know a little bit about how much they love basketball. I remember Schimmel at Louisville and how much basketball meant to her life. It will be sold out. That's what she told me. She said, 'Kim, they will come and especially if you will come, a ranked team, they'll love it.' She said her job, if I would agree to it, would be to try to get it nationally televised. And it is."
The contest was scheduled in conjunction with ASU's Office of American Native Initiatives and will serve as a celebration of Native American Heritage month and also provide a platform to recognize and honor Native Americans who served in the armed forces. The Sun Devil women's basketball program will also be honoring former ASU players and Native Americans Ryneldi Becenti (1992-93), Kalene Carl (1997), Michelle Tom (1998-99) and Rainy Crisp (2000-03).
"I've never been to a reservation," Mulkey said. "So I'm going to be curious to go and look around. I can't talk about history, but I can tell you I've always had respect for the Indians because I think they were the most mistreated people in the history and it's not talked about enough. I love work ethic. I love people who love family. We just talked about that."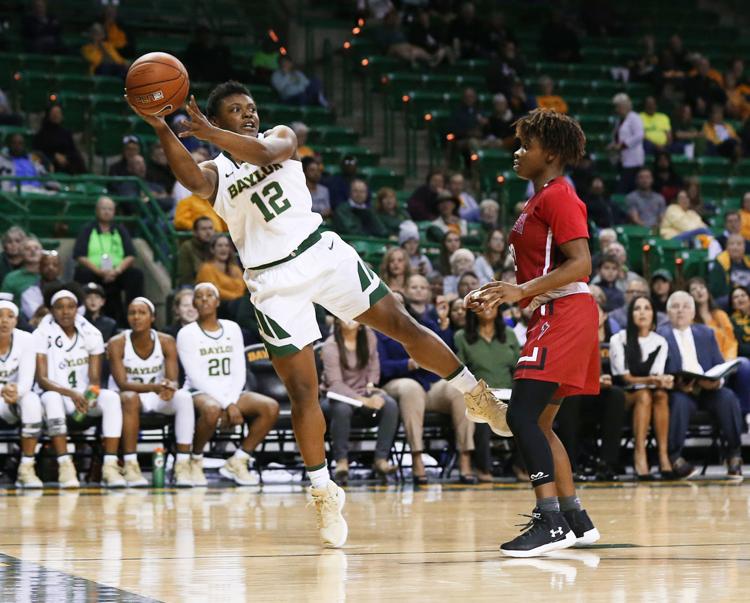 The contest between the two top-25 ranked teams will be nationally televised on ESPN2 with Eric Frede, Rebecca Lobo, Kara Lawson and Holly Rowe. The Bee Holdzil Fighting Scouts Events Center, which holds 6,500 people, is sold out.
"I think it's really good for us because we need that type of atmosphere so we can get our freshmen ready for that big stage," senior Kalani Brown said.
Added Mulkey: "I'd like for them to understand you'd better focus now. You can't turn it on when we get there. You'd better understand it's going to be a great atmosphere and it's nationally televised. Let's go play. This is going to be a great atmosphere early for women's basketball."
And what a stage it will be. Baylor, a Top-5 team in the country coming off two blowouts against Nicholls State (100-39) and Saint Francis (116-58). The Lady Bears tied the fifth-highest scoring total in program history in their win over the Red Flash on Thursday. Through those two games to open the 2018-19 season, Baylor is shooting 63.4 percent from the floor while holding its opponents to 25.8 percent.
Arizona State, meanwhile, returns all of its core players from last year's season that saw the Sun Devils tie school records for consecutive NCAA appearances (five) and 20-win seasons (five). Kianna Ibis, All-Pac-12 standout and Arizona State's leading scorer returns to lead the way for the Sun Devils. Joining her are All-Pac-12 honorable mention/All-Pac-12 defensive honorable mention selection Robbi Ryan along with Courtney Ekmark (Arizona State's leaders in 3-pointers), Charnea Johnson-Chapman (Arizona State's leader in field goal percentage) and the teams leaders in assists and steals with Reili Richardson and Kiara Russell.
"At that time, I didn't know I was going to dismiss a great player," Mulkey said. "At that time, I really didn't remember that she had four starters and eight returning players or I might not have agreed to it. It'll be good. It's been a long time since we have opened in November, the third game of the season, with a team on the road that's as good as Arizona State. If you'll remember, Arizona State beat Oregon State in that conference tournament last year. And we got beat by Oregon State. We face a very difficult challenge."
Meet the Lady Bears newcomers
NaLyssa Smith
---
Honesty Scott-Grayson
---
Chloe Jackson
---
Queen Egbo
---
Aquira DeCosta
---
Caitlin Bickle
---