There were too many responses to choose just one. Lauren Cox and Kalani Brown — Baylor's dominant duo that has imposed its will on both ends of the court for the fifth-ranked Lady Bears — immediately met the question with laughter.
"Kalani, what's your most-used phrase?"
Cox crinkled her nose, while Brown looked up at the ceiling. The two were seated in the media room inside the Ferrell Center with papers and Sharpies in hand.
Everyone knows how well they play on the court together. At 6-foot-4 and 6-foot-7, they form arguably the best frontcourt in the country. But it's not all about size with these two. Their field goal percentages are each higher than 50 percent, as Brown leads the country, shooting better than 70 percent from the floor. Their rebounding is top-notch too, as they're each just shy of averaging double-doubles.
But what solidifies statements from coaches and analysts across the country that there is none better than Cox and Brown is how they play on the court together. Merely a look or a nod communicates everything they need to know before a high-low play is executed to perfection or the opposing team is denied access to the lane.
They both sat trying to come up with their answers when Cox said, "Well, it's not really a phrase. It's a hand motion."
And that set Brown off laughing again as she nodded in approval. Finally after the two wrote down their answers, each delivered their message with what is Brown's signature hand motion. She forms a bird beak with each of her hands and points her fingers to the ceiling.
"You've got to get over the screen," was Cox's answer, while Brown said, "We're not switching." Both, of course, were accompanied by the same hand motion.
From most-used phrases to favorite snacks, Cox and Brown had to guess what the other would say. They did pretty well, which should come as no surprise to anyone who has watched Baylor play this season.
"It's unreal," senior Kristy Wallace said. "Getting to play with Lauren and Kalani, they play so well together. They make everyone around them a lot better. I love playing with them. They do a really good job for our team."
So far this season, Brown and Cox combine for 39 percent of the Lady Bears' offensive output, netting 534 of the team's 1,368 points. In Big 12 play alone, the duo makes up 40.3 percent of Baylor's scoring.
Neither has scored in single digits all year. They aren't confined to putting up a shot solely when they have good position by having at least one foot inside the lane when they catch the ball.
Yes, they both can play with their backs to the basket, make a move and score. But they can both also turn and face. They've got range. Cox has drained a few 3-pointers. Brown can hit from the top of the key.
"If there are two better in the country, I need to see them playing together," Baylor head coach Kim Mulkey said. "They pass to each other well, they get along and they have great size. At 6-foot-7 and 6-foot-4, that's hard to duplicate."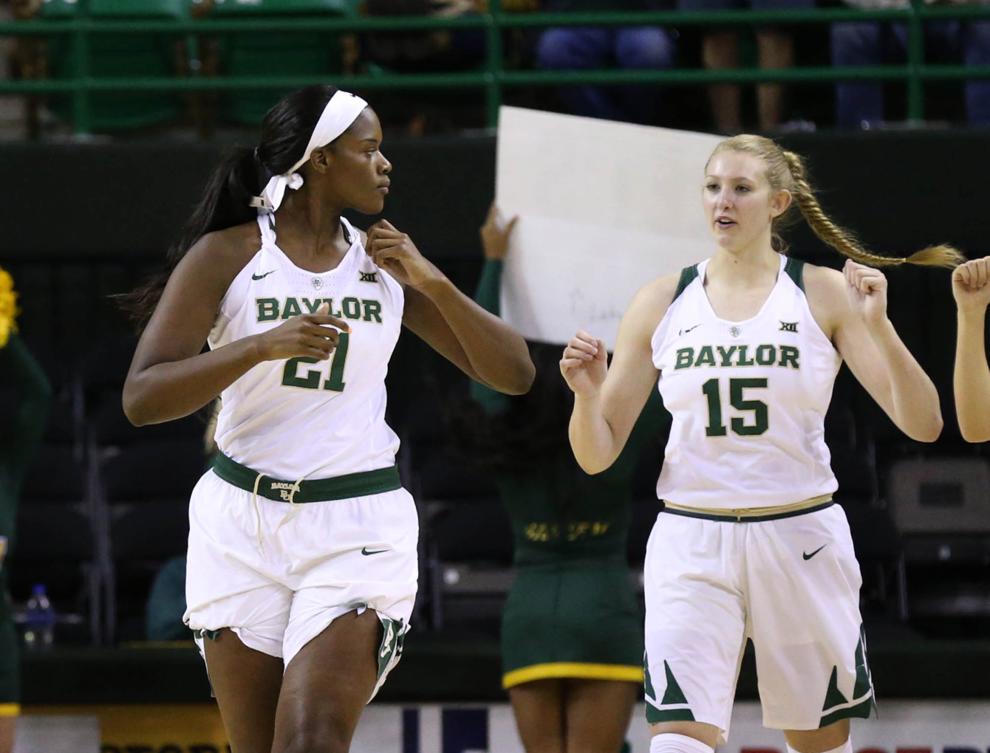 Brown and Cox have had this success against a wealth of different defenses. Because of their size, they expect to be double or triple-teamed once they catch the basketball. Smaller teams, of course, send multiple defenders. Iowa State did so when the teams met on Jan. 3. Because the Cyclones sagged in their man defense, the players who helped inside didn't have far to travel.
Other teams have sandwiched them, placing a defender in front and behind. That takes away the lob pass over a shorter defender in front. And then there's the zone defense where teams defend areas of the court instead of a specific Baylor player.
"We have to adjust how we post up and what kind of moves we make," Cox said.
Against Texas Tech, Brown and Cox didn't have to worry about facing multiple defenders. Because the Lady Raiders were similar in size, they played the Lady Bears one-on-one. And, boy, if Brown's and Cox's eyes didn't light up. Brown finished with 26 points off 11-for-13 shooting from the floor in 22 minutes, while Cox added 21 points off 7-for-12 shooting in 23 minutes.
"I like playing posts my size because then you don't have to worry about the little ones coming up and swiping you as much or a triple team," Brown said. "You can just go one-on-one. I think me and Lauren enjoy that more often. Like (against Texas Tech) we were able to take the posts off the dribble. Sometimes they would double team, sometimes they wouldn't. It was to where we could read it."
While the duo is among the top of the Big 12 in scoring and rebounding, they also know how to dish it out. Cox is 14th in the league in assists with 3.2 per game. Nearly half of Cox's assists are to Brown (19 of 45), while of Brown's 30 assists, she's passed it to Cox eight times.
"I think that's one of our strengths that we have," Cox said. "We can just give each other a look and we know that the pass is going to be there. We know they're going to score that layup. We work on it in practice all the time."
As the season's progressed, they've gotten better. And the reason for that, according to Mulkey, is their comfort level with each other.
"They can make mistakes now and realize they may not get taken out because we don't have the depth," Mulkey said. "That comforts you as a player. However, I think they push each other. I think they're two of the better post players in the country in a lot of ways.
"They have a finesse to their game as well. I just think they enjoy each other and like each other."