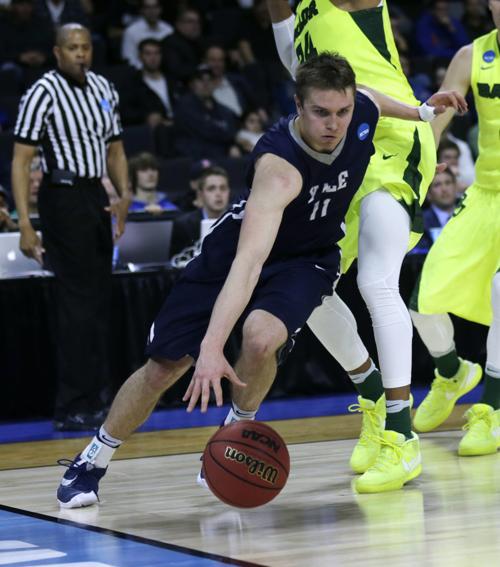 Yale point guard Makai Mason burned Baylor for a career-high 31 points in a first-round upset in the 2016 NCAA tournament.
In 2018-19, Mason will join the Bears.
Mason plans to transfer to Baylor as a graduate after playing his junior season for Yale in 2017-18. He had also received interest from Gonzaga, Duke and Notre Dame among other schools.
"I've seen the recent history of the (Baylor) program and what the coaching staff has done to bring in guys who can compete at the highest level," Mason said. "What they've done the last 10 years has been impressive. The coaching staff has been very welcoming to me. Competing for the national championship is the main goal."
Baylor coach Scott Drew had no comment Thursday night.
Mason was an all-Ivy League pick as a sophomore in 2015-16 after averaging 16 points and 3.8 assists for a Yale team that finished 23-7 and knocked off fifth-seeded Baylor, 79-75, in the Providence, R.I. regional.
After that season, he went through the NBA Combine process before the draft. But he didn't hire an agent and chose to come back to Yale last season.
"In the Ivy League you don't play in that many nationally televised games and you're not in the spotlight, so it's hard to get your name out there," Mason said. "It was a decent experience. But I knew I wanted to graduate from Yale."
Coming into the 2016-17 season, Mason was the Ivy League preseason player of the year but suffered a broken foot in a preseason scrimmage and missed the entire season.
Under Ivy League rules, an athlete only has four seasons to play four. If a player must redshirt one season, he will only have three years of athletic ability.
Since Mason missed last season with his injury, he announced he would play a final season at Yale and move on to another college as a graduate transfer for his senior season. Mason will graduate from Yale in May 2018.
Be the first to know
Get local news delivered to your inbox!