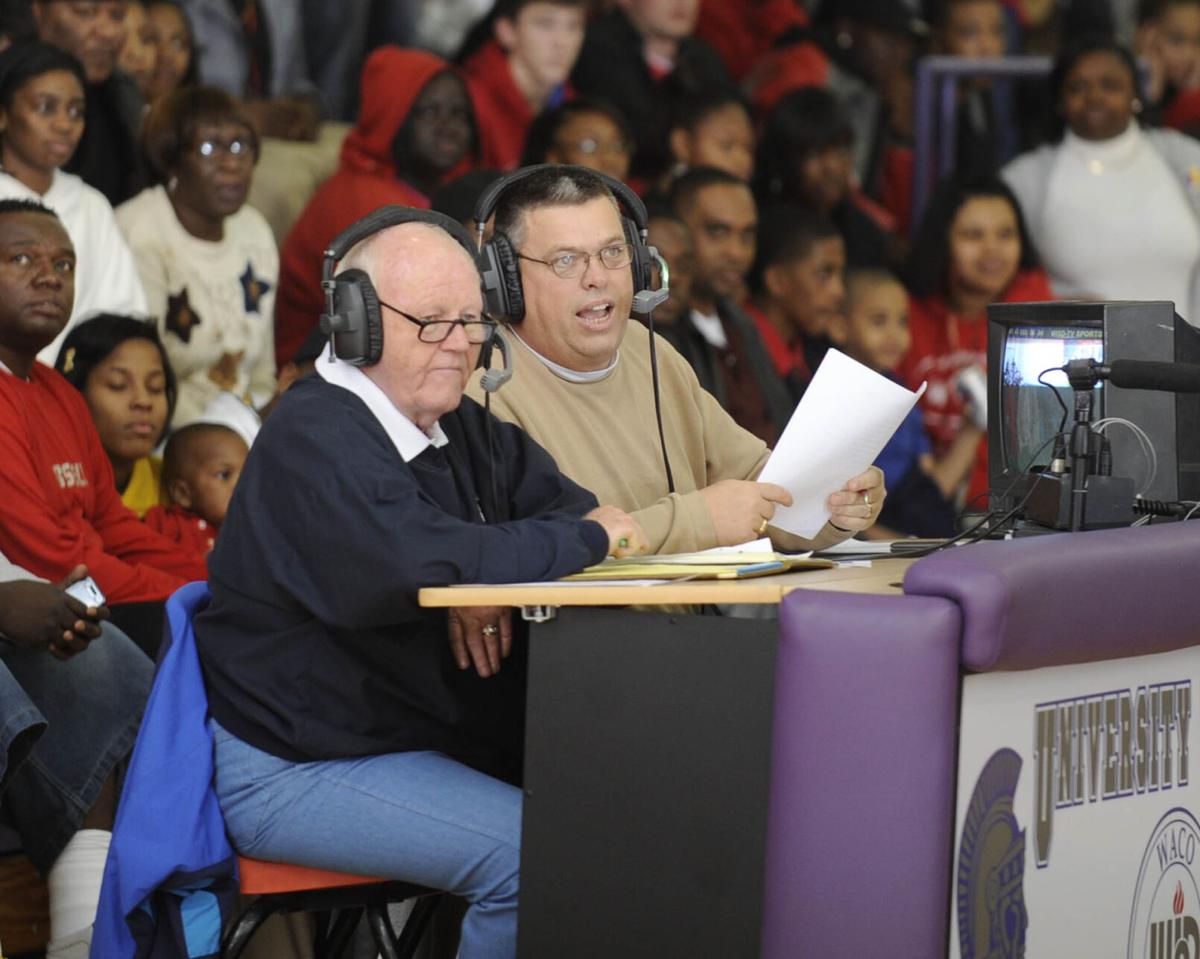 Butch Henry, whose folksy humor and tell-it-like-it-is honesty on the airwaves tickled thousands of Central Texans, died on Thursday. He was 80.
Henry spent more than four decades broadcasting sports through gigs as an account executive at KCEN-TV and announcer at Waco ISD TV and ESPN Central Texas radio. His catch phrases "Winner winner, chicken dinner!" and "Nanner Pudding" spoke to his everyman quality and ever-present zest for life. He also volunteered as a youth league sports coach for many years, and worked the shot clock at Baylor basketball games dating back to the Bears' and Lady Bears' games at the Heart of Texas Coliseum.
"Find me one person that did not like Butch Henry, that met Butch Henry and had a five-minute conversation and did not say, 'Hey, what a great guy,'" said Tom Barfield, who first hooked up with Henry in the booth broadcasting high school games in the early 1980s and later as a co-host of the long-running "You Make the Call" sports talk radio program. "And he really, really was. He genuinely was a very special person."
David Smoak met Henry when he moved to Waco from East Texas in 2010 to join ESPN Central Texas. Smoak said that Henry was as genuine a person as you could hope to meet.
"Butch was one-of-a-kind, once-in-a-lifetime, and as real as anyone I've ever met in my life," said Smoak, who now hosts a show on SicEm365.com radio.
Henry served on the board of the Northwest Optimist Club for several decades. In that capacity he created an annual preseason high school football event called the Crying Towel Luncheon, inviting local coaches to gather and one-up each other in lamenting their teams' fortunes for the upcoming year. Johnny Tusa, the former Waco High coach who won his share of Crying Towel honors, said that Henry's passion for people showed in everything he did.
"He was a Waco icon, a sports icon, but the main thing is that whatever he gave his time and gave his energy to, he made the community better," Tusa said. "When it came to sports, he was all in. He was a Texan through and through, kind of the Dizzy Dean of our area with his quotes and his folkisms. He was just a great person, and always entertaining."
Paul Catalina worked with Henry for 14 years at ESPN Central Texas, starting as an intern in 2005. He said that when he first met Henry he initially wondered if his on-air demeanor, punctuated by malapropisms and a thick Texas drawl, was an act or part of some schtick. Then he realized, nope, that's just Butch.
"I got there, he gave me the nickname Pork Chop right off the bat," Catalina said. "I remember thinking, 'This is a radio professional, with this country accent? This is a radio host?' I thought I was in some kind of bit the whole first day. But then as you got to listen to him, I realized how funny he was, how old-fashioned, homespun he was. He would crack me up after day."
That humor surfaced in silly and sometimes unfiltered ways daily on the airwaves for Central Texas sports fans for many years. Catalina said that certain words and phrases will forever bring to mind some hilarious Henry moment or another.
"He had a spot for Hillcrest (Hospital) that he was doing, and they had a women's clinic," Catalina said. "And he said, 'They've got a women's clinic! You know, I've never had a hysterectomy, but I know people who have.' And Tom and I looked at each other and said, 'Did you just say you've never had a hysterectomy?' And Butch goes, 'Well, I haven't!' I still think about that. Anytime I hear the word hysterectomy, I think of Butch doing that live spot."
Added Barfield, "You never knew what was going to come out of his mouth. I was talking with (Waco ISD's) Dale Caffey last night and we got to talking about some of the things that Butch would say on our WISD TV telecasts in the early days, and you'd just have tears running down your face because you just didn't know what was going to come out of his mouth."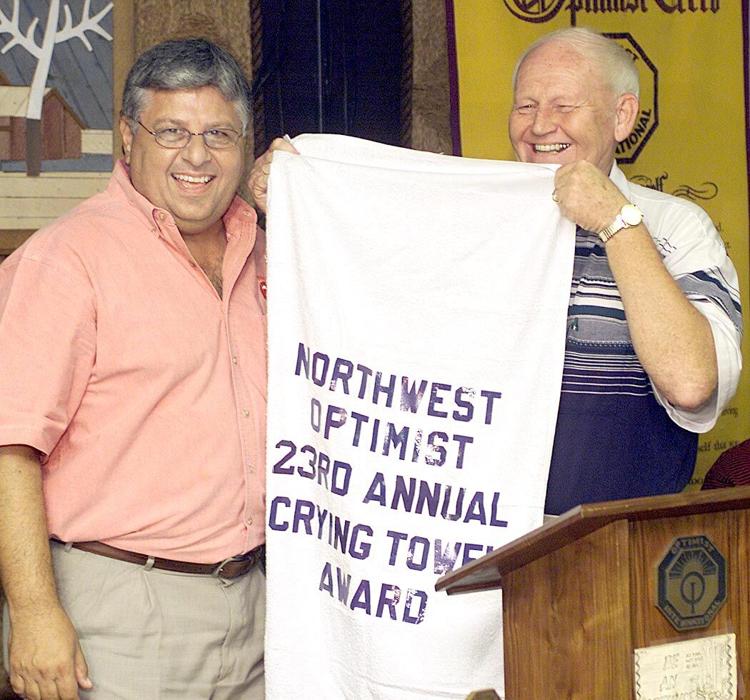 Local business owners would sometimes contact the ESPN radio to try to get the "Butch Henry treatment" on the air, as his live spot testimonials were the stuff of legend. But Henry only endorsed businesses he frequented in the spots.
"Butch would do a live spot, and you didn't just want to go to the business and buy whatever they were selling, you'd want to buy the whole business," Smoak said.
Added Catalina, "I'll never do a live spot like Butch did a live spot. I went to Double R Hamburgers for the first time because he told me I had to. … 'That was where Butch told me to go! I trust Butch! He's not going to lie to me!' "
Henry had a long history as a successful coach for Little League and other youth sports teams. As such, it seemed he knew everyone in the county, said his friends.
"Everybody felt like they knew him," Barfield said. "You can't go anywhere without someone saying, 'You know Butch? He coached me.' Everybody has been coached in pee wee football, baseball, basketball by Butch Henry. It's amazing."
Catalina said that he found that he couldn't go out around town without someone coming up and asking to pass along their greetings or thanks to Henry.
"I would go to the grocery store and I'd run into people and they'd say, 'Hey, when you see Butch, you tell him that so-and-so said hi. I played Little League for him in 1972.' I started thinking I needed to bring a notepad or something: 'OK, Bob Davis, 1972, Lake Air Little League, says hello.' It happened all the time. Everybody had a story about how they'd come across Butch," Catalina said.
Tusa is among the dozens of Waco-area residents who still think of him as "Coach Henry." Tusa played on a baseball team coached by Henry and Larry Weeks when he was 15 years old.
"He was just so pleasant to be around, and everything he touched he made better," Tusa said. "He'll be sorely missed. Waco lost not only a great member of the community, but a great individual."
Henry's personality lit up a room, Catalina said, and he couldn't help but illuminate your own outlook along with it.
If I was ever having a bad day, he knew exactly what I needed to hear, when I needed to hear it. Good or bad," Catalina said. "He was always making me smile. That's what I'll remember about Butch."
Though he seemed to know everybody in town, Henry also had a well-earned reputation as a homebody. Catalina said that when the radio station would set up remote broadcasts at a location outside of Waco, Henry would opt out. He loved to play golf and loved to spend time with his family, including his wife of more than 50 years Barbara.
"He was fiercely loyal to his family," Barfield said. "He used to joke around, he'd say, 'Barbara's not number one, but she's always going to be in the top 10.' But the truth of the matter? They – his family – were number one. There was no mistaking it. His family was number one in his world."
Butch's son Kelly said that the family has been "amazed" at the outpouring of love and support from the community.
Visitation will be from 2-4 p.m. on Saturday at First Baptist Woodway. A family service will be held at a later date.
Be the first to know
Get local news delivered to your inbox!