Sunday didn't just dump multiple inches of snow on the Central Texas landscape. It also purified Facebook for a day.
God bless Snowpocalypse 2021. For a time, our Facebook feeds were filled with dozens of photos and videos of families outside playing in the snow, instead of the seemingly neverending politically-based sniping that reflects a divided country.
To most Texans, snow is a novelty. Much of my extended family on my mom's side lives in Wisconsin, and several of them had a good chuckle at how our pulses rose as the flakes came down. Of course, those cheeseheads could never handle our Texas summers — they'd be a pool of queso in about five minutes.
But around here, a snow day is a day to play. In that spirit, here's one snowman's breakdown of the top wintery sports and outdoor activities.
Snowball Fights
I've caught and dribbled and thrown and passed all manner of balls over the years. But there's just something intoxicating about rolling a snowball and winging it at your friend's dome. As soon as the snow hits the ground, it's instinctive. You think, "Who can I nail?"
The snowball fight is basically just a colder, wetter version of dodgeball. Well, kind of. In dodgeball, you're not creating the equipment out of the environment around you. Even if you aren't as quick at forming snowballs as Buddy the Elf, you should be able to get motivated to pack those projectiles in a hurry. Nothing like your kid chucking wintery slush at your nose to get you moving.
The snowball fight is typically the first activity that breaks out once the snow accumulates. After my family returned home from church Sunday, we naturally engaged in such chicanery. My kids and the neighbor girls were even hurling giant blocks of snow over the privacy fence at one another. These weren't snowballs, more like snow bombs.
Love your neighbor, sure.
Baptize your neighbor with snow? Absolutely.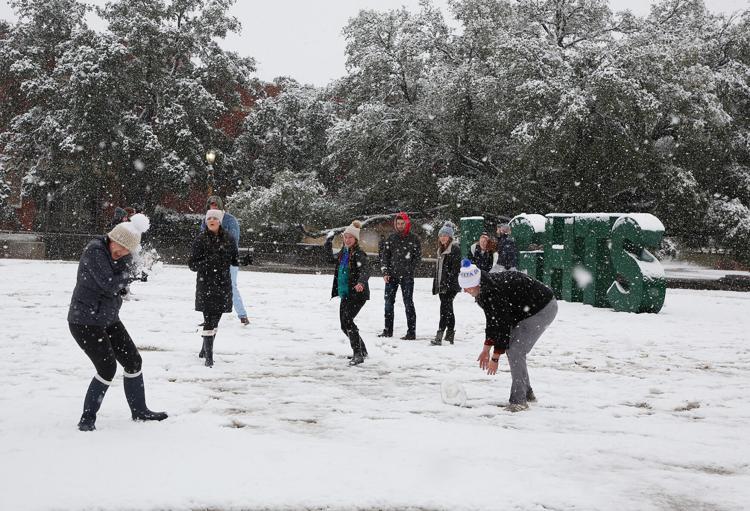 Skiing
Obviously Sunday's snowstorm didn't send Central Texas outside with skis and poles in tow. You kind of need slopes to go swooshing.
In terms of Winter Olympic sports, any of the skiing events ranks high in watch-ability. Downhill skiing — aka alpine skiing — has been part of the Games since 1936, and it's impossible not to be mesmerized by the athletes' high-speed technique and skill. I know many consider figure skating to be the signature Winter Olympics sport, but give me Lindsey Vonn over Michelle Kwan any day.
Then there's ski jumping, which has to be one of the craziest sports on earth. I can't think of that event without remembering the introduction to ABC's old show "The Wide World of Sports," where a poor soul named Vinko Bogataj demonstrated the "agony of defeat" by careening, heels over head, off the ramp and into the nearby crowd. Full body cast much? Yeah, ski jumping can look majestic when performed properly, but anytime something goes wrong, the sheer insanity of it is laid bare.
I noticed last night that Eddie the Eagle is streaming on Disney Plus. When it comes to ski jumping, that based-on-a-true-story film is the sport's Rudy or Hoosiers, and it's worth your time if you haven't seen it.
Snowmobiling
Is there anything more American than seeing a surface and saying, "How can I go faster across this?"
For land, we've got race cars. For air, fighter jets. For water, the jetski. And for snow, you've got the snowmobile, which desperately needs a more creative name.
Today's snowmobile can really cut up the turf at breakneck speeds. The higher-power machines can travel upward of 150 mph, and then there are drag-racing snowmobiles that have been clocked at 200 mph or more. (Did I say ski jumping was crazy? Snowmobile racers deserve their own padded rooms in the igloo.)
You don't see many snowmobiles in Waco, understandably so. It's been many decades, but I've actually ridden on a snowmobile while spending time with family in America's Dairyland in Wisconsin. When I was about 4 years old, I actually went flying off the back of one into a snowbank while my Dad took a hairpin turn. As far as I know, we weren't traveling 200 mph and I didn't hit my head, though that would probably explain a lot.
Outdoor Ice Hockey
In Canada and parts of the U.S., they call it pond hockey. Whereas we might get together for a playground pickup basketball game here, in those winter climates they gather on a frozen lake and flick the puck around.
Unfortunately, as a recent Associated Press story related, warmer global temperatures are threatening a sport that one Canadian city official called "the quintessential Canadian experience." Turns out it's challenging to play pond hockey without a frozen pond.
The NHL is not holding its annual Winter Classic this year, a popular outdoor game that routinely draws some of the league's biggest crowds. But that's due to COVID, not global warming.
However, the NHL does plan to stage two outdoor games in Nevada, of all places. Here's hoping for more of those kinds of events. After all, ice hockey was born outside.
Sledding
Much like snowmobiles and ski jumpers, sledding offers the opportunity to turn oneself into a human projectile.
In the Olympics, those bobsled and luge races are honestly kind of boring to watch. I'm sure there's more technique involved than the viewer at home can appreciate, but it looks like they're just running as fast as they can, jumping into a sled, and then holding on for dear life for however long the race lasts.
Then again, that's what I wanted to do Sunday. I took the kids out to the park in an attempt to teach them about the white-knuckling joy of heaving yourself headfirst down a snow-covered hill. Alas, our attempts didn't really get off the ground. The snow wasn't thick enough at Woodway Park to build up any real speed.
Or maybe it was an equipment problem — we were using the lids to plastic storage totes as our makeshift sleds. One dad at the park was trying to push his little boys in laundry baskets, and another couple of families were attempting to use water tubes. But none of us had any success.
It's understandable why our local department, sporting goods, and outdoors stores wouldn't have any real sleds in stock. But it has inspired me to buy a whole slew of actual winter sleds. Then when Snowmageddon 2031 arrives, I'll be the only sled dealer in town.
Want a ride? Sure, no prob. It's only a $50 per hour rental fee.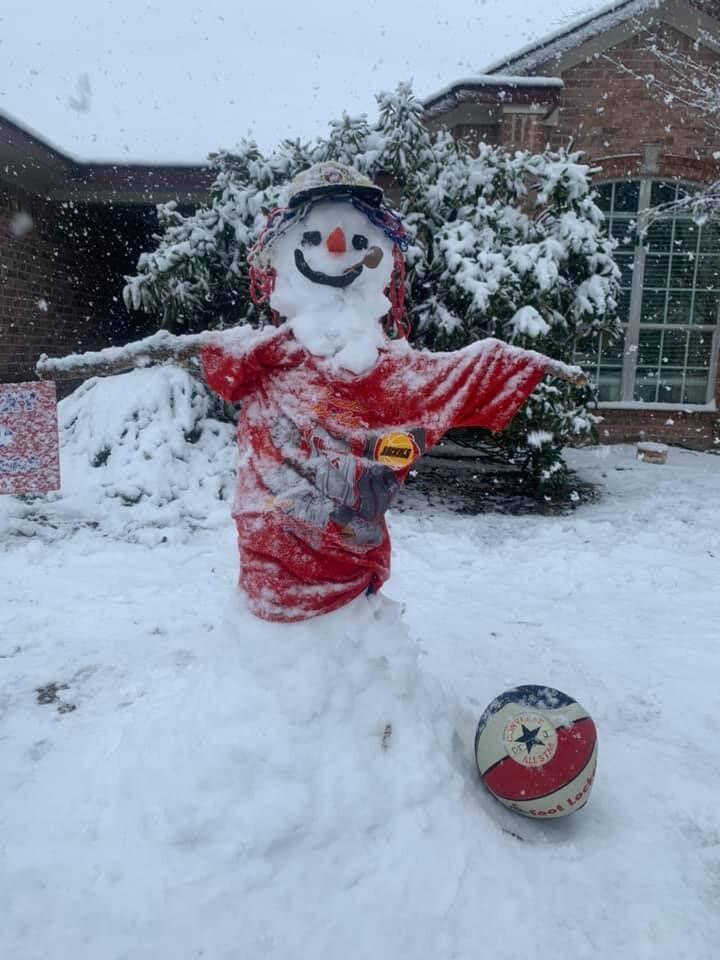 Building a Snowman
Do you want to build a snowman? Of course we do, Anna. (If you've never been exposed to Disney's Frozen, consider yourself lucky.)
Forming your own front-yard Frosty is about as classic a snow activity as it gets. Hundreds (maybe thousands?) of folks around Central Texas got into the snowman-making spirit on Sunday. They came in all shapes, sizes and genders. (It's 2021, man, make way for the snowwomen.) There were little ones perched on top of mailboxes, medium-sized ones for the slightly more dedicated artists, and big, fat ones that required hefty amounts of snow and time to form.
I saw a photo of Baylor baseball coach Steve Rodriguez standing next to his snowman, who appeared to be flashing the "Sic 'em, Bears!" hand signal. The snowman was taller than Coach Rod, so at least 4-foot-11, I'm guessing. (Heh-heh. I have a feeling I'm going to pay for that crack.)
At the Cherry household, our snowman showed serious game. He wore an old Houston Rockets T-shirt and a 1994 NBA MVP cap. His hair was made from a red, white and blue net and he was "dribbling" a basketball. I named him SnowDream Snowlajuwon.
Sadly, SnowDream (who was on the skinny side, as snowmen go) took a tumble less than an hour after he took shape. He got the big head, I think. Got a little cocky and couldn't handle the weight of his oversized ideas and importance.
The lesson — have fun and enjoy your snow day. In Texas, they don't last long. (And keep your Facebook clean.)
---
Photo gallery