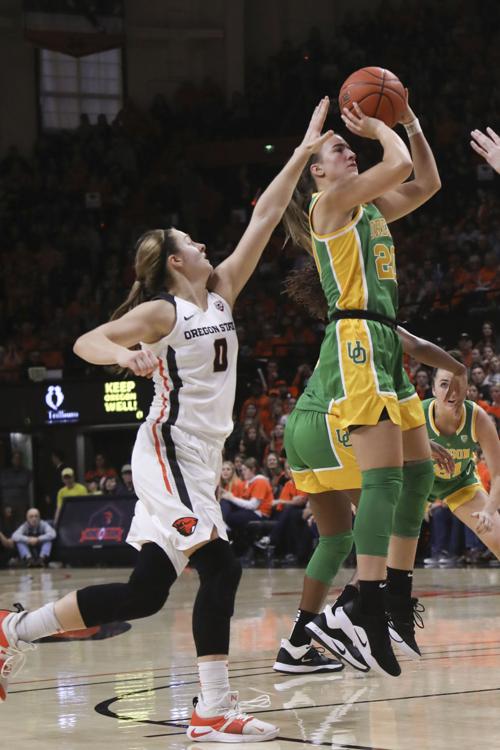 There's no "I" in "team." But there is one in "branding."
In fact, if we're referring to the art of marketing oneself, maybe it should be spelled "brand-I-ng."
With all the news swirling around the sports world in the absence of competition at the moment, it would've been easy to miss an email that floated into my inbox on Thursday. It came from Oregon State women's basketball and I received it, almost undoubtedly, because I was an AP poll voter last season.
"Beavers Launch Unprecedented Partnership With Brand Expert Jeremy Darlow," was the heading. I started to write about it on Thursday, but I decided to give it 24 hours to see if it got much notice elsewhere.
However, I could tell just from the aforementioned heading that it was one of those press releases that are easy to read between the lines.
We're not talking about it much right now because the only thing people are talking about is whether or not COVID-19 is going to delay/squash/obliterate sports for the foreseeable future, but the age of college athletes as advertising entities is coming.
A lot of people don't like it. The idea of amateur sports is still sacred to some.
But then a lot of people have been screaming for a long time that it's not fair for college athletic programs to squeeze millions of dollars out of unpaid athletes.
Before I go any further in this column, I'll go ahead and declare my three main opinions on this divisive issue.
1) I've seen the college sports system help a whole lot more people than it hurt in my lifetime (I turned 43 on Sunday for reference sake).
2) It's kind of crazy to me that a kid can go from saying "I really liked the academic programs and the coaching staff — it felt like home," on signing day, to saying "Where's my money?" a year later.
3) It also seems pretty stupid to me that I could have gone into Red Raider Outfitter in Lubbock in the fall of 2016 and purchased a jersey with No. 5 on it for around $100. But Patrick Mahomes' name wouldn't have been on it because that would mean that he would be entitled to a percentage of my C-note.
I think a lot of people fear an unfair playing field if colleges are allowed to pay their athletes. That's reasonable.
However, the "Name, Image and Likeness" issue isn't a matter of colleges paying their athletes. It's allowing student athletes to make money if Under Armour slaps their name on the back of a jersey or George's restaurant wants to use Charlie Brewer's picture on a billboard.
It might hurt college sports or it might be just another thing for us to adjust to seeing.
But I think it will necessitate new jobs within college athletic departments. The compliance office might need to knock out a wall and annex a bathroom.
There are more pressing needs than a branding expert, which is the "unprecedented" move Oregon State women's basketball has taken.
Just to clarify the Beavers' intentions, the press release spelled out what Mr. Darlow will be doing.
"The Darlow Rules course teaches college athletes how to build personal brands that set them up for success in life, regardless of what happens in their athletic careers," the press release stated. "By the end of the course, students will have built their own brand marketing plan, employing the same planning techniques used by Darlow over the course of his extensive career in sports marketing."
Darlow graduated from Oregon State in 2003, which means he's about 40 years old.
I guess he's going to be telling the OSU women's hoopsters how to better use their Instagram and Twitter accounts. That seems about like me giving my nephews tips for Fortnite, but whatever.
I'm not trying to be cynical about the Beavers' plan. It indicates initiative anyway.
The real tasks are going to be making sure the student athletes don't trample other NCAA rules along the way and, of course, making sure "Name, Image and Likeness" doesn't anNIhiLate locker room chemistry.
Concerned about COVID-19?
Sign up now to get the most recent coronavirus headlines and other important local and national news sent to your email inbox daily.