STORRS, Conn. — The rivalry between Connecticut and Baylor isn't a long one, but it is rich with drama and competitiveness.
When the second-seeded Huskies and seventh-seeded Bears meet in the NCAA tournament's second round on Monday night, it will mark the 10th meeting between the programs, including the third in NCAA tournament play. UConn holds a 5-4 advantage in the series, and the winner of Monday's game will advance on to the Sweet 16 in Seattle.
"It certainly has been a lot of games," UConn coach Geno Auriemma said on Sunday. "A lot of big games. … It seems like every time we play them there's a lot at stake. There's a lot of great players on the floor. Those Brittney Griner teams were absolutely incredible.
"And I really like the people down in Waco, they were always great to me. I remember one time I walked in there and I thought it was a home game for us, you know? And I wanted to see if I could charter a plane and bring them all back here."
Let's look back at the series and the past battles between these two elite women's programs.
UConn 70, Baylor 50 (April 4, 2010)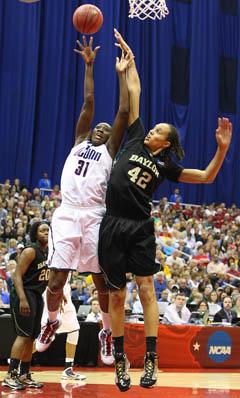 The first meeting between the Huskies and then-Lady Bears marks their only Final Four duel. This was Brittney Griner's freshman year at Baylor, and the ahead-of-schedule Lady Bears made an upstart run to the Final Four before running into the Huskie machine.
Just how much of a machine? Well, UConn's rejection of BU, behind 34 points and 12 rebounds from the great Maya Moore, was the program's 77th straight win. The Huskies added another win over Stanford two nights later to claim their seventh NCAA championship.
Morghan Medlock put up 14 points and six rebounds in the loss for Baylor, while Griner blocked five shots.
UConn 65, Baylor 64 (Nov. 16, 2010)
Seven months after they met in the Final Four, the No.1 Huskies and No. 2 Lady Bears smashed into one another in a head-on collision at the XL Center in Hartford, Conn. The game lived up to all the hype, as it came down to the last second, with freshman Odyssey Sims flinging up a half-court shot that fell short and didn't quite beat the final buzzer anyway.
Moore pumped in 30 points in UConn's 80th straight win, while Griner had 19 points, seven rebounds and nine blocked shots.
"You saw a team with one senior on the floor that came into an environment with a win streak and all of (the media) here, and it never fazed these kids," then-Baylor coach Kim Mulkey said after the game. "They just kept grinding and grinding and grinding and figuring out ways to compete. I sure did learn a lot about us."
Baylor 66, UConn 61 (Dec. 18, 2011)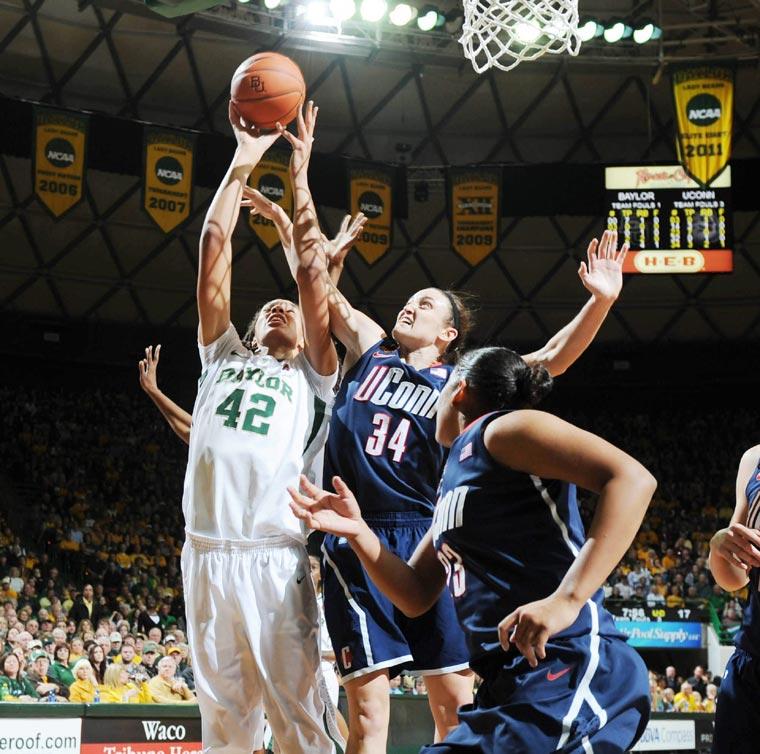 A rollicking, record-tying crowd of 10,627 showed up to the Ferrell Center, and they were treated to another gym dandy of a matchup. No. 1 Baylor picked up its first win over the No. 2 Huskies, helped by a near triple-double from Griner, who went for 25 points, nine rebounds and nine blocks. Griner saved her most emphatic stuff of a 3-point attempt by UConn's Bria Hartley with 25 seconds left.
In the process, Griner passed Oklahoma's Courtney Paris to become the Big 12's all-time leading shotblocker. Sims added 23 points as Baylor extended its home-winning streak to 29 straight games.
Baylor 76, UConn 70 (Feb. 18, 2013)
Coming off a 40-0 national championship season from the season before, the top-ranked Lady Bears surged in the second half in toppling No. 3 UConn at the XL Center in Hartford.
Griner tossed in 25 points and surpassed the 3,000-point milestone for her career, becoming the eighth player in Division I history to reach that benchmark. But Griner and Sims struggled in the first half, shooting just 3 of 19, before Baylor woke up after halftime, scoring 50 second-half points. Brooklyn Pope had a mammoth second half and finished with 19 points, nine rebounds and three steals.
Kaleena Mosqueda-Lewis contributed 26 points and 15 rebounds for UConn in the loss.
UConn 68, Baylor 55 (Jan. 13, 2014)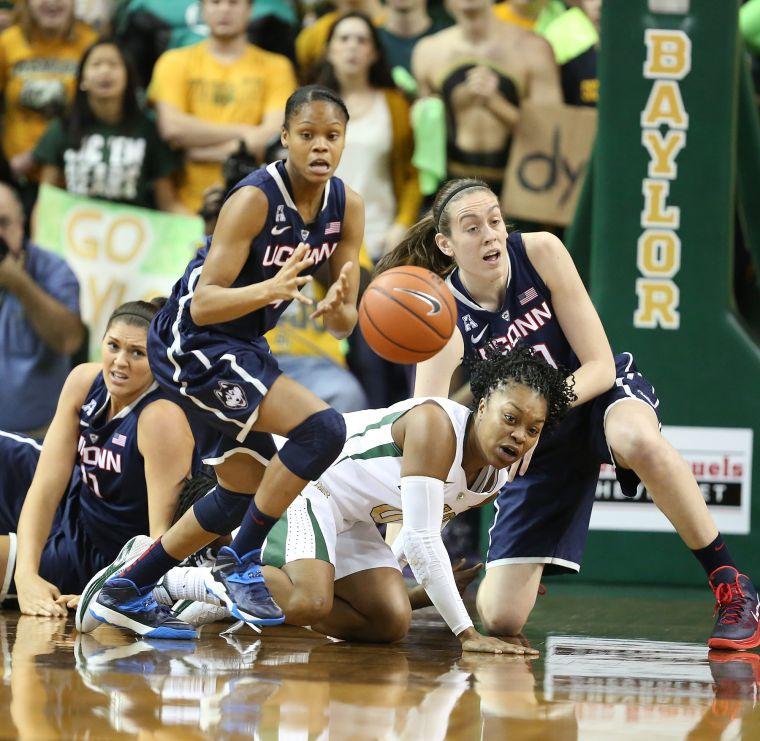 There was a new hero for No. 1 UConn at this point named Breanna Stewart, and Stewie didn't shrink from the spotlight with 18 points and 11 rebounds in handing No. 7 Baylor its first home loss in more than four years. The UConn win broke a 69-game home winning streak at the Ferrell Center for the Lady Bears.
It was the first home loss for seniors Odyssey Sims and Makenzie Robertson. Sims scored 20 or Baylor and freshman Nina Davis went for 11 points and a game-best 17 rebounds.
Hartley added 17 points for UConn, which won its 24th in a row, its second 24-game winning streak since its 90-game run ended in December 2010.
UConn 72, Baylor 61 (Nov. 17, 2016)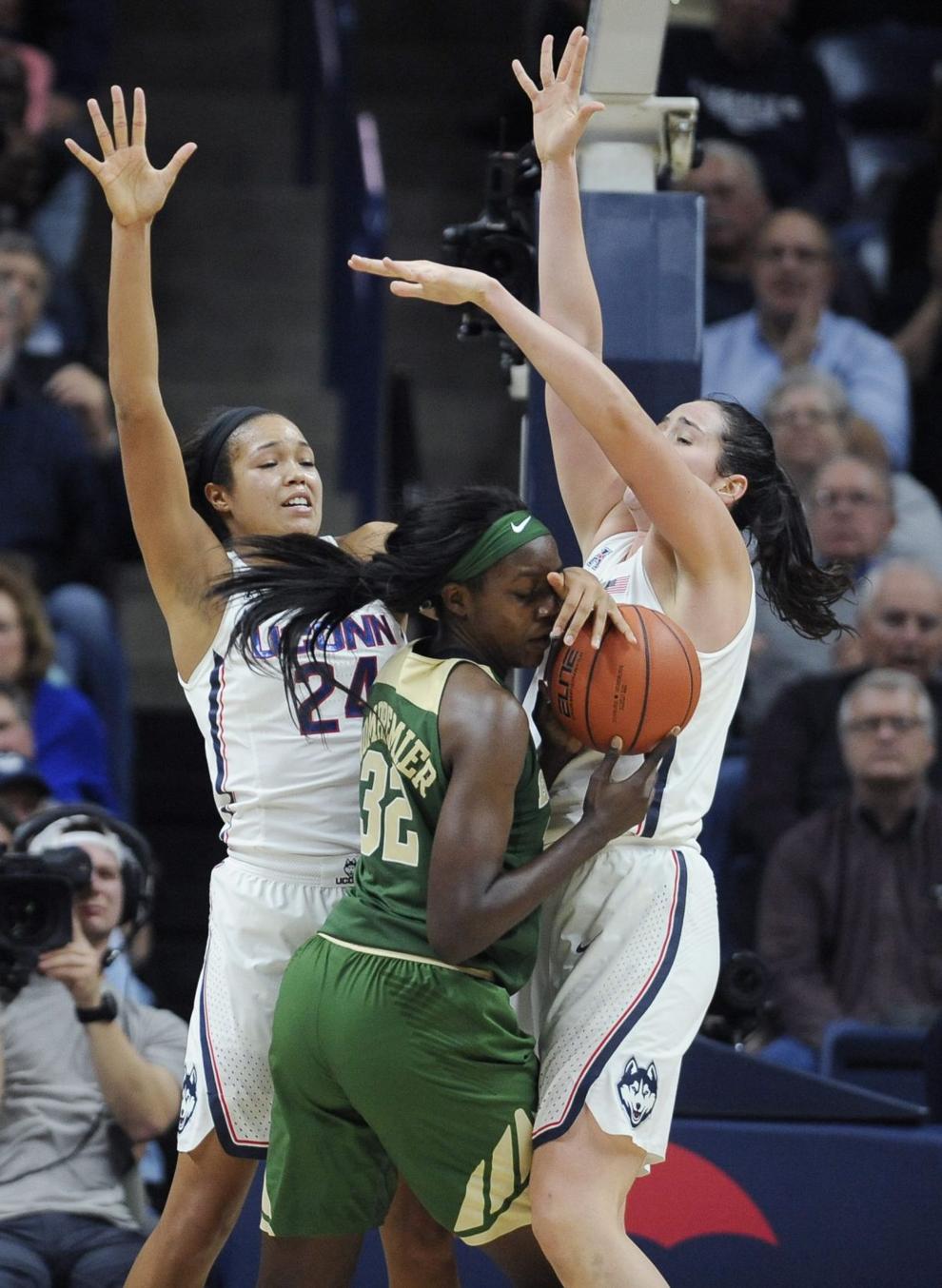 This meeting marked Baylor's first trip to Gampel Pavilion in Storrs, as its two previous road clashes with the Huskies came in Hartford. In this one, the four-time defending NCAA champion and No. 3-ranked Huskies extended their winning streak to 77 in a row over the No. 2 Lady Bears with a 16-2 closing run.
UConn raised its 11th national championship banner in front of 9,049 happy fans in Storrs. The Huskies' freshman point guard Crystal Daingerfield led four UConn players in double figures with 19 points. Napheesa Collier had a double-double with 10 points and 11 rebounds.
"I just thought they played tough and didn't get rattled," Mulkey said at the time. "Not that we got rattled, but we didn't handle it well when they went to their 3-2 (zone defense.)"
Alexis Jones scored 23 for Baylor, but didn't have much help, as Kristy Wallace (11 points) was the only other player in double figures.
Baylor 67, UConn 58 (Jan. 3, 2019)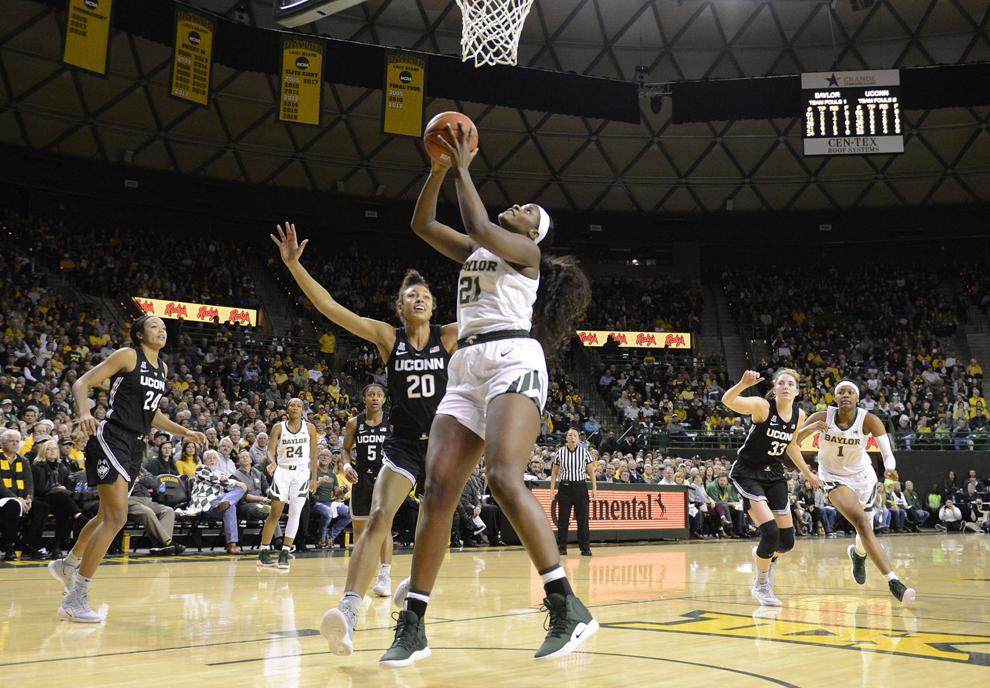 Before a sellout crowd of 10,284 at the Ferrell Center, the eighth-ranked Lady Bears handed No. 1 UConn its first regular-season loss in four years. The Huskies simply had no answer for BU post Kalani Brown, who produced 22 points and 17 rebounds.
It was Baylor's first win over a No. 1-ranked team.
"We're all chasing Geno," said Mulkey. "I want people to be proud of this program. I want them to be proud of this program because we win on a consistent basis."
Freshman forward NaLyssa Smith added 12 points and grad transfer guard Chloe Jackson had 11 points and eight assists for Baylor. UConn was paced by Napheesa Collier's 16 points, but Baylor held Katie Lou Samuelson under her 20-point scoring average with 12 points.
Baylor 74, UConn 58 (Jan. 9, 2020)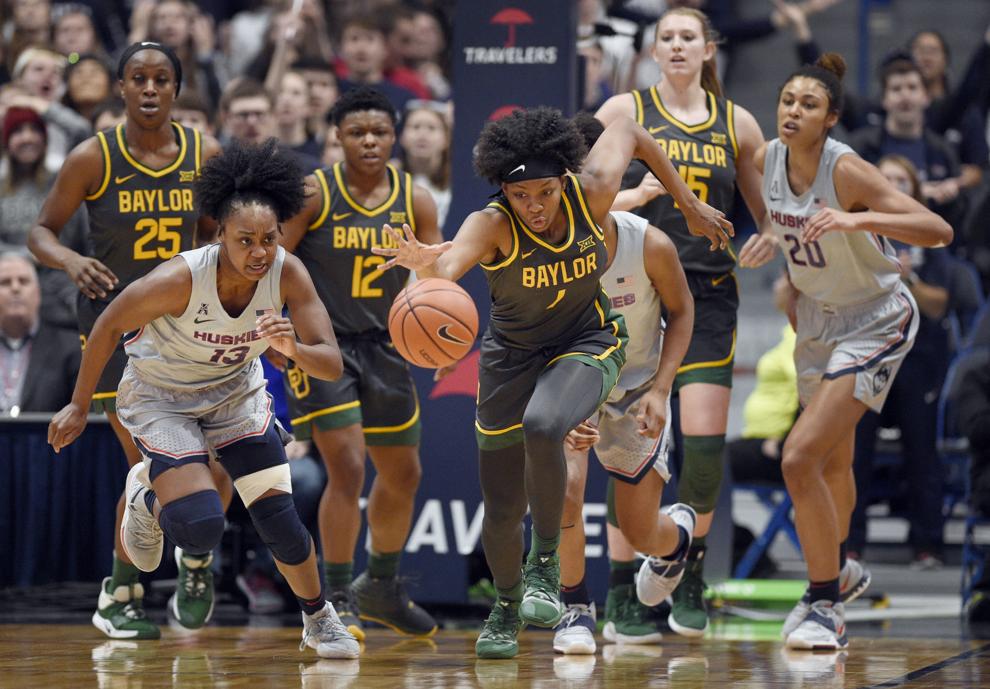 No. 7 Baylor beat the No. 1 Huskies for the second straight season, this time in Hartford to snap a 98-game home winning streak for UConn.
With six minutes to play, it was a one-point game. But then Baylor forced a shot clock violation, and Lauren Cox came down on the other end to drain a jumper to spark a 15-0 closing BU run. Baylor never trailed in the second half.
Grad transfer Te'a Cooper had the hot hand for Baylor with 27 points, while Cox contributed 16 points, six rebounds and four blocks in her third game back from a foot injury.
UConn 69, Baylor 67 (March 29, 2021)
Baylor's most recent meeting with UConn was probably its most controversial. The top-seeded Huskies survived a rugged Elite Eight battle with the second-seeded Lady Bears in a game that had Baylor crying foul. BU guard Dijonai Carrington drove to the basket in the waning seconds and was hit by UConn's Aaliyah Edwards and Olivia Nelson-Ododa, but no foul was called, to Baylor's dismay.
"I've got still shots and video from two angles," Mulkey said at the time. "One kid hits her in the face and the other kid hits her on the elbow."
The biggest blow for Baylor was losing senior DiDi Richards, the National Defensive Player of the Year, to a hamstring injury late in the third quarter. After Richards went out, UConn responded with a 19-0 run, fueled by freshman All-American Paige Bueckers, that pushed the Huskies to their 13th straight Final Four.
The game turned out to be Mulkey's final one at Baylor, as she left for LSU after the season.
Baylor fifth-year senior Caitlin Bickle was a junior on that team, and said that while it took a while, she thinks she's over that loss today.
"You get over it eventually. Eventually," Bickle said, chuckling. "I think it took me a year or so. It took me a while."