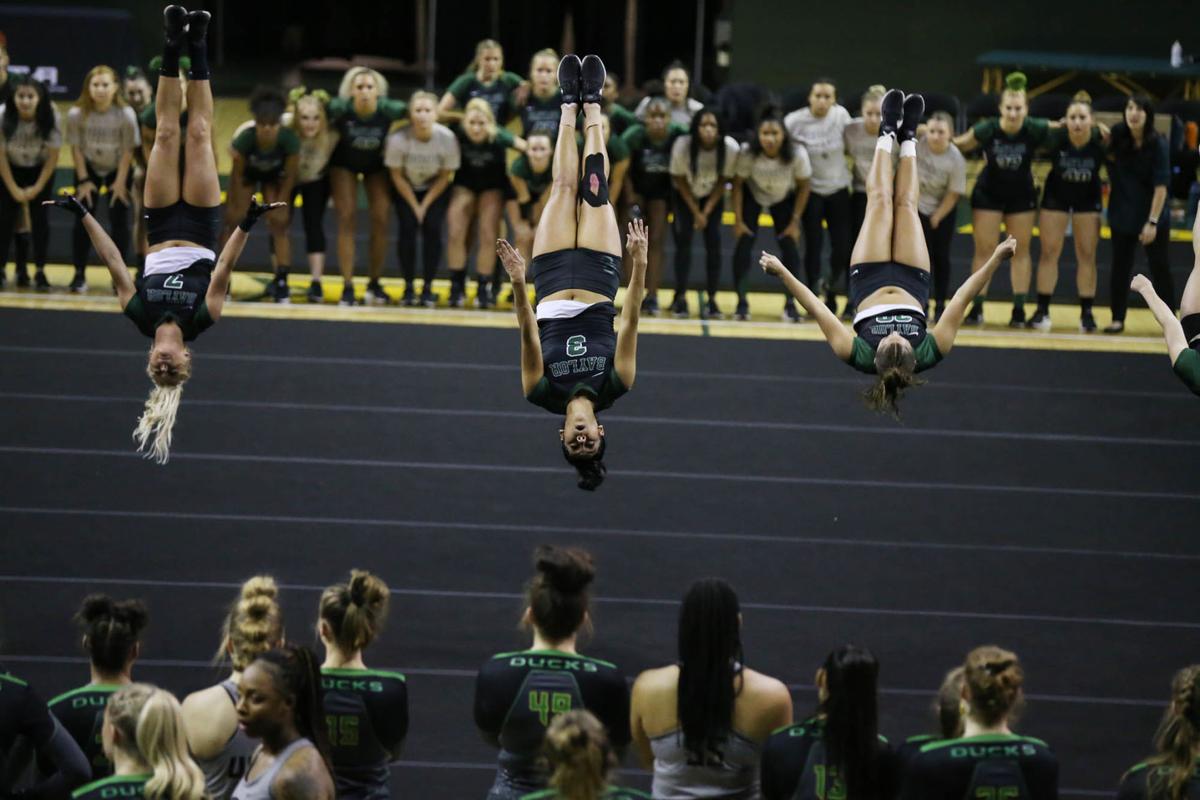 No coach, no team, wants to lose. It goes against every competitive fiber in their being.
Sometimes, though, it seems that a loss can serve a team well. It can introduce a certain amount of perspective, it can reorient the team to the necessary details. That's how the No. 3-ranked Baylor acrobatics and tumbling team has tried to approach their earlier loss to their archrival Oregon Ducks.
On March 6, the Ducks (2-1) inched out Baylor in Eugene, Ore., handing the five-time defending NCATA national champion Bears their first loss in four years and snapping BU's 38-match winning streak. Oregon won by the margin of less than a point, 281.635 to 280.660.
On Saturday comes round two.
"Competing against Oregon is always fun," Baylor A&T coach Felecia Mulkey said. "It's always a good meet. I think both of our teams bring each other to a different level, so it's just fun to be in that moment. And of course, we want some redemption, we want to come out of this meet scoring higher than the other team. I think the team is excited, I think we're going to have a great crowd, we're excited to be back at home, I'm pumped."
Earlier this year when the Baylor men's basketball team lost a Big 12 tournament game to Oklahoma State, senior forward Mark Vital declared it a much-needed wake-up call for the Bears. Of course, Vital and company went on to win the NCAA title.
Obviously, Baylor's A&T team knows a thing or five about winning national titles. It doesn't know much about losing, but that changed with the defeat to the Ducks.
"I don't think my team is cocky at all. I think if you came and hung out with them you'd say the same thing," said Mulkey, who has guided the Bears to a 65-2 record in her six years at the helm. "But I think sometimes you have to lose to know how to win.
"When we lost to Oregon earlier this year by less than a point, we had one athlete, our fifth-year senior Cam Bryant, who was the only athlete who had ever lost a meet on our team. So to be able to feel that, to be able to say, 'Ah, we didn't have our best meet. We didn't score higher.' I think 100 percent, I agree with Mark Vital. Sometimes you have to lose to know how to win. There's some motivation in that and also a switch in mindset. I think it was healthy for us."
Two weeks after its win over Baylor, Oregon dropped its own tight, one-point match with Azusa Pacific. That pushed APU to No. 1 in the NCATA rankings, while the Ducks are ranked No. 2 and Baylor in the very unfamiliar spot of third nationally.
But the endgame for Baylor remains the same. The Bears (3-1) want to sharpen up the rougher edges of their routines, and position themselves to compete for another national title later this month. Baylor will host the NCATA National Championships April 22-23 at the Ferrell Center.
"The team hasn't really talked about (the rankings). I don't think they care," Mulkey said. "We scored higher than Hawaii Pacific (on March 27), but it wasn't our best meet. I think our team walked out of there like they lost. They felt like a huge loss after that. So their motivation is more, let's go out and execute like we know we can do and see where it falls. … We're not going to let the rankings really control it, we're just going to execute."
Bear Facts
Baylor continues to limit capacity at indoor sporting events to 25 percent, but Mulkey said she was expecting a "great crowd" at the Ferrell Center for Saturday's match. Free rally towels will be given to all fans in attendance. … Baylor swept the NCATA's weekly awards this week, as Kam Kitchens was named Athlete of the Week, Emily Tobin won Specialist of the Week honors, and Riley Chimwala was voted Freshman of the Week. Kitchens, a sophomore from Kennesaw, Ga., competed in 11 heats against East Texas Baptist and helped Baylor record eight scores of 9.50 or higher. Tobin, a sophomore from Templeton, Calif., excelled in the acro event, as both of her heats scored a perfect 10.0. Chimwala, a base from Plano, helped BU score perfect 10.0s in compulsory toss, five-element acro and seven-element acro.