Two months into his first head coaching job, Dave Aranda anticipated Baylor's spring football drills with tangible excitement.
Practice schedules were set and Baylor's assistant coaches had developed plans for their position groups. Everything seemed in place for Aranda to begin molding the Bears into the productive team he expects to put on the field in the fall.
Then the COVID-19 pandemic shut down the country.
Players quickly scattered off-campus to their hometowns in mid-March. Coaches spent most of their time working from home. Virtual online meetings became the main tool for coaches and players to connect with each other.
As a coach who always emphasized the cerebral side of football, Aranda didn't see the loss of spring drills as a catastrophe. He saw the virtual time that he and his assistants could spend with the Baylor players as an opportunity to get to know each other on a deeper level to start building a foundation of mutual trust.
"We got to learn about their parents and their brothers and sisters," Aranda said. "We learned about their likes and dislikes, how they're motivated, their values, strengths and weaknesses. We talked about who you can become as a result of the chase. Whether it's winning conference championships, NFL opportunities, earning your undergraduate degree or graduate degree, it allowed us to dive deep and work to make some strong connections."
Now Aranda's players and staff are back on campus as the Bears began preseason practices Saturday. There's a ton of work ahead as the Bears adjust to the new staff's offensive and defensive schemes and terminology. There's still a lot of uncertainty as Baylor and the Big 12 work out a revised 10-game schedule while navigating COVID-19 restrictions.
But Baylor athletic director Mack Rhoades has the same faith in the 43-year-old Aranda now as he did in January when he hired the defensive coordinator of LSU's 2019 national championship team to replace Matt Rhule as the Bears' head coach. Rhule became the head coach of the NFL's Carolina Panthers after leading Baylor to an 11-3 season capped by a Sugar Bowl appearance.
The leadership Aranda has shown while dealing with the challenging circumstances caused by the pandemic is no surprise to Rhoades.
"It has confirmed my belief that Dave is a great fit for who we are," Rhoades said. "Obviously, very shortly after he started at Baylor, we faced something none of us had ever been faced with before. Students had to go home, everything was online, and there was no (football) activity. There was no time or opportunity to develop relationships and trust on campus.
"But the way he handled all that and the understanding that this is much bigger than football, and the intentionality to develop those relationships and build trust while not in the same building has said a lot about him. That's who he is and the understanding he has. Those relationships have got to be rock solid before winning football games and executing at a high level. He's handled this unique situation extremely well, and for a first-time head coach that says a lot."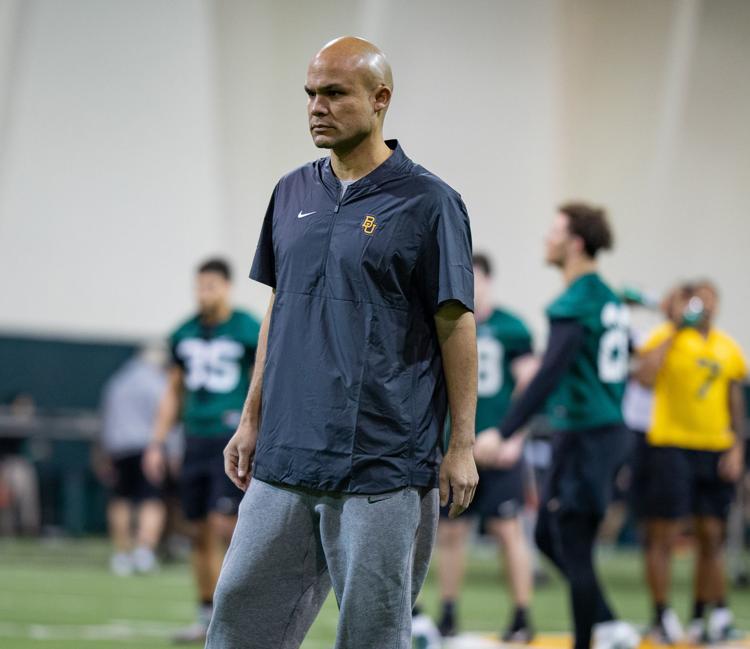 Facing a pandemic, Aranda has played to his strengths: Seeking greater knowledge of the situation he's dealing with, adapting to the changing times, and relying on his Christian faith to get through it all. He's built his career on those principles.
Aranda grew up in Redlands, Calif., a city of 72,000 located 63 miles east of Los Angeles. His mother, Marguerite, worked in a social security office while his father, Paul, was a member of a prison parole board.
Aranda is of Mexican American descent with both of his parents' families originating from the Guadalajara area in western Mexico. Interestingly, both Aranda and younger brother Mike went into coaching. Mike is a basketball coach at Redlands East Valley High School.
"My parents wanted me to be yourself and say what you have to say," Aranda said. "I struggled with some of that stuff, just not being a loud person and not overly opinionated. Growing up, those things were valued by most people. But my parents had the ability to help me through all that."
Aranda grew up watching the San Francisco 49ers during their great era when they won five Super Bowls and featured legendary players like quarterback Joe Montana and wide receiver Jerry Rice.
"As a kid, I remember wanting to learn more about the sport," Aranda said. "Watching games at Candlestick Park in November and December with the muddy turf is when I began to love football."
Though quiet by nature, Aranda showed notable aggressiveness on the football field. Battling for a linebacker spot at Redlands High School in 1992, defensive coordinator Miguel Olmedo saw a focused, determined young man who soaked in what his coaches taught him.
Aranda was so soft spoken that he was nicknamed Fencepost.
"He was very shy but was an unbelievable football player and a great kid," Olmedo said. "When he was a sophomore, I had penciled him in as our inside linebacker, but he hurt his shoulder. So he ended up playing offensive line for us with a shoulder harness. He was 6-0 and 175 pounds. He really had bad luck with his shoulders with one injury after another."
Olmedo recalls Aranda trying to play offensive line in a first-round playoff game against powerhouse Santa Ana Mater Dei. Though undersized and playing in obvious pain, Aranda refused to leave the game.
"We had no business being on the field with them, we were outmatched," Olmedo said. "He started at guard and right before the half he hurt his shoulder. He said his shoulder was bugging him a little, and I said 'Is it bad?' He played the whole second half. Then he went to the doctor and found out he had broken his shoulder. He was one of those kids you remember forever because he was such a tough kid."
Olmedo said Aranda tried to join the Navy after high school, but didn't pass the physical after numerous shoulder surgeries. But he still loved football and understood the impact that Redlands head coach Jim Walker and Olmedo had made on him. When they asked him to assist them at his alma mater in 1995, he jumped at the chance.
"The coaches that I had, Jim Walker and Coach Olmedo, both of those guys were really mentors and great examples," Aranda said. "I learned the right way to go about things and what a man is supposed to be. I wanted to follow in their footsteps."
Aranda wanted to play football at California Lutheran, a NCAA Division III school in Thousand Oaks, Calif., but shoulder injuries ended his career.
Aranda became a student assistant coach at Cal Lutheran where a wide receiver named Tom Herman saw how persistent he was about learning the intricacies of the game. Like Aranda, Herman worked his way up the college coaching ladder and is now the fourth-year head coach of the Texas Longhorns.
"Dave tried to play for a little bit, but had injuries that forced him to stop, and he immediately became a student coach," Herman said. "You could tell quickly he was going to be a great coach. He had a maturity about him, and obviously a real love for the game, but a wealth of knowledge for a guy that young. He's a real student of the game of football who was passionate about coaching."
Aranda's thirst for football knowledge led him to travel to different college campuses like UCLA, Arizona State and USC to talk to coaches. At USC, he met Trojans defensive line coach Ed Orgeron, a man he later coached under as defensive coordinator for LSU's 2019 national championship team.
Learning small details about different positions and the theory behind offensive and defensive schemes were important to Aranda even as a college student.
"Those were some of the most fun years of my life, talking and getting to meet coaches and seeing their energy and hearing their beliefs," Aranda said. "I liked to find out why players lined up here, the keys they had, and what steps they took. Why were you doing this? It was like I was in a dark room and trying to turn on all the lights. The more lights you turn on, the more you can see what you are working with."
After graduating from Cal Lutheran in 1999, Aranda worked as a graduate assistant at Texas Tech from 2000-2002. When Red Raiders running backs coach Art Briles became the Houston Cougars head coach, he brought Aranda along with him as linebackers coach under defensive coordinator Ron Harris, a 1980 Cal Lutheran graduate.
"We had a great staff at UH, and I considered Ron Harris a mentor of mine," Aranda said. "I picked up a lot and had a great learning experience. I had the opportunity to be around really good players and that were there because they wanted to win."
Aranda returned to Cal Lutheran as defensive coordinator in 2005-06 before Ron Roberts hired him as co-defensive coordinator at Delta State for the 2007 season. Delta State ranked second in NCAA Division II in total defense and scoring defense in Aranda's only season with the program.
In an unusual twist, Roberts now serves as Aranda's defensive coordinator for the Bears.
"I think the first thing that comes off about Dave after you talk to him for a while is that he's extremely bright," Roberts said. "Anything you put up there, he's going to understand it. He picks things up really well and has a great ability to communicate with players. He's a great teacher of the game of football."
Aranda spent a month as Southern Utah's defensive coordinator before making the step up to Division I Hawaii, where he served as defensive line coach and defensive coordinator during a four-year stint.
After transforming Hawaii's defense to one of the best in the Western Athletic Conference, Aranda spent one year as Utah State's defensive coordinator before he landed his first Power 5 conference defensive coordinator position at Wisconsin for three seasons beginning in 2013.
Like his college days, Aranda never stopped learning and asking questions as his career unfolded. He consulted with offensive coaches like Herman to find ways to tweak his defenses, whether he was using a four-man or a three-man front or experimenting with different coverages and blitz packages.
"Up until recently, I had spent a lot of time talking with Coach Herman about ball," Aranda said. "Offensively if this is trending, that this scheme or concept is being used. He helped me think about what trends are coming down offensively."
During each of his stops, he's learned to adapt his defensive schemes as offensive tempos have become faster and quarterbacks have become more skilled.
"What you're finding is more and more quarterbacks that are schooled so well in high school," Aranda said "Their college offense was their high school offense. They've become so much more proficient. Quarterbacks know where to get the ball, and skill people on offense can do something when they get it. Defensively, being able to disguise has never been more important."
As he neared his 40th birthday, Aranda became known as a defensive mad scientist because of the way he could experiment with schemes and suit them to his players' skills. Coach Les Miles saw how he built one of the nation's best defenses at Wisconsin and hired him to lead LSU's defense in 2016.
Aranda developed one of the best defenses in the SEC and coached seven All-Americans, including 2018 Butkus Award winning linebacker Devin White and 2019 Thorpe Award winning safety Grant Delpit.
Though Heisman Trophy winning quarterback Joe Burrow and LSU's dynamic offense drew most of the attention during last year's national championship season, Aranda's defense was one of the most productive in the country.
Coaching the defense for a 15-0 national championship team vaulted Aranda into a spotlight he had never experienced before. He learned a great deal about keeping the team focused under Orgeron amid the many distractions during their championship run.
"There was a lot of pressure being at LSU," Aranda said. "We certainly felt it there, players included. We worked with a lot of different personalities. Coach Orgeron had the ability to take the 'I' and get it to the 'we' and I picked up on that."
Though several NCAA head coaches were rumored to be candidates for the Baylor job, Rhoades ultimately chose Aranda because of his experience and ability to get the most out of his players.
Aranda's Christian beliefs are also part of the package. Aranda and his wife, Dione, have three children, Jaelyn, Jordyn and Ronin.
"His personal values, his Christian beliefs, and his mission are a great fit for the university," Rhoades said. "One of the things that was extremely clear early on when I was getting to know him better was that he really embraced Baylor's Christian values. It was not just tolerating them, but he really believes in them. He wanted to be at a place that had those types of values."
Though he's grown a great deal from the high school player who hardly said a word, Aranda is still unlike the stereotypical head coach. He chooses his words thoughtfully instead of screaming them. When he speaks, his players know his words are from the heart.
"He's a very thoughtful person," Rhoades said. "He's a very effective communicator but maybe does it in a different way. He has the ability to connect with people individually, including student-athletes. There are a lot of different ways to be successful, and I think one of the key ingredients for Dave is being genuine and that's something he does well. He does it his way."
Concerned about COVID-19?
Sign up now to get the most recent coronavirus headlines and other important local and national news sent to your email inbox daily.