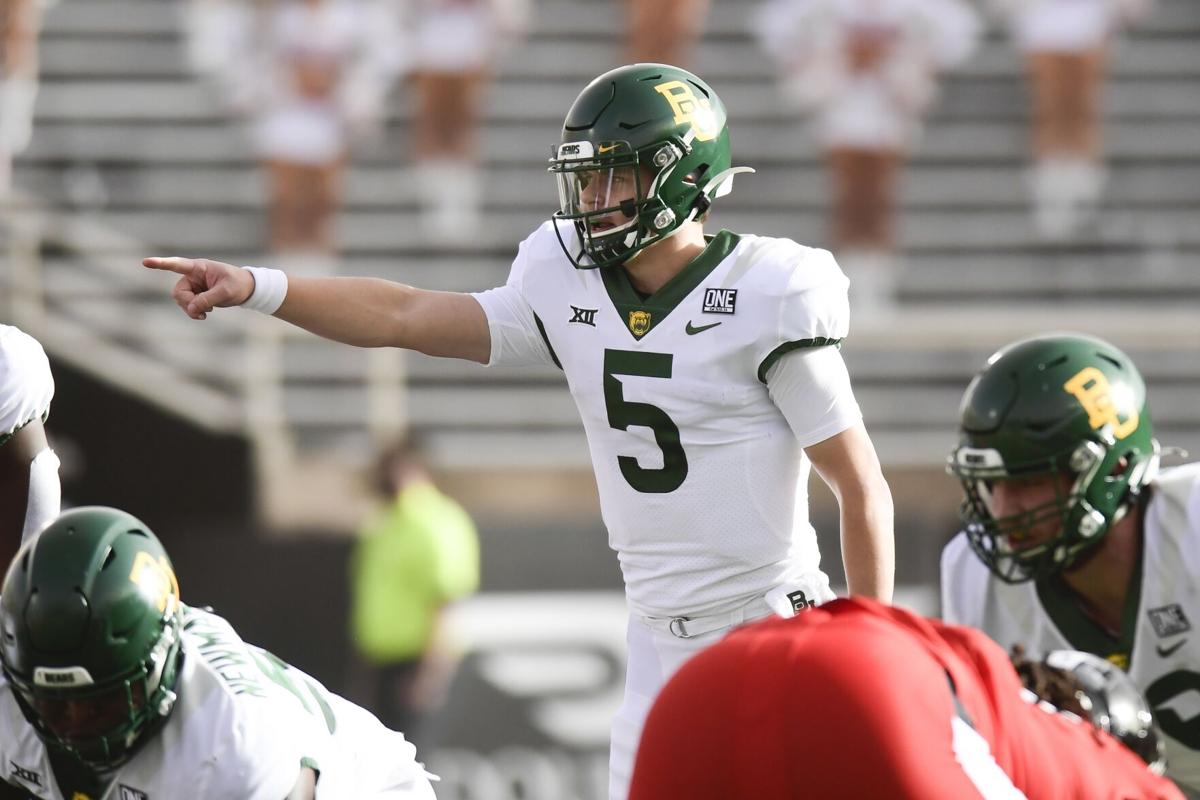 Mired in a five-game losing streak, first-year Baylor coach Dave Aranda still believes in his team and his senior quarterback.
Aranda will continue to stick with fourth-year starter Charlie Brewer heading into the bye week before the Bears begin their closing three-game stretch against Kansas State on Nov. 28 at McLane Stadium.
"Every game, we're fighting tooth and nail, and Charlie gives us the best opportunity to come out on top," Aranda said. "We want our best 11 out there, and quarterback is the guy we've got to have a lot of faith in."
Aranda said that he talked to Brewer about a report of a death threat against him, but the quarterback told him there was nothing to it.
"I approached Charlie about what took place, and we were ready to move to protect him to report to the Baylor police department, and he assured me it was nothing," Aranda said. "It was something his sister got that he didn't feel was directed at him or directed at her."
If the game circumstances are right, Aranda said he would consider playing sophomore Gerry Bohanon or redshirt freshman Jacob Zeno. Bohanon didn't travel to Texas Tech to take care of a personal issue, but Aranda said he is back with the team.
Brewer has started 36 of the last 37 games since breaking into the starting lineup in the ninth game of his freshman year in 2017 when he led the Bears to a 38-9 win over Kansas in Lawrence. It was Baylor's only win in a 1-11 season during Matt Rhule's first season as head coach.
Since then, Brewer led the Bears to a 7-6 record and a Texas Bowl appearance in 2018 followed by last year's breakthrough 11-3 season that included their first appearance in the Big 12 championship game and their first Sugar Bowl date since 1957.
Brewer's teammates like playing with him because of his leadership and toughness. In Saturday's 24-23 loss to Texas Tech in Lubbock, Brewer was stood up at the 1-yard line while trying to score with a hard blow by Red Raiders linebacker Colin Schooler late in the third quarter.
But Brewer popped back up and finished the game. Brewer hit 17 of 26 passes for 153 yards with an interception while rushing for 76 yards and a touchdown on 16 carries.
"It's awesome having a guy back there like Charlie," said Baylor offensive lineman Jake Burton last week. "He's an experienced leader and he fires us up. His competitiveness, drive and toughness set him apart and he inspires me and the rest of the offensive linemen to go the extra mile and give our absolute best."
During the bye week, Aranda has a considerable list of areas where the Bears hope to improve.
"We're going to continue to focus on running the football, and continue to focus on tackling because there have been some positives and negatives in that regard," Aranda said. "We're going to also focus on the ability to finish out games."
The Bears were in good position to beat the Red Raiders in Lubbock after opening up a 23-12 lead through three quarters. But the Red Raiders scored 12 unanswered points in the fourth quarter, and moved 79 yards on their final drive to set up Jonathan Garibay's 25-yard game-winning field goal as time expired.
Baylor's one-point loss to the Red Raiders followed a 38-31 loss to Iowa State in Ames where Brewer was intercepted in the end zone with 57 seconds remaining.
"We've had some gut punches in the past few weeks," Aranda said. "The guys hurt so much because they know that with two or three plays, maybe the outcome is different."
Aranda said the Bears will have to work through fatigue late in games to pull out close wins.
"When we're tired and when pressure is up against us, we have to be creative in those situations in practice," Aranda said. "There are things we can work on to close out and finish strong. We have to focus and execute. We've got to do our job when it matters."
Since Brewer and Baylor's other seniors went through a one-win season in 2017, they can draw on that experience to understand what it takes to stay positive and try to keep building as they enter the final three games of this COVID-19 shortened season.
"It's some help that guys have gone through that before, and to stick to your guns and do what you believe in and continue to build," Aranda said. "They can talk from experience of being in those fights before."
Be the first to know
Get local news delivered to your inbox!