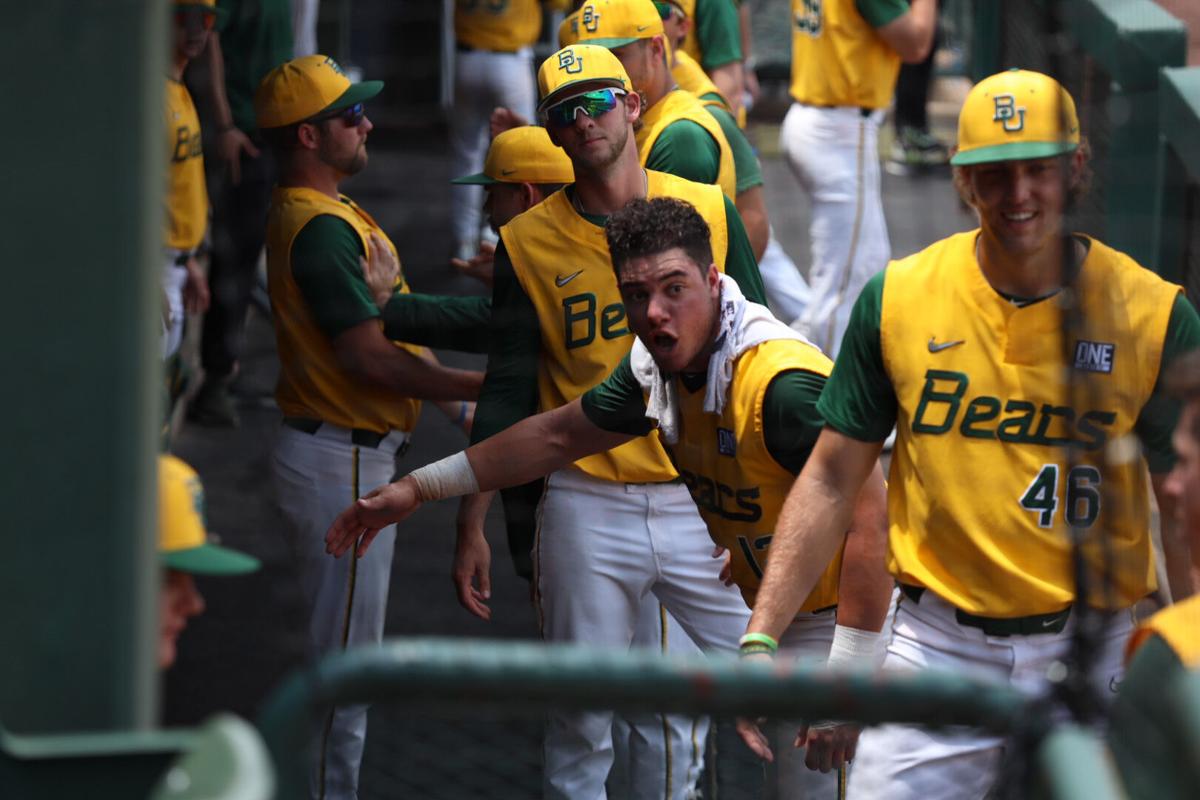 On a day reserved for moms, Baylor's baseball team showed it was one tough mutha.
Blake Helton supplied a hearty effort on the mound and the Bears drilled 17 hits on their way to their second blowout win of the weekend, destroying Kansas State, 23-3, on Sunday afternoon at Baylor Ballpark. The record-setting, seven-inning run-rule win included a 17-run fifth inning and gave Baylor the series, two games to one, marking the team's fourth straight Big 12 series win.
It was a day good for the old batting averages, that's for sure. The fifth inning was an all-timer for the Bears (29-14 overall, 9-9 Big 12), who sent 17 batters to the plate before Kansas State even recorded an out. Baylor batted around twice and plated 17 runs in the inning on nine hits, six walks, a hit by pitch and a passed ball.
It was one of the craziest innings any of the coaches or players had ever seen, and yet not quite an NCAA record. That record is shared by Wichita State, which scored 21 runs in the sixth inning of a 1984 game against Friends University, and Penn, which had 21 in the sixth of a 1983 game against Franklin and Marshall College. It did set a record for most runs scored in an inning in a Big 12 game.
It got so bad for Kansas State in the inning that Baylor stopped playing its usual "Happy Dance" song, typically a tradition after every run scored. After a while, to play the song would've just seemed cruel.
Baylor coach Steve Rodriguez said he wasn't sure he'd ever experienced an inning quite like that bottom of the fifth, though it did bring back memories of a windy game he coached in 2002 when his Pepperdine team defeated Tulane, 30-21. This time around, it wasn't so much the breeze that led to all the runs, it was Baylor's locked-in approach.
"I was just really impressed with the quality of at-bats our guys continued to take throughout the game, and what they kept doing, taking quality at-bats with walks, hit-by-pitches," Rodriguez said. "Just continue to take good swings, because if you let one at-bat go away just from letting it go and not focusing, it kind of stumbles into other at-bats. I was just really happy with how they did it today."
The 23 runs scored by Baylor tied a school record for the most it's scored in a Big 12 game. It also scored 23 against Iowa State in 1998, back when the Cyclones still had a baseball team.
Kansas State employed a strategy seen often in the majors but less frequently in college baseball, as it used a defensive shift against BU catcher Andy Thomas, playing its shortstop shaded toward right field. Not only is that a rare look in the Big 12, but in the case of the lefthanded-hitting Thomas, it was perplexing, since he hits well to all fields and is anything but a straight pull hitter.
Nor did it work, as Thomas don't play that shift. He slugged two home runs, and went 3-for-4 with six RBIs on the day. His 10 homers on the season are a career high and lead the team.
"I'm not mad at it, I don't understand it," Thomas said. "I'm not that heavy pull. I think they saw that I was heavy pull, because they threw inside all weekend, but I'm definitely an all-fields guy. I saw it, and I was like, 'Hmm, that's interesting.' And they pitched to it, so I guess it worked . . . or maybe it didn't. … I don't know, I guess you could say it's a little motivating."
The Bears ensured they wouldn't suffer any hangover effect from Saturday's ninth-inning debacle, when they gave up a seven-run outburst to Kansas State in a 10-3 loss. Baylor jumped right out of the starting blocks with a two-run first on its way to scoring in each of the first five innings.
Baylor built a 6-0 lead following Thomas's two-run shot to right in the bottom of the fourth. But if the Bear fans thought that was a blowout, they really hadn't seen anything yet.
In that wild bottom of the fifth, Kansas State struggled to throw strikes, and when the Wildcats did get the ball over the Baylor hitters pulverized it for extra-base hits. Thomas smoked his second home run of the day in the inning, part of a stretch where 17 straight BU batters reached base. Kansas State used five different pitchers in the inning, and the fifth of those, Carson Seymour, finally recorded the first out with a strikeout of Antonio Valdez, the 18th batter to take the box. Davion Downey and Kyle Nevin both had three at-bats in the inning.
"We've had a couple (big innings) here. Not like that," Thomas said. "But, I think we had 12 runs at Texas State a couple years ago that kind of sparked our offense going into the end of the year. But, that (today) was different. That was 18 batters without an out, something crazy like that. That was wild. And it was fun. It sucks for them, but that's baseball. We've all been on the losing end of seven, eight, 10 runs (in an inning), we just got 17. It was awesome."
Nine different Baylor players smacked hits. In addition to Thomas's monster day, Jared McKenzie went 4-for-5 with four runs scored and three RBIs while Esteban Cardoza-Oquendo also laid down some heavy metal with a 3-for-4, four-RBI effort.
Moreover, Helton extended his scoreless inning streak to 10, and has allowed only two earned runs in his past three outings. That's a polar shift from earlier in the season, and the sophomore right-hander said that it mostly emanates from a more deliberate approach on the mound in recent weeks, starting with his windup.
"I was kind of rushing and speeding the game up before," said Helton, who improved to 4-2 and lowered his ERA to 2.93. "With Coach (Jon) Strauss I've really worked on this week in the bullpen, the past couple of weeks, just slowing down my delivery a little bit, my windup especially. Just to get me a little bit more rhythm in there. It's helped with my command a lot."
Helton submitted three-up, three-down innings in both the third and fourth. His comfort level was probably most evident, though, in the fifth, when he effortlessly flicked his glove down to stab a come-backer from K-State's Terrence Spurlin before casually tossing to second to start a 1-6-3 double play.
"We've done that a thousand times in practice," Helton said. "When it happens in a game, I get a little excited because I know our guys are going to make the play, I know I'm going to make the play. It feels like a gift, coming back to me."
Baylor crafted some masterful leather work throughout the game, highlighted by a big-time diving stop and throwout from shortstop Jack Pineda on a hard-hit grounder by Nate Goodwin in the third inning. Rodriguez, a former big-league infielder, called that "a pretty advanced play," since Pineda thrust himself forward on the dive to catch the ball on a short hop.
Helton didn't return to the game after that long bottom of the fifth, as the coaches didn't want to risk injury. Kansas State (28-18, 7-11) broke up the shutout with three runs in the sixth against BU reliever Jacob Ashkinos, but at that point the outcome was academic.
Baylor will host Incarnate Word on Tuesday, then travel to Stillwater, Okla., next weekend to face Oklahoma State.